This waffle stitch crochet blanket has so much texture and visual interest going on. All those little waffle-shaped squares also make it so super soft and cozy, everyone will want to cuddle up (even the cats!).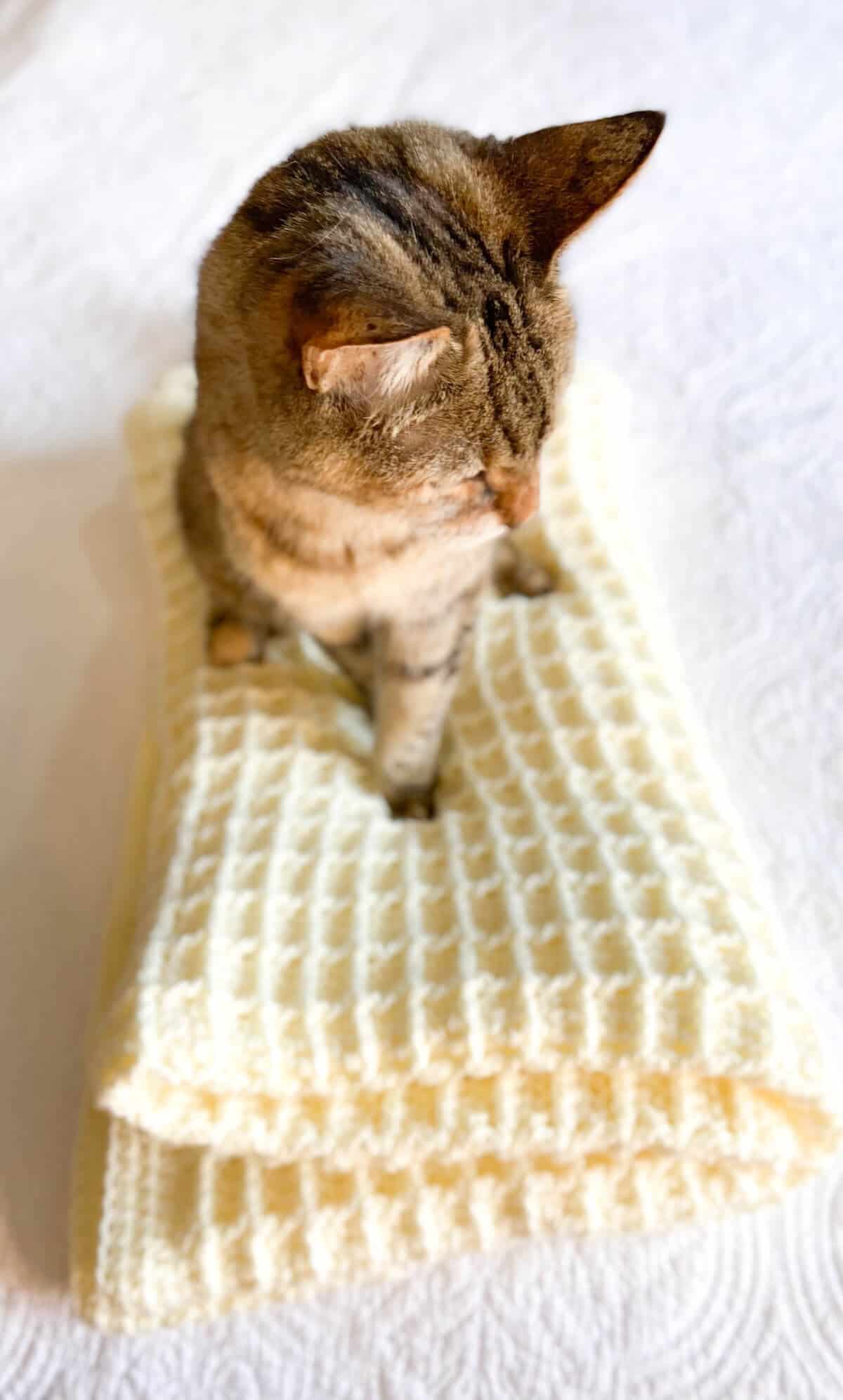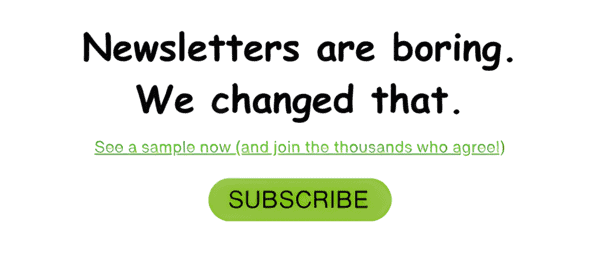 Jump to:
We all love waffles, whether they're homemade waffles, strawberry shortcake waffles, or a crochet blanket made with the waffle stitch. There's just something about those little squares that means comfort.
And I'm all about being comfortable. Cuddling up with a sweet lovey blanket and a soft pillow. Or wandering outdoors on a cold winter day, all bundled up in a slouch hat and chunky scarf. It's got to be soft and comfy.
Another great thing about this blanket is that you can customize it to any size you want! The waffle stitch is super easy to increase or decrease and I'll tell you how in the Notes below.
If you've never tried the waffle stitch before, no worries, I've got you covered with a step by step tutorial video. All you need to know are the half double crochet, double crochet, and front post double crochet. Wait! Don't panic. There's an instructional video for the front post stitch too, which I link to in the video.
The nice thing about the waffle stitch is that you really only have to learn two rows because it's just a repeat of row 1, then row 2, then row 1, then row 2, and so on.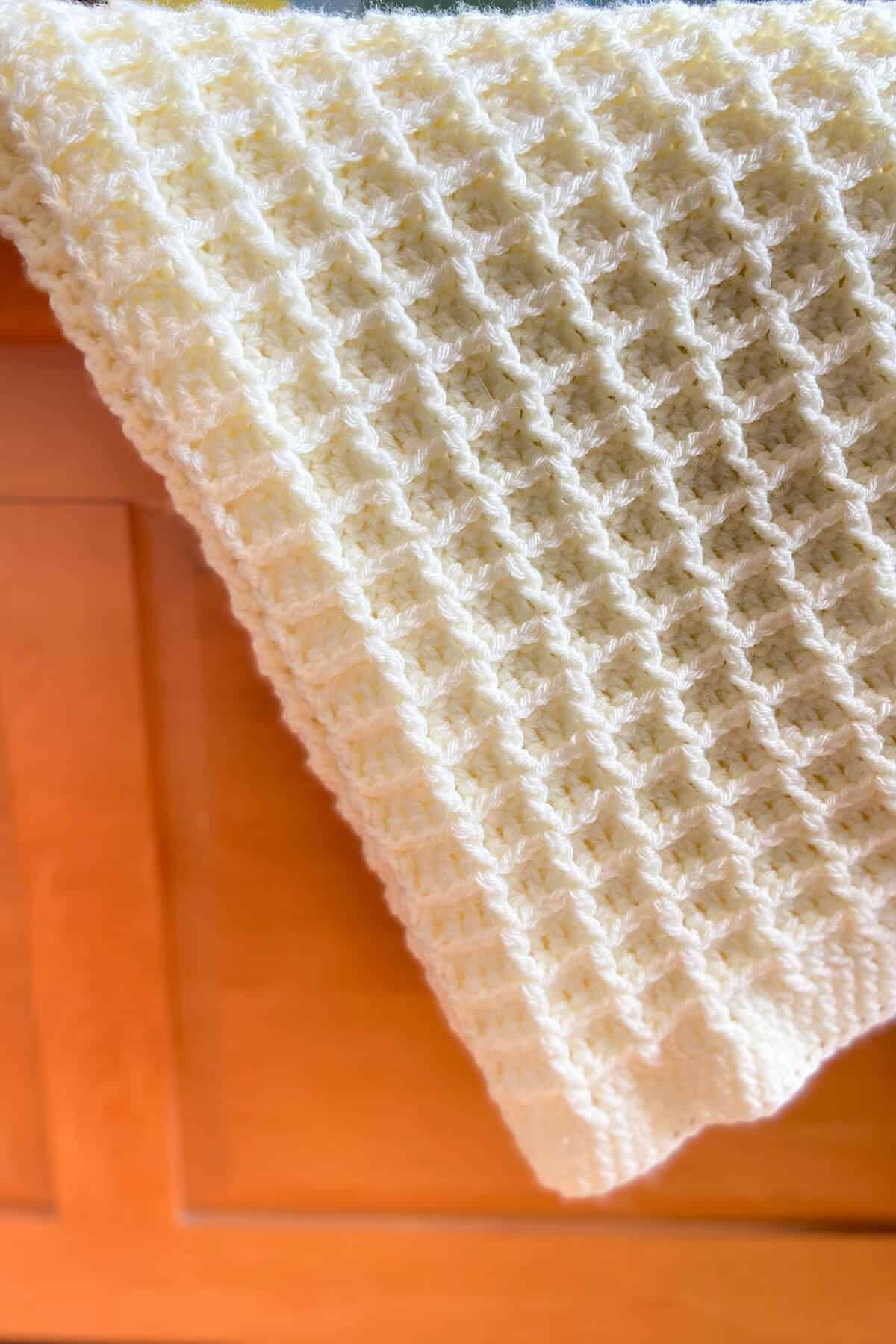 🧶 Materials
Approx 2500 yards of #4/worsted weight yarn
I-9 / 5.5-mm hook
Scissors
Yarn needle
*If you'd like to use the same yarn and color as in my photos, I used:
Lion Brand Pound of Love yarn in Antique White.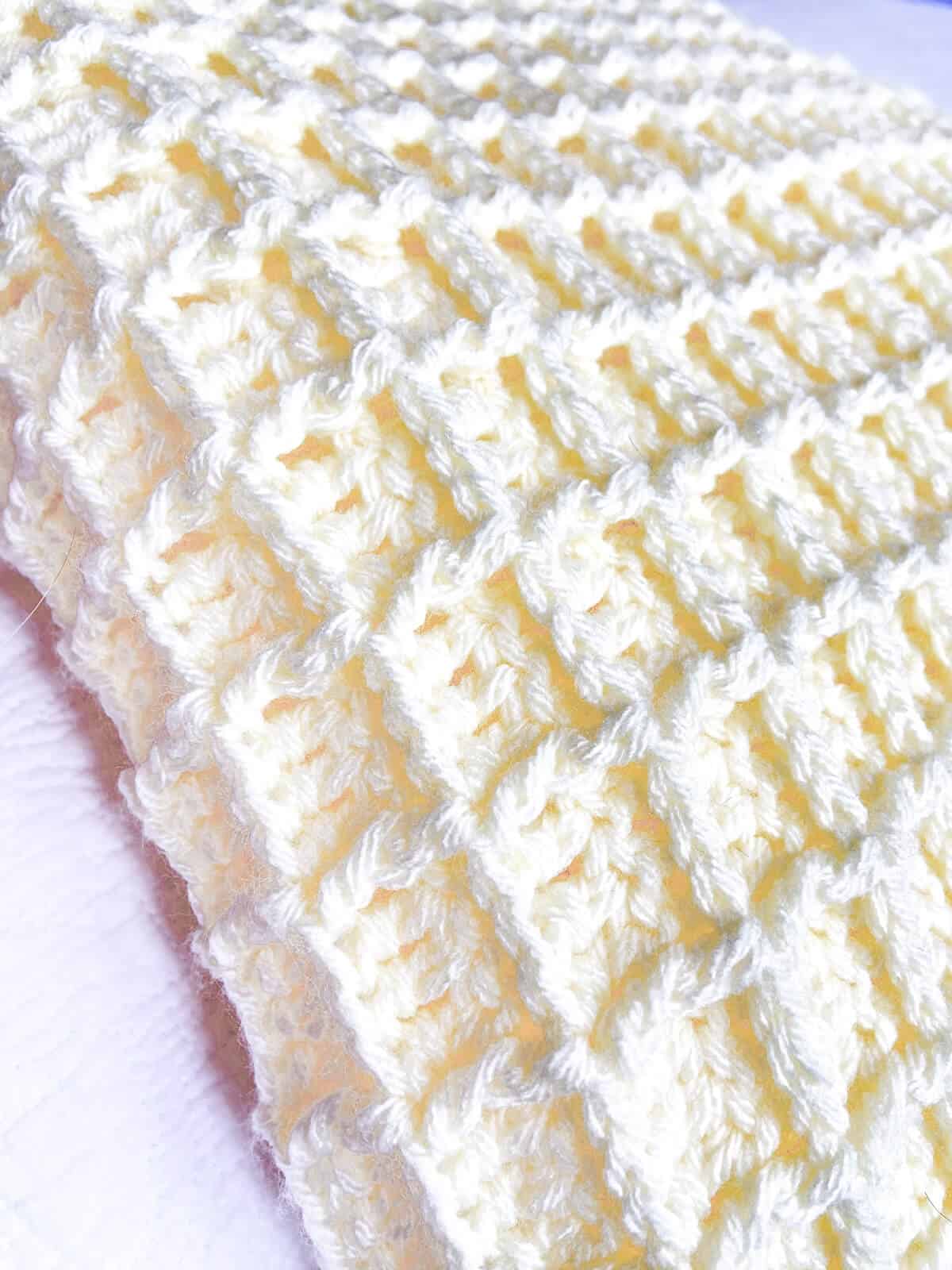 ⭐ Notes
All instructions, abbreviations, and materials in this pattern are given in US terminology.

Please refer to the tutorial video for step-by-step instruction of the waffle stitch. If needed, please review the front post double crochet before starting.

This pattern will make a small throw blanket or afghan (commonly called a lapghan), measuring approximately 46" x 46".

Due to the fact that this blanket is customizable to smaller and larger sizes, no total stitch numbers are given for the border.

The waffle stitch pattern is started in multiples of 4 + 3 (for example, 24 is a multiple of 4, plus add three, to your starting chain would be 27). To decrease the width of the blanket, make a smaller number of chains OR to increase the width, increase the number of chains, but always keep it in multiples of 4 + 3. To decrease or increase the length of the blanket, simply make more or less rows.
🪝 Crochet abbreviations for this pattern
st – stitch
sl st – slip stitch
ch – chain
ch st – chain stitch
hdc – half-double crochet
dc – double crochet
fpdc – front post double crochet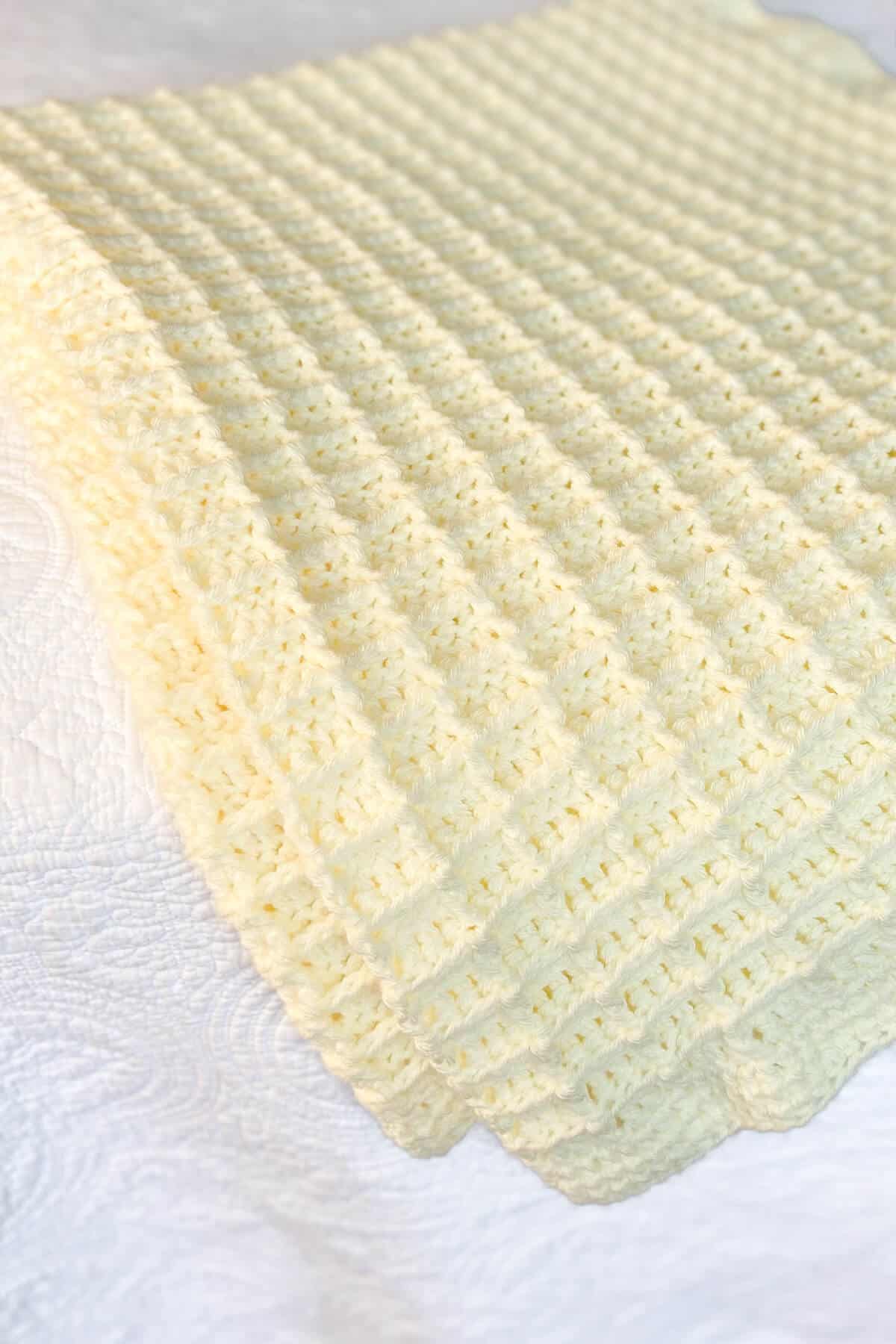 📹 Video tutorial
📝 Pattern
Foundation Row: Ch 155.
Row 1: Dc in fourth ch from hook, then dc in each st across (153).
Row 2: Ch 2, *fpdc in next 3 st, dc in next st*; repeat from * to * all the way across, but in the last stitch make a hdc.
Row 3: Ch 3, *dc in next 3 st, fpdc in next st*; repeat from * to * all the way across, but in the last stitch make a dc.
Rows 4 - 102: Repeat row 2, then row 3, then row 2, then row 3, and so on until you've completed 102 rows or the blanket is the length you'd like.
Border
Row 1 - Starting in a corner, ch 2 and place 2 hdc in the same space.
Row 2 - Hdc in each sp around (for the sides, I made 3 hdc in each square), and 3 hdc in each corner for an increase.
Row 3 - Sl st to connect, ch 2, then hdc between each of the previous row's hdc (again, 3 hdc in each corner for an increase).
Row 4 - Repeat row 3.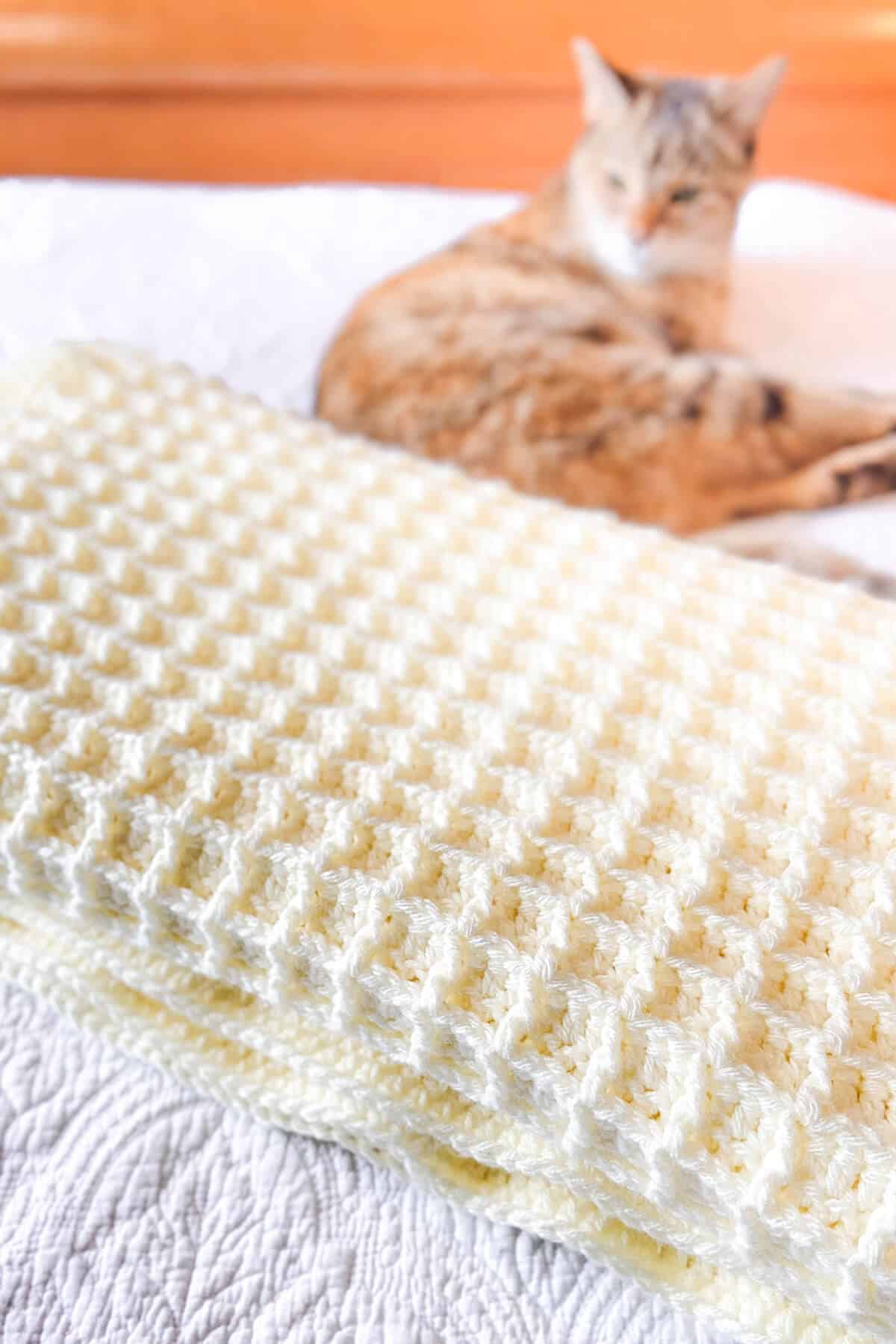 Love crochet? Check out my other fun crochet projects:
Did you make this Waffle Stitch Crochet Blanket? Let us know in the comments below!
Please be respectful and do not sell this pattern or finished product in any way, especially as your own. Instead, share the original article link or contact me for any commercial purposes (Contact Us found in the footer area of this page)!