Learning how to crochet a hat is an easy project. In this free crochet hat pattern, you'll crochet in the round, as well as work front-post double crochet and back-post double crochet. It's simple, I promise. If you'd like to review these stitches first, please visit our YouTube Channel for lots of tutorial videos! This quick winter hat is a fun and easy project that you'll be finished in just a few hours.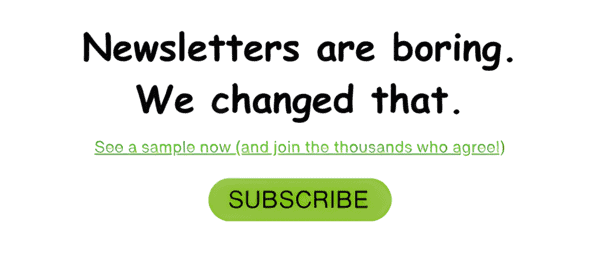 Jump to:
Although I have a few winter hats in a basket by the door, I was looking for something different this year. Something that reminded me of being a kid again and had a bit of whimsy and fun. So I grabbed some yarn and crochet hooks and sat down on the couch with a pen and paper, ready to create a new crochet hat pattern.
This is roughly what happens when creating a new crochet pattern, for anything really: Okay, I think I'd like it about this size...then these stitches...hmm, that's looking kinda cute.
Forty-five minutes later and several rows in: Nope, not working...frog it (rip-it all out). Start over.
Okay, it's going good now, I'm liking it, let's try different stitches in these next few rows...half an hour later, nope, frog it.
And this process repeats itself several times until it (hopefully!) finally works out in the end. This process thankfully went quite quickly this time and I hope you'll enjoy this easy crochet pattern for a hat as much as I did.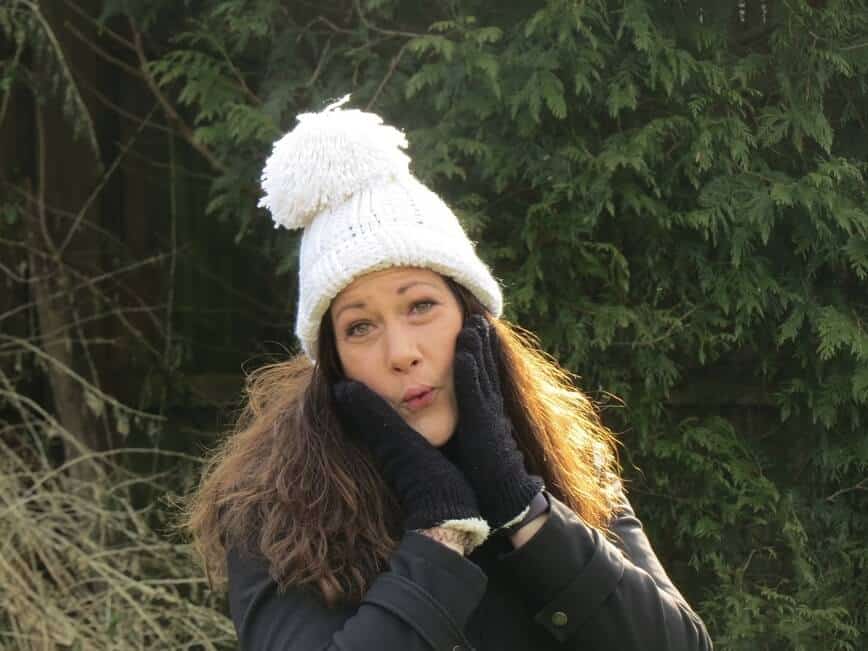 🧶 Materials
Approx 300 yards of #4/worsted weight yarn
K-10.5 / 6.5-mm hook
Scissors
Yarn needle
Stitch markers
⭐ Notes
All instructions, abbreviations, and materials in this pattern are given in US terminology.
This pattern will make an adult-size hat. I tried to come up with a way to make it child-size as well, but it gets really tricky with the number of ribbed rows lining up. If you figure it out, please let me know. 🙂
This pattern is worked in the round, so using stitch markers is recommended.
🪝 Crochet abbreviations for this pattern
st – stitch
sl st – slip stitch
ch – chain
ch st – chain stitch
sc – single crochet
dc – double crochet
fpdc – front-post double crochet
bpdc – back-post double crochet
fpdc2tog – front-post double crochet two together (decrease)
bpdc2tog – back-post double crochet two together (decrease)
dec – decrease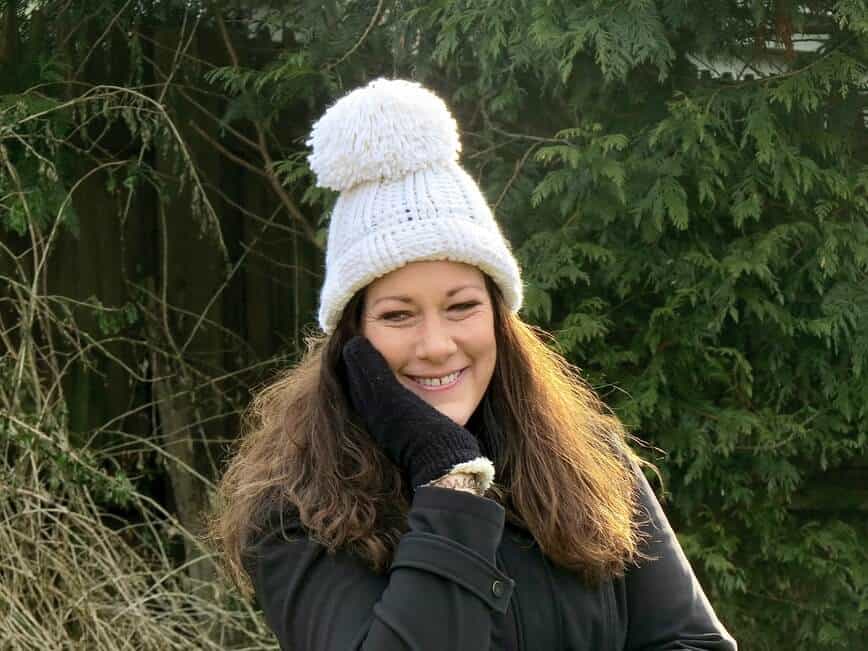 📝 Pattern
Foundation Row: Ch 64 and join ends with sl st.
Row 1: Sc in each st, working in the round (64). Mark first stitch with a stitch marker, so you remember where each row finishes.
Row 2: Dc in each st around (64).
Rows 3-12: *Fpdc in the next 4 st, bpdc in the next 4 st*; repeat from * to * all the way around x 10 rows (64).
Row 13: *Fpdc, fpdc2tog (dec), fpdc, bpdc, bpdc2tog (dec), fpdc*; repeat from * to * all the way around (48). Note: In row 3, during the fpdc & bpdc decreases, you'll be wrapping your hook and yarn around the two middle posts, to decrease from four posts to three.
Rows 14-29: *Fpdc in the next 3 st, bpdc in the next 3 st*; repeat from * to * all the way around x 16 rows (48).
Closing off: Leaving a long tail of yarn, using a yarn needle, weave the yarn in and out of each post. When you'e woven all the way around, pull it closed, like a drawstring, and knot off.
Notes for front post double crochet and back post double crochet decreases
Yarn over, wrap around one post and pull through; yarn over, pull through two loops; yarn over, wrap around next post; yarn over, pull through two loops; yarn over, pull through last three loops.
✨ How to make a pompom with yarn
If you've never made a pompom with yarn again, get ready to become addicted to making them. It's so easy and fun! For this particular pompom, find something that's approximately 6-¼" long...a piece of cardboard, a small notebook, or a cell phone. I used my phone for this project.
Wrap the yarn around the phone (lengthwise) or whatever item you're using, 200 times. Yes, I said 200! Cut the yarn and very carefully slide it off the object it's wrapped around.
Using another piece of yarn that's about a foot long, tightly knot it around the center of the yarn bundle.
Then, using scissors, cut all the loops of yarn from the pompom and shape it into a general circle shape.
Hold the pompom in all different directions, to make sure you're shaping it from all sides. BUT, careful to leave one long strand of yarn from that second piece of yarn you used to knot the bundle together!
Finally, with that long strand of yarn, sew and knot the pompom onto the top of the hat. Again, hold the hat in all different directions to do some final shaping of the pompom with scissors.
Wear, enjoy, and get ready to make lots more for friends and family! They're all gonna want one!
Love crochet? Check out my other fun crochet projects:
Did you make this Quick Winter Crochet Hat? Let us know in the comments below!
Please be respectful and do not sell this pattern or finished product in any way, especially as your own. Instead, share the original article link or contact me for any commercial purposes (Contact Us found in the footer area of this page)!