Making your own pasta is easier than you think. You probably already have all the ingredients at home. All it takes is flour, eggs, and salt. But the result is amazing. Once you've tasted the silky texture of homemade pasta, you're hooked.
Halloween is right around the corner, so I decided to add a little Halloween to my pasta: Squid ink.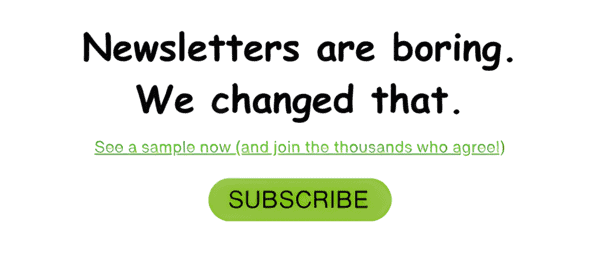 Jump to:
That's probably something you don't have laying around, so I added a link at the end of this article to get the one I used online. Technically, it's cuttlefish ink, but they're both cephalopods. And if you really want to get technical, read more here.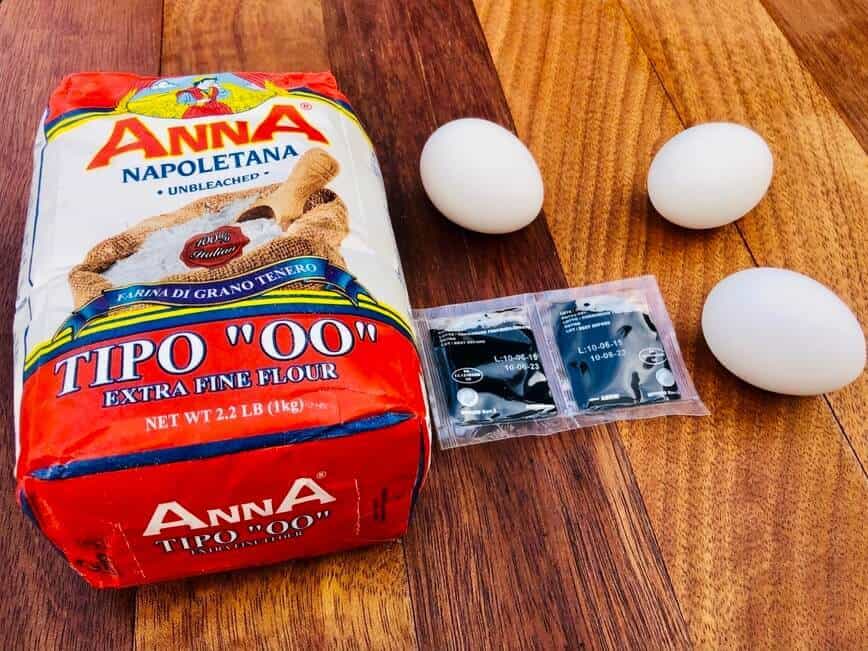 Squid ink will not only turn your pasta black (it's actually a really, really dark brown, but you couldn't tell), but it will also add a light brininess, which to my taste buds is unique.
🥣 Making the pasta dough
So let's start with the dough. The amounts given for this pasta will make 4 servings. To follow this recipe, use half of the pasta dough and keep the other half (wrapped in Saran Wrap) in the fridge for another day.
You can use regular flour, but if want to achieve the silkiest pasta, I recommend using "00" flour. "00" is extra-fine milled flour and can be found in most supermarkets or easily bought online.
Before we mix the eggs with the flour, we have to blend the squid ink with eggs to avoid ending up with a streaky dough. Trying to mix it with just a fork didn't work too well. I ended up using an immersion blender instead, which made short work of it. Or just use a regular blender.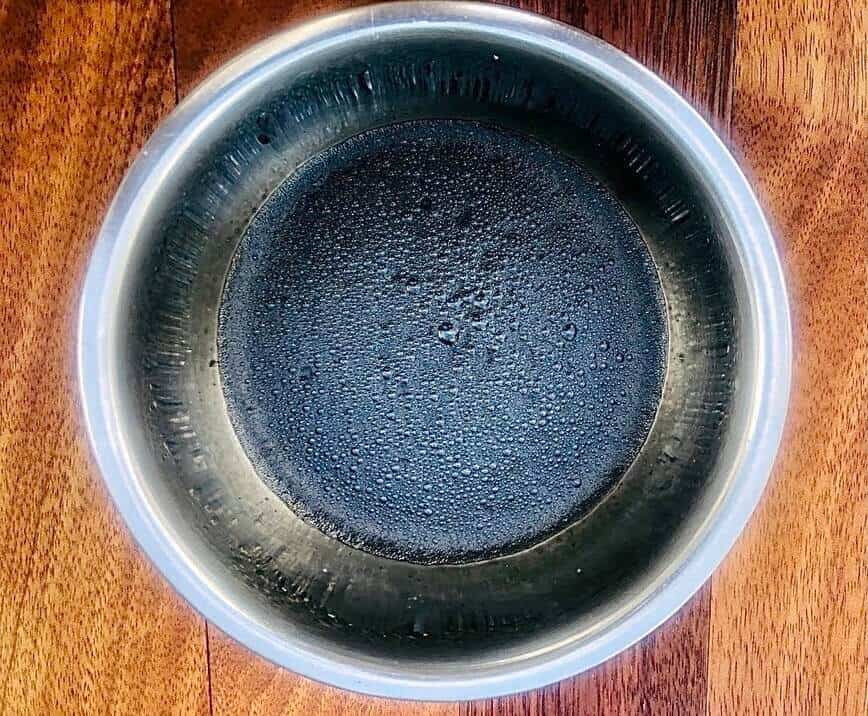 Grab a bowl and add 2-¾ cups flour and 1 tablespoon salt and make a well on top (you can use the bottom of the measuring cup).
Pour the egg/ink mixture into the well and, using a fork, incorporate the flour into the mixture.
The first time I tried this, I started using my hands right away and ended up having most of the ink on my skin and not in the dough.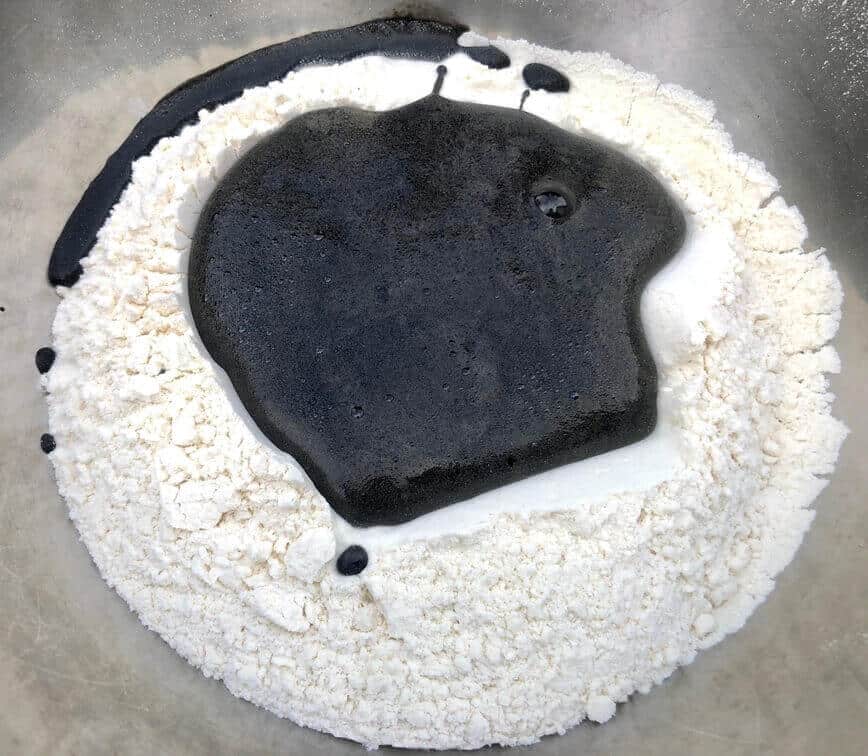 Once the dough has absorbed the egg/ink mixture, you should now be able to take it from the bowl with your lightly floured hands and start kneading it on a lightly floured surface.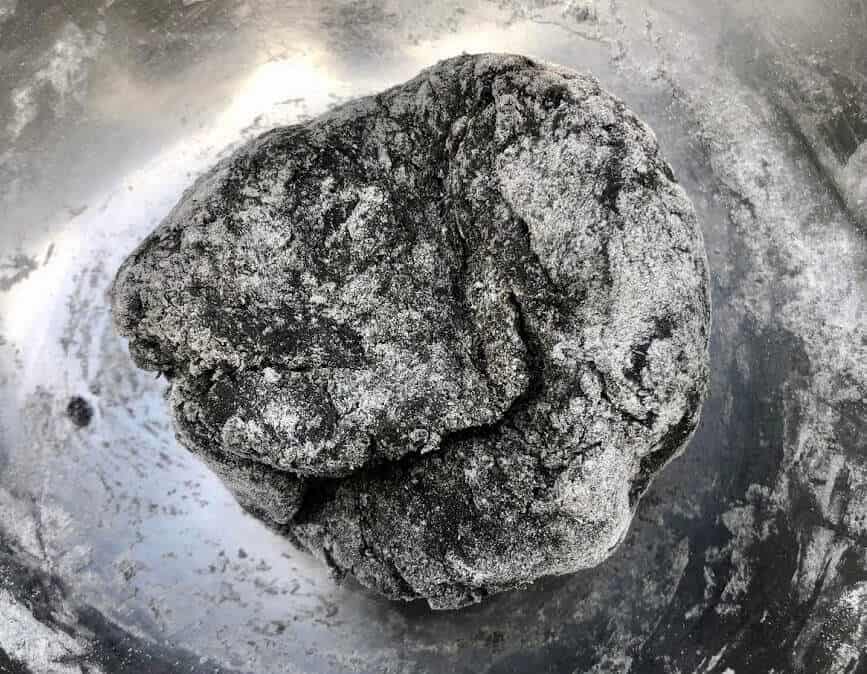 No shortcuts here! Kneading is very important. Knead for at least 10 minutes. Look at it as a 10-minute hand workout :). It's also pretty cool to see how the dough gets darker and darker as the ink works its way into the dough.
Next: Rest the dough. Again, no shortcuts here. Rest for 45 to 60 minutes at room temperature or overnight in the fridge. This will give the gluten time to relax and makes it much easier and smoother to work with.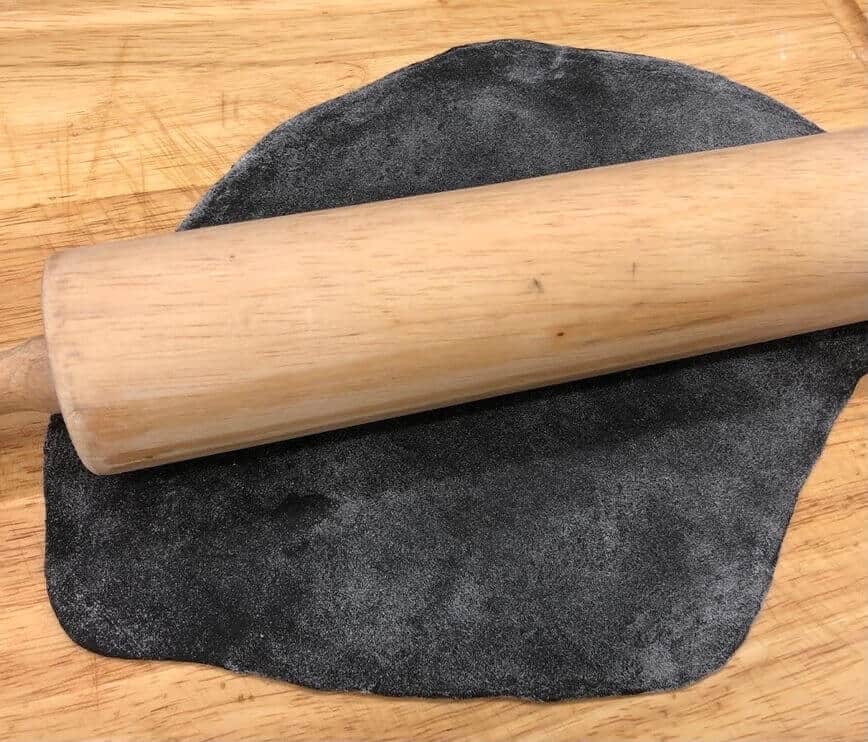 When ready, roll your dough to your desired thinness and, using a sharp knife, cut your dough into your favorite pasta shape. If you have a pasta maker, work in batches and crank out your pasta like a pro.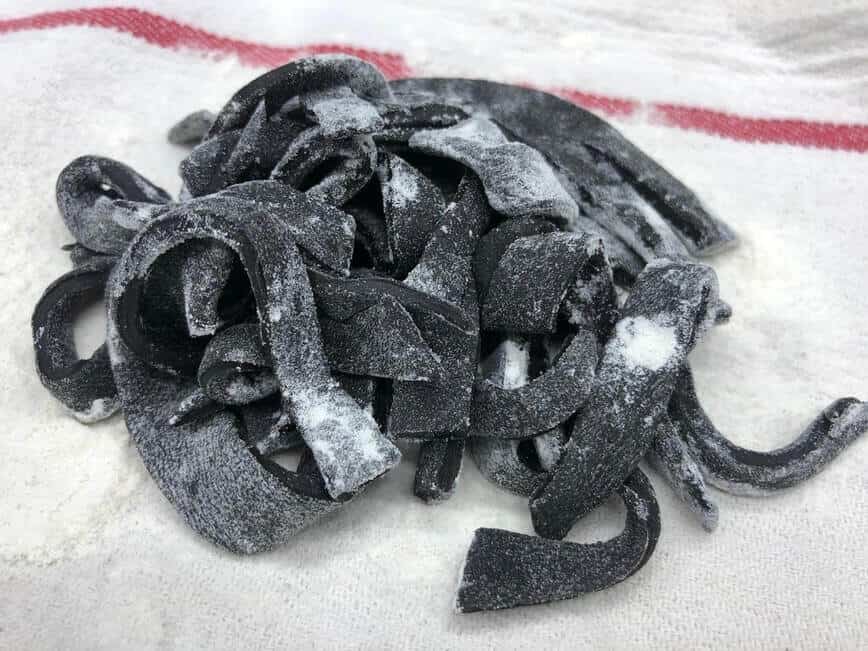 🥘 Cooking
Cook in salted boiling water for about two to three minutes. Yes, it's much quicker than store bought pasta. Save a cup of the cooking liquid for your sauce to add that unique brininess to your dish.
I served mine with a classic seafood sauce by heating up olive oil and sautéing sea scallops and shrimp for a couple minutes on each side. The shrimp will turn pink and the scallops will turn opaque when done. Set aside.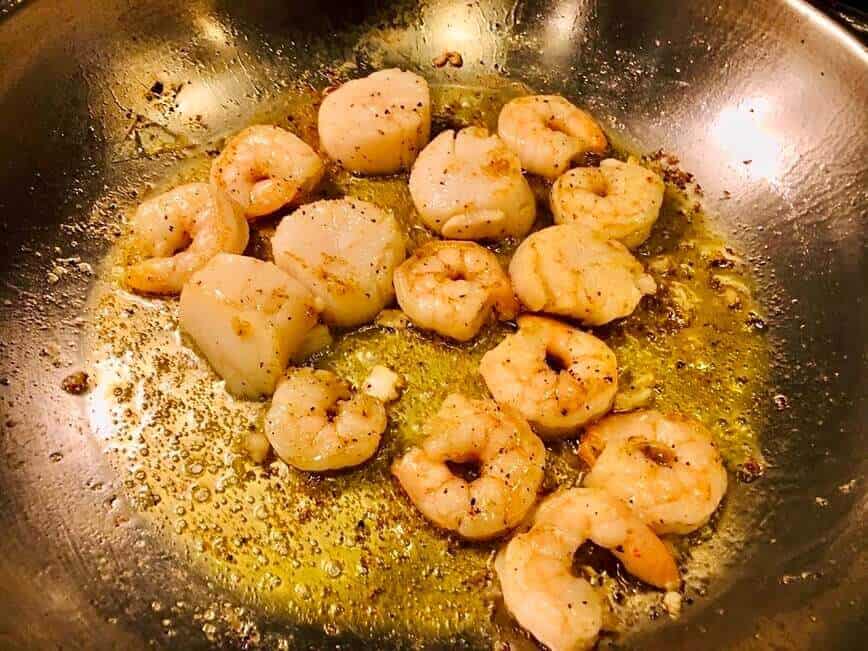 Next, sauté some garlic in the same olive oil, stirring frequently for one minute or until fragrant. Add ¼ cup white wine and chopped tomatoes and reduce heat to a simmer. Season tomatoes with some salt and pepper. But be careful...we'll now add a cup of the pasta cooking liquid, which will add brininess (aka saltiness).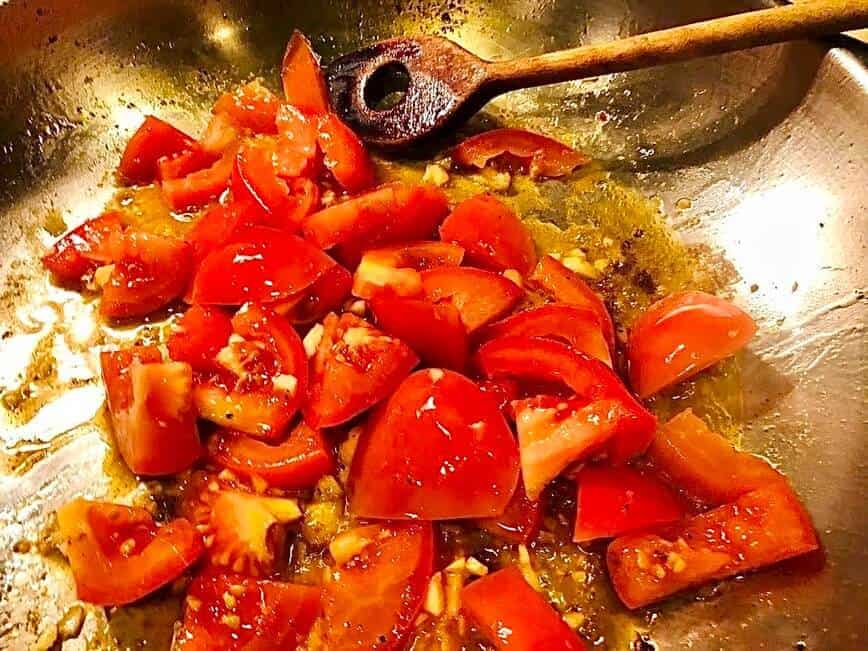 Once all the liquids are mostly cooked down (which takes about 15 minutes), add the shrimp, scallops, and chopped parsley. Add some fresh lemon juice, hot pepper flakes, and toss everything for a minute. Serve over your black pasta.
🦑 Fun facts about cephalopods
Just amazing creatures
Happy Halloween!
Love Halloween? Check out our other fun projects and delicious recipes:
Recipes
Crafts
Nature
Love pasta? Check out more of our pasta recipes now:
Did you make this Squid Ink Pasta recipe? Let us know in the comments below!
📝 Recipe
Black Squid Ink Pasta for Halloween
Making your own pasta is easier than you think. Halloween is right around the corner, so I decided to add a little Halloween and make Squid Ink Pasta.
Ingredients
2-⅔

cups

"00" flour

3

large

eggs

1

tablespoon

salt

.25

ounces

cuttlefish ink (2 packs)

12

large

peeled, deveined shrimp

8

sea scallops

2

medium

tomatoes, chopped

3

garlic cloves, minced

¼

cup

extra virgin olive oil

¼

cup

white wine

1

cup

pasta cooking liquid

½

tablespoon

hot pepper flakes

1

tablespoon

freshly squeezed lemon juice

½

cup

Italian flat leaf parsley, chopped

Salt and pepper
Instructions
Mix eggs and ink in a blender.

Pour flour in a bowl and make a well on top. Add egg/ink mixture into well and mix with a fork.

Once the ink has been absorbed, hand knead for at least 10 minutes.

Cover and let rest for 45 to 60 minutes at room temperature or overnight in the fridge.

Heat olive oil in a frying pan and cook shrimp and scallops for 2 minutes each side. Season with salt and pepper.  The shrimp will turn pink and the scallops will turn opaque when done. Set aside.

Add minced garlic and cook for one minute, or until fragrant, while constantly stirring. Add tomatoes and white wine and reduce heat to a simmer. Lightly season with salt and pepper.

In the meantime, start boiling the pasta. And once the pasta starts cooking, remove one cup of cooking liquid and add to the sauce.

Once the sauce is nicely reduced to your desired thickness, put the seafood back in the pan, add lemon juice, pepper flakes, and parsley, give it all a good toss, and serve over your homemade squid ink pasta.
Notes

Calories:
612
kcal
|
Carbohydrates:
44
g
|
Protein:
25
g
|
Fat:
36
g
|
Sodium:
4330
mg
|
Potassium:
765
mg
|
Fiber:
4
g
|
Sugar:
5
g
|
Vitamin A:
3289
IU
|
Vitamin C:
41
mg
|
Calcium:
109
mg
Content and photographs are copyright protected. Sharing of this recipe is both encouraged and appreciated. Copying and/or pasting full recipes to any social media is strictly prohibited.