Aglio olio e peperoncino. This one never gets old. Who doesn't like snappy shrimp with a little-more-than-a-hint of garlic, and some nice heat created by olive oil-soaked hot pepper flakes. If you'd like to deepen the flavor even more, you can add some shaved Parmesan and freshly chopped Italian parsley.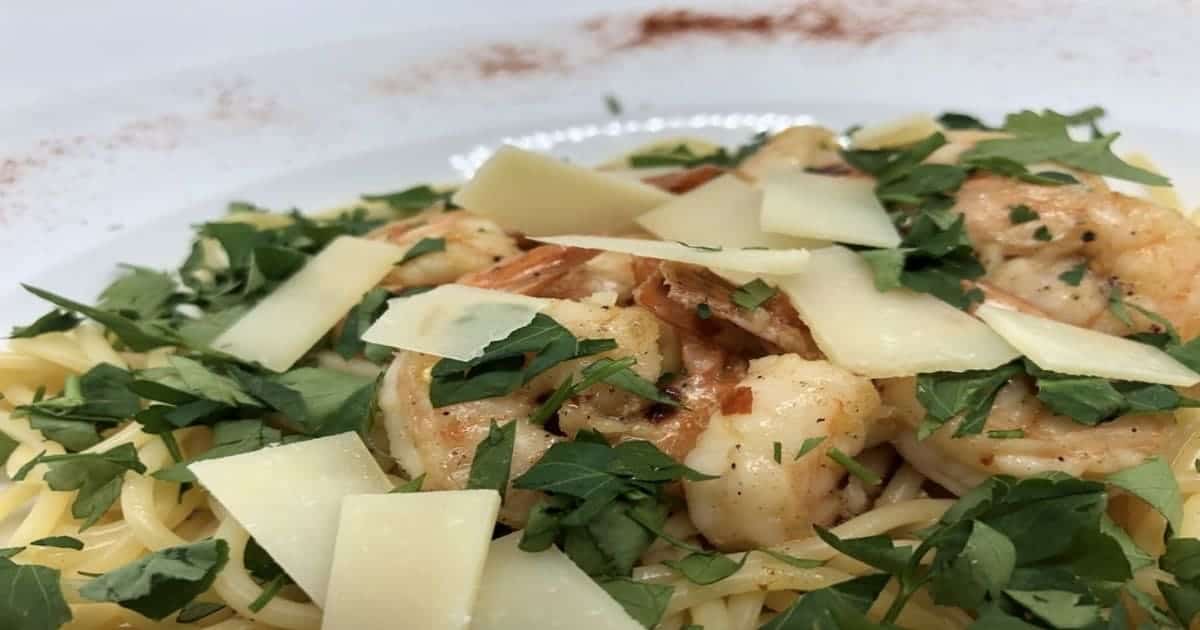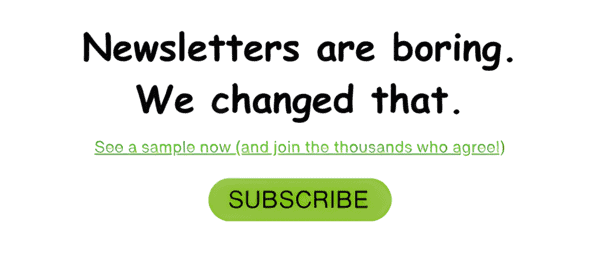 Jump to:
I like to make this classic recipe from Naples, Italy, and variations of it, for years. Once you get the basics down, then get creative, change it, add different herbs, try scallops instead of shrimp, make your own pasta to really blow your guests away, or anything else! Who needs a recipe! All we need are a basic pantry and some basic cooking skills, and we're on our way to creating flavorful meals in 30 minutes. Really. It's that easy.
For dishes with an olive-oil-based sauce, I like to use spaghetti; for dishes with chunky ragu-style sauces, I like to use penne; for dishes with tomato-based sauces, I like to use... whatever. Just use your favorite pasta with your favorite sauce. Why is everybody always telling everybody what to use, but seldom why?
Because it makes the author sound smarter, more authoritative. And how does that make you feel? Less competent. I'm not posting my own creations on here to sound smart or better than you. I'm posting them here so I can get your feedback about how you used this basic information and how you tweaked it to your own taste, so I can learn too. It's a two-way road.
🧾 Ingredients
Spaghetti

Shrimp

Extra virgin olive oil

Garlic

Hot pepper flakes

Parsley

Parmesan

Salt
See the recipe card below for full list of ingredients and their measurements.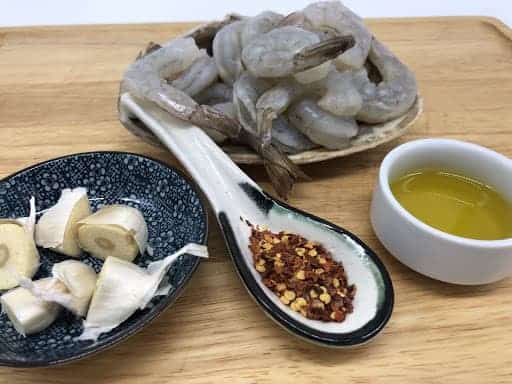 🥘 Cooking
So here's my way of making it: Defrost your frozen shrimp in cold water. Rinse, pat dry, add salt and pepper.
Cook your favorite pasta in salted boiling water until al dente. Always, when draining your pasta, keep some of the starchy, salty pasta water. That stuff is gold!
Over medium heat, heat your basic extra virgin olive oil and add the shrimp. After a couple minutes, add the garlic and pepper flakes, and mix everything very well. Add more olive oil as needed.
⭐ Note:
Conventional cooking with garlic as an ingredient will instruct you to sauté the garlic in oil first before adding the shrimp. That's great if you can control the heat all the way until your dish is finished without browning the garlic. Once the garlic is overcooked, your dish is basically inedible. So do yourself a favor and add the garlic toward the end. Once you're comfortable with the timing of cooking the shrimp, then you can start sautéing the garlic first.
The shrimp is done when they turn pink and are all tightly curled up. And the garlic will smell like heaven. Now it's time to add a couple tablespoons of that saved pasta water, increase the heat to a boil, and let the sauce reduce for a few minutes.
🍽 Serving
Now that you're ready to serve this amazing meal, either plate the pasta and add the shrimp on top - or even better, throw the pasta into the pan you made the shrimp in and toss everything together.
At this point, I like to add a handful of chopped Italian parsley and some shaved or grated Parmesan cheese. And maybe drizzle some of my extra-special extra virgin olive oil on top. Voilà.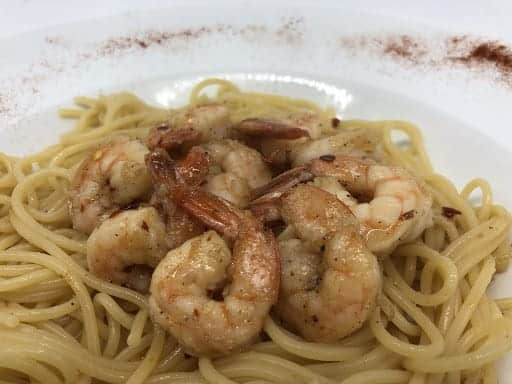 This recipe (and any of your variations) can be made entirely from a basic pantry plus some fresh herbs that we'll talk about later this spring. If you get your 2 lbs of frozen shrimp on sale, this whole dish will cost less than $5 total!
🍾 Wine pairing
I love a glass of semi-sweet Riesling from Germany with this dish. Somehow the spiciness of the hot pepper flakes and the acidity of the wine are just an incredible pleasure for your taste buds.
I'd like to know your variations on this classic, and what wine or other drink you enjoy pairing with it. Now, I was just thinking about adding some pancetta or slivers of anchovies to the pan when the oil is heating up…Just saying…
🦐 Fun facts about shrimp
May 10th is National Shrimp Day




The average size of a shrimp is about 6 inches, while the longest ever found was 16 inches




Most shrimp are omnivorous




Some shrimp can live as long as 6-½ years, while some only live about a year




There are over 2,000 species of shrimp




Every shrimp is actually born a male and then become female as they mature




The average shrimp has 10 legs




Shrimp that has been broiled or sautéed, usually in butter and garlic, are called "scampi"




The average American consumes 4.0 lbs. of shrimp annually




Shrimp can be noisy by hitting their large and small pincers together. This noise is loud enough to stun or even kill some small fish.




A shrimp's heart is located in its head
Love pasta? Check out more of our pasta recipes now:
Did you make this Aglio Olio recipe? Let us know in the comments below!
📝 Recipe
Snappy Shrimp, Spicy Hot Pepper Flakes, and Garlic Breath
Aglio olio e peperoncino. This one never gets old. I like to make this classic recipe from Naples, Italy, and variations of it, for years.
Ingredients
6

ounces

spaghetti

8

ounces

raw shrimp, peeled & deveined

3

tablespoons

extra virgin olive oil

1

tablespoon

garlic, finely minced

1

teaspoon

hot pepper flakes

Parsley, chopped

Parmesan cheese, grated

Salt, to taste
Instructions
Cook spaghetti in salted water until al dente

Drain, save 2 tablespoon pasta water

Heat olive oil over medium heat in a pan and add shrimp


Cook shrimp for 3-4 minutes


Add hot pepper flakes and garlic for 2 minutes


Add pasta water to the pan and bring to a boil, reduce for 2 minutes


Add pasta to pan and toss in the sauce


Add parsley and Parmesan


Serve

Notes

Calories:
606
kcal
|
Carbohydrates:
65
g
|
Protein:
34
g
|
Fat:
23
g
|
Sodium:
158
mg
|
Potassium:
525
mg
|
Fiber:
3
g
|
Sugar:
2
g
|
Vitamin A:
297
IU
|
Vitamin C:
1
mg
|
Calcium:
101
mg
Content and photographs are copyright protected. Sharing of this recipe is both encouraged and appreciated. Copying and/or pasting full recipes to any social media is strictly prohibited.