Whether it's your first time baking fish or it's something you do once a week already, please try this recipe. This oven baked cod recipe is super easy, delicious, and healthy.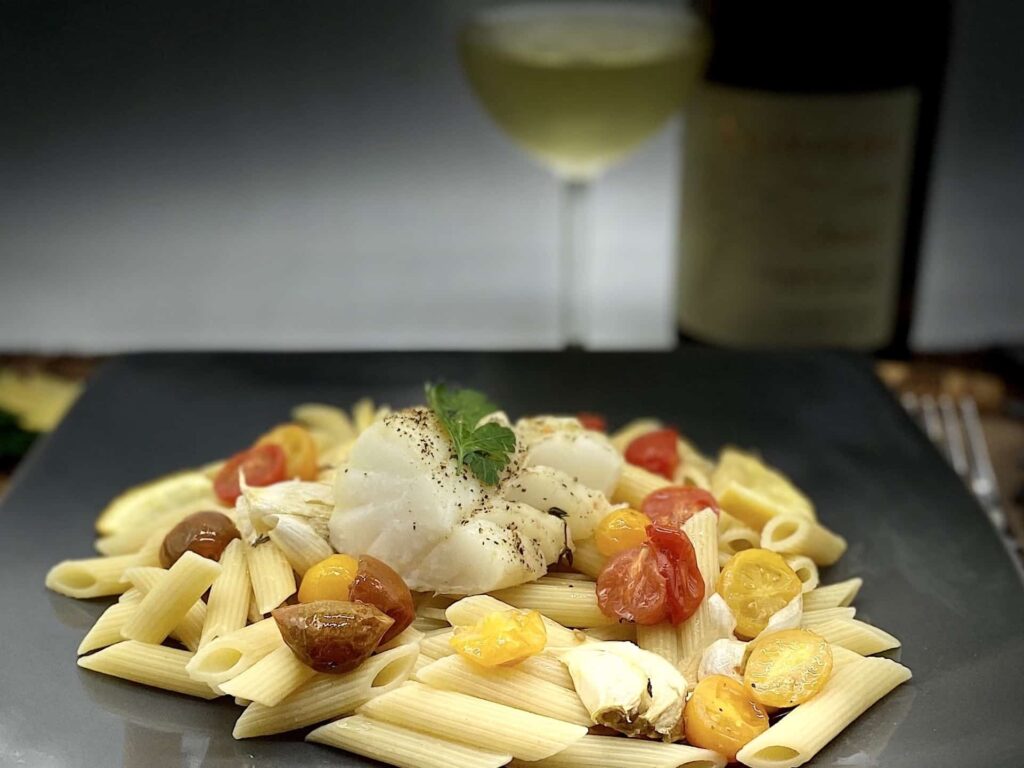 Cod Fish Is Friendly On Your Wallet And Easy To Cook
Why oven baked cod and not just any fish? Cod is not just friendly on your wallet, it's probably also one of the easiest fishes to cook...any way you want it. To make sure you buy sustainably caught cod, seafood watch provides regularly updated guidelines here.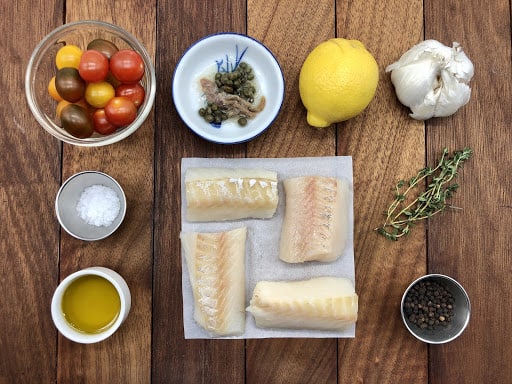 Like most white cold-water fish, cod has a pretty light taste but a nice firm texture. So we have to build flavors around it. When I make seafood and want to improve the flavor depth, I'll add some anchovies. Heck, I even add anchovies when I'm making tomato sauce. 
Anchovy Fillets - My Secret Seafood Ingredient To Create Umami
Eating an anchovy by itself can be a pretty daunting task (aka salty, strong tasting), but if you let them cook in a sauce or olive oil, they basically just disappear and add a ton of flavor (umami) to your dish. Even if you think you don't like anchovies, give them a try. You'll surprise yourself.
Adding some capers is another great way to add flavor (the small ones called non-pareil). Again, not everybody likes eating capers out of a jar, but cooking them together with all the other ingredients will add some magic to your dish.
Super Easy Oven Baked Cod
Let's get started: Grab a large bowl. Cut lemons in slices and add to the bowl. Cut cherry tomatoes in half and smash unpeeled garlic with the broad side of your chef's knife. Add capers, anchovy, half the olive oil, and toss everything. Use the other half of the olive oil to grease your baking dish. Put the mixture in the baking dish. Start cooking your pasta at this point, so it's ready when the fish is done.
Preheat your oven to 400℉. Rinse the cod and pat dry. Season with Maldon sea salt and freshly ground black pepper. Put on top of the mixture in the baking dish and sprinkle with thyme.
Cook for about 15 minutes. Actual cooking time will depend on the thickness of your fillets. The fish is done when it flakes easily with a fork.
While the fish is baking, preheat some plates in your toaster oven or at least rinse them in very hot water. Nobody likes fish on a cold plate. Serve fish over your favorite pasta and garnish with chopped parsley.
Tip: Make sure to use a spoon to get all the juices out of the baking dish and spoon it over everything. These juices are loaded with flavor from the capers and anchovies.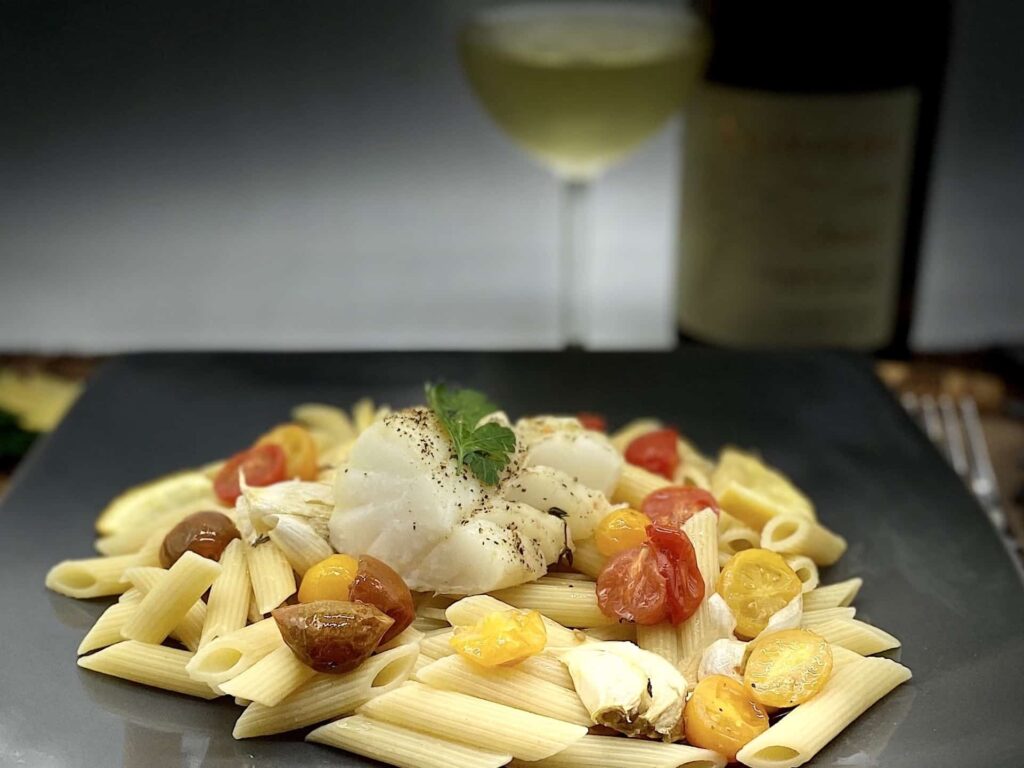 How About A Glass Of Wine With It?
I like to serve this dish with a nice California chardonnay. We're not talking about a heavily oaked, overpriced bottle of wine from yesteryear. Lots of Californian winemakers are making deliciously light but still buttery Chardonnay nowadays that deserve a second look. I was never a big fan of the "old style," but love what the new generation of winemakers are producing. And the neat part about these newer styles is also the price: You can find a perfectly delicious bottle for less than $15. Ask your friendly wine seller.
If you're interested in learning more about making choices when buying fish, I can highly recommend Peter Greenberg's book "Four Fish - The Future of the Last Wild Food." It's a great read about the current state of wild and farmed fish, and the respect and political awareness they deserve.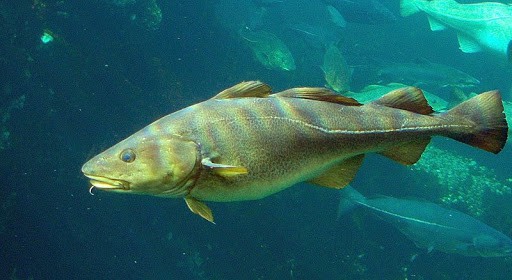 Facts About Cod
Cod is very important to New England and is used as the Massachusetts State Emblem

They feed on mollusks, crabs, starfish, worms, and small fish

Portuguese people claim to have 365 ways of preparing dried salt cod

10% of the world's caught fish is cod

Cod can live up to 30 years

Cod can produce a natural antifreeze, allowing it to venture into cold waters

Cod have been around for 120 million years

Cod is the most popular fish to make fish and chips; Brits have been eating this for over 150 years

Cod fishing in the Atlantic and North Sea is strictly monitored to prevent overfishing; numbers were extremely low in the last few years.

Alaskan Cod stocks are healthy, making it a great choice. It has wonderful white flesh and mild flavor, is low in fat, and is rich in nutrients and protein.


(Source:

www.thecookwarereview.com

)
Love delicious food? Check out a few more of our recipes now:
Did you make this Oven Baked Cod recipe? Let us know in the comments below!
Super Easy Oven Baked Cod
Whether it's your first time baking fish or it's something you do once a week already, please try this recipe. This oven baked cod recipe is super easy, delicious, and healthy.
Ingredients
Four

(3-oz)

cod fillets

8

oz

penne pasta

¼

lemon, sliced

4

cloves

garlic, smashed with skin on

1

c

cherry tomatoes, halved

1

tablespoon

capers, non-pareil

1

(or 2)

anchovy fillets

2

tablespoon

olive oil

4

sprigs

thyme, with stems removed

Maldon sea salt

Freshly ground black pepper

Parsley for garnish
Instructions
Cook pasta at this point, so it's ready when the fish is done

Rinse cod fillets under cold water, pat dry with paper towels, and season with salt and pepper

Smash garlic cloves, slice ¼ lemon, cut cherry tomatoes in half, and add to large bowl

Add capers, anchovy fillet, 2 tablespoon olive oil, and mix everything

Pour mixture into baking dish, add cod fillets, and sprinkle the fillets with thyme leaves

Bake for about 15 minutes (the fish is done when it flakes easily with a fork)

Serve on warm plates over your favorite pasta and garnish with parsley

DON'T FORGET to spoon the baking juices all over everything!

Content and photographs are copyright protected. Sharing of this recipe is both encouraged and appreciated. Copying and/or pasting full recipes to any social media is strictly prohibited.