I saw a news article about this Russian woman killing noisy neighborhood children and serving their meat as sweets. Sound familiar...Ms. Lovett from Sweeney Todd?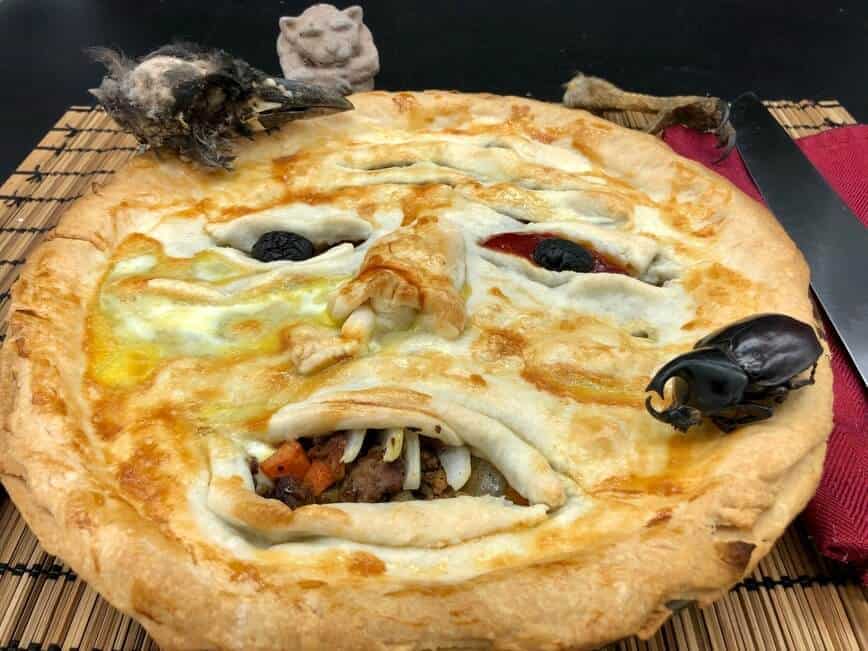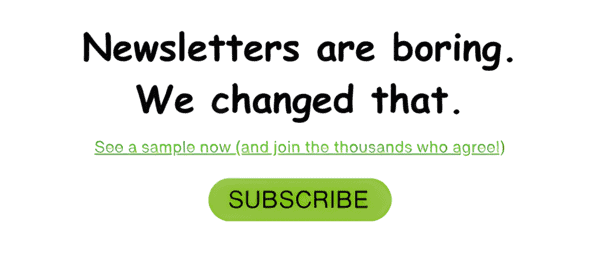 My twisted brain went into overdrive about how to create creepiness without hurting any children, when I came across another article, this time from Atlas Obscura about artists making realistic-looking "people pot pies."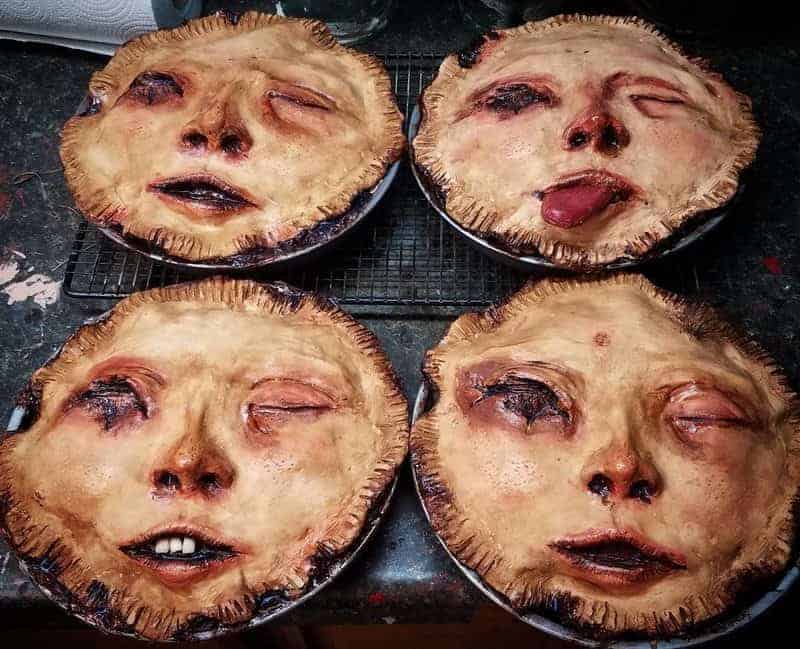 That's it. Now it's my turn.
This project is not so much about the filling but more about creativity. I'm so curious what you'll come up with to bake a creepy looking face with all edible ingredients.
Besides dough and filling, I used chopped onions for the teeth, and ketchup and black olives for the eyes.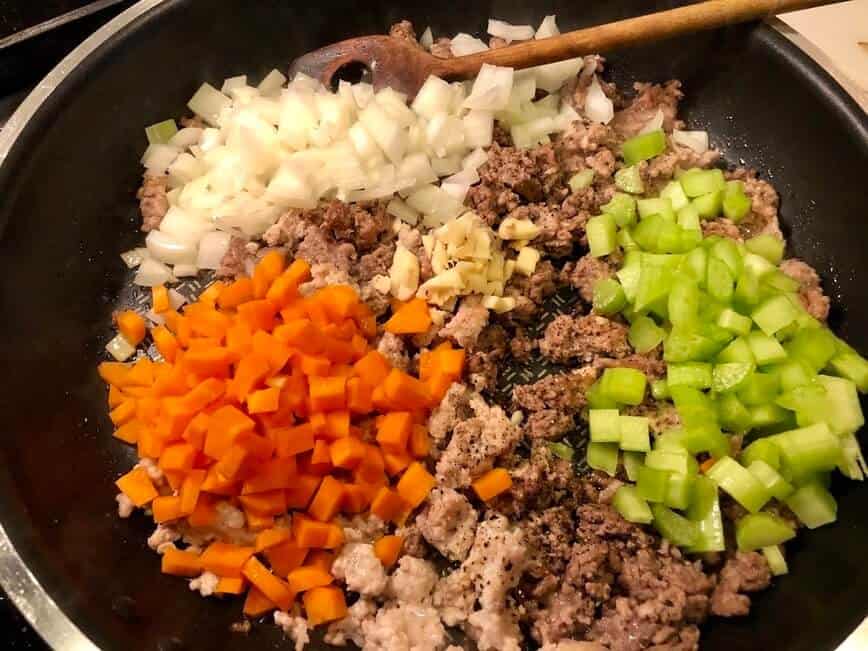 Get creative and make your own version! For my pie filling, I used a simple mirepoix - onions, carrots, and celery, plus some garlic. First, brown about a pound of ground meatloaf mix (veal/pork/beef) and season with salt and pepper.
Next, add the chopped vegetables, turn down the heat, and cook everything for about 30 minutes. When it got a little dry, I added some vegetable stock, probably about a cup total. If you happen to have some leftover mashed potatoes, add it to your mixture, to give it a smoother texture.
For seasoning, use garlic salt, dried oregano, chile, ground mustard, and fennel powder. A generous pinch each, or about ¼ teaspoon.
But either way, I'm sure you have your own favorite pie filling, so I won't even add a recipe box to this article.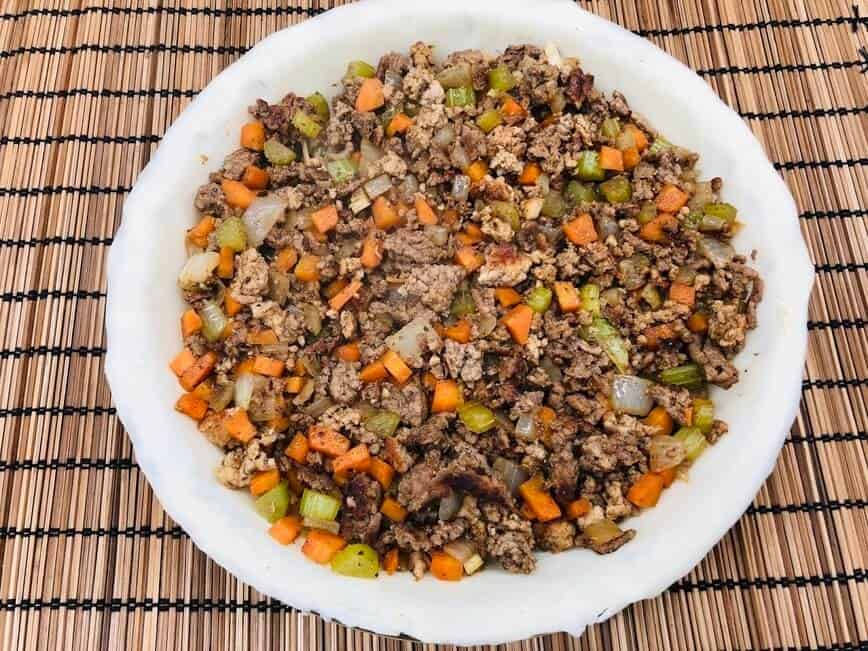 To make the pie, I used store-bought refrigerated pie crust. Of course, you can make it from scratch, but I just wasn't in the mood. Place one pie crust on the bottom of your greased 9-inch glass pie pan and fill it with the beef mixture. Make sure you cut off the extra crust hanging off the edge all around the pie plate. We'll use that for the nose, lips, and any other add-ons.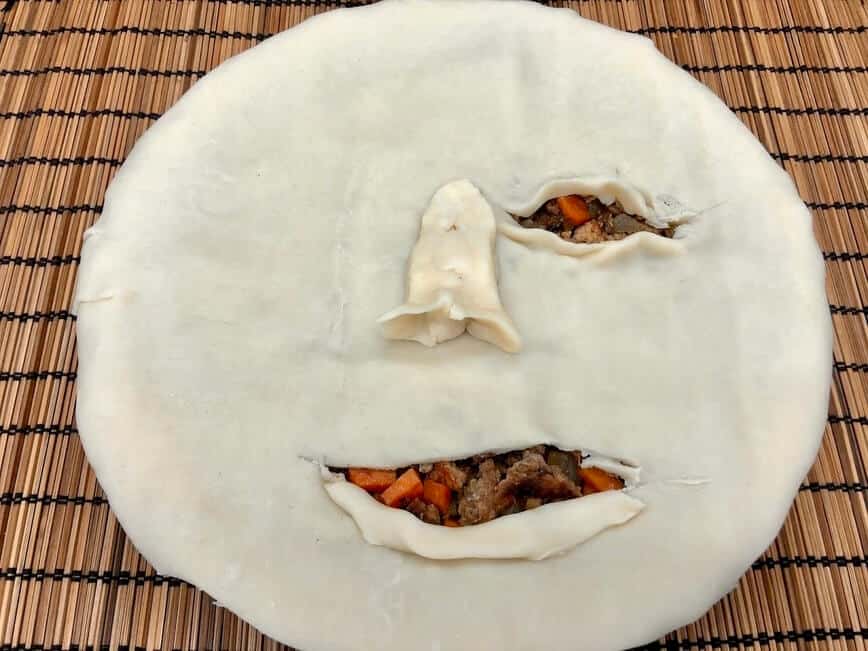 Place the second pie crust on top and get creative! Use a sharp knife to cut out the eyes and mouth. Next, add the nose and lips. With your fingers, create some wrinkles, bumps, folds, etc. The more, the better. I squirted some ketchup in one eye and stuck a black olive in each. Top it off with some unevenly applied egg wash and bake at 425℉.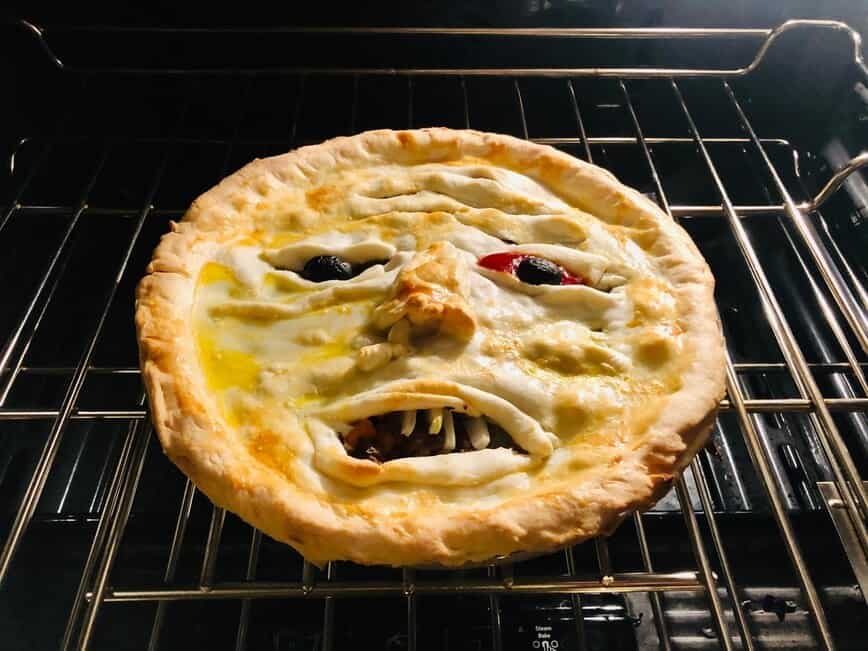 Watch the eerie transformation. It looks like it's coming alive… Bake until it's nicely browned, about 35 minutes, and add some other creepy Halloween decorations to it before bringing it over to your neighbor's Halloween party!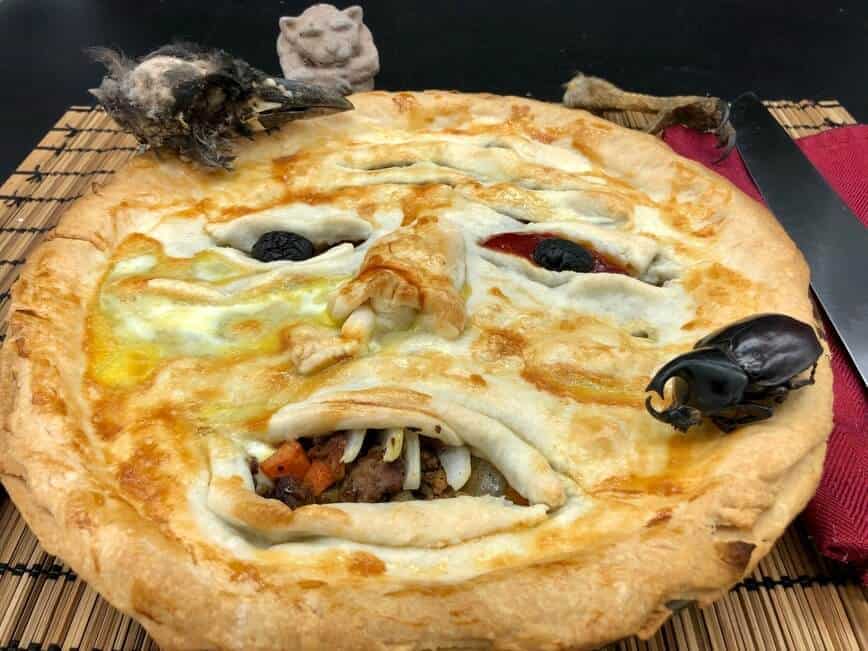 Disclaimer: No children were harmed in the making of this pie.
But back to Sweeney Todd: Halloween is just around the corner, so let's all get ready by enjoying a compilation of Mr Todd's handiwork.
❗ Warning: VERY graphic!
By now, you've probably realized that maplewoodroad.com goes a little crazy around Halloween.
Happy Halloween!
Love Halloween? Check out our other fun projects and delicious recipes:
Recipes
Crafts
Nature
I want to see your pie pictures. Please share!
Did you make this Spooky Face Meat Pie recipe? Let us know in the comments below!
Content and photographs are copyright protected. Sharing of this recipe is both encouraged and appreciated. Copying and/or pasting full recipes to any social media is strictly prohibited.