'Twas the night before Christmas, when all through the house; not a creature was stirring, not even a mouse; the stockings were hung by the chimney with care, in hopes that St. Nicholas soon would be there ~ Clement Park Moore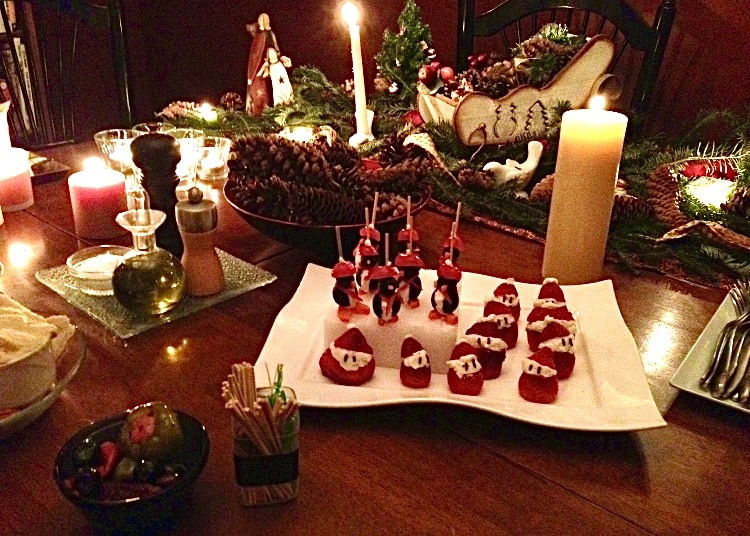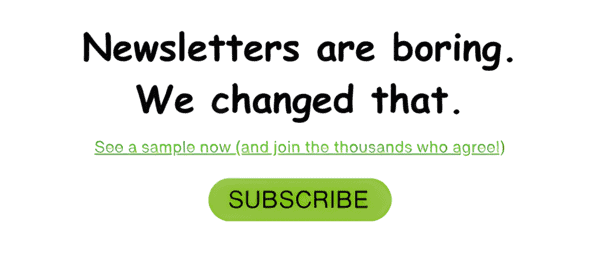 Jump to:
The tree is trimmed, the shopping is done, the gifts are wrapped, but the Christmas parties are just beginning...
Whether you're hosting at your house this year or attending a party at a friend or family's home, these Christmas party appetizers are a sure bet for a tasty treat! Your friends will love the adorable creations and delicious morsels you've made especially for them. I've made each and every one of these recipes for our Christmas parties and they're always a big hit!
🌲 Pine cone cheese balls with bacon and toasted almonds
Lightly toast almonds in toaster oven. In a bowl, mix 8 ounces cream cheese, ½ cup mayonnaise, 4 slices cooked and crumbled bacon, ½ teaspoon dill, 1 tablespoon scallions, salt and pepper. Form into a pinecone shape and garnish with toasted almonds. Add a sprig or two of rosemary for presentation. Serve with crackers.
🌿 Puff pastry with brie, cranberry sauce, and thyme
Preheat oven to 425°F. Cut puff pastry into 1-2" squares. Place a slice of brie cheese on top and bake for 10-12 minutes, or until pastry has risen and is slightly browned. Add a small dab of cranberry sauce and thyme on top and serve warm.
🍐 Pear crostini with honey, ricotta cheese, and walnuts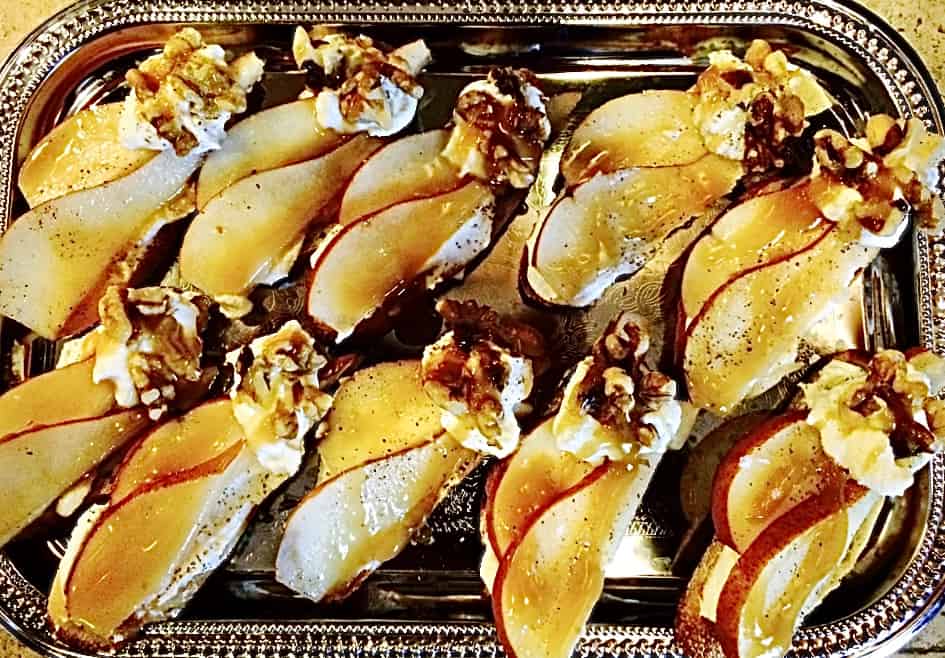 Preheat oven to 325°F. Cut thin slices of baguette and arrange on a baking sheet. On top of each slice, add a dollop of ricotta cheese, a slice of pear, a piece of walnut, salt & pepper, and drizzle with honey. Bake for 10 minutes. Serve warm.
🐧 Olive penguins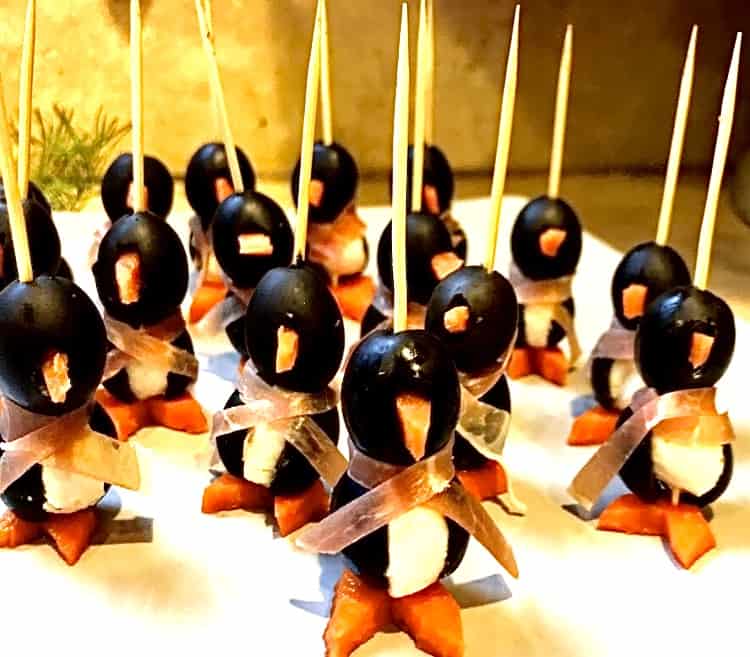 For the body, carefully slice a pitted olive in half, but don't cut all the way through; in the opening, place a dab of cream cheese. Cut carrots into slices and make a V cut in each slice, to form the feet. On a long toothpick, first place the carrot feet, then the cream cheese-filled body, then another olive on top for the head (use a thin slice of carrot for the nose), and finally adorn the penguin with a thin slice of prosciutto scarf.
🥑 Guacamole christmas trees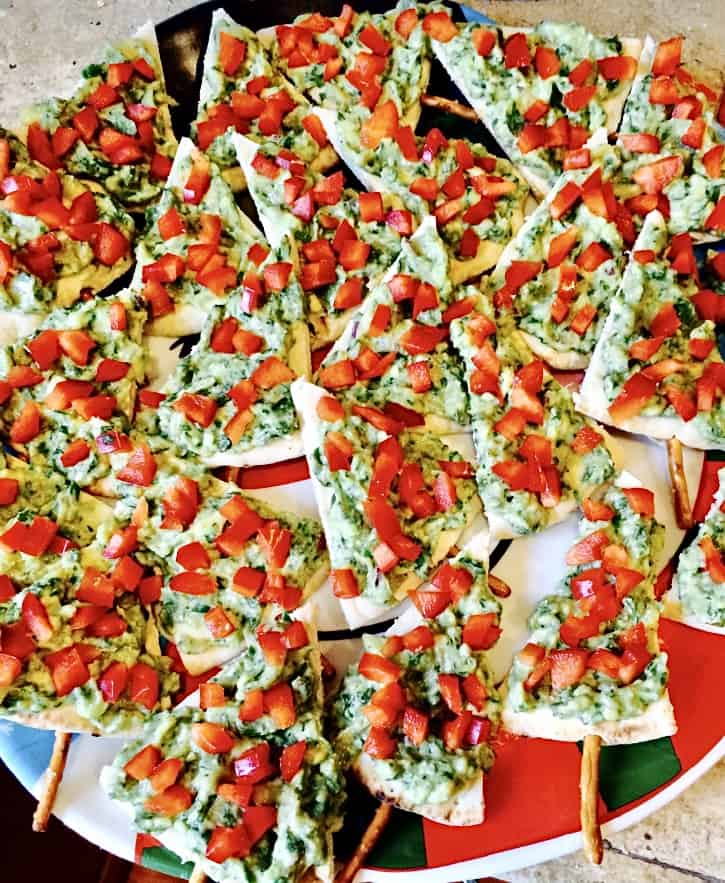 First, make Erich's Knock-Your-Socks-Off Guacamole. Slice pita bread into small triangles. Place a dollop of guacamole on top of each triangle and add chopped tomatoes and red bell pepper for "ornaments." Finally, insert a small pretzel stick into the bottom of the pita triangle as as tree trunk.
🎅 Strawberry Santas
Hull and remove leaves from strawberry. Cut off the bottom ¼ of the strawberry (this will be the hat). To make whipped cream, using a stand mixer or a handheld electric mixer, whisk together 1 cup heavy cream, 2 tablespoons sugar, and 1 teaspoon vanilla extract until firm peaks. Turn base of strawberry upside down and pipe whipped cream on top of strawberry. Place hat on top and add another tiny dollop of whipped cream to top of hat. Use chocolate sprinkles for the eyes.
☃️ Snowman cupcakes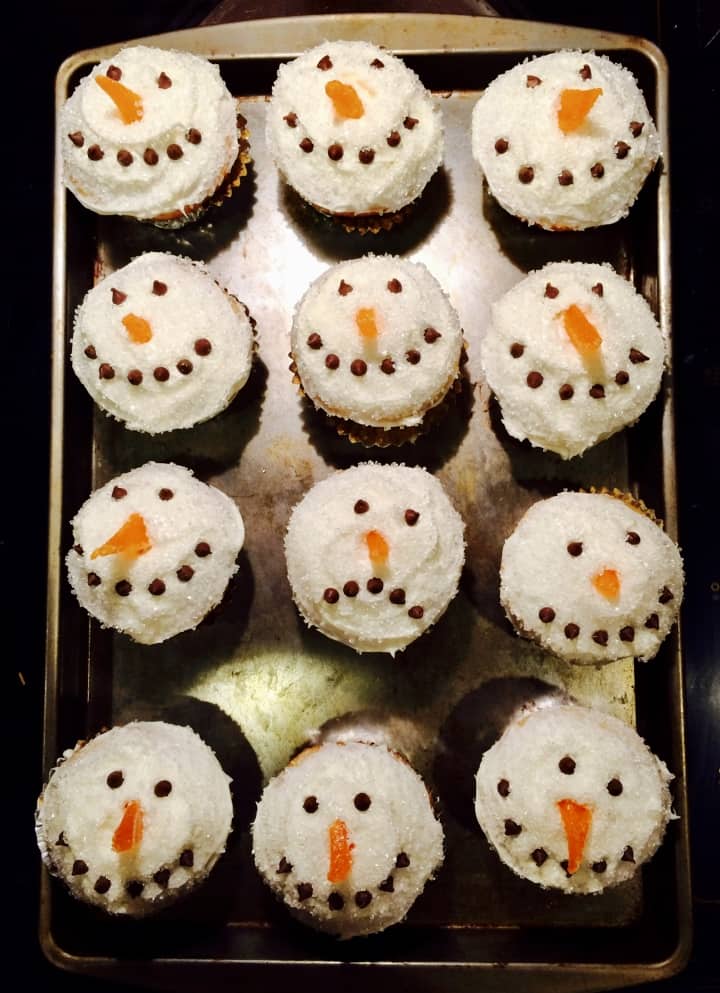 Bake and frost cupcakes as usual. Fill a shallow bowl with coarse sugar. Dip frosted cupcakes into coarse sugar. Add thinly sliced orange candy slice or butterscotch chip for the nose, and mini chocolate chips for the eyes and mouth.
🎄 Brownie christmas trees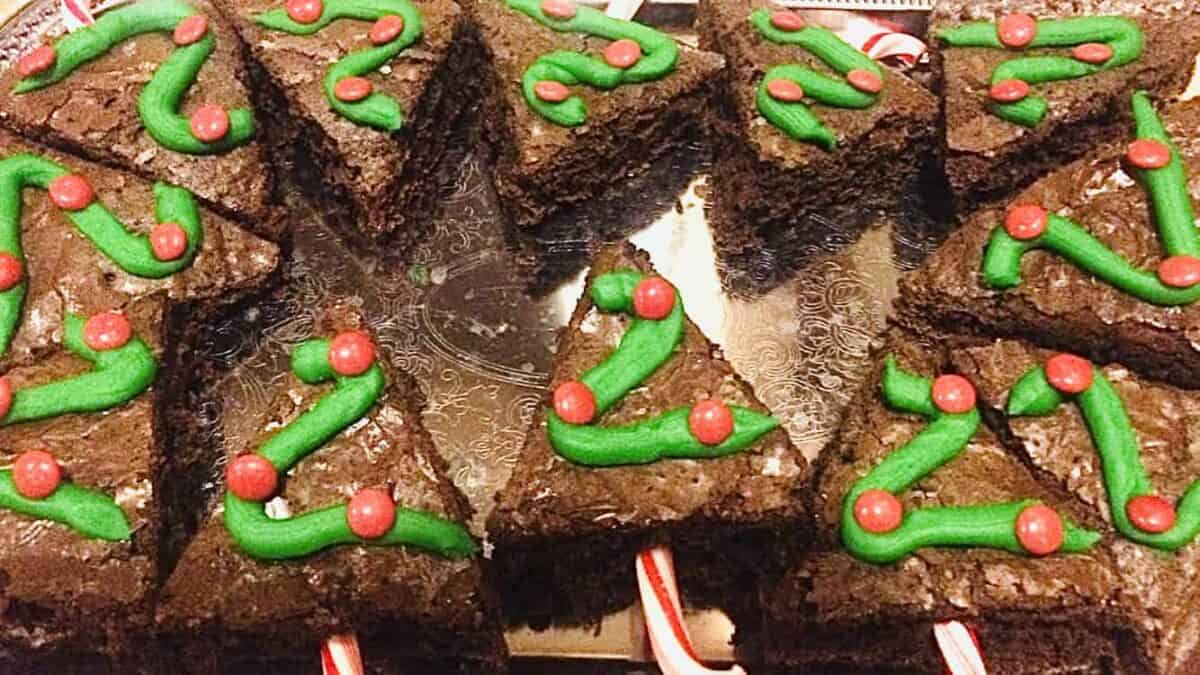 Bake brownies as usual. When cooled, cut brownies into small triangles. Pipe green icing in a diagonal swirl across the top and add mini M&M's as ornaments. Finally, add a mini candy cane as the tree trunk.
🦌 Reindeer cookies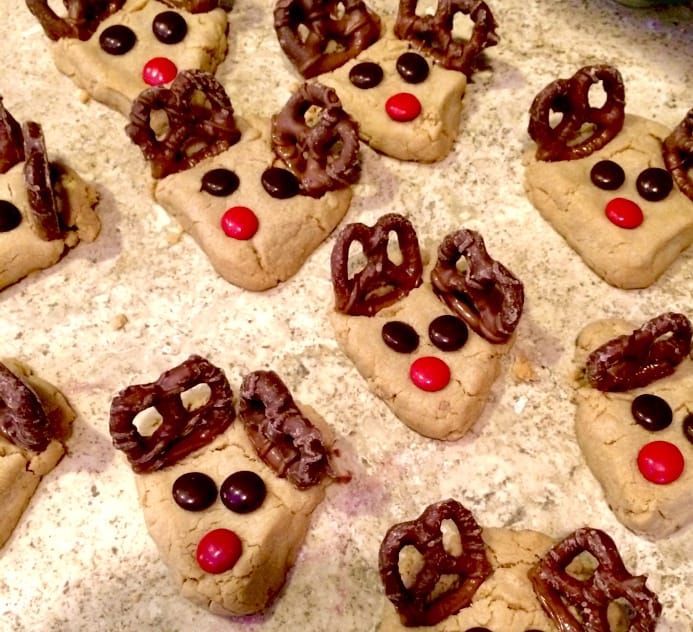 Make peanut butter cookies. Roll dough into balls and press down and form into a triangle shape. Bake as usual. While cookies are still warm, add dark brown M&Ms for the eyes, a red M&M for the nose, and chocolate-covered pretzels for antlers.
---
But wait! Don't throw that Christmas party yet until you check out all my tips & tricks for a successful, festive event!
Merry Christmas! 🎄🎅
Love Christmas? Check out our other delicious recipes and fun projects:
Fun Articles
Recipes
Crafts
Did you make these Christmas Party Appetizer recipes? Let us know in the comments below!
Content and photographs are copyright protected. Sharing of this recipe is both encouraged and appreciated. Copying and/or pasting full recipes to any social media is strictly prohibited.