We've all been there. You've found that perfect little gift for your mom or friend or neighbor, yessss! You're looking forward to handing over this amazing gift to your loved one and watching with excited anticipation while they open it, knowing that they'll absolutely love it!
But the store packaging it came in...well let's just say it's not exactly beautiful. You can't possibly present this treasure in that ugly box with the price sticker that won't come off!
Don't panic...I'm going to show you how to make a simple DIY gift box you'll want to keep for yourself!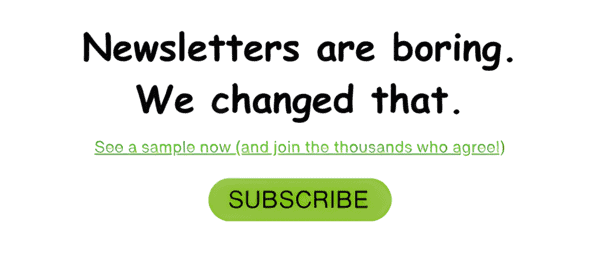 Jump to:
Materials
Wooden box with a lid (you can find these at any craft store)
Clear-drying glue or spray adhesive
Cardboard or cardstock
Paint & brushes
Felt or other fabric
Ribbon
Scissors
Q-tips
Possibly a screwdriver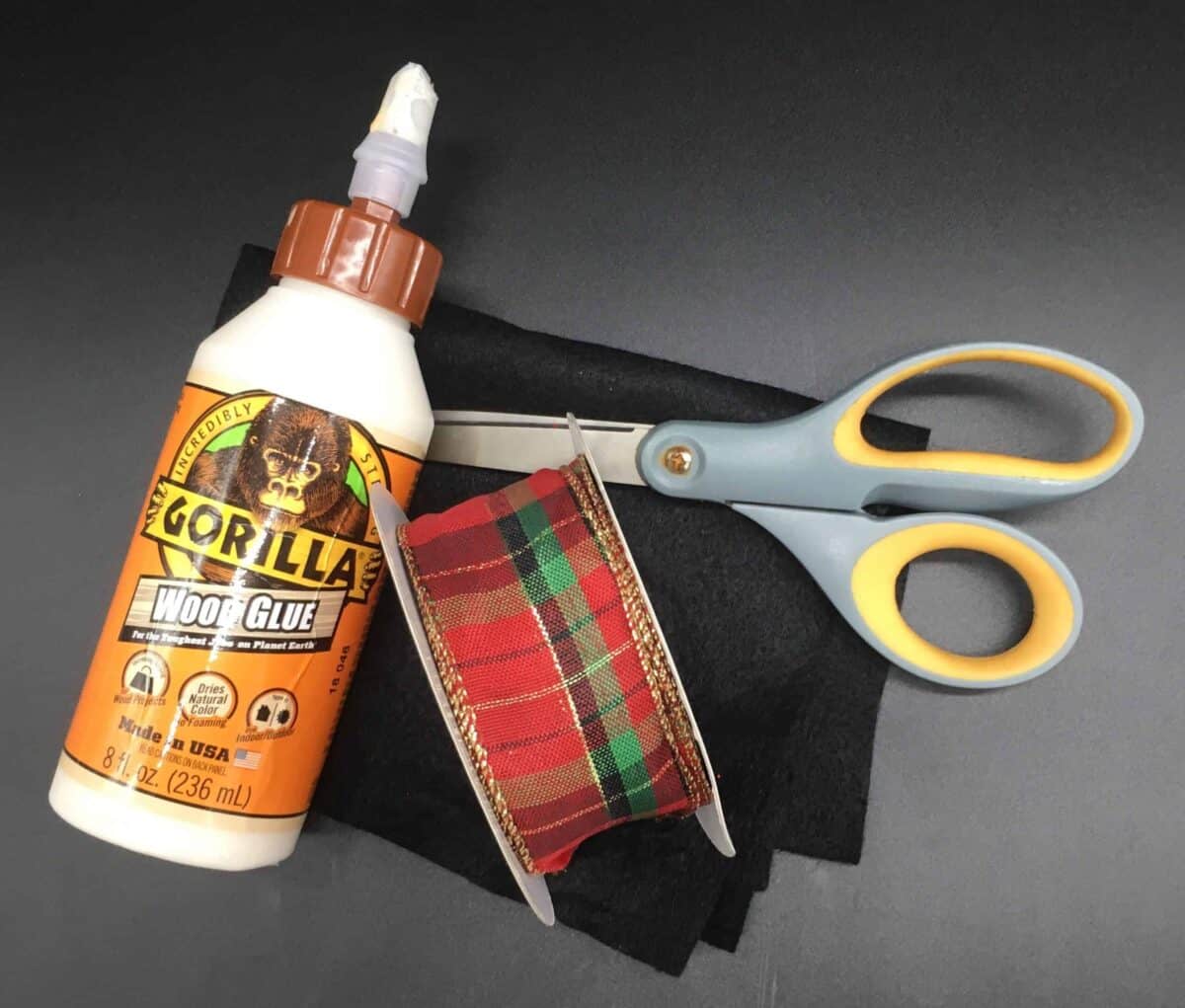 Now that you've got all the tools you need to make this gift the best one ever, let's get started on this easy DIY!
Painting
First, if your gift box has any beautiful hardware you don't want to get paint on, remove it with a small screwdriver.
Next, paint your box any color your heart desires. For my project, to keep in the festive spirit of the season, I chose a forest green paint to pair with my red ribbon. I also found it helpful to prop up my box on top of some jars. This way, it was easy to paint the outside all the way to the bottom without having it get stuck to the table.
Make sure to paint any surfaces (inside & out) that will not be covered by fabric. Once the paint has dried, replace the hardware.
Attaching the ribbon
Now, my favorite part: the ribbon! Am I the only one who gets excited about Christmas ribbon? There are so many beautiful kinds! Narrow/wide, wired/unwired, gold, silver, red, ribbon with Santas, ribbon with stripes, ribbon with glitter, ribbon with… Sorry, I got carried away for a second there.
Cut a length of ribbon that will wrap around the entire bottom section of your box, overlapping slightly into the inside of the box. Don't worry about the overlaps; these will be covered by the fabric you're using to line the box. With your box upside down on a table, figure out your placement before you get all glue-y.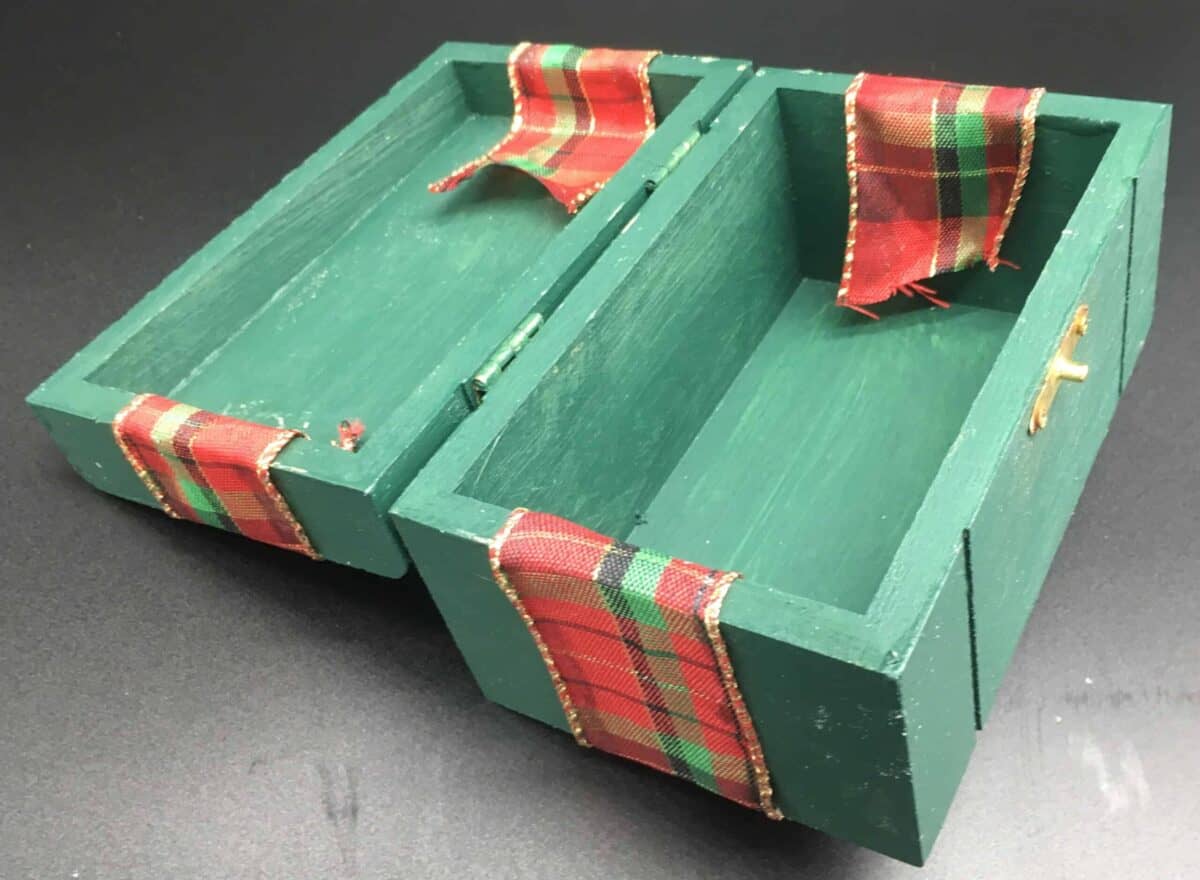 Apply either clear-drying glue to the edges of the ribbon with a Q-tip or use spray adhesive to glue the ribbon to the box, making sure to pull tightly so there are no bumps in the ribbon. You can either tightly tape these down while waiting for it to dry or use a hair dryer. Repeat these same steps on the top of the box, making sure to match it up exactly with the bottom ribbon, so the sides line up.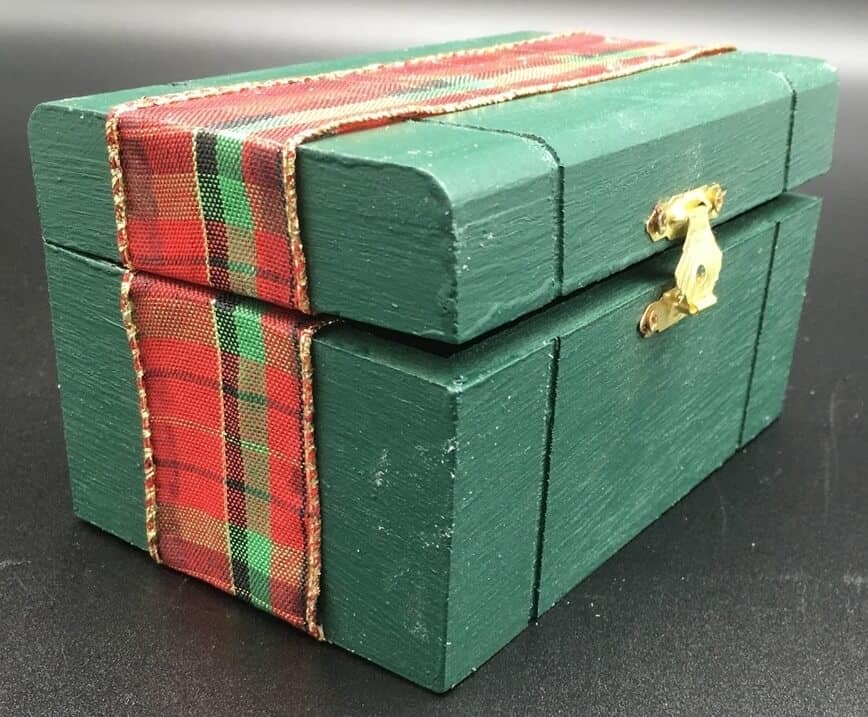 Lining with fabric
The next step is to line the box with fabric. Check out this video for an easy way to line your wooden box with the fabric of your choice. If you're using a thick fabric, like felt or velvet, I would not advise wrapping the fabric around the back of the cardboard, as it will get too thick. Instead, consider cutting the fabric off at the top and then gluing the top edge to the inside of the box itself. Padding is also an optional step.
Tying a bow
The last step in this project is to tie a bow and glue it to the top of your box. There are many different types of bows you can tie for a beautiful topper to your gift box. Here are just a few ideas: https://www.wikihow.life/Tie-a-Bow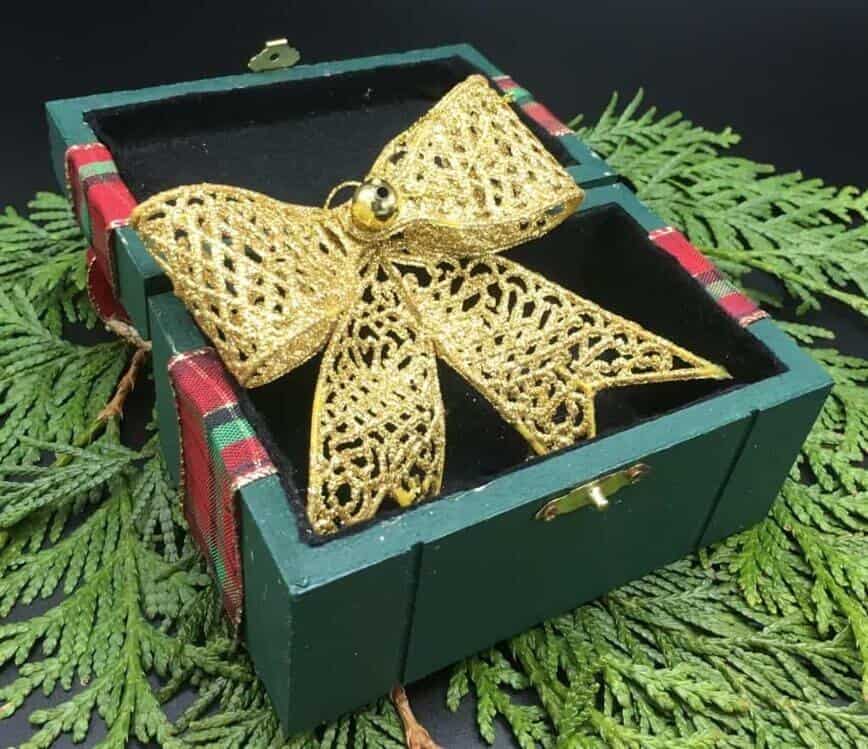 Finally! You now have a gorgeous gift box to fill with your wonderful gifts! Please share your gift box creations, I can't wait to see them! Happy Holidays!
Merry Christmas!
Love Christmas? Check out our other fun projects and delicious recipes:
Fun Articles
Recipes
Crafts
Did you make this Gift Box? Let us know in the comments below!