Roasted chestnuts were a big thing when I grew up in Switzerland.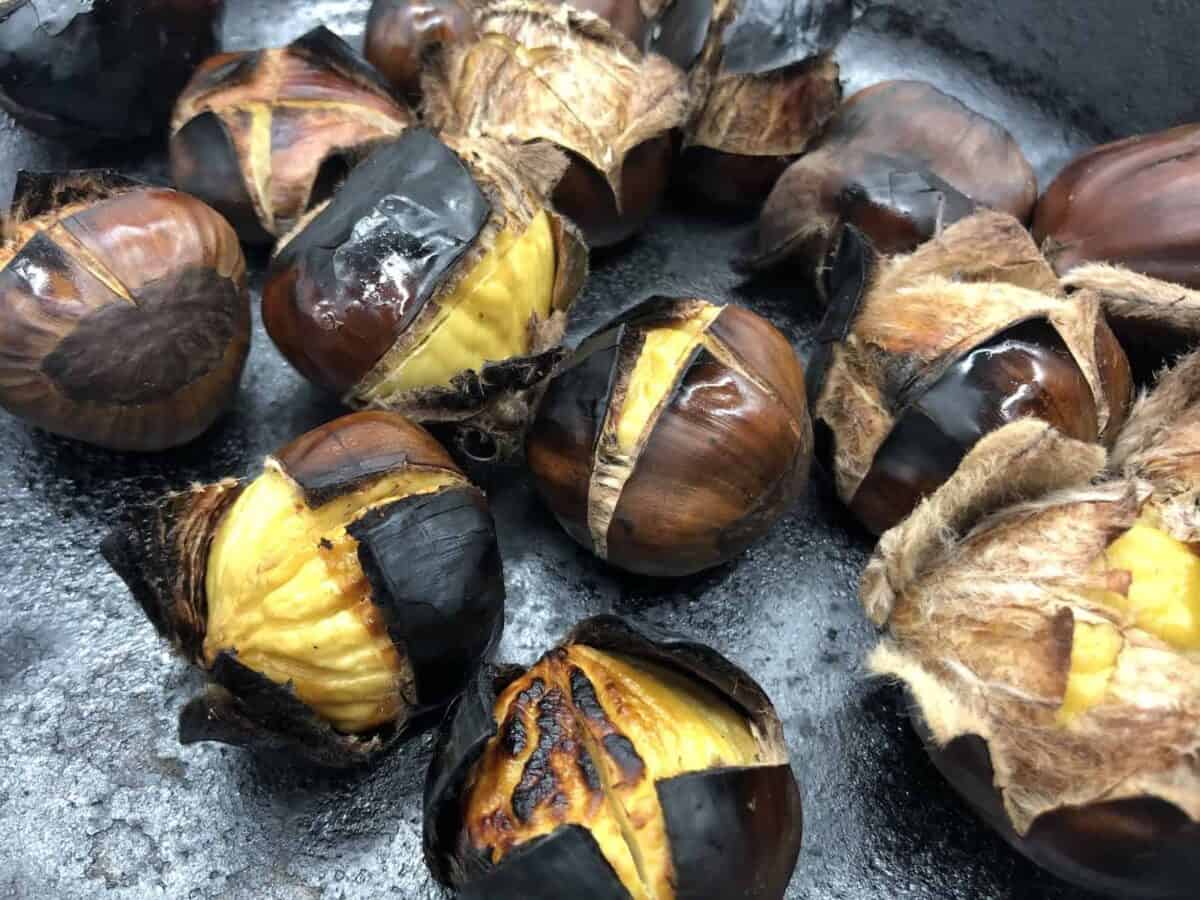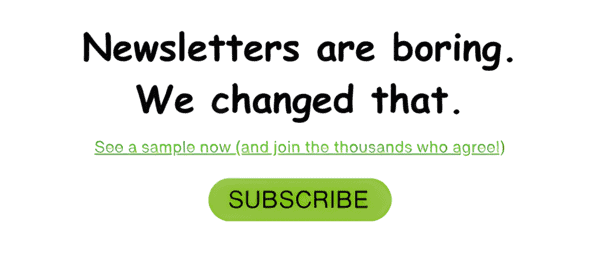 Jump to:
👶 My childhood memories
As a kid, every year in December, my parents would drop me and my sister off at my grandparents' home in Bern for a couple days. My grandfather would take us to town by tram and before being allowed to go the three-story toy store (it had an actual slide to go down to the basement floor!), we would stop at the Kindlifresserbrunnen and buy a ½-lb of roasted chestnuts. The street vendor would open the lid of his gigantic roasting pan to scoop out the roasting chestnuts and placed them in a piece of paper rolled into a cone.
Here comes the tricky part: By default, our little hands were tucked away in cute mittens to stay warm. But that doesn't work when trying to peel and eat chestnuts. So, our little fingers had to brave the cold, only to then get burned when touching the scorching hot chestnuts.
After peeling one by basically bouncing it in your hand and trying to get rid of the skin and that weird hairy part underneath, I was finally able to pop one in my mouth (ouch, it's still hot!). After the initial temperature shock, I started to enjoy the creamy, smoky, nutty, and so-satisfying taste of the chestnut.
🌳 Chestnuts in the US
Fast forward to the US. Sadly, when I first moved here, I learned that the American chestnut was basically wiped out during the first half of the 20th century by chestnut blight. There are recovery programs underway to grow disease-resistant chestnut trees here, but it's going to take a while before we can commercially harvest chestnuts again.
In the meantime, we have to settle with buying imported sweet chestnuts from Europe. It's a luxury that I allow myself at least once a year in December, to bring back some delicious childhood memories.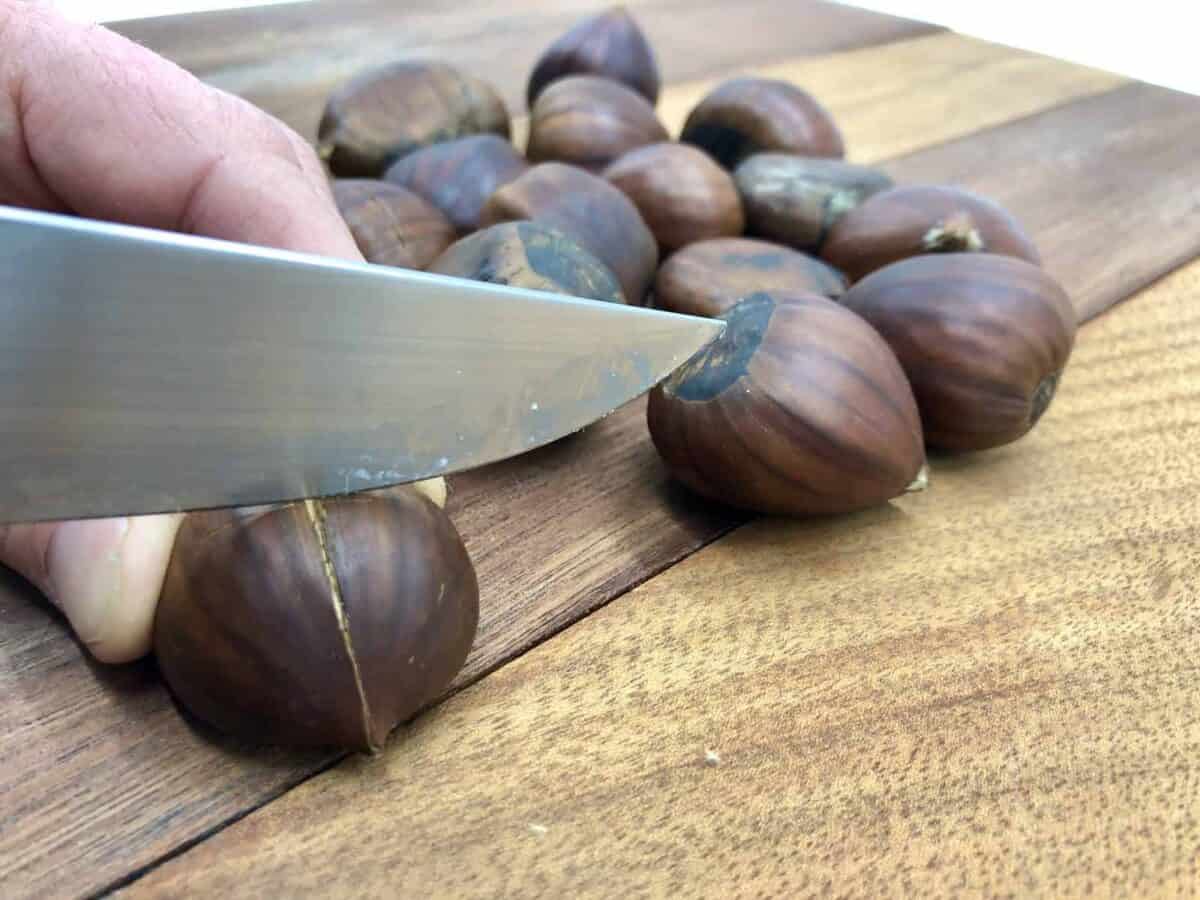 🌰 How to buy and prepare chestnuts
When choosing your chestnuts in the store, try to pick large ones that are uniform in size and shape. Preparing them at home is easy - as long as you use a sharp knife - by cutting a cross on the round side of the chestnut. It's okay if you cut into the flesh underneath the skin. This prevents the chestnuts from exploding while roasting, by allowing them to release steam. It also helps to separate the skin from the flesh and makes it easier to peel.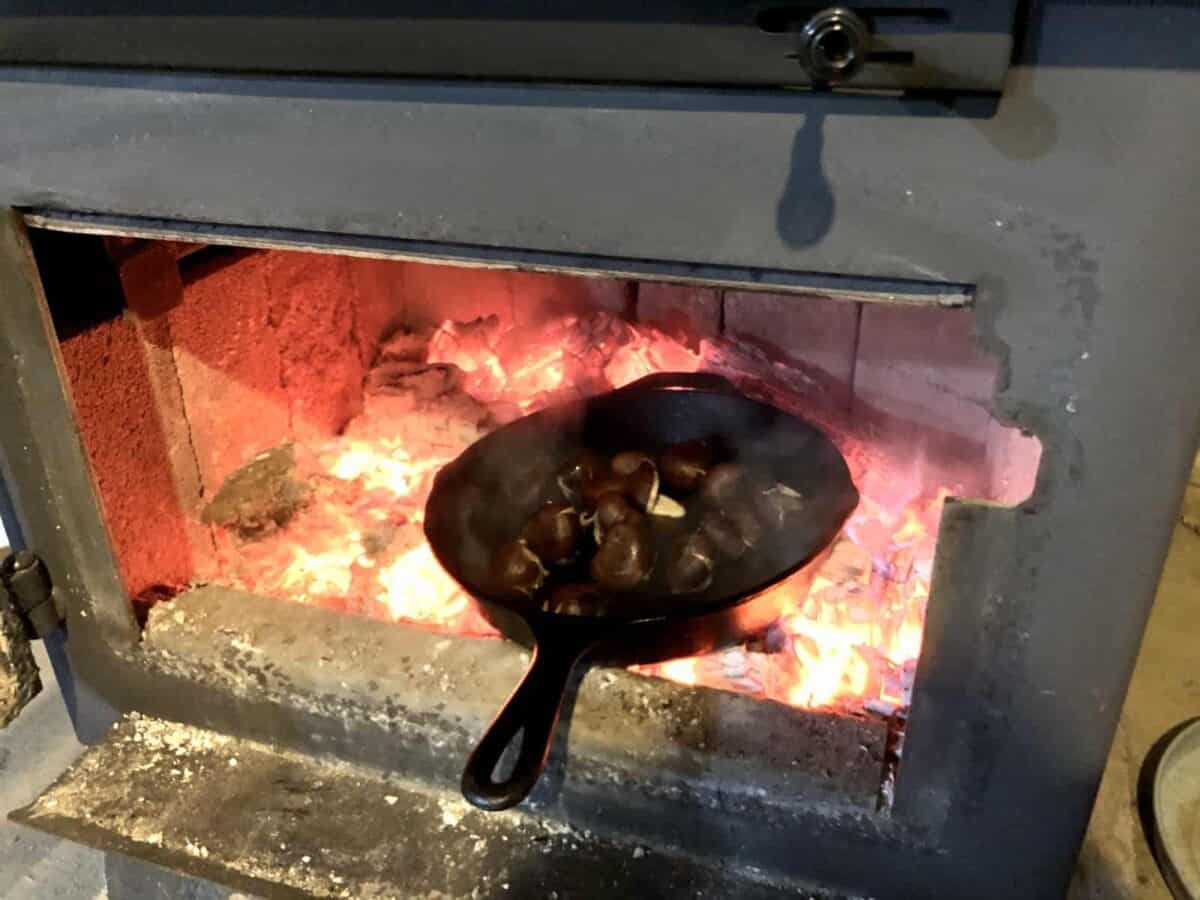 Next, you roast them. This can be done in the oven, over an open fire, or in my case, directly in the woodburning stove.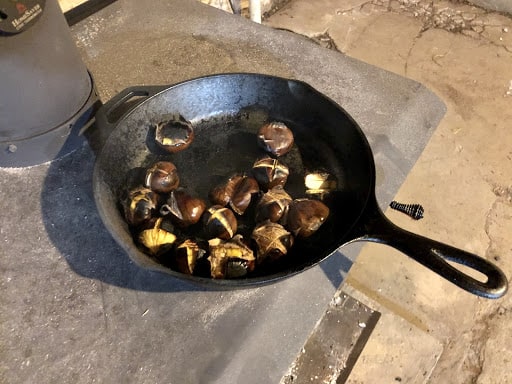 After the Lodge pan was directly in the fire for a couple minutes, I set it on top of the stove for another 15 minutes to finish roasting them. A very neat trick I learned from my mother is placing a damp kitchen towel directly over the pan for the last few minutes. This creates some steam and softens the meat of the chestnuts.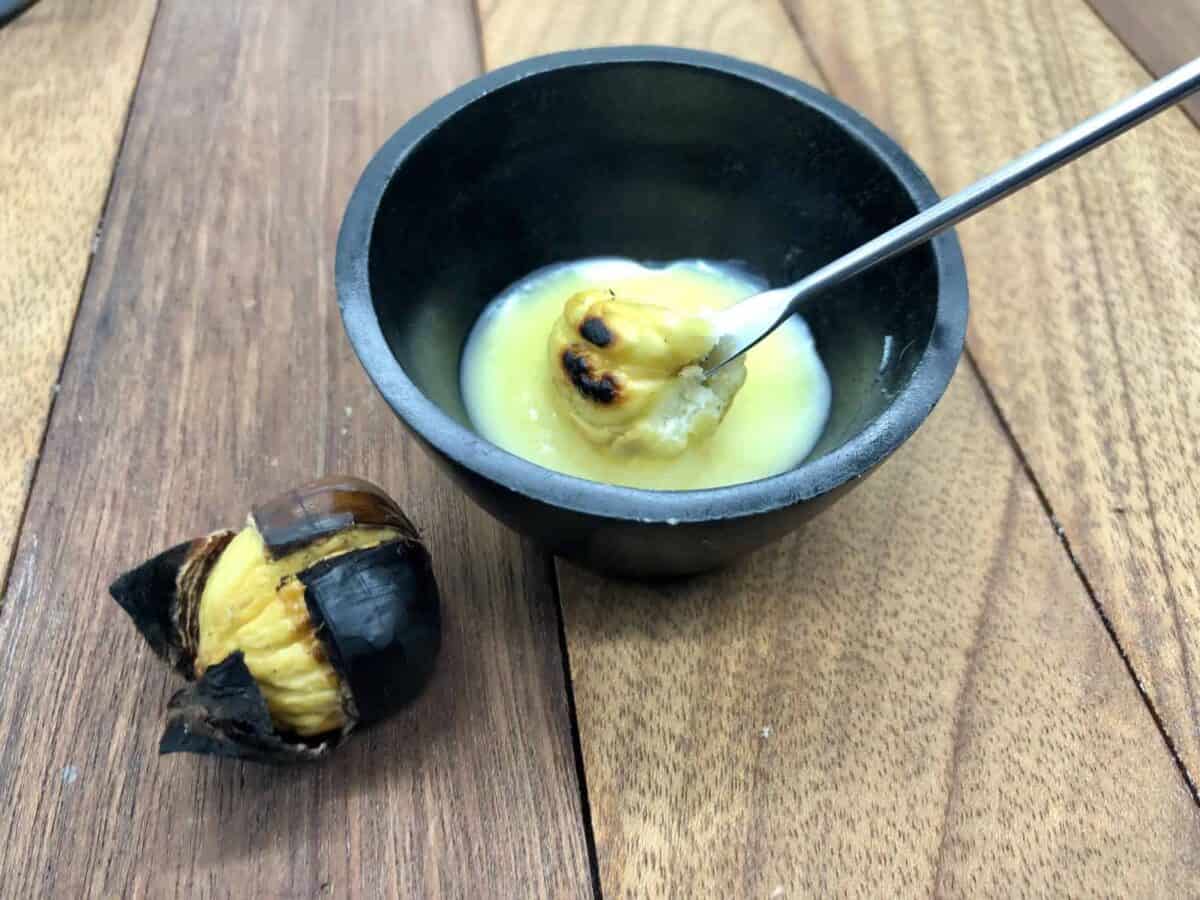 Because not everyone has a woodburning stove, I included the classic recipe for roasting chestnuts in a conventional oven:
Preheat oven to 425℉
Arrange the prepared chestnuts evenly on a baking sheet
Roast for about 15 to 20 minutes or until the meat of the chestnut is soft
Peel and eat (or peel, dip in melted butter, and eat)
And here's the soundtrack to listen to while roasting your nuts:
😃 Fun facts about chestnuts
Of all the nuts, chestnuts are the only ones that contain vitamin C.




Chestnut is of the same family of the oak, and likewise its wood contains many tannins. This makes its wood very lasting, gives it excellent natural outdoor resistance, and avoids the need for extra protection.




Roasted chestnuts were sold on the streets of Rome in the sixteenth century and are still sold on the streets of European towns in the winter.




Roman soldiers were given chestnut porridge before entering battle.




Chestnut (Kuri in Japanese) is Japan's most ancient fruit. Kuri was cultivated even before growing rice.




In George Orwell's 1984, the chestnut tree is used in poems recited throughout, referring to nature, modern life, and lies, as in the saying: 'that old chestnut'.




In Hungarian cuisine, cooked chestnuts are puréed, mixed with sugar (and usually rum), forced through a ricer, and topped with whipped cream to make a dessert called gesztenyepüré – chestnut purée.




Chestnuts can be consumed raw, baked, boiled, or roasted. They also can be dried and milled into flour, which can then be used to prepare breads, cakes, pies, pancakes, pastas, polenta, or used as a thickener for stews, soups, and sauces.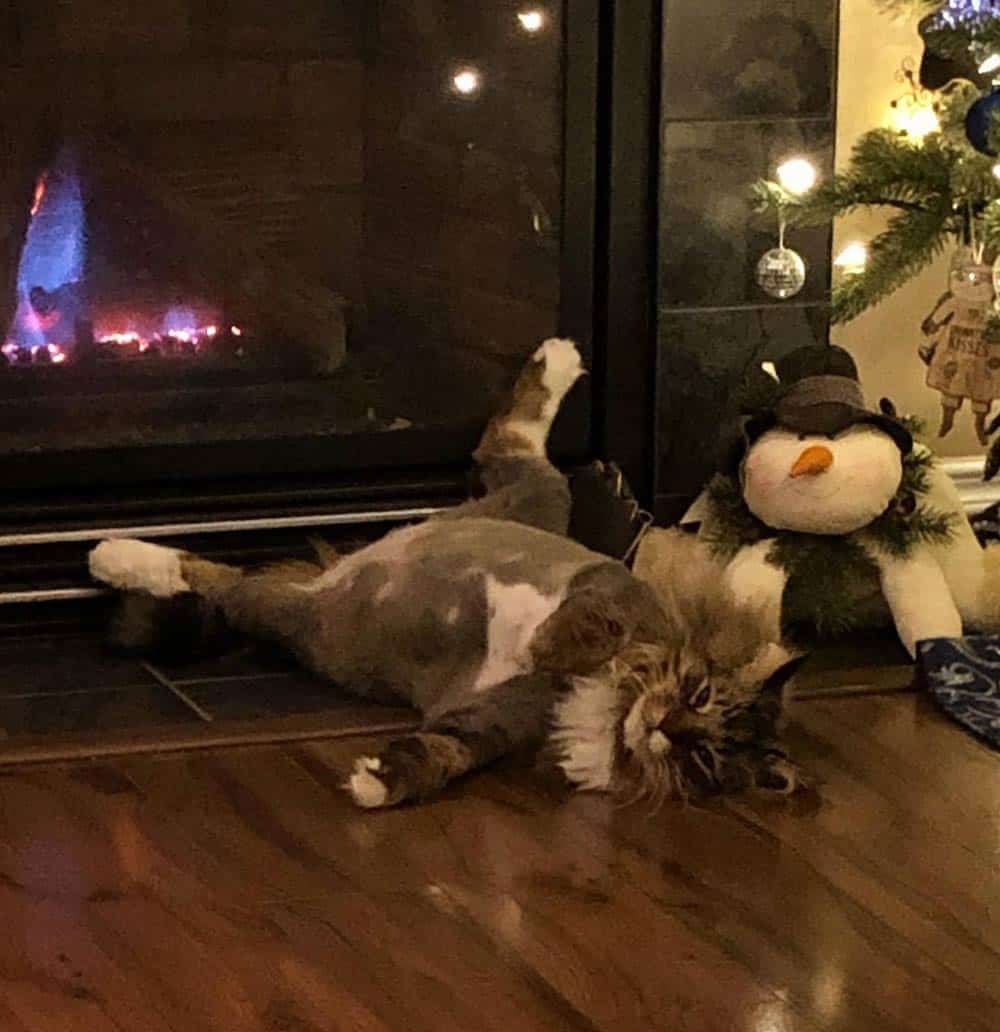 Did you make this Roasted Chestnuts recipe? Let us know in the comments below!
Content and photographs are copyright protected. Sharing of this recipe is both encouraged and appreciated. Copying and/or pasting full recipes to any social media is strictly prohibited.