When I was growing up in Switzerland, Christmas was a time to look forward to, and then again...not so much. One of the things to look forward to was our adventskalender. Twenty-five matchstick boxes glued to a piece of cardboard, numbered, and decorated with a Christmas theme. Each matchstick box contained a little gift...a piece of candy, a dime, and sometimes even a matchbox car. Getting up on a December morning was easy because we could look forward to opening the next matchstick box. 
But then there was December 6th, Samichlaus Day. Horror. Our Samichlaus only appeared on this particular day. Christkindl was doing the heavy lifting around Christmas, but December 6th was the day of reckoning. Because our Samichlaus is not a jolly Coca-Cola invented Santa Claus. No, this guy is scary. He shows up with a donkey and a Schmutzli. The Schmutzli carries a potato bag and a stick broom, and Samichlaus carries a huge book. The book contains all the sins every child has committed during the past year (this information was conveniently provided by your parents). When you see them at the door, your heart sinks and you wish you were never born. 
He sits down in your living room, flanked by his Schmutzli, and asks you to recite a Christmas poem. So far so good. Then he asks if you were good this year. Lying is not an option because he has all your sins written in his book anyway. So you start blubbering out all the bad stuff you did, as fast as possible.  When you're done, Samichlaus might mention a few more sins that you neglected to mention, before asking his Schmutzli what I deserve. There are two options: The Schmutzli either opens his bag and hands you some nuts, mandarins, and chocolate...or he opens his empty bag to show you where you really belong. 
After this darkest day of the year, all is back to normal. Get up in the morning, open the next matchbox, and dream about Christmas gifts. 
In Switzerland, we celebrate Christmas on Christmas Eve. In the afternoon, we kids are shuttled to see a play while the parents (we didn't really know who) went to get a Christmas tree, decorate it (yes, we always used real candles on the tree), put the presents under the tree, and come back to pick us up. When we arrived back home, it was magic. However, we were not allowed to touch the gifts (or even shake them to see if I got the Legos I wanted so badly), but instead had to get changed into nice clothing. Then came what seemed like the longest, most boring dinner while the gifts were less than 5 yards away. Finally, dinner was over and you would think it was finally time to open the presents. Not so fast. 
My sister and I now had to perform a few Christmas songs for our parents (which we rehearsed for several days)...her playing the wooden flute and me singing (while the gifts were less than 3 yards away by now…)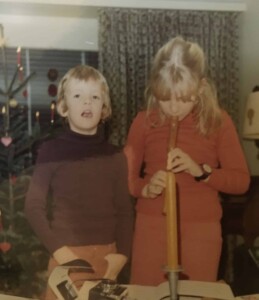 And finally it's happening, we can open our gifts! After all the gifts were opened and my parents finished their dessert and coffee, you'd think it was time to play with the gifts. Nope. Let's get dressed in our warm winter clothes and walk to the church (which was one mile away) to attend a Christmas service. 
Once we returned home, we were now too tired to play and just went to bed dreaming about playing with our gifts. And that's what Christmas Day was for. No formal obligation. We were just free to play and do whatever we wanted all day long. Phew, finally! 
Think back and let us know about your particular Christmas traditions. To get you started, here are a few strange ones we've found:
"I left Santa beer and cookies when I was little. Yeah thanks, Dad! I thought that Santa liked beer; I didn't know that the traditional beverage to leave him was milk. Now my kids and I just leave milk." -Melissa Harris
"A group of guys in the neighborhood dress up as Santa or elves and go caroling (singing their own versions of Christmas carols). The women hang out together and when the guys get back we have a big chili feast! It's always a fun time and a plastic Santa or reindeer always ends up in a tree somewhere!" -Sandy Bell
"We lived with my Grandpa for the first five years of our marriage and he always decorated the tree. We wanted something that was ours so we purchased a pineapple and decorated it with mini lights and ornaments. Now we always have a Christmas Pineapple. I also have a big karaoke machine that I bust out and we all sing Christmas karaoke carols together." -Jacklyn Robelto
"We are always full but every Christmas we go to Denny's at like 12am. It's a weird group in there then, and funny to watch." -Jackie Scott
"Put old 45 records on the stereo and dance around the kitchen table doing the funky chicken!" -Minette Herbert Geisler
"My dad placed a small Christmas tree on the roof above where the regular Christmas tree was placed in the house. It gave a visual effect of the tree going through the roof." -James Gottemoller
"We read 'Twas the Night Before Christmas—and my dad makes 'sound effects'… usually including farting…" -Kate Gelineau
"Ever since we were kids, all my siblings and I have slept in the same room on Christmas Eve. Originally it was lots of fun (and a good way for my parents to keep track of us all and make sure we're asleep). We still do it, even though the youngest of us is in college and I have a baby now. My mother claims that she's going to make us do it for the rest of our lives." -Shelby Palmer
"I put a loaf of bread on my table and money in brown lunch bags between the doors on New Year's Eve and I leave it there until after midnight. This means I will have food on my table for my family all year, and money for the things I need. Works every time!" -Linda Wilczak O'Leary
"My grandfather had these red Santa socks that he wore every year on Christmas Day ever since I can remember. (I guess a pair of socks can last a long time if you only wear them once a year!) Shortly after he passed away we were cleaning things out and my brother and I found them. I was heartbroken because I knew the tradition was over. The following Christmas—surprise!—my brother showed up with the socks on. It's been 10 years now and he's kept tradition going!" -Wendy Watson
"On Christmas day, we all wear weird socks—bright colors, funny designs, mis-matched pairs. It's fun to out-do each other." -Diandra Sanchez
And here's one of Viana's traditions: She's worn the same Santa sweater every year on Christmas Day since she was about 12 years old. Sure, it's a little smaller now, but it still fits!
And we've created a new Christmas tradition as a couple too. Each year, on Christmas Day, Viana and I get dressed in silly Christmas sweaters, along with an elf hat and reindeer antlers, and go for a ride in the convertible. But you'll have to check our Facebook page on Christmas Day to see our latest photo!
And then there are the time-tested, scariest, weirdest Christmas traditions from the old world:
Krampus from Austria. If you're an especially horrible kid, he'll drag you to hell where he eats your heart:
Yule goat from Sweden. A pagan tradition that involves a wicker goat and often fire:
Mari Lwyd from Wales. A Welsh folk custom which involves a horse skull decorated with jeweled eyes and blue ribbons:
And of course, then there is the Christmas Pooper from Catalonia:
What are your Christmas traditions? Please share them in the comments below!
Merry Christmas! 
Love Christmas? Check out our fun projects and delicious recipes:
Recipes
Crafts
Do your friends enjoy fun and interesting articles too? Share this article with them and let us know what you all think by commenting below!
Tag your photos with #maplewoodroad on social media and share them on our Facebook page! Have any questions? Ask on our Maplewood Road Community Facebook page and I'll be happy to help. 😊
Subscribe to our weekly newsletter for more great articles!