Garlic is available fresh in our grocery store year round. It's probably the most used fresh aromatic ingredient (along with onions). Unless you're allergic to garlic, it should be a staple in your kitchen.
When I think of garlic, it's initially my nose that does the thinking. That magic moment when garlic touches the oil in the pan and releases its fragrant oils into the kitchen atmosphere, transforming the area instantly into a pungent, aromatic environment that makes me sing.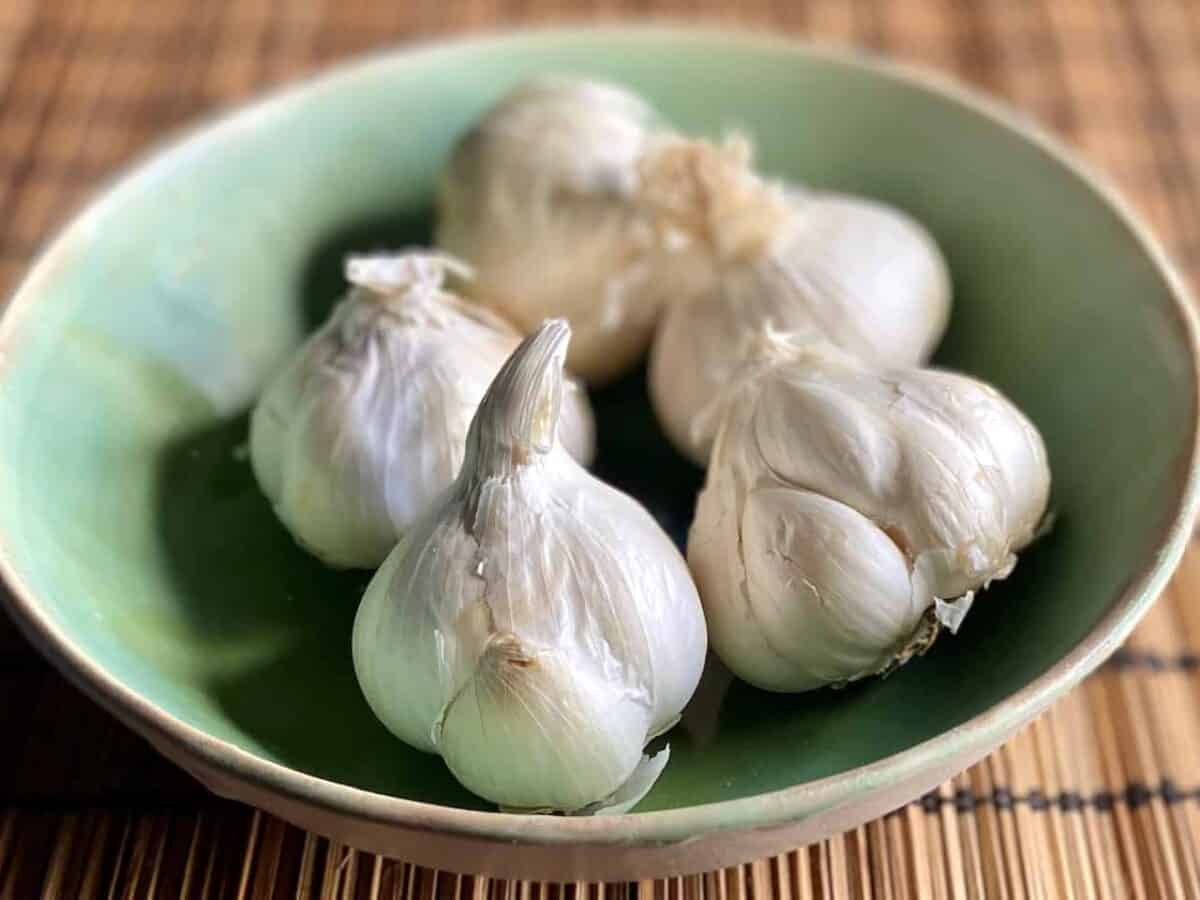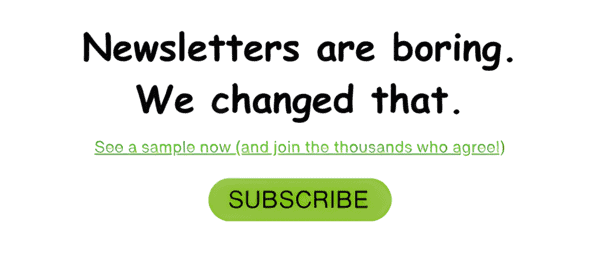 Jump to:
How to buy garlic
The first thing to look for when choosing garlic is weight. It should feel slightly heavy for its size. I know, that's kind of vague, but once you feel a fresh garlic and an old garlic of the same size at the same time, you'll know exactly what I mean.
When you look at the top of the garlic bulb, make sure it's tightly bound. That means the skin is close to the stem. If it has sprouted, it may not have been properly stored. The sprouts are certainly edible, but that's not what we're looking for here.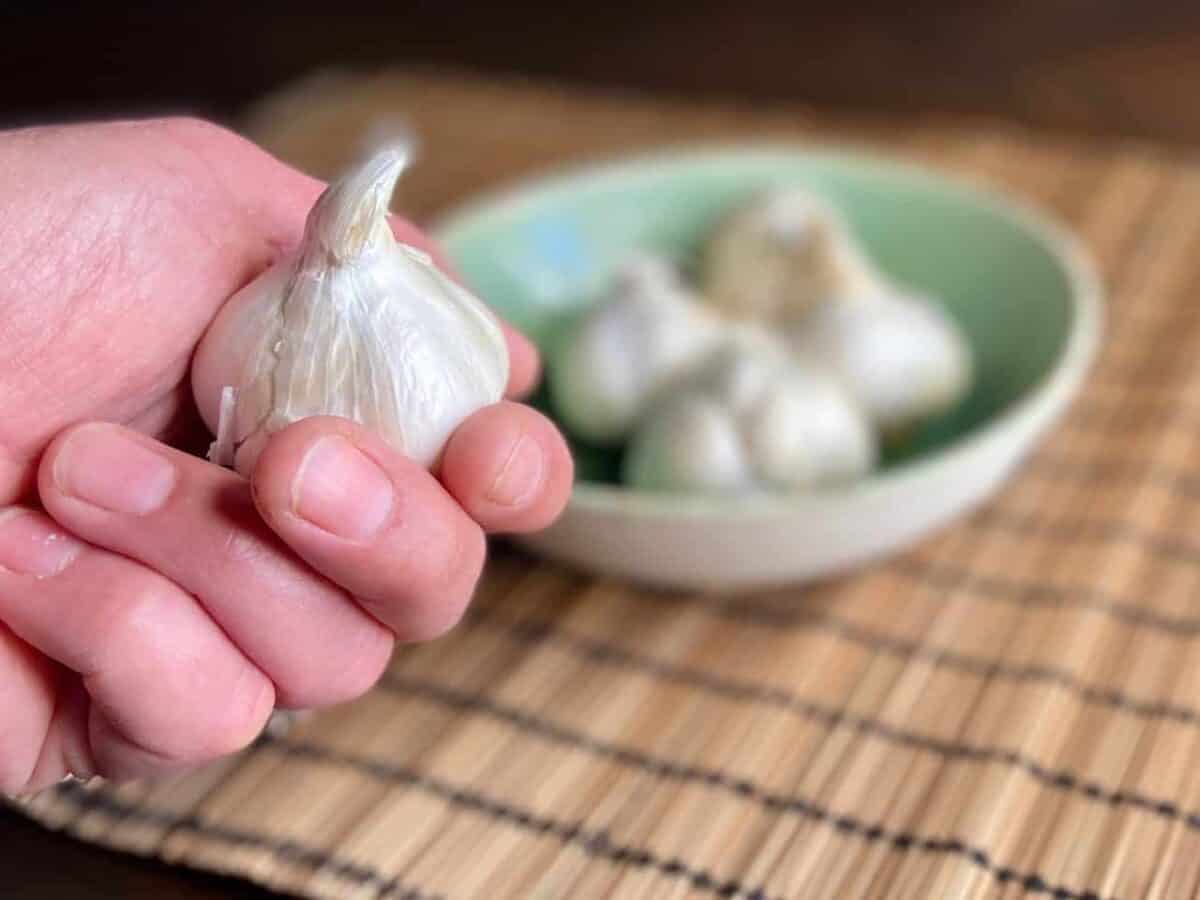 Next, give it a good squeeze. Make sure it's firm. If you squeeze and you feel any give, put it back, it's old.
Should it smell? Although garlic is certainly pungent, it should not smell at all when buying it in the store. The smell comes from the oil, and oils are only released when the cloves are bruised, smashed, or cut.
How to peel garlic
There are dozens of fancy videos out there showing how easy and quick it is to peel garlic cloves. Smash with the bottom of a skillet; put cloves in a bowl, cover, and shake vigorously; etc. I've tried them all, multiple times. Let me just say, they generally work, but not always. Some actually only work with old, shriveled garlic, where the skin is already basically falling off when you grab the bulb.
Over 30 years of cooking, I've probably switched my garlic peeling techniques as many times. But there is one way to do it that works with any garlic size. It uses one more step than most other "garlic peeling hacks" but that step actually makes it work every single time. Go ahead, peel some garlic and prove me wrong 🤓
Grab your garlic bulb and break off some cloves. Cut the ends off both sides of the clove. Then, use the side of your chef's knife and push down until you hear a little crunch. Peel. Done.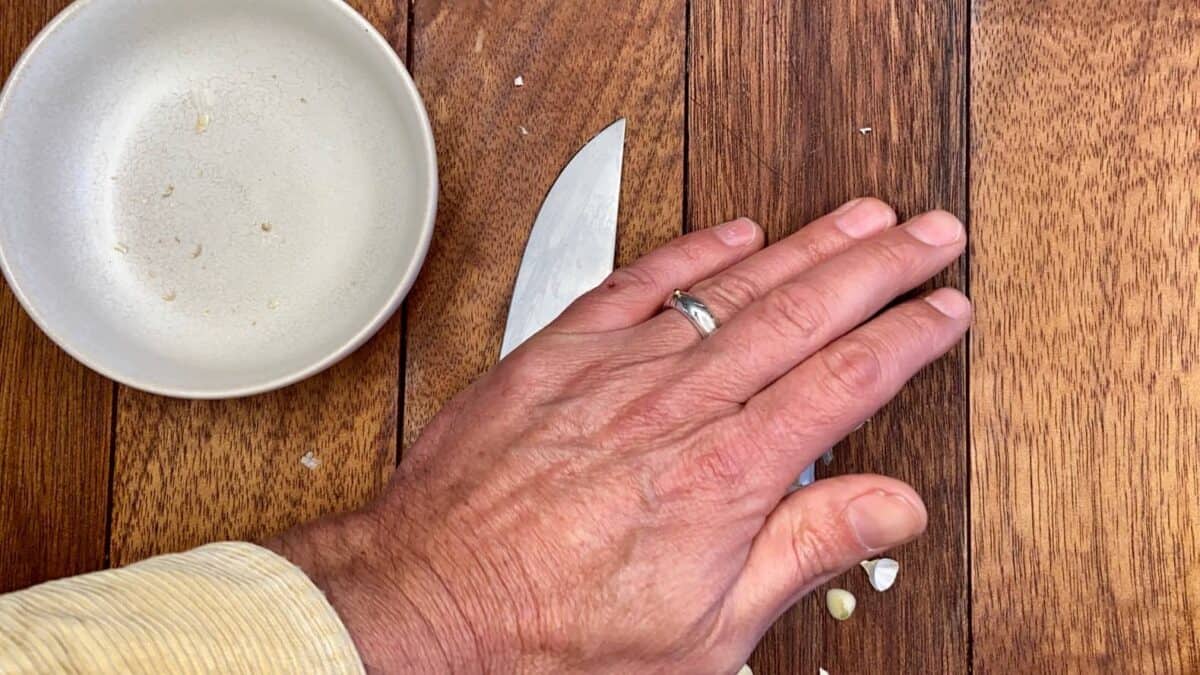 Note: Be gentle when pushing down on the garlic clove...unless you're going to use smashed garlic. Applying gentle pressure leaves the clove intact so you can still slice and dice and grate it.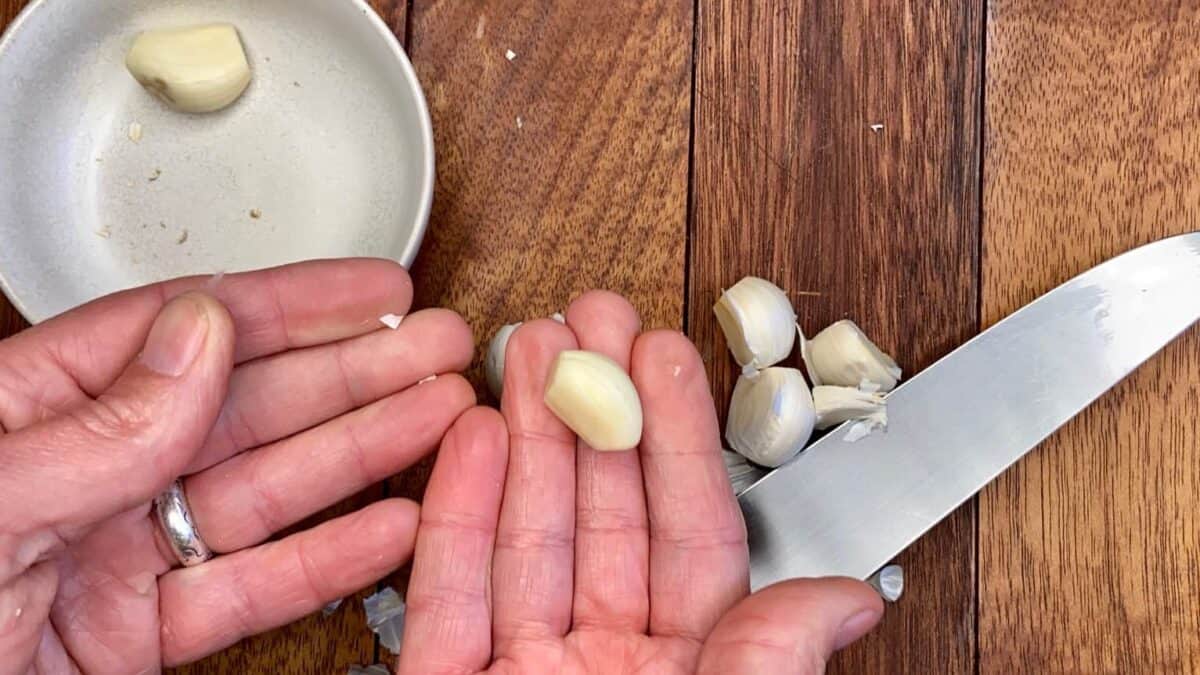 How to cook garlic
In hot oil: The toughest one. Rapidly cooked garlic loses the sharp spiciness but retains its flavor. If you're very brave and/or very good, you can let it brown a bit to add a nice, mellow bitter note. But a couple seconds too long and you'll have to start all over again because your garlic will be inedible.
Slowly cooked: The most universal method. Over time, the garlic will lose some of its pungency and will develop sweeter flavors.
Raw: Now you're a garlic lover. Slice cloves and add to your pesto or salad dressing. It stays pungent, powerful, and spicy. You'll get the whole flavor spectrum. Generally speaking: when used raw, use less.
How to store garlic
This is another great benefit of garlic. A tightly bound garlic head can be stored for months. Once you start breaking the bulb apart, use it within a week up to ten days. Some people recommend storing garlic in the fridge once the head is broken up to increase the shelf life. I don't know. I've never tried it. Once I break open a garlic head, it's gone within a week or less.
What about smelly hands?
No worries. Wash your hands with soap and rub them on a stainless steel surface. Rinse. Voila, the smell is gone. I could say that you can use your chef's knife's blade to do that...but then I'd have to include a disclaimer in case you cut off part of a finger. Therefore, do yourself a favor and buy one of those nifty little stainless steel soap bars that will do the job safely.
A quick word about garlic varieties
We are very lucky where we live. Less than 30 minutes away, in Easton, PA, we have an annual Garlic Fest. Its motto: Eat, drink, stink. It's a fantastic festival with everything garlic, including garlic Bloody Marys. They also sell over 40 varieties of garlic that are grown in our region. It's amazing. Delicious. Fantastic. And pungent. Look for our article soon teaching how to grow your own garlic easily in your backyard.
Love garlic? Check out just a few of our recipes with fresh garlic:
Did you try Erich's technique to peel garlic? Let us know in the comments below!