If you're foraging and collecting wild mushrooms or buying fresh mushrooms in the store, it's imperative to know how to dry mushrooms expertly so they'll be perfect when you're ready to add these magic morsels from the wild to your dish, to add flavor and umami.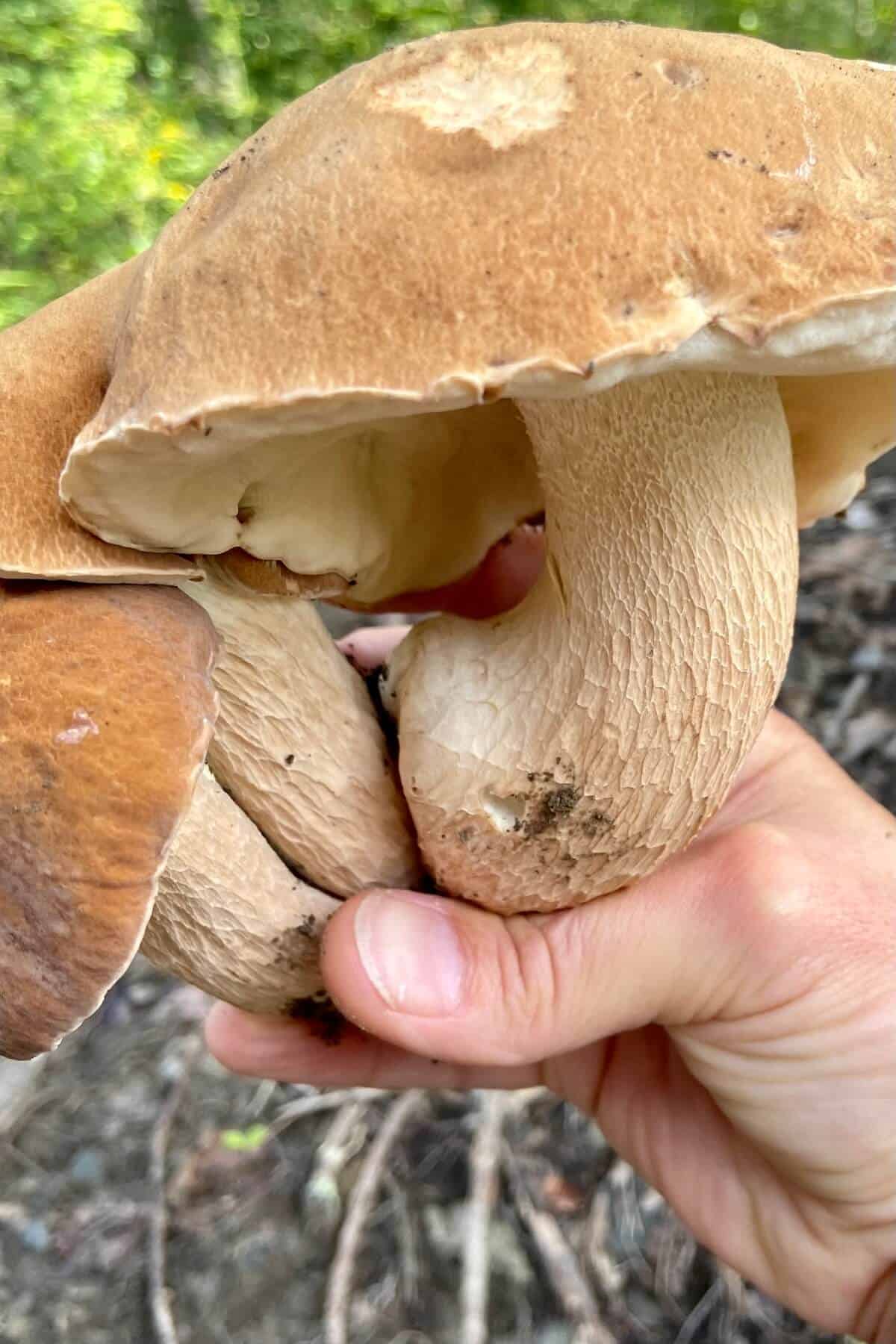 Jump to:
Mushrooms are having a moment. A big moment. We're all familiar with the "supermarket mushroom," the portobello (also known as cremini, button mushrooms, and others). It's all the same. They're all the same cultivated mushrooms, just in a different stage of growth.
But there's more to mushrooms. So much more. And we'll only scratch the surface in this article.
At the bottom of the page, I've provided a few informative and fun links for the interested reader to learn more about mushrooms and their "magical" powers.
Mushrooms are not only an exquisite culinary treat, they're also an excellent dietary supplement and medicinal ingredient. On top of all that, mushrooms are also used as sustainable building material (and for cleanups of environmental disasters).
In this article, we'll talk about:
What is a mushroom?

Some fun facts about mushrooms

How to find mushrooms in the wild

How to purchase fresh mushrooms in the grocery store

How to store fresh mushrooms

How to dry (dehydrate) mushrooms

How to store dried mushrooms

How to rehydrate mushrooms

How to use mushrooms in everyday cooking

How to feed mushrooms with flavors while cooking

How to cook with mushrooms

How much dried mushroom weight equals fresh mushroom weight

My own four mushroom recipes that'll get you closer to mushroom madness

A few of my favorite mushroom related links
Once you start integrating mushrooms into your everyday life, you'll go down a rabbit hole that so far has no bottom for me.
What is a mushroom?
Is it a plant or is it an animal? It's neither. Mushrooms are very strange living organisms. They're neither plant nor animal. They don't depend on sunlight, therefore don't contain chlorophyll. What we see as the classic mushroom in the field is the fruiting body of fungi (the apple of the tree). It uses spores (the apple seeds) to disseminate...a lot of them. An average-size giant puffball (Calvatia gigantea) has 7 billion spores!
Without getting too technical, most fungi are saprophytes: living on/from dead or decaying matter. They are our recyclers, decomposing the leaves and therefore helping the soil stay nourished. Without them, trees and other plants we need for the creation of oxygen wouldn't be very successful.
Some fun facts about mushrooms
Fungi are everywhere

We inhale up to 200,000 spores a day

They make up 25% of the biomass of the Earth

Only 5% have been identified

They're the biggest living organism on Earth

They make the best medicines and spread the worst plagues

They decompose nearly everything, including petroleum

They're awesome. Some of them are super tasty. And a few of them will kill you.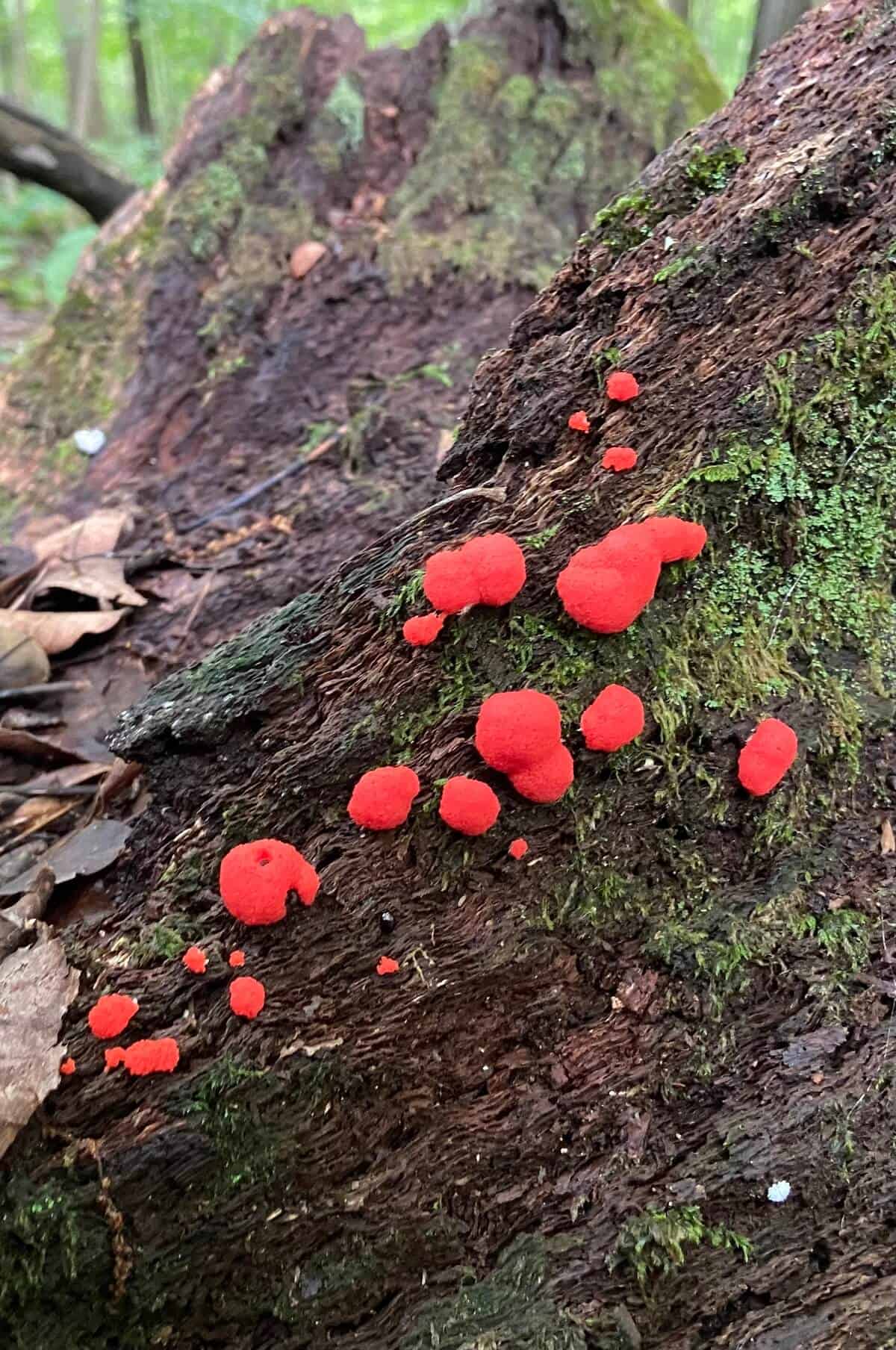 How to find mushrooms in the wild
While I was growing up in Switzerland, my father taught me how to forage for wild mushrooms. This is not something you do simply by buying a guidebook and heading out into the woods. Don't ever eat a wild mushroom that has not been identified and considered to be safe for consumption by a mushroom expert.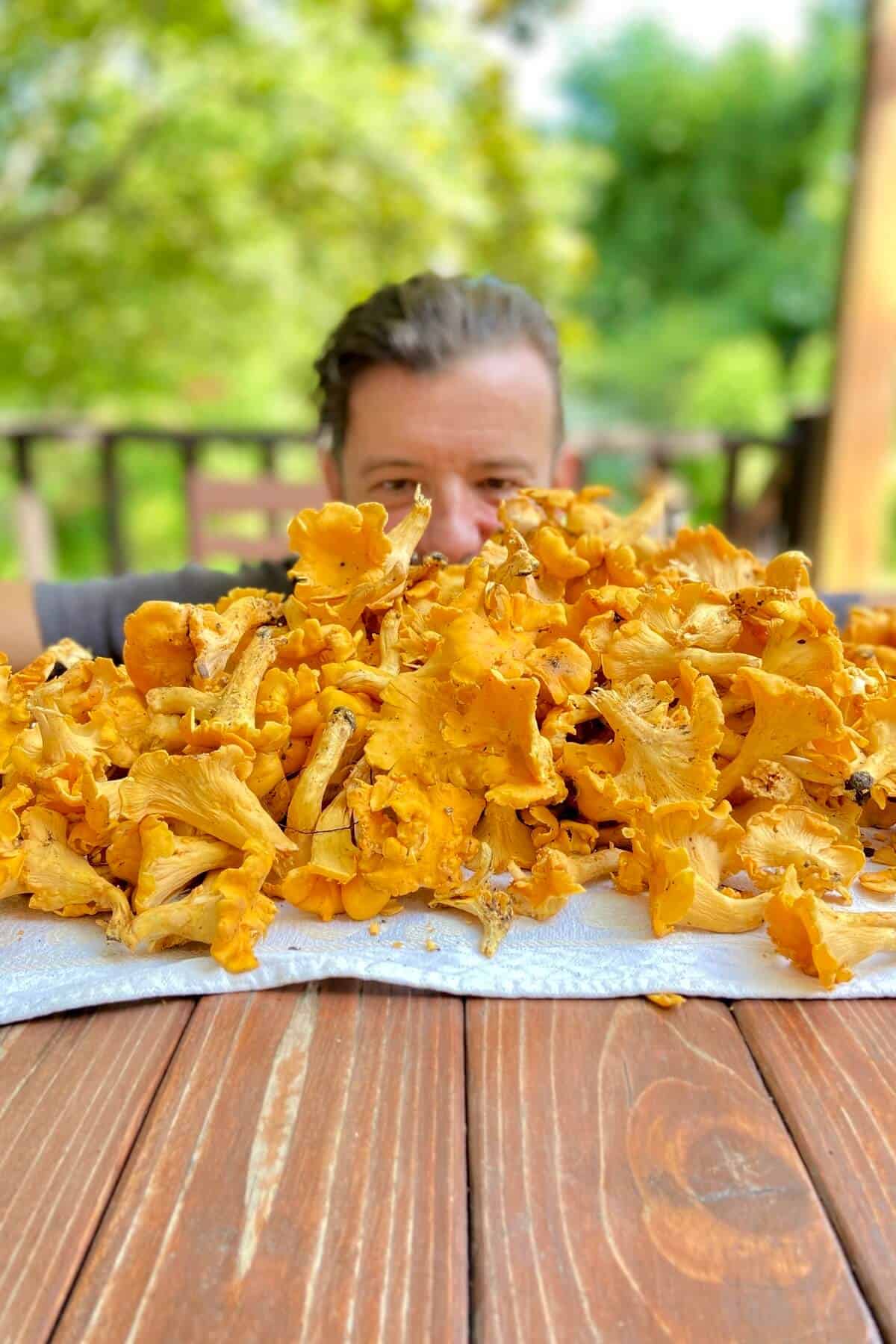 Here's a little primer on how to find one of my favorite summer mushrooms in our area:
Chanterelles - How to find and cook these delicious mushrooms
An easy way to start "foraging" wild mushrooms is by growing them at home, in your basement or your backyard. I love growing oyster mushrooms and wine caps. I'm still working on getting my first shiitake to grow and recently started trying to grow morels. Most mushrooms, though, can't be grown easily or not at all, as a lot of them are living in a symbiotic way with their surroundings in the form of mycelium that's difficult to impossible to recreate at home.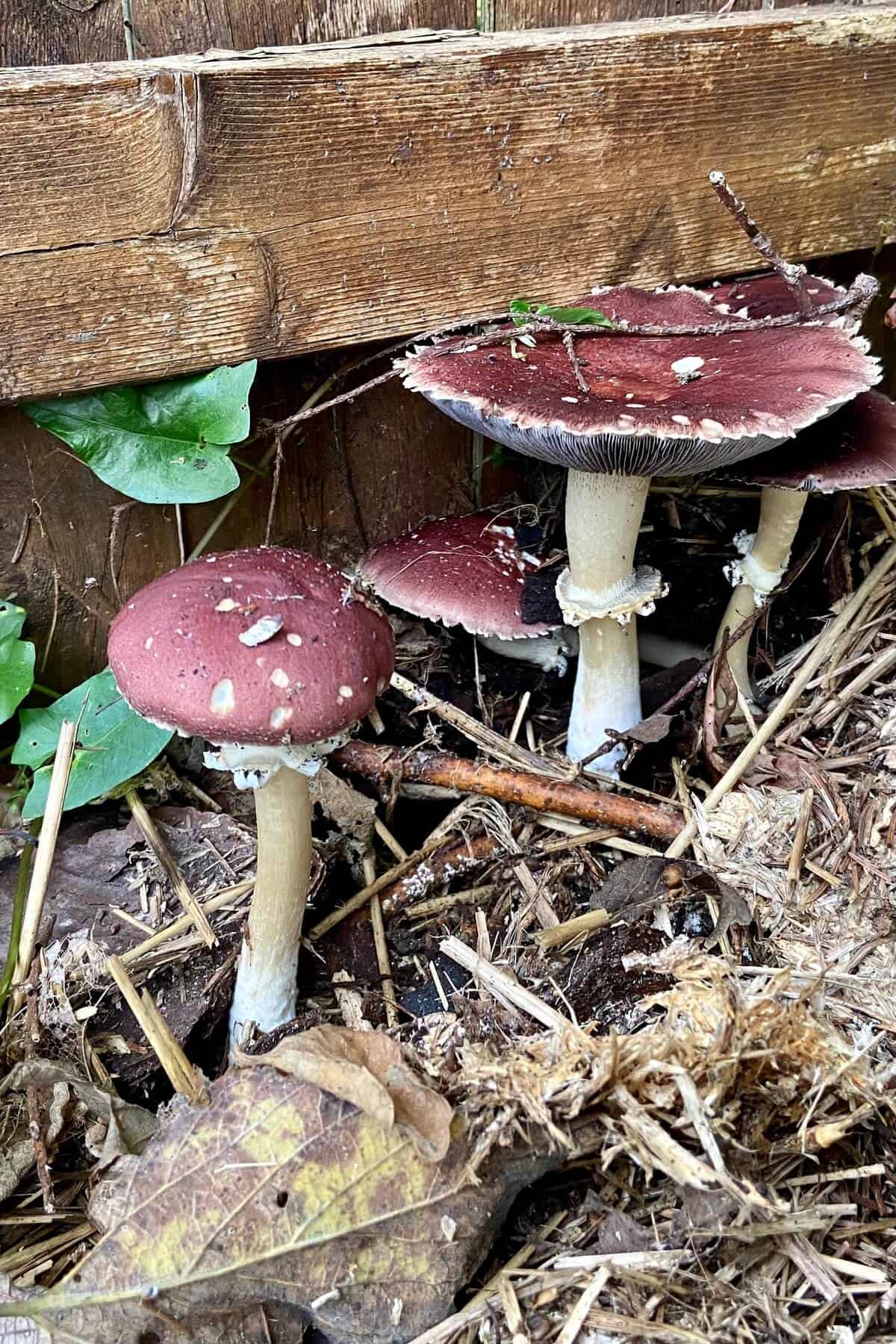 How to purchase fresh mushrooms in the store
The best way to purchase fresh mushrooms is at a farmer's market. These wonderful vendors not only have an incredible knowledge about their products that includes the origins of the 'shrooms, how to store them, and how to best use them in the kitchen. Think of their depth of knowledge as part of the higher price you pay for their product. Their selection of mushrooms is highly seasonal and most likely very local. At a farmers market, you can find locally foraged oyster mushrooms, chanterelles, Maitake (hen-of-the-woods), and maybe even some lion's mane.
Buying fresh mushrooms in a grocery store is a little bit more challenging. First of all, their selection comes down to the aforementioned industrial grown "portobello mushrooms" and maybe shiitake. Look for firm, dry mushrooms. Don't worry about some specks of soil on them. That's normal.
In recent years, grocery stores have slowly been expanding their assortment of mushroom species. The other day, I found eight different species of fresh mushrooms in a store, including enoki and lion's mane.
How to store fresh mushrooms
Mushrooms have a relatively short shelf life. It's one of the reasons many people are uneasy about using fresh mushrooms in the kitchen. Once they go bad, they'll get slimy and that wonderful umami flavor that mushrooms lend to a dish will turn into a pretty rotten smell in your fridge. So, let's never let that happen.
When buying fresh mushrooms, you most likely buy them in a plastic tray with plastic wrap on top. That's fine if they look good and dry at the time you buy them and are used within a day or two. The same goes for the ones you pick from the open shelf and place in a little plastic bag.
But if you want to increase the shelf life of fresh mushrooms, place them in a paper bag when you get home. Add a piece of paper towel and loosely close the bag. Place the bag in your vegetable crisper (the coldest part of the fridge) and your 'shrooms will stay happy for at least 5 days (and longer).
How to dry (dehydrate) mushrooms
That's one of the great features of many fresh mushroom species. They dry excellently, have a nearly unlimited shelf life (if stored properly), and add incredible depth to your next meal.
Some mushrooms (e.g. porcini, shiitake, morels ) get even tastier when first dehydrated and some (e.g. chanterelles, lion's mane, maitake) are always better used fresh - that's my observation anyway and I'm sure there are a lot of different opinions out there. As there are mushroom species.
So how do we dehydrate mushrooms? It's super easy. First, treat them like you would any fresh mushroom before using them in the kitchen. After they're clean, cut into even slices. Use a food dehydrator (and if you want to buy one, it's a great investment and the dehydrator will be your really good friend for a long time, unless the instant pot or air fryer fad). Besides dried mushrooms, think of beef jerky, dried fruits, etc.
Place the mushrooms on trays, making sure they're not touching each other and dry at 115℉ for 4-6 hours (depending on thickness). If you don't have a food dehydrator, you can use the oven instead if it allows such a low temperature setting.
The mushrooms are done when they crack easily and show no moisture on the inside.
How to store dehydrated mushrooms
Any airtight container will do the trick. I like to add a piece of paper towel to absorb any potential moisture - there shouldn't be, but just in case. Once a week, open the container and take a whiff. Your stomach will start to growl and your brain will start creating dishes without even looking at a cookbook.
How to rehydrate mushrooms
There are a lot of different schools of thought on this topic. One of the main concerns is sand or dirt that might still be present in the dehydrated mushrooms (which shouldn't be a problem with any store-bought dried mushrooms or otherwise carefully cleaned ones).
The only real bad boy in this department is the morel. Especially the ones that pop from a sandy substrate. Some of that sand will be stuck in the goosebump-like texture of the morels' cap. To avoid ruining a dish by adding this unwanted grit, the morel should be soaked multiple times before rehydrating to avoid this problem.
With that out of the way, rehydrating a mushroom is straightforward. Add room temperature water to a dish, add the dried mushrooms - making sure they're fully submerged - and let stand until rehydrated. Sliced mushrooms will take maybe 10 minutes, while a whole shiitake will take up to 30 minutes until they're soft enough to cut and ready to saute.

⭐ Tip: When rehydrating mushrooms, it's important not to use too much water. Use a soup bowl, add a little water, add the mushrooms, and then place another soup bowl on top. This will keep the mushrooms submerged while using the least amount of water necessary. The reason for this is "thinking ahead": Once you remove the mushrooms from the soak, the liquid that's left behind is magic. It's a mushroom stock like no other. It's simply an elixir from heaven (or in this case, from the forest floor).
How to use mushrooms in everyday cooking
First of all, I love to add a teaspoon of mushroom powder to my freshly brewed morning coffee. Talk about a rabbit hole! I warned you.
Cooking with rehydrated mushrooms is just like cooking with fresh mushrooms. Once they're rehydrated, add them to your stews, soups, etc. You can even still saute them. The only thing you can't do with reconstituted mushrooms is feed them. Feeding mushrooms with flavor is a technique that's pretty unique to this particular food.
How to feed mushrooms with flavors while cooking
This is a big one. When using fresh mushrooms, you'll get the chance to feed them with flavors. If you do it at the right time, they'll soak up the sauce and will elevate a humble portobello mushroom to the echelons of grandness.
First things first. Mushrooms are about 90% water, just like a lot of other vegetables (and fruits). But here's the cool thing: when you put fresh mushrooms in a medium-hot frying pan, they'll release their liquids. That's when you get to work. That's when you add the butter, stock, shallots, white wine, or anything else you want to feed your 'shrooms.
After a couple of minutes, the mushrooms will reabsorb the liquids. Which means they're now absorbing all the flavor of the pan sauce you just created. It's magic. Not as in magic mushrooms, but magic mushroom flavor.
How much dried mushroom weight equals fresh mushroom weight?
This took a while for me to figure out. When using fresh mushrooms, after chopping, I feel like it's way too much for the dish, and after cooking it's more like really, that's all? When using dried mushrooms, the opposite happens - I start soaking a handful of dried mushrooms and a little while later I go "Wow, where did all these mushrooms come from?"
And the answer is: To substitute dried for fresh, use 3 ounces of dried mushrooms in place of 1 pound of fresh mushrooms. That's all it takes. Pretty amazing.
My own four mushroom recipes that'll get you closer to mushroom madness
Risotto is comfort food. It's very easy to make. Once you learn the basics of making a delicious creamy mushroom risotto, it'll quickly become one of your staple dishes.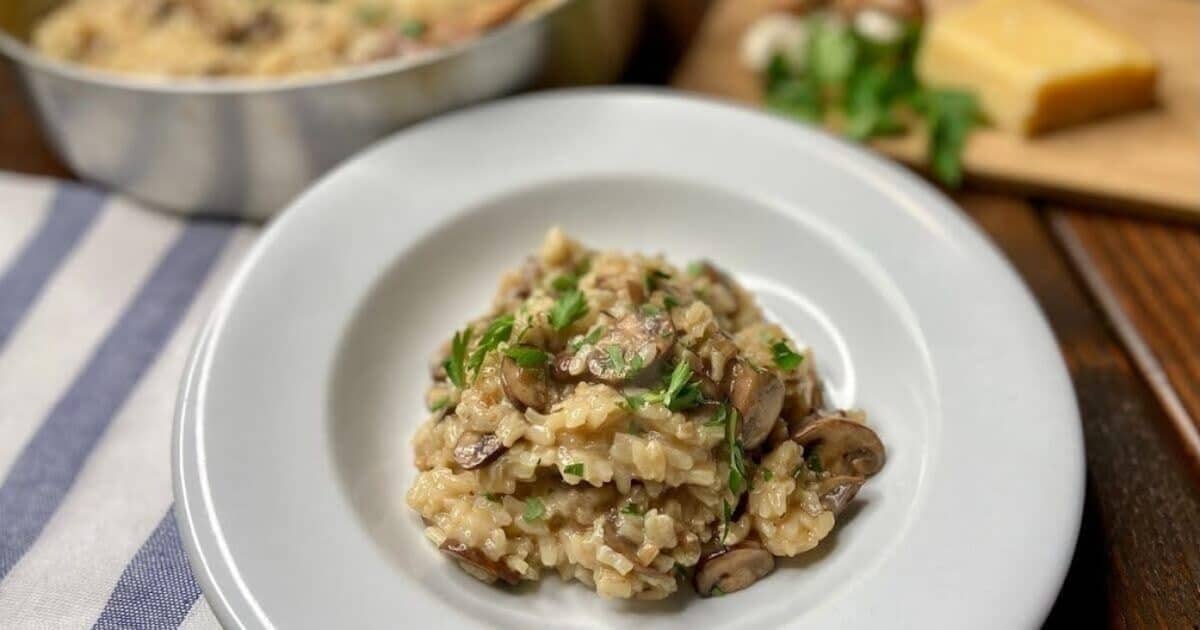 Creamy mushroom pasta will make everyone happy at the dinner table. An earthy, silky, creamy, satisfying pasta dish that - you'd never know - doesn't use any cream.
Don't Leave Home Without It: Homemade Mushroom Jerky to Take on Your Next Hike
The words Julia Child and beef bourguignon put a big smile on my face. Julia Child was and still is - in my eyes - the best TV personality of all time. Followed by Bob Ross, of course.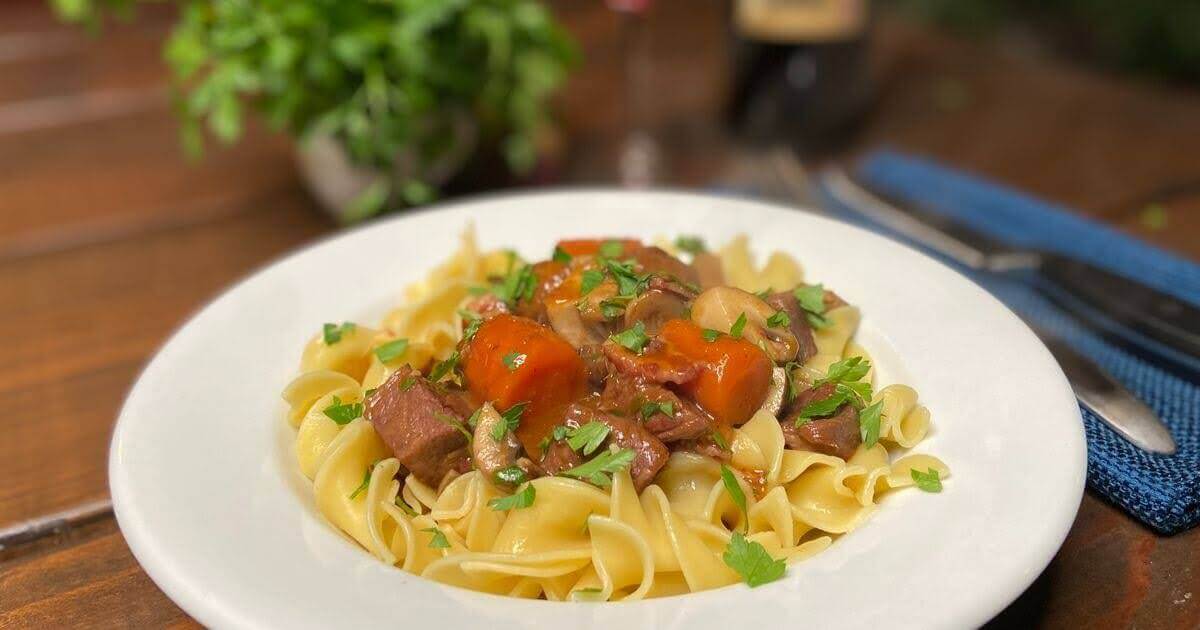 A few of my favorite mushroom related links
Books:
Entangled Life - Merlin Sheldrake

Mycophilia - Eugenia Boone
TV:
Star Trek - Discovery: Yes, with Paul Stamets (the character named after the great Paul Stamets) and the spore drive
Ted Talk:
Paul Stamets - 6 Ways Mushrooms Can Save The World
Netflix Documentary:
YouTube Channel for Identification of Mushrooms (in the northeastern USA):
Mushroom Grow-Kits: