Homemade Beef Jerky to Take on Your Next Hike
I'm not going to hike up to my favorite hawk watching spot without bringing along some of my homemade beef jerky. And neither should you. Recently, I was hiking up the mountain when I came across a couple of down-hikers who didn't move off the trail, stop, or even say hello. "Jerks," I said to myself. That started an inner monologue.
Origin of the word Jerky
Where does the word jerky come from? Is it because we jerk off strips of meat to dry? I'd better look that up when I get home.
Merriam-Webster's entries for jerk:
(Noun)
An annoyingly stupid or foolish person

An unlikable person

A single, quick motion of short duration

Jolting, bouncing, or thrusting motions
(Transitive verb)
To give a quick, suddenly arrested push, pull, or twist

To propel or move with or as if with a quick suddenly arrested motion

To mix and serve (drinks, such as sodas) behind a soda fountain (I bet you didn't know this one 🙂

To preserve (meat) in long, sun-dried slices
So that's where the word comes from? A jerk jerks? An annoying person rips off pieces of meat in a single quick motion, to then preserve it in the sun? Nope. Luckily, the word jerky has a real and interesting origin.
Jerky is actually an English rendering of a Spanish word. The Incas used the word ccargini to describe the process of drying meat (or fish). Early Spanish explorers adapted the word to create the Spanish word charque. From there, it then became jerky.
Homemade vs Store-Bought
Yes, it takes a little time to make mouthwatering beef jerky, but once you start making it and come up with your own seasoning and flavors, you won't even look at the packaged jerky in the checkout aisle anymore. And yes, there are some fantastically delicious "craft" jerky out there, but that's slightly outside of what I'm willing to pay for a dried strip of meat.
Note: I've never tried to make beef jerky in an oven or under natural conditions. So please, if you have any experience, let me know.
The Equipment
I'm using a food dehydrator. The initial investment was about $50 and it's still going strong 10 years later. And not just for jerky. Think dried fruit, herbs, mushrooms, etc. You name it. I'm not a canning guy, I'm a dehydrator 🙂 At the end of this article, I've put together some math facts for you to study.
The Meat
In this article, I'm only covering basic beef jerky. The one that will get you going for miles. So, which cut of meat should you use? I prefer top round London broil. As a general rule, any lean meat will do.
If I'm not buying from my local butcher, I'll get it at the supermarket when it's on sale. The neat thing about making beef jerky is that you can stock up on your favorite meat whenever it's on sale. Then, when you get home, put it in the freezer and it will be ready when you are.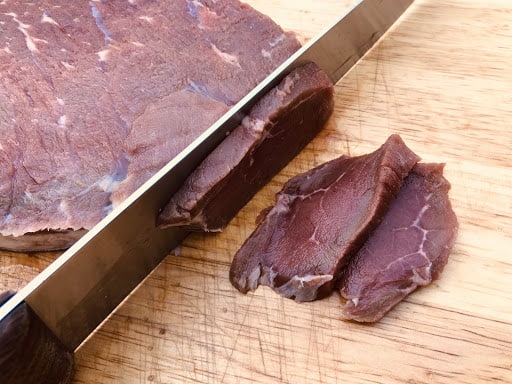 Why in the freezer? Because you have to slice it. And the easiest and most consistent way to do this is by semi-defrosting it. When the meat is still mostly frozen inside, grab a very sharp chef's knife and slice the beef against the grain, ¼-inch thick.
The Marinade
Now this is the part that no one will agree with because there are as many perfect marinades as there are beef jerky lovers.
So take mine as a humble recipe that I love, but you may certainly adjust it to your personal liking.
My only recommendation, regardless of your "perfect" marinade, is to add a little pineapple juice. It helps with tenderizing the meat and also adds just a hint of sweetness.
How To Store Homemade Beef Jerky
Really? Why not eat it instead? Just kidding. I prefer to make big batches and store some of it. In a sealed container, jerky will keep at room temperature for up to two weeks. Put it in the fridge and it will last at least 4 weeks. If you go overboard and make a lot of jerky, store it in the freezer. In my personal experience, I haven't noticed any flavor difference regardless of storage option.
The Math
First, we have to consider the "shrinkage factor." Drying this cut of meat reduces the weight by an average of 60%. Four lbs (64 oz) of meat will yield less than 2 lbs (25.6 oz) of jerky.
Store-bought beef jerky can cost you anywhere from $1/oz (hello nitrates, preservatives, and MSG) to over $4/oz (all-natural and some are even gluten free).
Supermarkets in our area sell top round London broil, on average, for about $5/lb, but occasionally will have it on sale for $3/lb or even buy-one-get-one free. This translates to a cool $0.39 - $0.78/oz of delicious, healthy, homemade beef jerky.
Which one are you going to try first?
Did you make this Beef Jerky recipe? Let us know in the comments below!
Let us know how you made your beef jerky! Which marinade did you use?
Don't Leave Home Without It: Homemade Beef Jerky to Take on Your Next Hike
I'm not going to hike up to my favorite hawk watching spot without bringing along some of my homemade beef jerky. And neither should you.
Ingredients
2

lbs

top round London broil

⅔

c

soy sauce

⅔

c

Worcestershire sauce

1

teaspoon

liquid smoke

2

teaspoon

freshly ground pepper

1

teaspoon

onion powder

1

teaspoon

garlic powder

1

teaspoon

cayenne pepper

1

tablespoon

paprika

1

tablespoon

brown sugar

2

tablespoon

pineapple juice

*For spicy version, simply replace 1 teaspoon liquid smoke with 1 tablespoon hot pepper flakes.
Instructions
Mix all ingredients for the marinade.

Cut the slightly frozen meat against the grain in even ¼-inch slices.

Mix the meat and marinade (after mixing it in a bowl, transfer it to a gallon ziploc bag and squeeze out most of the air before closing it. This will help marinate the meat evenly) and refrigerate for at least four hours and up to overnight. 

Shake or dab off any excess marinade and lay the meat strips evenly on the trays of the food dehydrator.

Set the temperature to 160℉.

Rotate the trays approximately every hour (put the top tray on the bottom) to ensure even drying. But I'm not even sure if that's necessary because of the built-in fan.

Start checking after about 3-½ hours for doneness. When bending the meat strip, it should crack but not break.

Calories:
126
kcal
|
Carbohydrates:
6
g
|
Protein:
19
g
|
Fat:
3
g
|
Sodium:
920
mg
|
Potassium:
455
mg
|
Fiber:
1
g
|
Sugar:
3
g
|
Vitamin A:
110
IU
|
Vitamin C:
3
mg
|
Calcium:
41
mg
Content and photographs are copyright protected. Sharing of this recipe is both encouraged and appreciated. Copying and/or pasting full recipes to any social media is strictly prohibited.