Making the juiciest chicken breast is actually simple. After experimenting for a while with different cooking methods, I had the idea to start with hot heat, followed by medium heat, followed by residual heat. Sound a bit strange? No worries, I'll walk you through in a minute.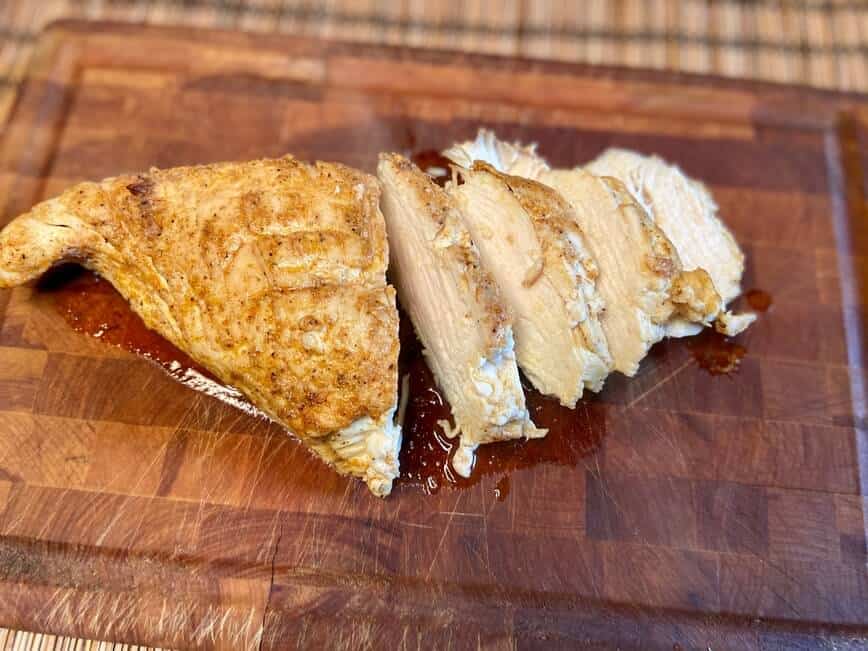 Jump to:
Chicken breasts vs chicken thighs
For me, the decision is normally a no-brainer. Chicken thighs (especially skin-on, bone-in) are - in my opinion - superior over any other chicken part.
Chicken thighs have more flavor and are much more forgiving from overcooking. Chicken breasts, on the other hand, are one of the leaner proteins out there. It's easy to dry out the center while cooking and certainly it's not exactly a flavor bomb. Try grilling a perfectly cooked chicken breast with a juicy center. I'd like to know how to do that 🧐
Therefore, chicken breasts have not been on my radar or in my fridge too often. Now they're back again.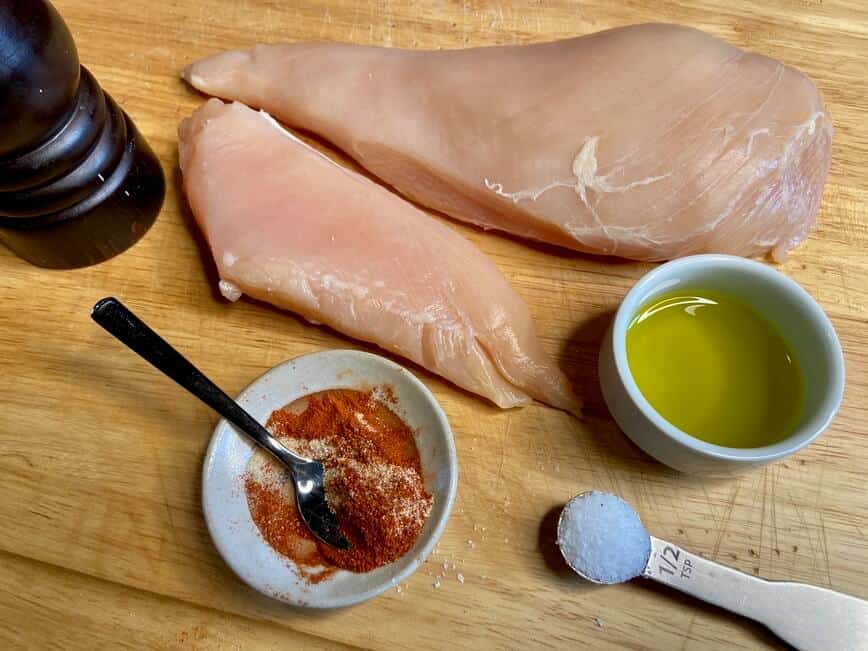 Getting the chicken breast ready
If you're using frozen chicken breasts, make sure they're totally defrosted. Pat them dry with paper towels and set on your meat cutting board.
Trim any leftover fat that's visible from the outside. If your chicken breast is really thick, like over 1-½", using a meat tenderizer (or a rolling pin works just fine), pound the thickest part down to about an inch.
If you plan on cooking multiple chicken breasts together, make sure they're all about the same thickness. Like with everything else in cooking, similar-sized cuts will have similar cooking times.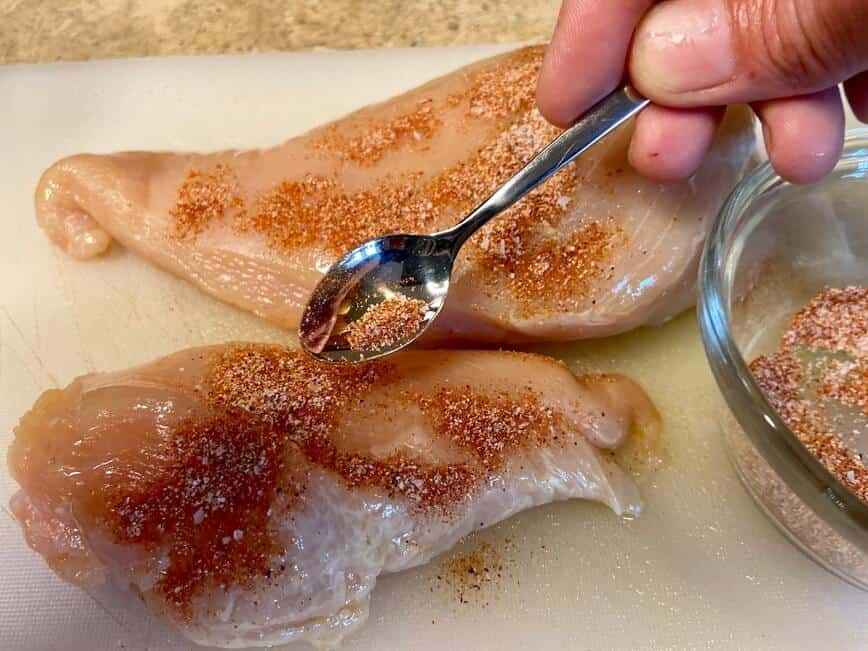 Now comes the fun part: pour some olive in your hands and rub the chicken breast on all sides. Generously season with salt and pepper. I also like to add some garlic powder, paprika, and a pinch of cayenne. Now they're ready to get the juicy treatment.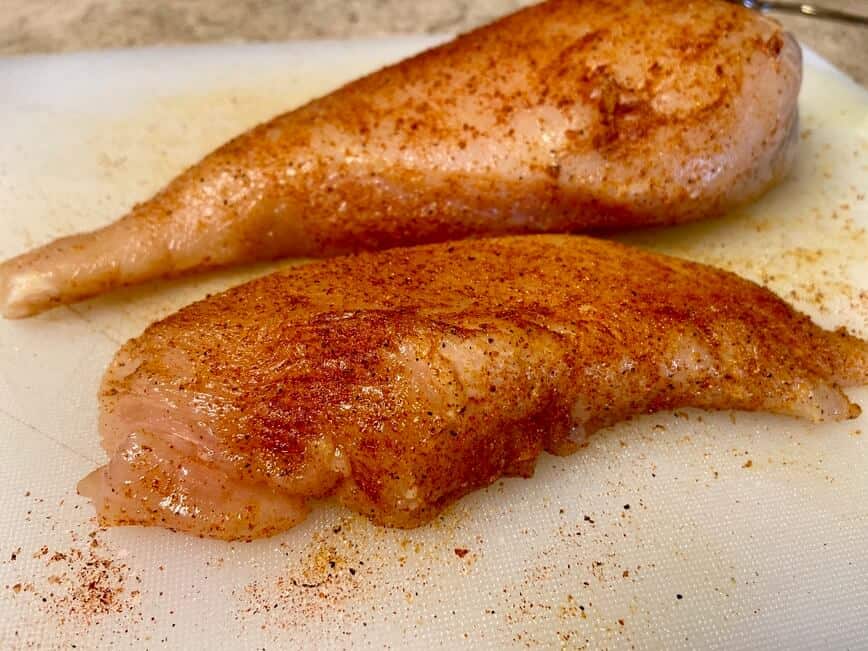 Chicken breast is the driest, most tasteless part of the chicken as far as I'm concerned ~ Paula Deen
Not anymore, Paula. Just keep reading….
The secret is here: How to cook the juiciest chicken breast every time
You'll need a pan with a lid. I love to use my Dutch oven to cook chicken breasts for this technique.
First, over medium-high heat, add olive oil and wait until it just about starts to smoke. Add chicken breast, uncovered, and cook for two minutes per side. This will give a good sear and the paprika and cayenne will also give it a nice color.
Next, turn the heat to medium-low - you still want to hear a sizzle going in there - and cook each side for another six minutes, covered. This will keep the steam in the pot and everything will stay all nice and moist while slowly cooking the chicken breast's inside.
Lastly, turn off the heat and let the chicken breast rest in the hot pan for 10 minutes. Do not lift the lid and take a peek! This would let the moisture escape.
The juices will redistribute themselves during these 10 minutes and you'll end up with the juiciest chicken breast you've ever had.
Tip: Cooking is the intersection of science and art. If it doesn't turn out perfectly every time, try again. What is "medium-high heat" compared to "medium-low heat?" It's something that you experience with your senses...especially smell, hearing, and of course touch if you really want to go that far….
Why this is the best chicken breast recipe
Once you master the easy steps above, you'll make it over and over again. It's so delicious that sometimes half a chicken breast will disappear during slicing, before even seeing a plate 😅
Another neat thing: Because you leave it to rest in the pan with the heat off, for 10 minutes, there's no additional rest time on the cutting board required.
And another neat thing: The juices from resting the meat that normally find their way into the cutting board groove are sitting in the pan, easily scooped out, and can be used to flavor any soup, stew, sauce, or your next bowl of ramen noodles.
The following recipe is based on a 1-lb chicken breast. For multiple chicken breasts or different sizes, adjust seasoning accordingly.
📝 Recipe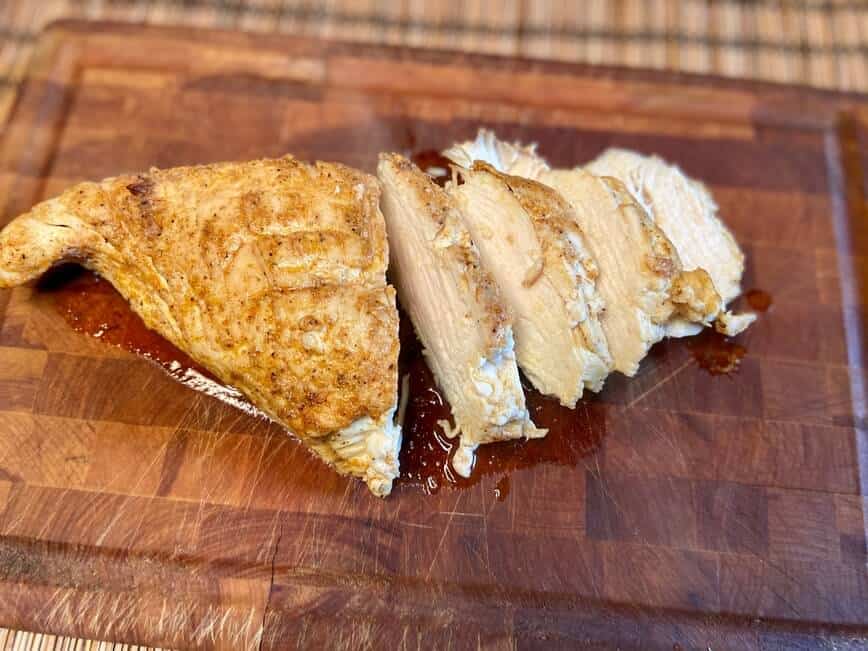 Foolproof Cooking Method to Make the Juiciest Chicken Breast
My foolproof cooking method to make the juiciest chicken breast is actually simple. Once you master these easy steps, you'll make it over and over again.
Ingredients
1

pound

chicken breast

3

tablespoons

olive oil

½

teaspoon

kosher salt

½

teaspoon

freshly cracked black pepper

½

teaspoon

paprika

¼

teaspoon

cayenne pepper
Instructions
Rub chicken breast with about 1 tablespoon olive oil.

Combine all other ingredients and evenly coat chicken breast with it.

In a pan, bring 2 tablespoon olive oil just about to the smoking point over medium-high heat.

Add chicken breasts and sear 2 minutes per side.

Turn down heat to medium-low (you still want to hear a sizzle) and cook chicken breast an additional 6 minutes per side with the lid on.

Turn off heat and let chicken breast rest in the hot pan for 10 minutes - do not lift the lid and let moisture escape

Slice on a cutting board and experience the juiciest chicken breast you've ever had. Pair with your favorite side dish and enjoy!
Notes

Calories:
448
kcal
|
Carbohydrates:
1
g
|
Protein:
48
g
|
Fat:
27
g
|
Sodium:
845
mg
|
Potassium:
862
mg
|
Fiber:
1
g
|
Sugar:
1
g
|
Vitamin A:
217
IU
|
Vitamin C:
4
mg
|
Calcium:
17
mg
Content and photographs are copyright protected. Sharing of this recipe is both encouraged and appreciated. Copying and/or pasting full recipes to any social media is strictly prohibited.
Do you love chicken? Check out a few more of our recipes now!
Did you make this Juicy Chicken Breast? Let us know in the comments below!