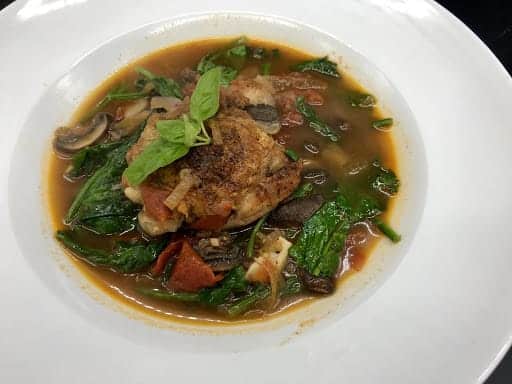 This headline may sound like an exaggeration, but it's not. It took me a few tries over the years and I'm finally happy with the result of these crispy, succulent, umami chicken thighs. This recipe perfectly fuses the flavor and texture of the chicken thighs with a deep-flavored, umami-rich broth. And the best part…actually the two best parts are:
It tastes like you cooked this for four hours

It takes less than an hour from start to finish
Let's Walk Through How To Do It And Why It Works
We start with the meat. Bone-in chicken thighs with skin-on are more underrated than any other meat I can think of. It's so versatile, so flavorful by itself, so moist, and so budget friendly, even if you buy it at the farmers market. Whenever I think chicken, I think chicken thighs.
Take your thighs (not yours, the chicken's) and trim off some of the extra skin/fat (it'd be nice if we could just do that to ourselves). Pat the meat really dry and season with salt, pepper, and paprika. This combo is a go-to seasoning for poultry that brings out the chicken flavor even more without really adding a new flavor to the dish. I know I listed a chicken rub in my Essential Pantry…this chicken rub will come into play when we start grilling chicken thighs, so hang on.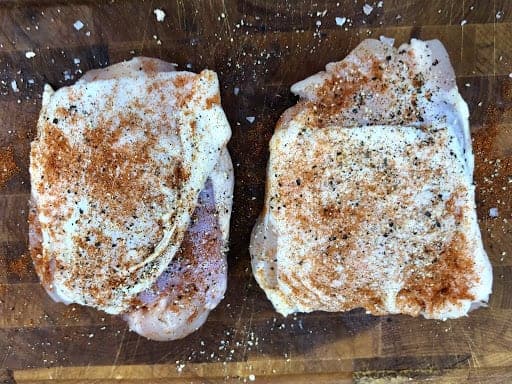 When you sear the chicken thighs in oil in your Dutch oven, skin down, the fat from under the skin will render and add flavor to the broth. After the skin gets crispy, flip them over and cook the other side for the same amount of time.
And then it's just about adding the ingredients in the correct order and letting them mingle to create a flavor bomb so good that you won't believe the intensity of it!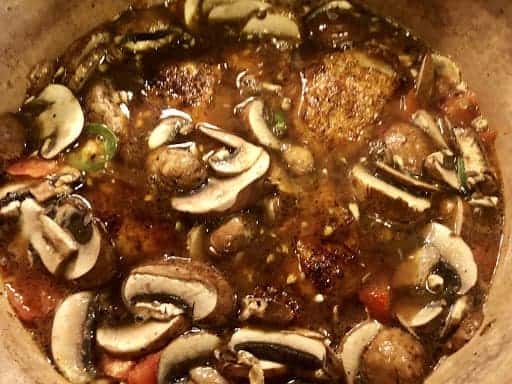 If you have a white instead of a red onion, it'll work just fine. If you have chanterelles or porcinis or morels or any other wild mushrooms, they'll work just fine too. Or even better, mix some different mushrooms together and create an even more complex flavor.
So go ahead, make it and let me know if the title is an exaggeration or accurate description….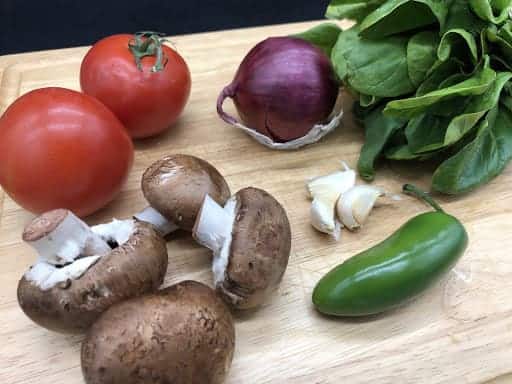 "My definition of man is a cooking animal. The beasts have memory, judgement, and the faculties and passions of our minds in a certain degree; but no beast is a cook."  ~James Boswell, The Journals, 1762-95
Did you make this Chicken Thighs recipe? Let us know in the comments below!
Do your friends enjoy delicious recipes too? Share this article with them and let us know what you all think by commenting below and rating this recipe!
Tag your photos with #maplewoodroad on social media and share them on our Facebook page! Have any questions about this recipe? Ask on our Maplewood Road Community Facebook page and I'll be happy to help. 😊
Subscribe to our weekly newsletter for more great recipes!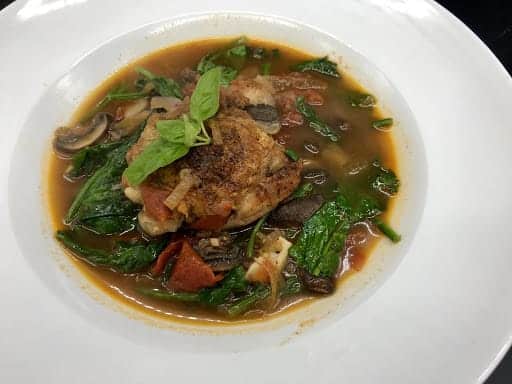 The Best, Crispy, Succulent, Umami-Flavored Chicken Thighs – In Less Than An Hour
This headline may sound like an exaggeration, but it's not. This recipe perfectly fuses the chicken's flavor and texture with a deep-flavored, umami-rich broth. And the best part…actually the two best parts are: It tastes like you cooked this for four hours & it takes less than an hour from start to finish.
Ingredients
4

chicken thighs (bone-in, skin on), about 1.5 lbs

3

Tbsp

canola oil (or any neutral oil)

2

c

chicken stock

1/2

c

red wine

3

large

tomatoes, chopped

1

small

onion, chopped

10

oz

mushrooms, sliced

10

oz

fresh spinach, chopped

3

garlic cloves, finely chopped

1/2

jalapeño, finely sliced

1

tsp

tomato paste

1/4

tsp

paprika

Salt & freshly ground pepper
Instructions
Chop and slice all your veggies.

Season the dry-patted chicken thighs with paprika, salt, & pepper, and heat 2 Tbsp oil in a Dutch oven over medium-high heat.


Add the chicken thighs, skin down, and let them get crispy. The fat from under skin will render and help flavor the dish. After the skin is well browned (which took mine about three minutes), flip the thighs over and cook for another three minutes.


Remove the thighs, scrape up the bits that are stuck to the pan, and add the remaining oil. Add the garlic and stir for 30 seconds. Add the jalapeño, mushrooms, and tomato paste and keep stirring for another minute, then add the wine.


Put the chicken thighs back in the Dutch oven (skin side up) and add the tomatoes. Bring to a boil and add the chicken stock. Reduce everything to a good simmer and cook with the lid off for about 20 minutes. If the liquid evaporates too quickly, add some more.


Add the spinach for the last five minutes and taste the broth. It should taste absolutely tastebudilicious. If needed, add some more salt.


Serve in a soup plate, garnish with some basil or any other fresh herbs that happen to be hanging around the kitchen, and serve with your favorite grain.


Content and photographs are copyright protected. Sharing of this recipe is both encouraged and appreciated. Copying and/or pasting full recipes to any social media is strictly prohibited.