It's summertime. It's time to grill. Another burger or hot dog? No thank you. It's too hot for that. I'm thinking about fruit.
Grilling fruits elevates grilling to a whole new level. Endless flavors with endless surprises. The first time I grilled a mango, I couldn't believe the transformation of flavors. The nearly uber-sweet mango transformed into a complex, rich, smoky fruit flavor that's hard to describe. But it's fantastic.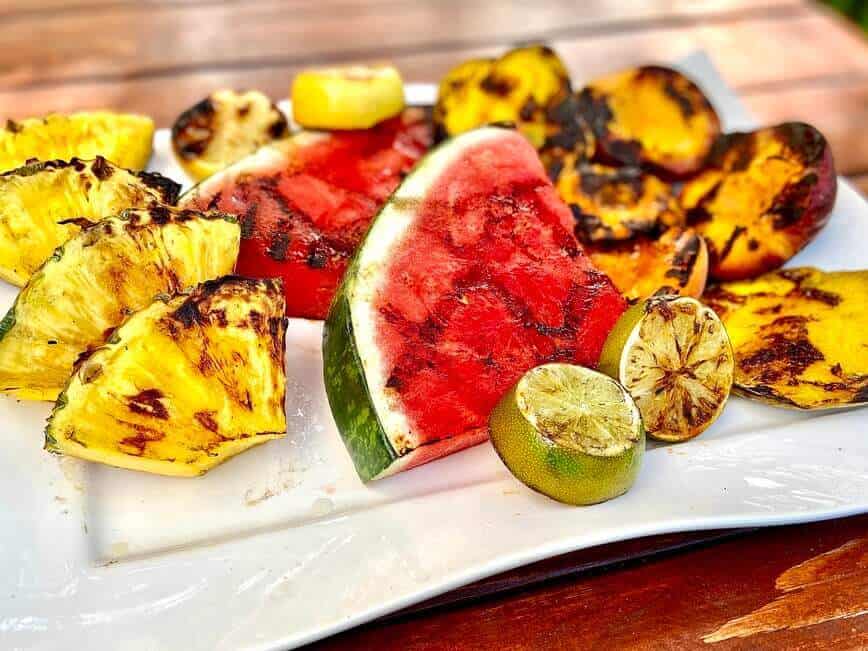 Before I go into describing my take on grilling fruit, one thing first: For me, grilling means using hardwood or natural charcoal. Grilling with gas might be more convenient but you'll never achieve the flavors that only charcoal or wood can do.
Another really cool thing about grilling fruits is the convenience. You've finished your main course of grilled meats and/or grilled vegetables and still have some nicely lingering hot coals sitting there in your grill, only heating the environment.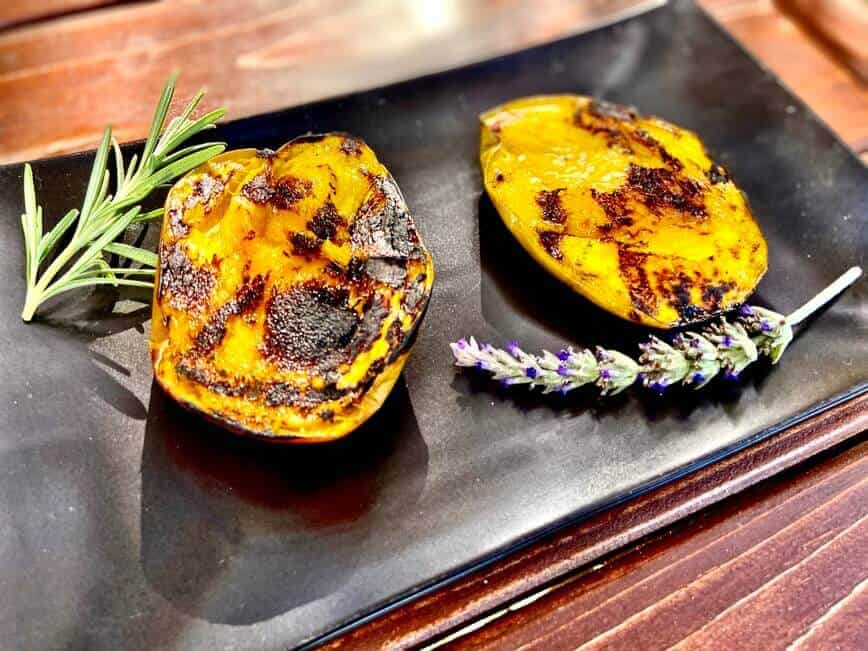 Run in the kitchen, grab your fruit basket, a chopping board, and a knife and start chopping. A delicious, unexpected, and tasty dessert is just around the corner. You can even involve your friends and guests by asking for suggestions and topping ideas.
Jump to:
What special equipment do I need?
None. Cut the pieces big enough so they won't fall through the grate. That's it. Oh, and of course some long-handled tongs to flip the fruits, which you probably already have anyway.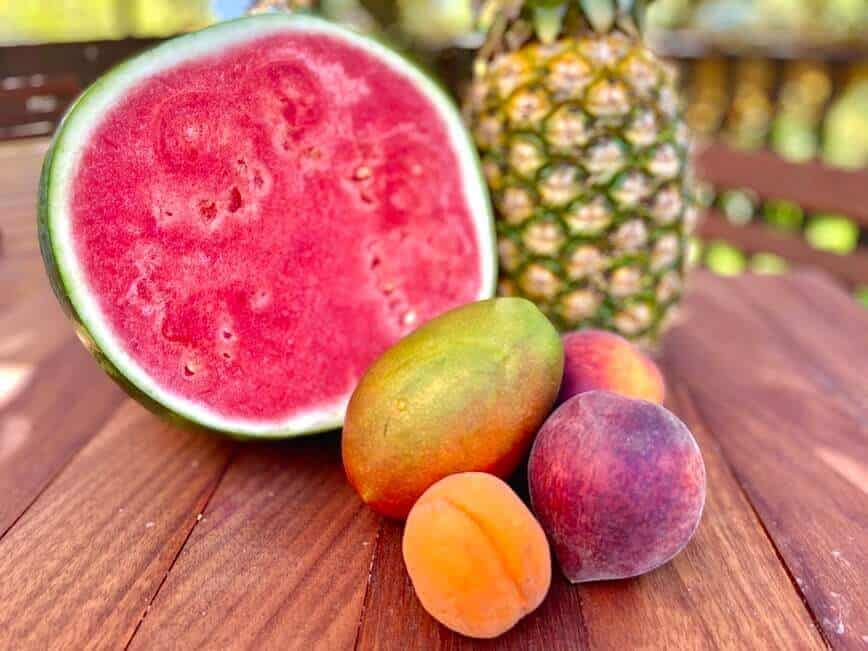 Which fruits are good to grill?
I haven't found one yet that doesn't work. The first time you start grilling fruits, I recommend to start with large, firm-flesh fruits.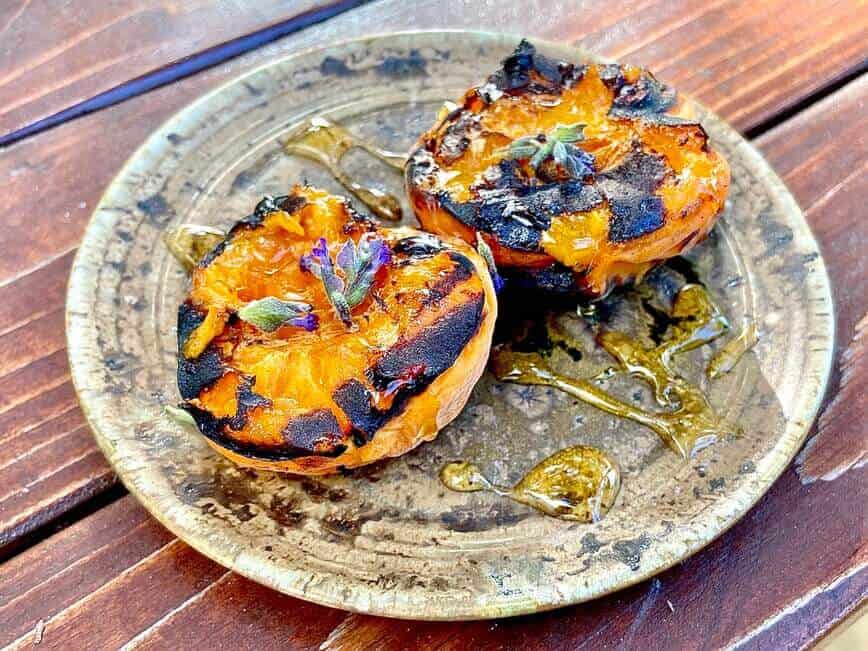 Here's my starter package: watermelon, pineapple, mango, peach, and apricot. They're pretty forgiving and there are many serving options.
Tip: If you have some lemons and limes rolling around in the fridge, add them to the mix, they'll give some really interesting added flavors when grilled and then sprinkled over grilled fruits. Especially on grilled watermelon!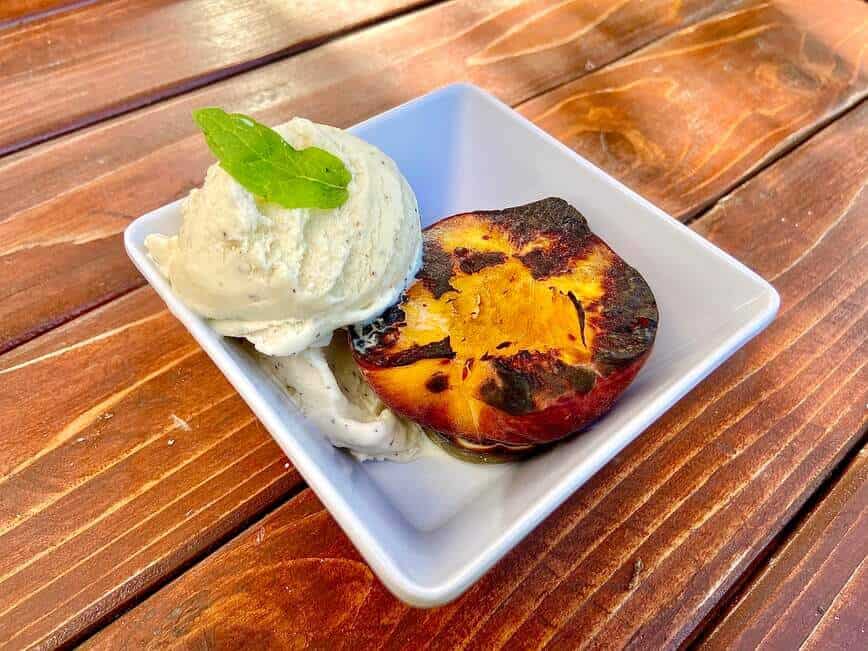 Choose fruits that are ripe but still firm. You know, the ones that smell delicious but you would normally wait another day or two before eating. This way, when the heat caramelizes the sugars and therefore weakens the fruit itself, you won't end up with a mushy mess that sticks to the cooking grate and will fall apart when you try to remove it.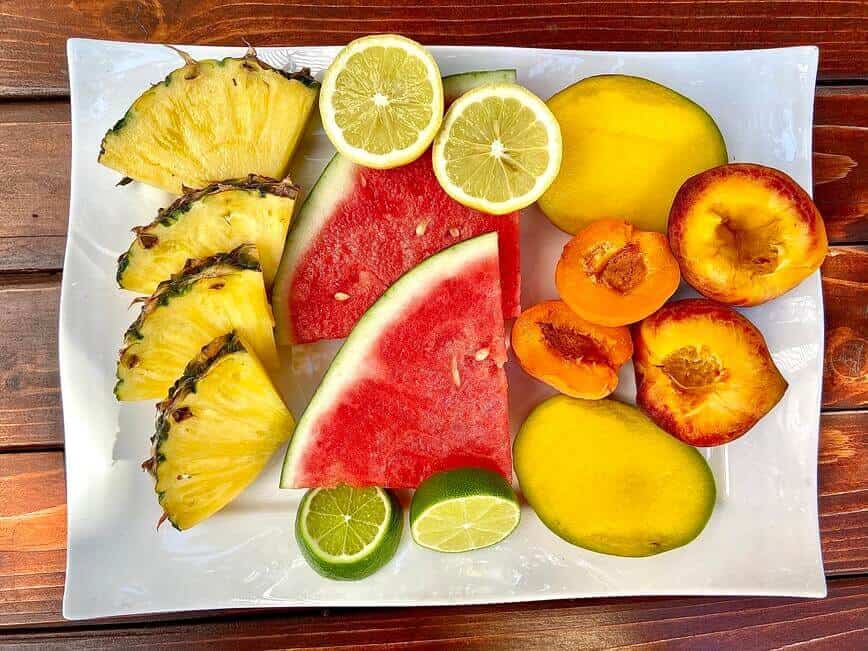 How to prepare fruits for the grill
Leave the skin on pineapple and watermelon. Cut into 1" slices. I like to cut watermelon into "pizza slices." Cut pineapple slices in quarters and remove the inner core. Half peaches and apricots and remove the stone.
You can brush your fruit with a little bit of a neutral, heat-resistant oil like grapeseed. I normally just brush the whole grate before grilling my fruits.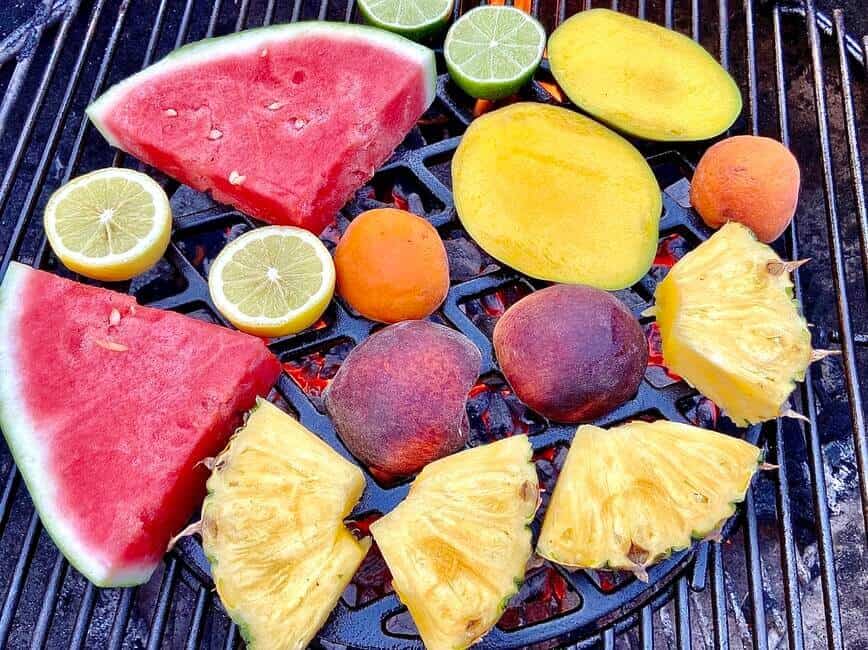 How to grill fruit
Make sure your grill is still hot. If you're cooking your fruits as a dessert, you may want to add some more wood or coal after you're done grilling the main course.
Add your fruits and don't move them for about three minutes. They won't stick and you'll get some nice grill marks. Flip and grill for another three minutes.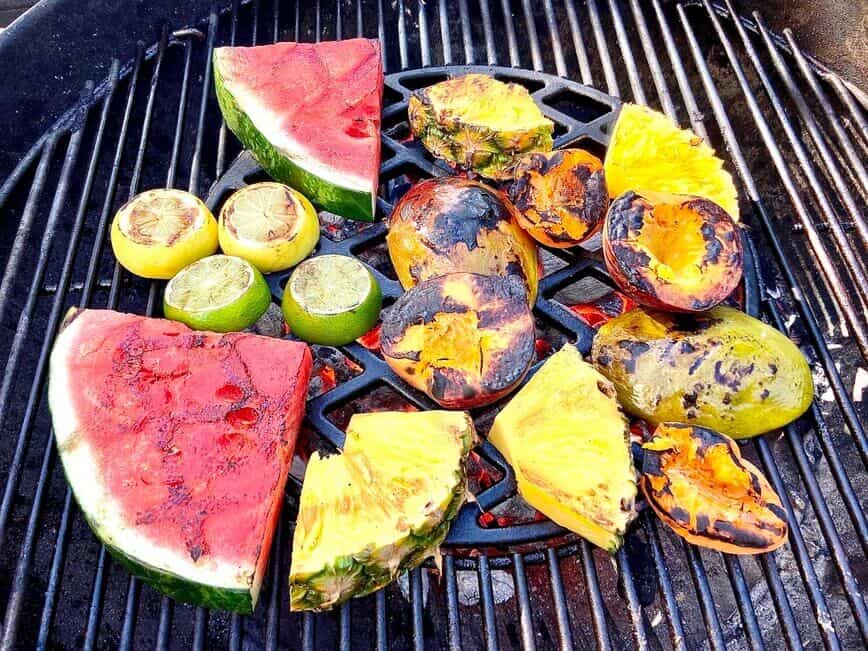 Tip: Cooking over fire is not exactly an exact science. Use your senses. If your fruit is getting too much heat, move it to a cooler spot. If your fruit is not getting enough heat, move it to a hotter spot. Three minutes should be looked at as a guideline and not a timer.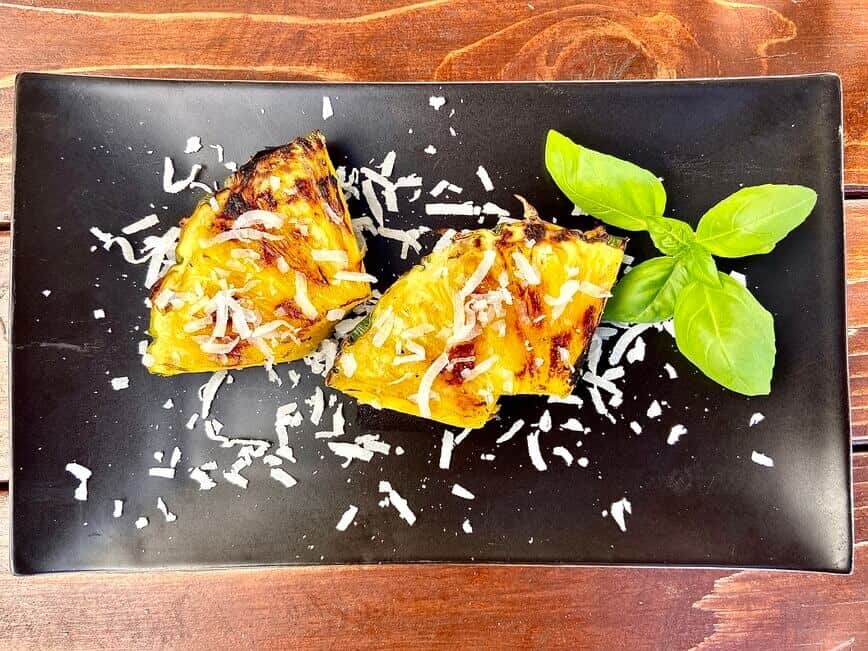 Serving suggestions
Look around your pantry, your fridge, and your herb garden. Grilled fruits have endless possibilities. Think grilled watermelon with feta cheese and fresh mint. Or grilled peaches with vanilla ice cream. Start salivating, it's that good.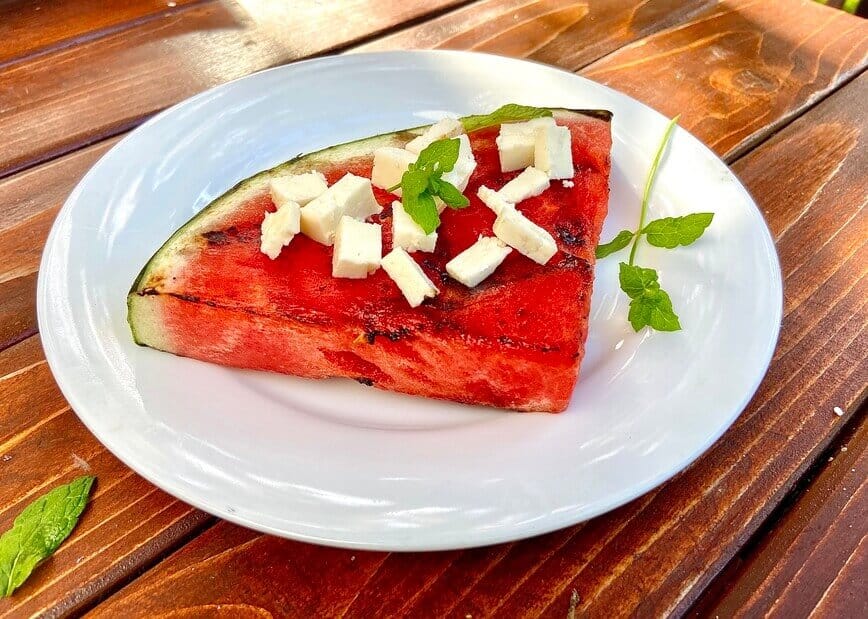 Do you love grilling? Check out a few more of our recipes now!
And maybe a few summertime side dishes and desserts too!
Did you make Grilled Fruits? Let us know in the comments below!
📝 Recipe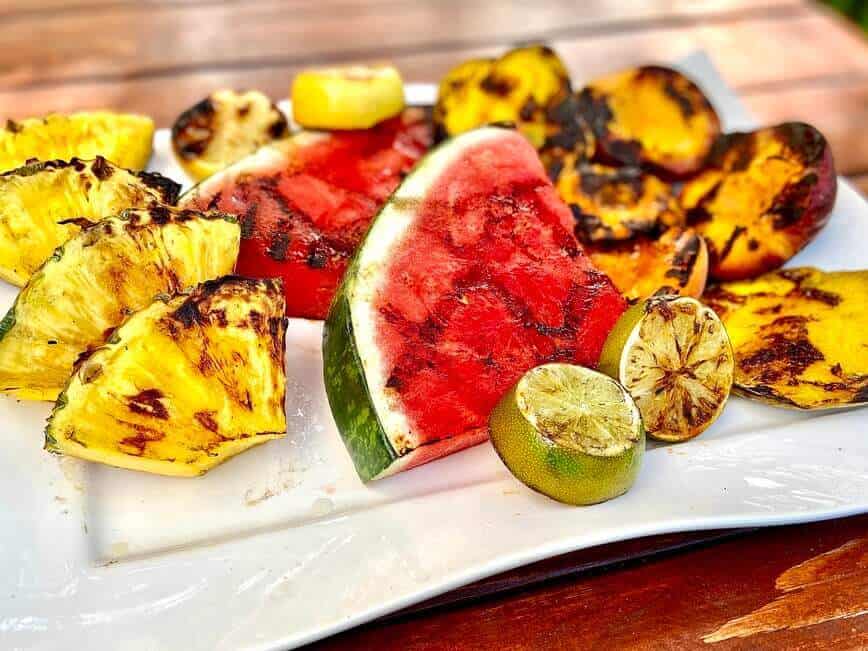 Grilled Fruits
It's summertime. It's time to grill. I'm thinking about fruit. Grilling fruits elevates grilling to a whole new level. Endless flavors with endless surprises.
Ingredients
One

1 inch slice of

watermelon, cut into four triangles

One

1 inch slice of

pineapple, cut into four slices and core removed

2

apricots, halved and stone removed

2

peaches, halved and stone removed

1

mango, cut along stone (eat the part with the stone attached while preparing food 😄)

1

lemon, cut into three slices (optional)

1

lime, cut into three slices (optional)

Toppings like ice cream, herbs, honey, feta cheese, etc.
Instructions
Start your charcoal or wood fire grill (or add more fuel if already used for main course)

Cut your fruits in chunky pieces (so they won't fall through the grate)

Brush fruits with a heat-resistant neutral oil, like grapeseed (optional)

Once your charcoal or wood is ready, add lightly oiled cooking grate and wait a few minutes to heat up (that will give you the nice looking grill marks)

Add fruits and cook about three minutes per side. If they char too quickly, move them to a cooler area on the grill.

Remove from heat and create your dessert by adding your favorite toppings
Notes

Calories:
82
kcal
|
Carbohydrates:
21
g
|
Protein:
2
g
|
Fat:
1
g
|
Sodium:
2
mg
|
Potassium:
329
mg
|
Fiber:
4
g
|
Sugar:
16
g
|
Vitamin A:
1156
IU
|
Vitamin C:
45
mg
|
Calcium:
25
mg
Content and photographs are copyright protected. Sharing of this recipe is both encouraged and appreciated. Copying and/or pasting full recipes to any social media is strictly prohibited.