You already know that I'm quite artsy-craftsy. I especially enjoy using regular everyday objects and repurposing them into something creative and beautiful. These garden decor ideas are just a few of the projects we've done in our own backyard and garden, to spruce it up, add some visual interest, and have a little fun.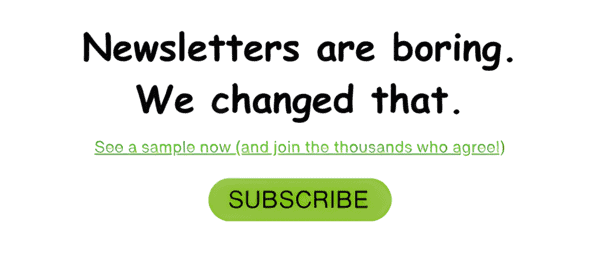 Jump to:
While this is not really an instructional how-to article, it's more of an "inspirational" article. But keep scrolling down...I'll show you step-by-step how we did our latest project!
On the weekends, scout out your local yard sales by finding listings in the newspaper and keeping a keen eye out for signs on telephone poles in your neighborhood. Check out thrift stores and antique shops...it's always amazing the cool stuff you'll find.
Ask yourself:
How could I include this in my home and garden decor?
Can I give it new life with just a fresh coat of paint or new fabric or new hardware?
Would this add visual interest to an area that's otherwise plain and boring?
Use your imagination! There are so many fun things you can do with yard sale finds and the best part is: They'll be totally unique! No one else in the world will have the exact same thing.
I can't tell you how many compliments we've received from friends over a few simple artistic elements we've placed in the garden.
Here are a few examples for your garden inspiration!
Wheeled cart
A few years ago, we found this antique wheeled cart at a yard sale in town. While I had no idea what I was going to use it for, I just had to have it! It's so cool, right?!
Eventually, I decided to just leave it alone and place it in the herb garden, then changed my mind and set it by the side of the pond. Over time, it's become even more weathered and one of the wheels broke in pieces. But I don't care...I think it actually looks even more antique this way, like it's been there for years and years.
Vintage wood ladder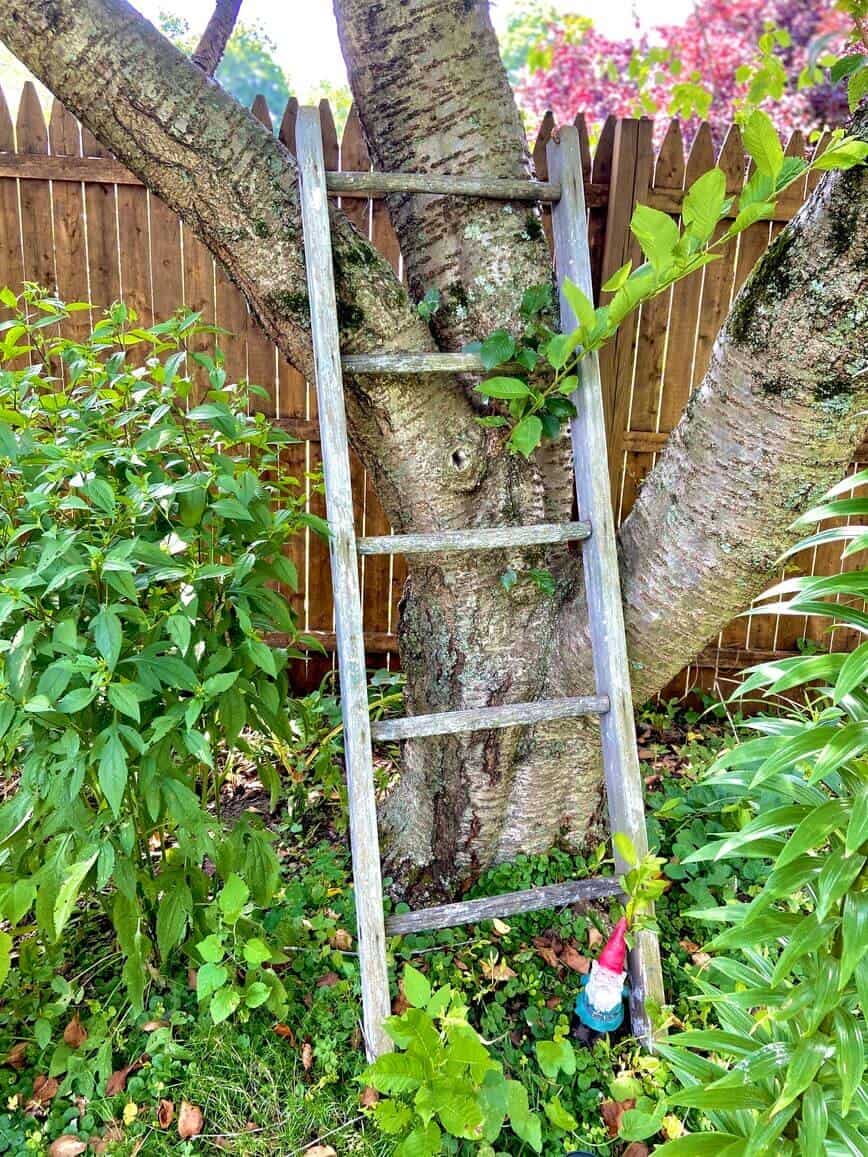 This vintage wood ladder was another cool find at yet another yard sale in town. Again, I had no idea what to do with it at first, but it just looked so neat. Maybe I'd hang it in the house somewhere, draped with faux ivy or with pots and pans hanging from the rungs.
In the end, we decided to prop it against a flowering cherry tree in our back yard. It seems to suggest that someone was just there a few minutes ago, lovingly trimming its branches or picking a flower. I specifically remember, though, that the man selling the ladder told us to make sure we didn't use it as a regular ladder and stand on it...it wasn't safe for regular use. I smiled and told him not to worry, this was going to be an artistic piece.
And say hi to Leonardo...he traveled with us to Italy a few years ago in my backpack, as a roaming gnome, and now keeps an eye on our cherry tree, making sure no one is sneaking up the ladder.
Metal garden trellis
We found these garden trellises just a few weeks ago. Sadly, an antique store in a nearby town was going out of business and they were having a massive sale. As soon as we arrived, these metal sculptures outside the front door caught my eye...and there were six of them! While they're not wrought iron but aluminum (or something similar), I loved the look of them.
After browsing the store for an hour or so and picking up a few interesting finds, we decided to ask one of the employees how much they were asking for these six pieces. He said $20. Is that $20 each? "No," he replied, "$20 for all of them." SOLD!
We knew where these were going in the garden right away! There was a crossbar on the bottom, which Erich cut off using a jigsaw with a metal blade.
He then placed the long legs into the ground, along the back of the garden, to act as trellises for our climbing beans and peas. And for now, that's where they'll stay.
Although they might come out to make a special appearance for some yet-undecided Halloween prop (if you don't already know how much we love Halloween and building fun props, check it out on our DIY/craft page)!
Tall hinged shutters
Several years ago, a friend and neighbor gave us a set of hinged white shutters. Not for attaching to the house, but he knew I was a big crafter and thought I could use them for some project. I gladly accepted. In the meantime, they've alternately been used as indoor home decor and sat in the basement, collecting dust.
Until a few days ago. I had an idea!
In a back corner of our yard, we keep our compost pile for the garden. While it provides lots of wonderful nutrients for our fruits and veggies, let's just say that it's not the most attractive section of our yard. Here's a before picture: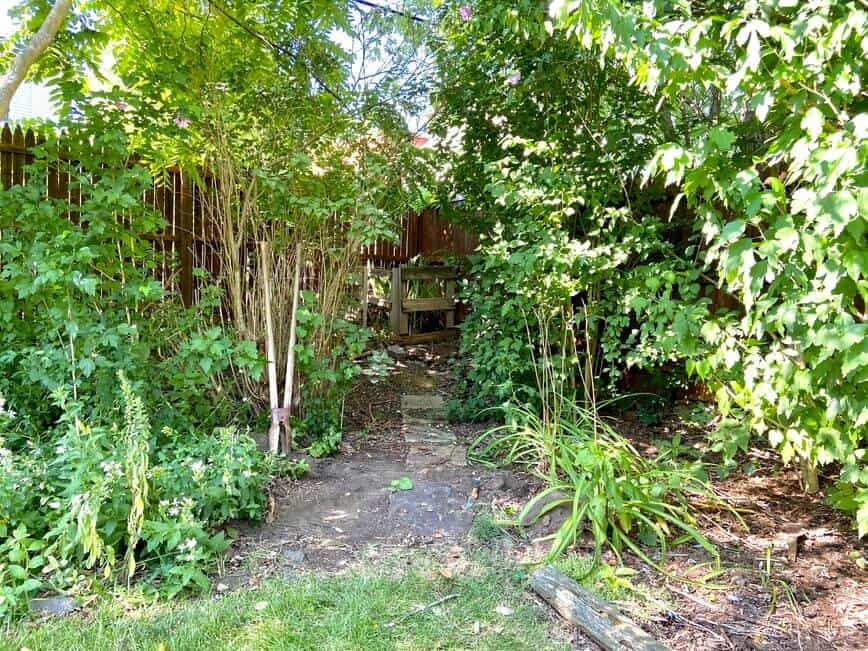 Hey, wait a minute, I have those shutters! Let's get crafty!
We decided that we could make an entrance to this area, a doorway of sorts, which would also look really cool as a piece of "art." After standing the shutters in the area we wanted, standing back, looking...moving them again...stepping back and looking again...wait, will the wheelbarrow fit through?... we'll attach it to 2 x 4's. Ok, ready!
First, I gave the shutters a fresh new coat of matte white spray paint.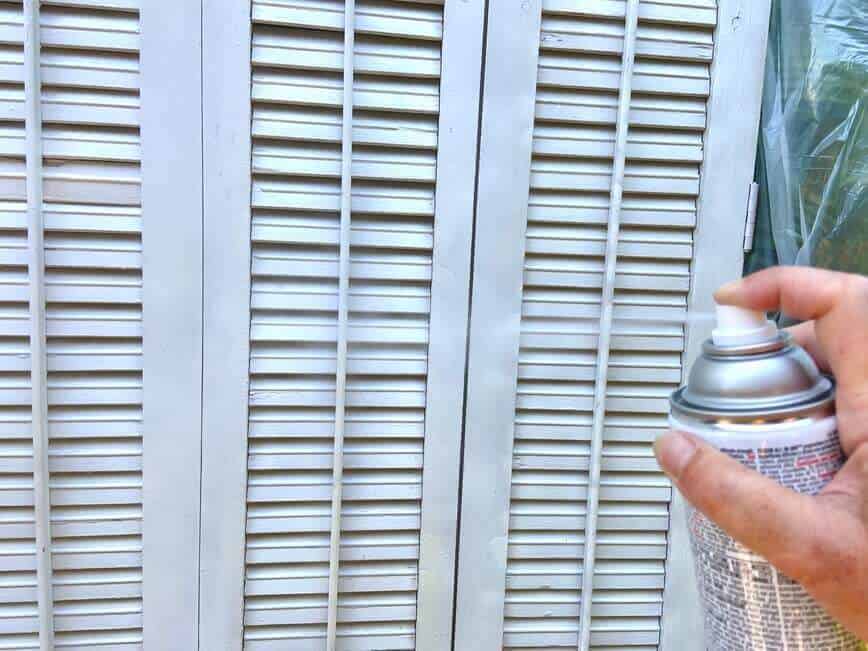 While the paint was drying, we borrowed a post hole digger from a neighbor and dug two holes about 2' deep. Encountering a few old tree roots along the way, Erich used the Hori Hori knife to easily cut through them and continued digging.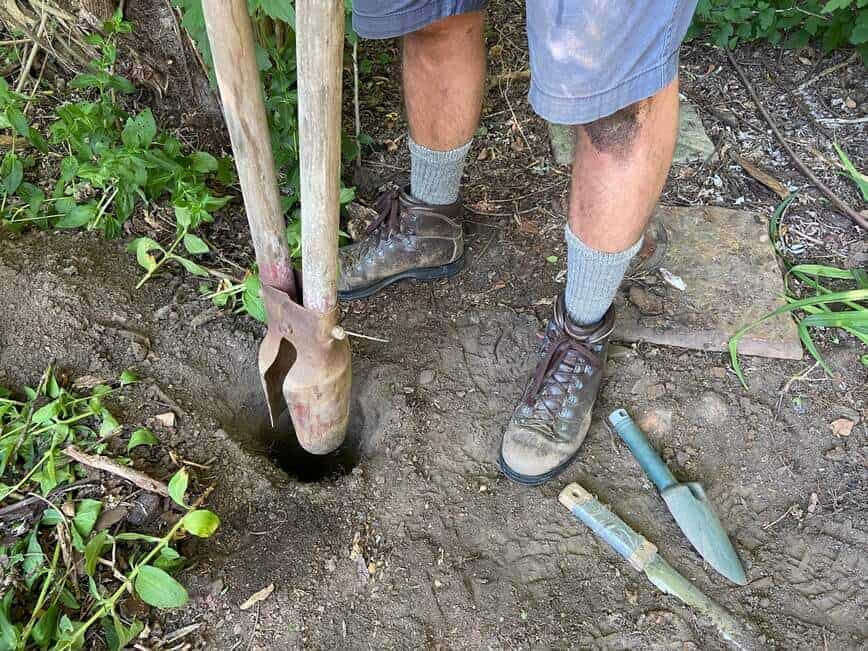 Next, after making sure the holes were the same depth, we inserted the 2 x 4's, made sure they were level, and used some Quikrete to cement them into place.
We allowed the cement to cure overnight and the next day I got to painting the posts. Sure, I could have painted them ahead of time, but we were too excited to get started!
We then attached the shutters to one side using five 2" screws and placed a hook and eye on the other side, to hold it closed. Finally, a few stepping stones and a little mulch to finish off the look.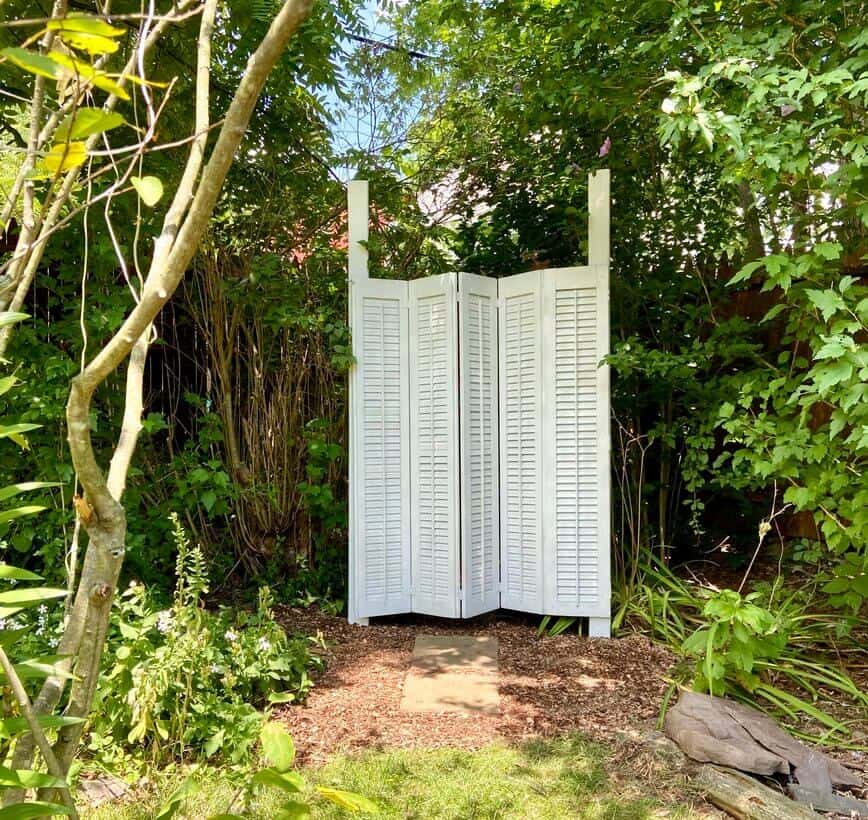 What do you think? We love it! FYI, we left the posts on the sides a little taller because we're thinking of adding a cleverly worded sign of some sort in the near future, but need some ideas...What should it say?
Looking for more fun yard & garden ideas? Here are a few of our favorites:
Did you make some Garden Decor for your yard? Let us know in the comments below!