This is not a "How To," but we hope it inspires you to do something similar in your own backyard.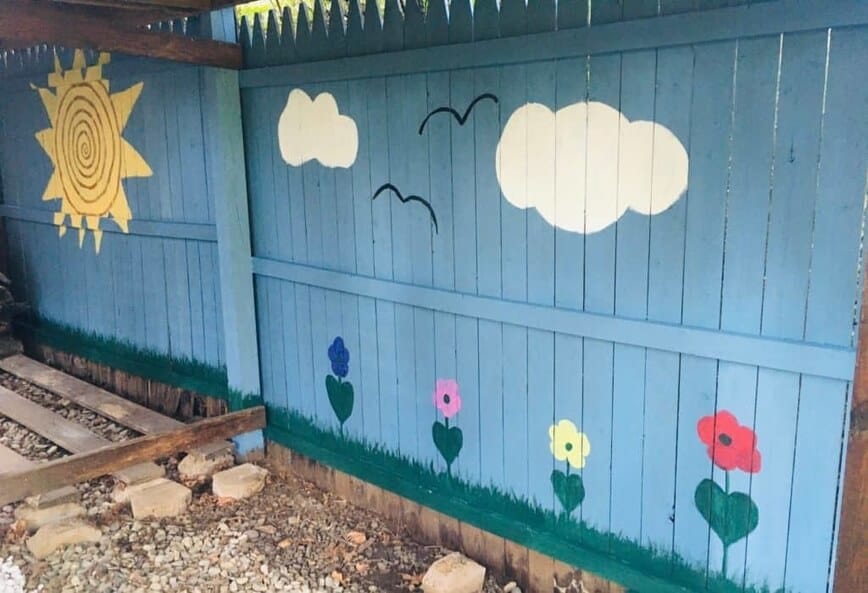 A few days ago, Erich and I were cleaning out our woodshed in preparation for the cold winter sure to arrive in just a few short months. When the weather turns cold and the snow starts to fall, the ice-cold wind tries to find any tiny gap to sneak through into our house that was originally built in 1886.
While we do have a reverse heat pump for backup, the main source of heat in our house is a woodburning stove. While it does require regular attention throughout the day, there's nothing quite like the sight and smell of a crackling wood fire.
One of our cats, Monkey, has picked out a favorite spot throughout those cold winter months, and that's about two feet in front of the woodstove. He curls up in a ball and sleeps away the day, warm as can be. Sometimes, he even ventures so close to the fire that we have to push his head down out of the way to open the stove door! I swear, I don't know how he hasn't spontaneously burst into flames yet!
So, now that it's officially fall, it's time to start planning ahead for winter. Erich made a call to a local guy who supplies us with firewood every year and he said it would be available for delivery in just a couple weeks. Over the years, we've learned to call early in the season, hoping to beat the rush. If you don't get your firewood now, you may be left shivering in your slippers, hoping more wood is available soon...not a good situation.
Since we go through two to three cords of firewood each winter, we're expecting a big delivery next week. So Erich had the idea to paint a 16-foot-long mural on the fence, behind our woodshed. He said "Why not paint a big sun, then as we gradually remove the firewood and it's inching closer to spring, the sun will start to appear!"
I have to tell you, I LOVED THIS IDEA!
The next day, I happily collected all the colorful cans of latex paint I could find in the basement, along with a few small craft bottles of acrylic paint and several paintbrushes. Couldn't find that darn opener doohickey (didn't we have like 3 of them?!?!), but a screwdriver will do in a pinch. The rest of the afternoon was spent painting (even though I missed the football game, I was still wearing my t-shirt to support my team).
Having spent the entire previous night daydreaming of the scene I was going to paint on the fence, I was ready to go! First, mix a little of this blue and a drop or two of that blue to get that perfectly pretty sky color like on the opening credits of the Simpsons.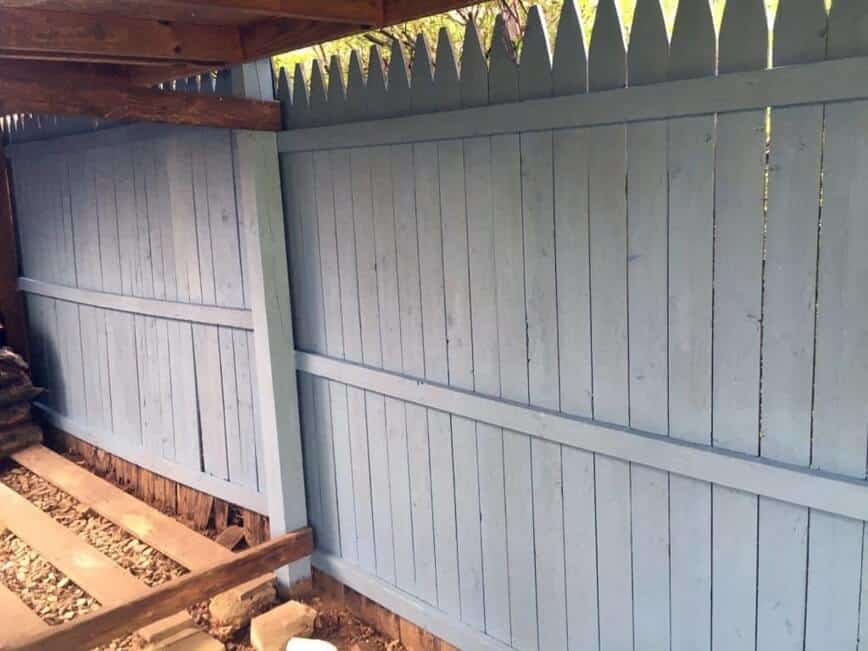 Ok, then a sun. Darn, I can't find any orange to mix with the yellow. Maybe red will work? Nope, it's now pink. Add more yellow...much better.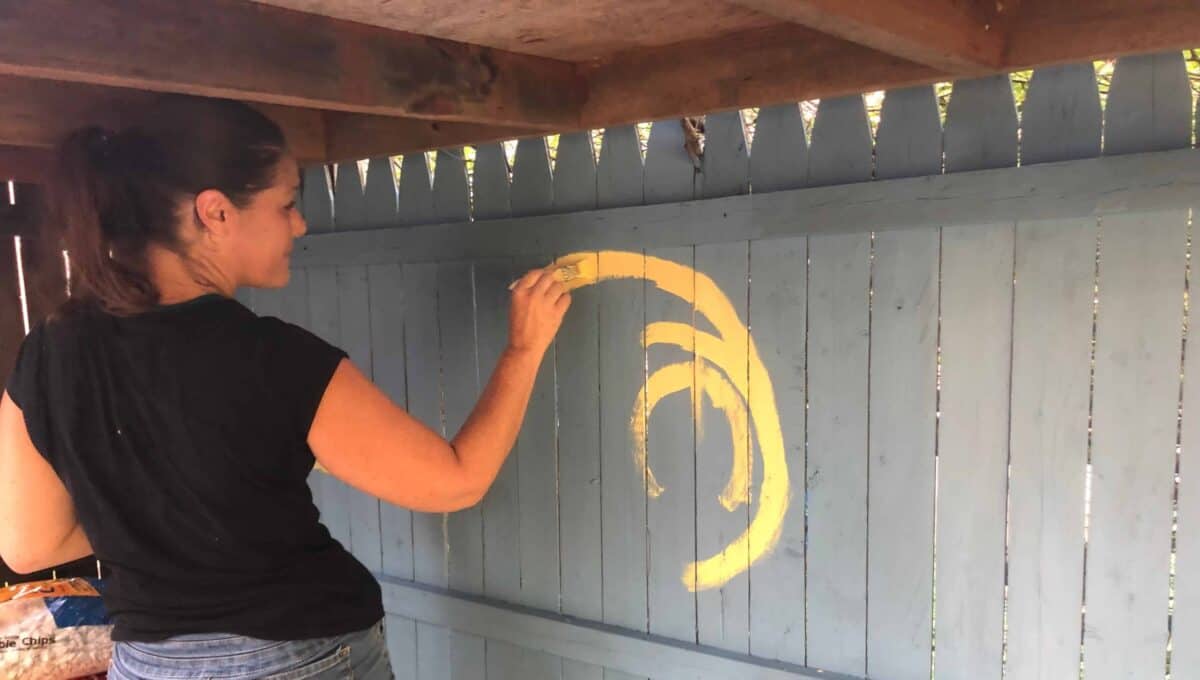 Halfway through painting the sun, Erich came to give me a football score update and I asked him why my sun was looking like a kindergartener trying to draw a spiky dinosaur...He said I was only half done, just keep going, it's looking great! Oooohhh, maybe a gold swirl?! Yes!
Then, inspiration struck again! Since we typically unload the woodshed from left to right, and top to bottom...first, we'll see the sun…then, as more firewood disappears, you'll start to see puffy white clouds and birds (shaped like the letter "M")...finally, when it's almost spring, colorful flowers will pop up from the bottom right. BRILLIANT, RIGHT?!
When I was finally happy with my mural, I sprayed the whole thing with a coat of lacquer. Although the woodshed is covered by a roof and will soon be hidden by a big pile of firewood, a little extra protection can't hurt.
Stepping back to admire my work, I have to admit that I love it! While no one will ever call it a work of "fine art," I like to think that my child-like art is fun and whimsical. And when the weather is cold and we're getting a bad case of cabin fever this winter, it will be a colorful reminder that warmer weather will come again.
Today I was reminded to spend time doing things that make you smile. What will you do next?
Did you make a Painted Fence? Let us know in the comments below!