Happy Turkey Day! Or maybe it's not a happy thought for you. Maybe just the thought of Thanksgiving fills you with fear about the turkey being undercooked or your crazy uncle getting drunk or what to bring as a hostess gift if you're going to someone else's house. It's okay, I promise, just breathe...we'll get through this together.
Hosting a Thanksgiving dinner is actually not so scary if you plan it out properly. I'm here to be your guide through it all, every step of the way! I'll even give you some tips that might even allow you time to sit down, relax, and enjoy your company on the big day! I know, I know...but it's true!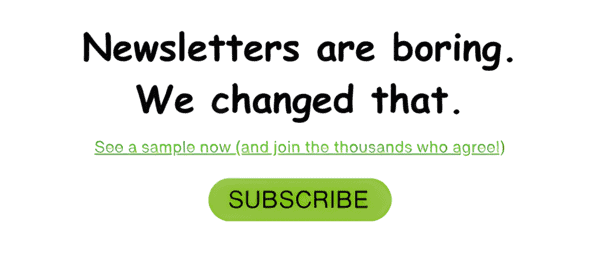 Jump to:
📋 Deciding on a menu
About a week or two before Thanksgiving, make a game plan. This means deciding on your menu.
Make a shopping list well ahead of time, so there are no last minute panics. I guarantee there are items you'll forget...but this gives you plenty of time to run out to the store to get those spices or aluminum foil you didn't remember to pick up on your first trip to the supermarket.
And if you can do your shopping during an off-time (any night owls out there?), so you don't have to fight the crowds, even better! If not, then may I suggest bringing along your phone and a pair of ear buds, and listening to some "zone-out, zen-like, I'm in my happy place" kind of music while pushing your rattling cart with the one funky wobbly wheel through the store. Why do I always get that cart? *sigh*
Also, plan your menu so that some foods will be able to be prepared a day or two before. It makes no sense to practically kill yourself in the kitchen on Thanksgiving day, missing out on enjoying your family and friends, when certain items can be made ahead of time (more on that later).
Some things simply must be made on the day-of, but try to think out all the details now, like...Can I fit three side dishes in the oven at the same time as the turkey? Probably not. So figure out what you can make ahead of time. You can, however, make the pie dough the day before and then quickly put it all together on the day-of, to go in the oven right after you take the turkey out...Aha!
🍾 Choosing wine
You can also pick up your wine at this point...that certainly won't go bad in the meantime. This is another thing you can do well ahead of time, so you don't get stressed out and drink all the wine the night before! And no need to break the bank here...there are plenty of fantastic wines in the $10 to $15 dollar range. Maybe a fun bubbly too, to toast the occasion with family and friends. Some other beverages that may go well with your Thanksgiving dinner include apple or pear cider, spiced wine, hot toddy, cranberry juice, and many others!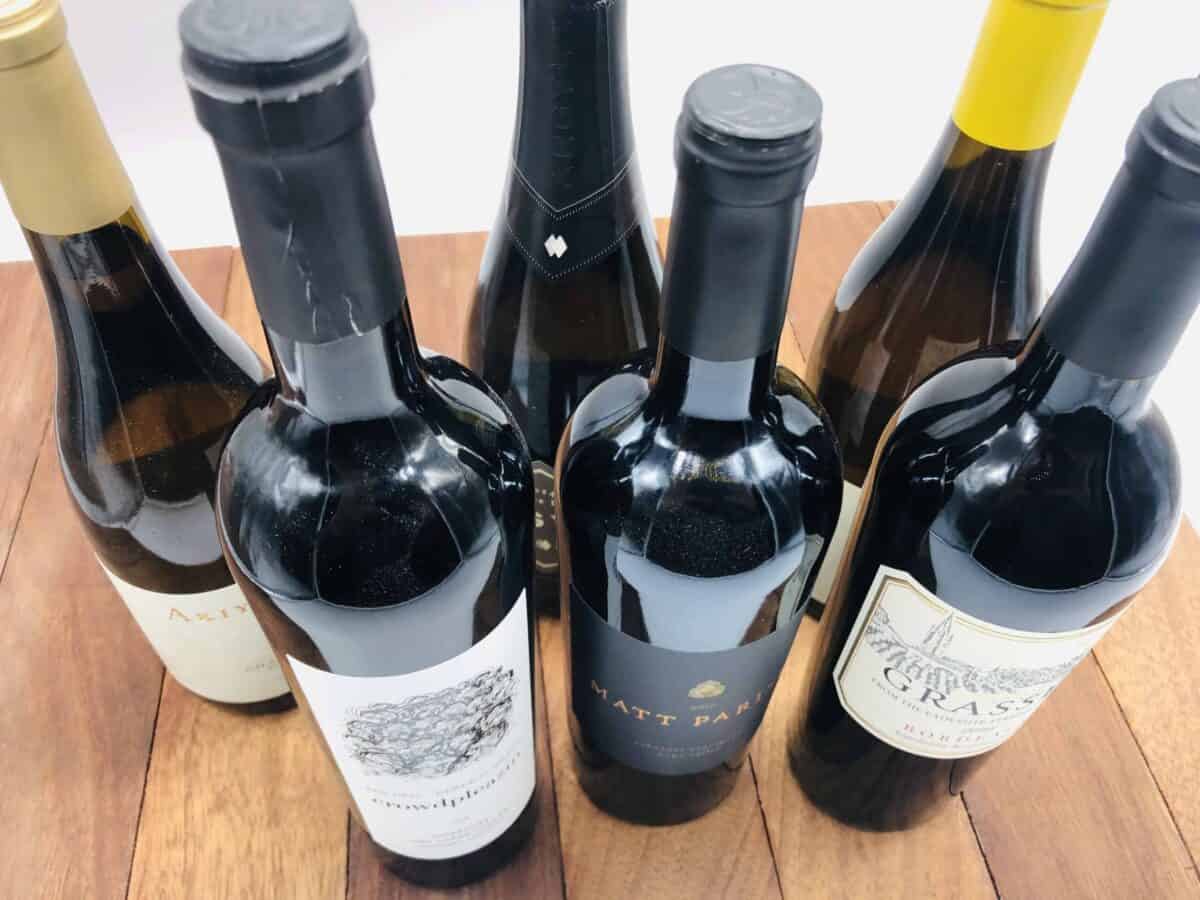 ❄ Making room in the fridge
In the week leading up to Thanksgiving, try not to make big dinners with lots of leftovers. Go through your fridge, eat whatever you can, and throw out anything that you know you're not going to eat (like that yogurt that expired two weeks ago). You're going to need every spare inch of room in your fridge for the turkey and all the fixins!
🧹 House cleaning
If you're hosting Thanksgiving at your house, a week before is also the perfect time to start preparing your home for guests. Each day, take a few minutes to walk around with a feather duster, wipe down the door handles and other grimy areas, vacuum, etc.
Unless you have the Queen of England coming over for the holiday, no need to go nuts! Your guests are there to enjoy the holiday with you...I don't think anyone is going to walk around with white gloves, inspecting every nook and cranny for dust and grime (and if they do, maybe you should reconsider inviting them in the first place). You're a real person, who actually lives in this home...so make it look nice, but without driving yourself insane.
🌡️ Tools and equipment
Before we get started on the actual cooking, let's make sure you have all the tools you'll need. The first item you'll definitely need is a roasting pan. One option is to purchase a simple foil pan from the supermarket for a few dollars. The other option is to get a roasting pan with a rack
, which costs more but will last for years.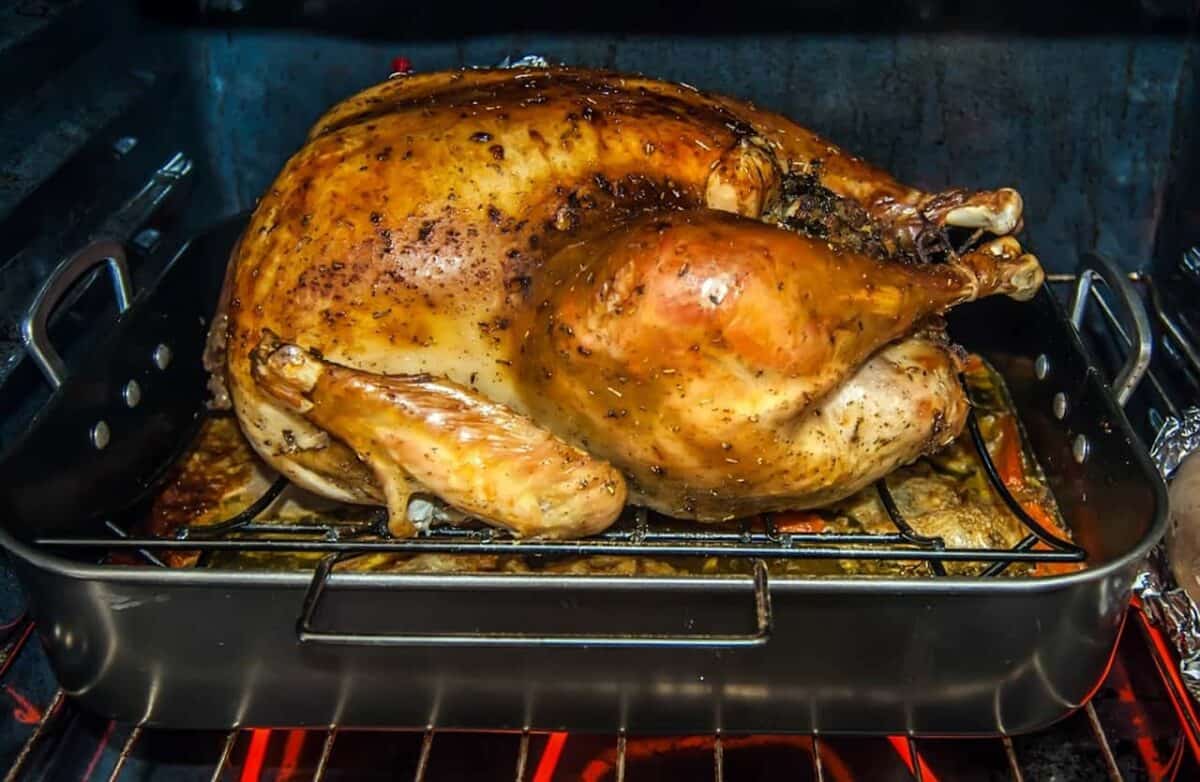 The other absolute necessity is a meat thermometer
. Believe me, you want to make sure that turkey is cooked enough, but not too much. One year, I proudly took my turkey out of the oven and we started carving it, only to find that it wasn't fully cooked through. Thankfully, Erich and a neighbor fired up the grill and finished cooking it!
We laugh about it now...but at the time, not so much! Since then, I've learned how to properly check that a turkey has reached 165℉. To check the temperature of a turkey, insert the thermometer into the thickest part of the thigh (not the drumstick), about 2 inches deep, being careful not to hit the bone.
A turkey baster
or basting brush
is another nice tool to have at your disposal. This will help make sure your turkey stays juicy throughout the cooking process. Other than that, just make sure you have some aluminum foil, a sharp carving knife, and enough dishes and silverware for all of your guests!
🦃 Choosing a turkey
Let's begin by talking about the main event...the food! It doesn't really matter if you prefer to buy a frozen or fresh turkey for your dinner. When deciding what size you'll need, keep in mind that you'll want at least 1 to 1-½ pounds per person (more if you like leftovers, like I do). The only other thing to consider there is to make sure that if it's frozen, you allow enough time to allow it to defrost (in the refrigerator, allow at least 1 day for every 4 pounds; or in cold water, allow at least 30 minutes per pound, changing the water every 30 minutes).
🧂 Brining
The day before the big event, you can brine your bird. Brining will practically guarantee you'll be serving a really juicy turkey on the big day. The simplest way is to purchase a small brining spice packet at the supermarket and follow the instructions. All you need to do is place the turkey in a large container filled with a mixture of water and the brining spices, and let it sit in the refrigerator overnight. And voila!, you'll have the juiciest turkey your heart ever dreamed of!
🧈 Preparing the turkey
When it's time to cook the turkey, you can either choose to stuff the bird or keep it unstuffed. Keep in mind that a stuffed bird will take longer to cook in the oven. Preheat your oven to 325℉ and prepare to get messy.
Rinse off the bird in cool water and pat dry. Remove the giblets from inside the bird and fill with stuffing. Using your fingers, gently separate the skin from the breast meat (see photo below) and rub this in-between layer with pats of butter and whatever spice blend you like.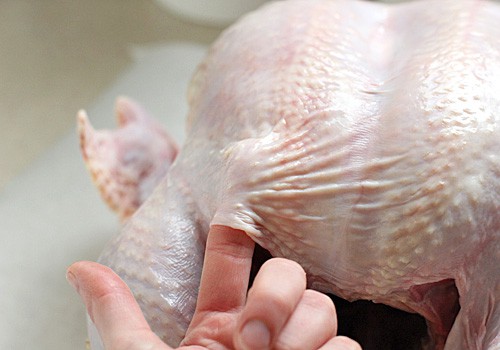 Then, just tuck the wings under.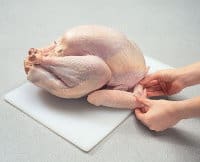 Put about a ½-inch of water in the pan, cover with foil, and place in the oven. Check on your bird about every hour or so and baste with melted butter and juices from the bottom of the pan. Refer to the chart below for cooking times.
🔪 Carving the turkey
Learn how to carve your turkey like a pro, from the professionals at the Culinary Institute of America:
🍇 Appetizers and sides
Appetizers are certainly not required, but I find that they're a nice and thoughtful addition for your guests. Keep in mind that your guests will soon enjoy their biggest meal of the year, so keep appetizers light.
Personally, I like to place out a few plates of fruits (grapes, pear slices, apple slices, etc) and a selection of cheeses. This will give your guests something to nibble on throughout the day, but won't fill their bellies before the main event! And remember to eat something yourself too..no one likes a host who's fainted on the kitchen floor.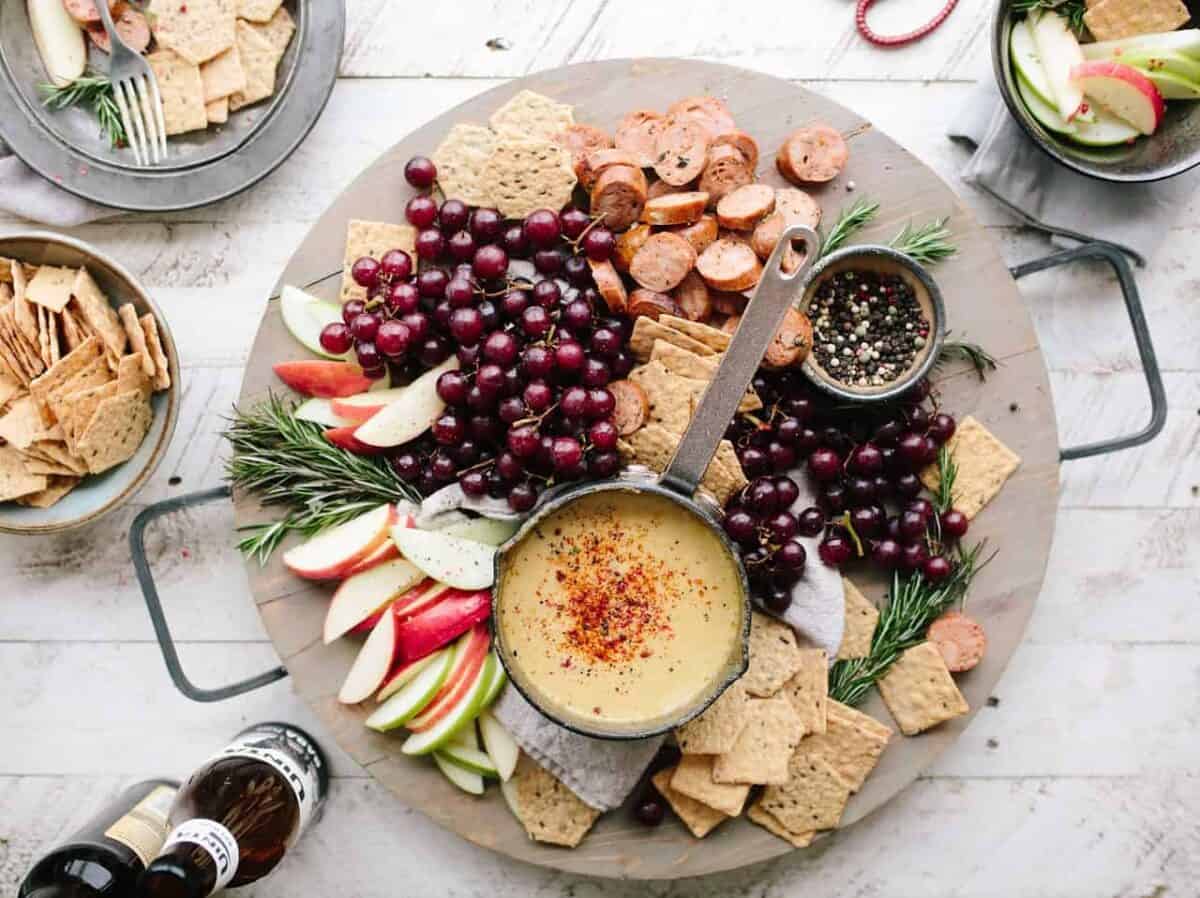 On to side dishes. Every family has their own preference of what side dishes they enjoy at Thanksgiving. Some of the more popular choices include stuffing, cranberry sauce, mashed or sweet potatoes, green bean casserole, and brussels sprouts.
Whenever possible, make any dishes you can ahead of time, the day before. This will greatly decrease your anxiety and increase your enjoyment on the big day! For example, if you're making whole cranberry sauce, you basically need to make it the day before, so it can chill. Another one of my favorites, corn muffins, are another easy recipe to make the day before.
🥧 Desserts
Regarding desserts, the same goes as with side dishes...many can be made one or even two days before! Think of pumpkin pie, sweet potato pie, or the World's Best Apple Pie! After dinner, these can either be served at room temperature or warmed in the oven at 350℉ for about 10 minutes.
Whip up some homemade whipped cream while you're at it. Just mix together about 1 cup heavy whipping cream, 3 tablespoons sugar, and 1 teaspoon vanilla extract. Using a stand mixer or a handheld electric mixer, whisk on a high setting until soft peaks form. Now you're ready to serve a little slice of pie with a mountain of whipped cream...or is it just me who does that?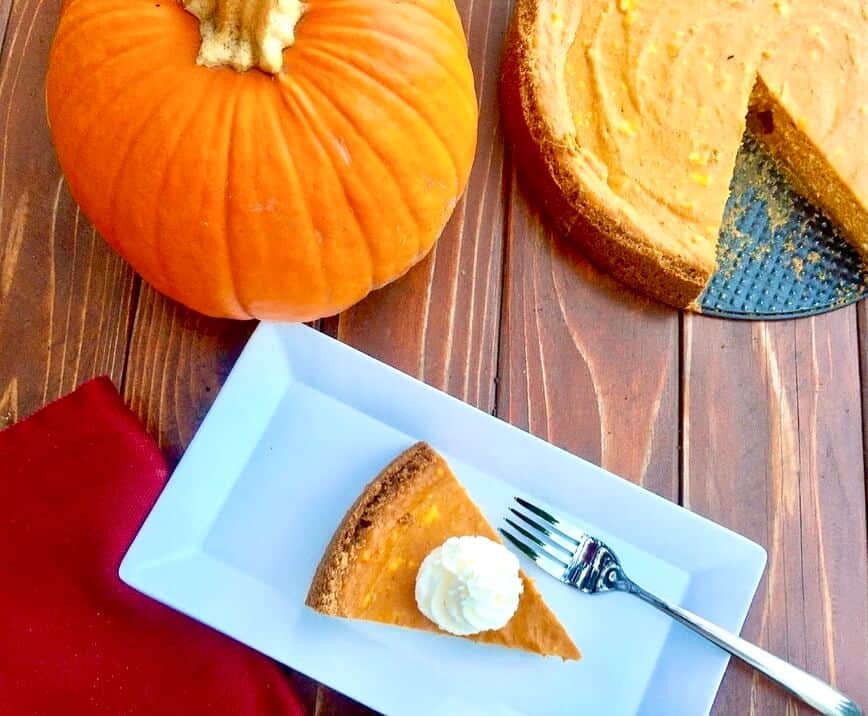 🍂 Decorating
Another step that's easy to do a day or two before is getting your table ready for presentation. Whether you choose to present your dinner in buffet or family style doesn't really matter...it simply comes down to personal preference. Either way, you want your table to look pretty, right? You may choose to cover the table with a simple tablecloth, and maybe use that table runner you've been waiting to have an excuse to use too!
Pick a few flowers from the supermarket (or pick your own outside, if you live in a warm climate) and place a few bouquets across the table. Place mini pumpkins and gourds around your bouquets for yet another element of the season.
Around the house, place a wreath on the door, play some music, light some candles. It's in the details people! These few small elements can make a great impression and will get everyone in a festive mood! Just try to refrain yourself from doing the chicken dance or the electric slide.
If you're attending Thanksgiving at someone else's home, a nice host or hostess gift may be a bouquet of flowers or a bottle of wine. When you're first invited, it's also a nice idea to ask if there's anything specific that you can bring or offer to make a side dish or dessert.
🏈 Thanksgiving traditions
Every family has their own traditions. It doesn't matter what they are...as long as they're special to you and your guests. Some families like to either watch or play football, while others enjoy watching the children perform a little show or play in the leaf piles outside.
My favorite tradition is watching the Macy's Thanksgiving Day Parade on TV. Okay, I admit that I feel a childlike joy in my heart and get a little teary eyed when Santa makes his appearance at the end of the parade. But moving on...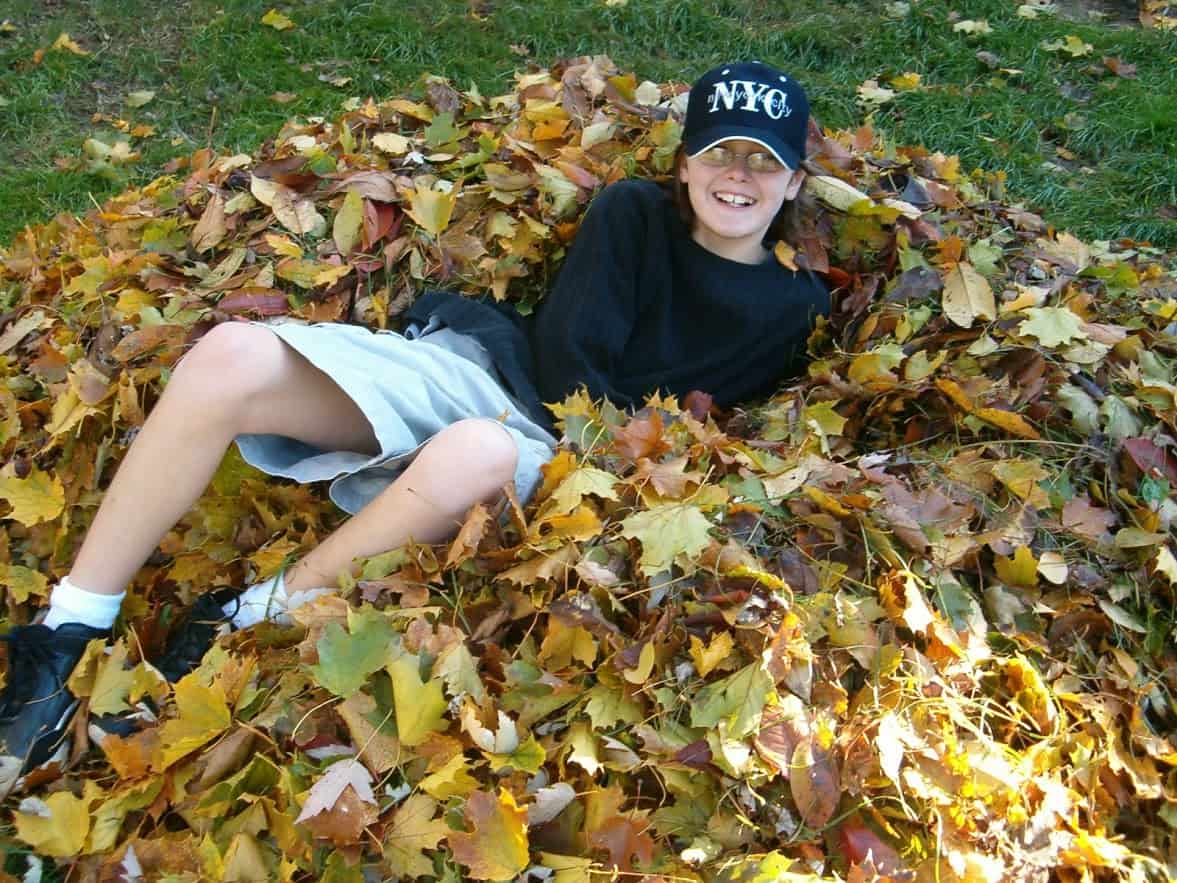 No matter what your tradition is, make sure that you give thanks for everything you're grateful for this year and the people that you're thankful to have in your life.
🕐 Timeline for the big day!
Thanksgiving at our house goes something like this:
8:00 am: Wake up after a good night's rest, shower, and greet the cats as I head downstairs to start an exciting day! I made the cranberry sauce and corn muffins last night, so I'm already feeling accomplished.
9:00 am: Turn on the Macy's Thanksgiving Day Parade and turn the volume up really loud so I can hear it in the kitchen.
9:20 am: Start chopping the fruits & veggies for my fruit stuffing. Have I mentioned that my fruit stuffing is my favorite part of Thanksgiving dinner? It's soooooo yummy!
10:00 am: Prepare the turkey. Take it out of the fridge, remove giblets, rinse, and pat dry. Put a seriously unhealthy amount of butter under the skin, then rub some herbs in there and on top too. Oooooh, did I just hear that the Snoopy balloon is coming down the street?!?!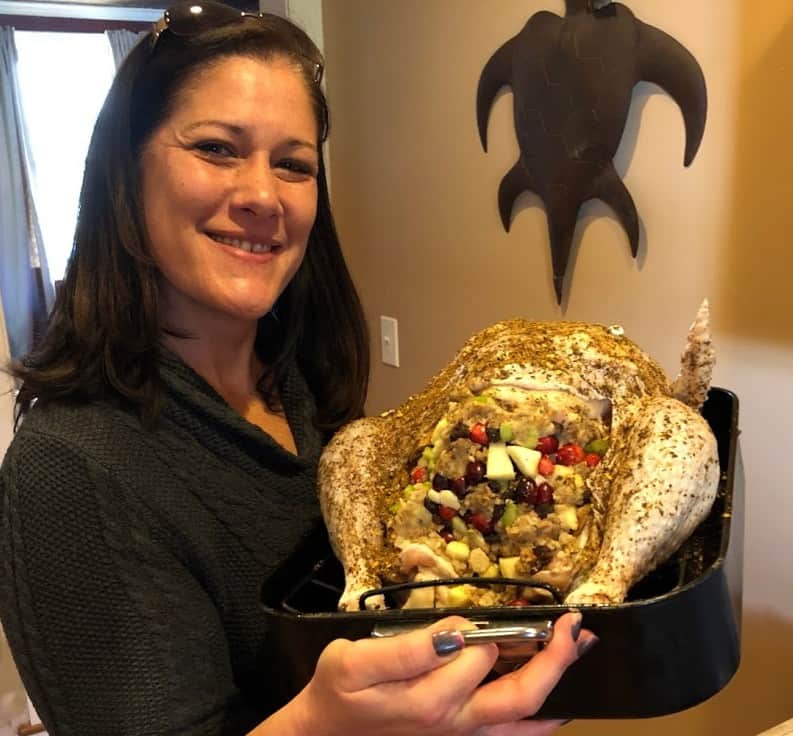 10:45 am: Stuff the turkey, cover in foil, and put that baby in the oven! Whew, turkey's in!
11:00 am: Take a breather and watch the parade for a few minutes.
11:30 am: Do some final cleaning and house straightening up, clearing last-minute clutter. Baste the turkey.
11:50 am: SANTA'S COMING!! I prop myself on the couch and turn into a 5-year-old again, so excited to see Santa make his big appearance in the parade. Okay, stop crying the happy tears you big baby, and get back to work.
12:00 pm: Re-invigorated from having seen Santa, I'm now officially in the holiday spirit! Start chopping white and sweet potatoes for side dishes. Baste the turkey again. Put bubbly and white wine in the fridge to chill.
12:30 pm: Turn on holiday music, again quite loudly...I want to hear it all through the house. Decorate and set the table. I love this part, where I get to have fun and be creative! Fa-la-la-la-laaaaa-la-la-la-la!
1:15 pm: Start making desserts. Maybe pumpkin pie...or the World's Best Apple Pie...oooh, or maybe a pumpkin cheesecake?! Baste the turkey.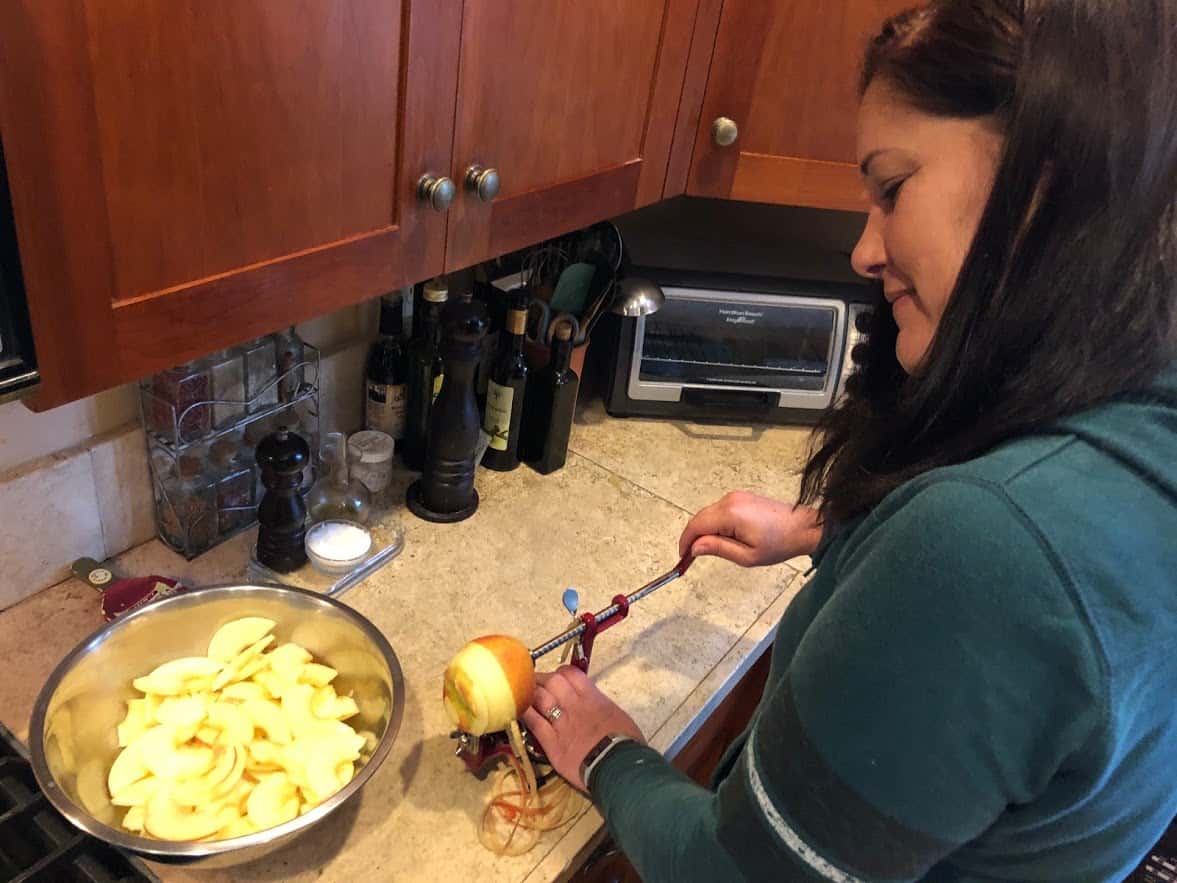 2:00 pm: Slice some apples and pears, and display them on a pretty plate with some grapes and cheeses for appetizers. Baste the turkey, remove the foil...looking good!
2:30 pm: Guests have started to arrive! Spend some time welcoming everyone and pop the bubbly. Oops, let me turn down that holiday music just a little bit.
3:45 pm: Check on the turkey and baste it one more time. Almost ready! Get that sweet potato casserole and extra stuffing in the oven. Start boiling potatoes.
4:15 pm: Turkey is done! Take it out of the oven and let it rest a few minutes before carving. Finish making mashed potatoes and gravy.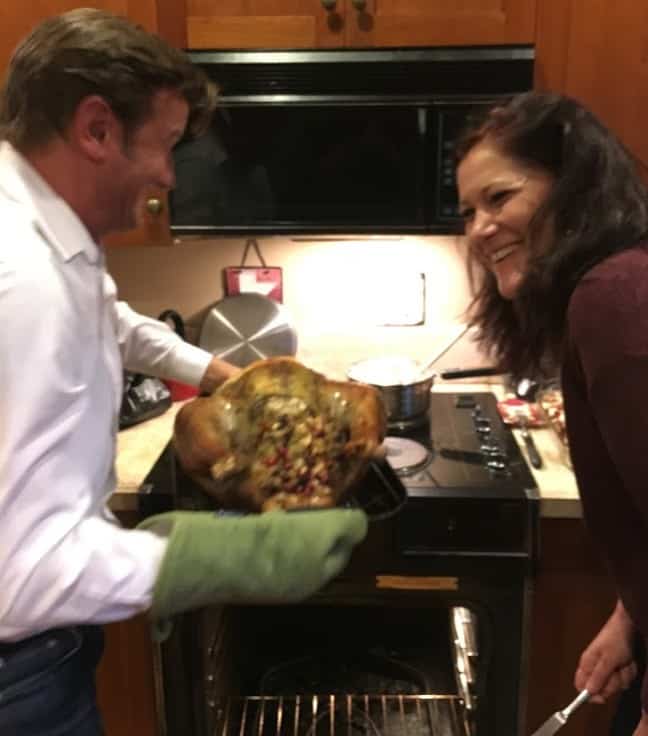 4:40 pm: Erich carves the turkey and does a beautiful job! Everyone is gathering around to ooh and ahh. Turkey cooked through...check! Is it moist...check! Everyone has a glass of wine...check! Start bringing side dishes to the table and lighting candles.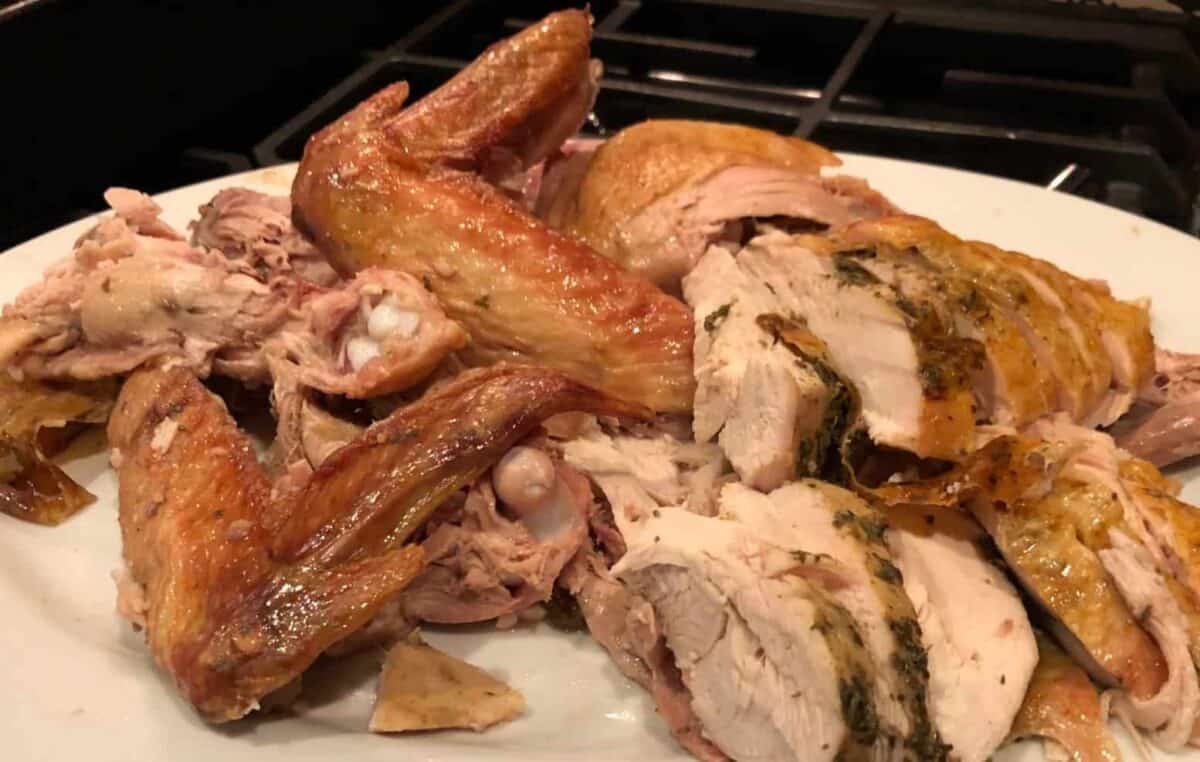 5:00 pm: Gather with friends and family at the dinner table, give thanks, and enjoy!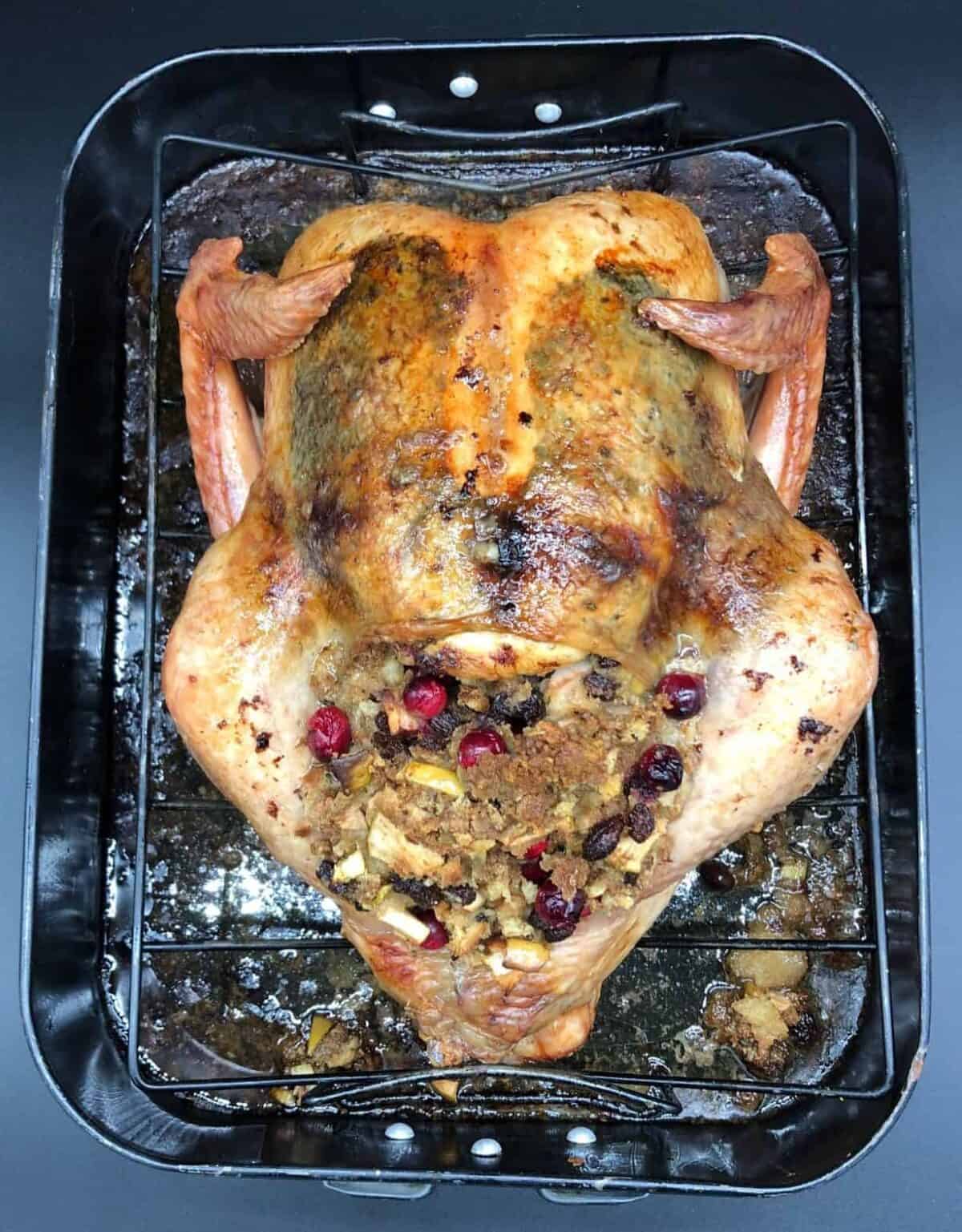 Happy Thanksgiving!
Looking for more great Thanksgiving recipes & ideas?
Did you enjoy this article? Let us know in the comments below!