To beet or not to beet
This deliciously simple steamed beet salad is ready in 15 minutes. And by using the right beets, it'll leave you with a clean cutting board and clean hands. No red stains that will take forever to get rid of.
Jump to:
How to avoid beet stains
The number one reason people don't use more beets is because they stain. Everything. Plus they can be really hard to peel. Although we know how healthy beets are for us, we don't eat as many as we would like. I'm guilty as charged until recently. Not anymore.
On a recent trip to the market, I came across some beets that looked slightly different on the outside. The label said "Golden Beets." I'd never heard of golden beets before and that's why I had to try them.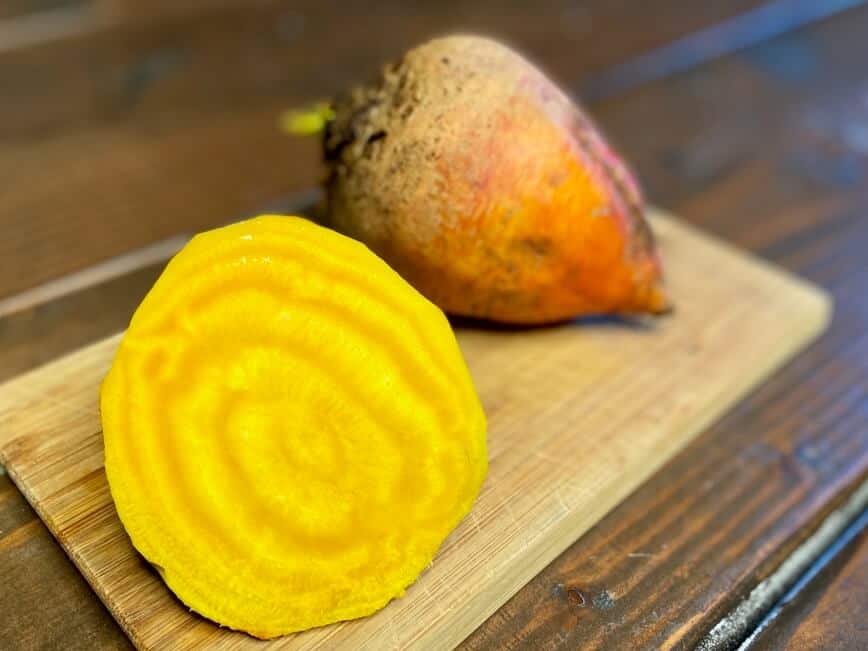 How to buy and trim beets
Like with every other root vegetable, look for a firm beet with the endroot and leaf steam still (at least partially) attached, with no damage around these areas. Cut the end root (or beard) and leaf stem close to the beetroot itself. Keep the leaves and stems...they're super healthy and delicious in any smoothie.
How to peel beets
There are two basic ways to peel beets. If they're raw, just treat them as you would a potato.
If you boil them first, use a paper towel (careful, the beets are going to be hot) and rub off the skin.
A third method I like to use with baked beets is to peel them with a knife.
All three methods work and all three methods will stain your chopping board and your hands. Of course you can wear gloves while peeling, but I like to work without gloves in the home kitchen.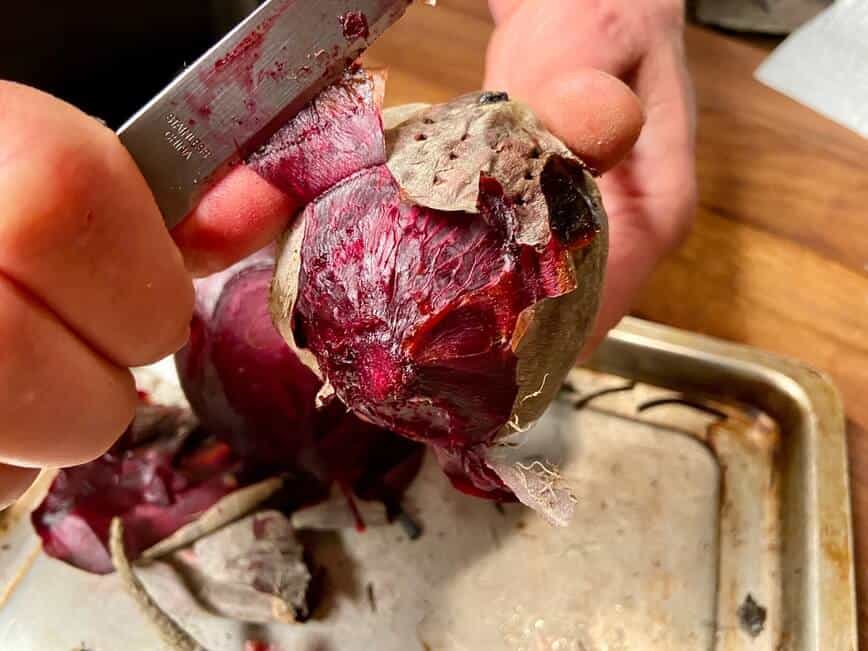 How to cook beets
Any way you like it. Or not at all. Eating beets raw is just fine. My favorite cooking method is steaming. Peeled and cut in ¾" pieces and they're ready and uniformly tender in about 15 minutes.
Or you can bake them. Rub whole, trimmed beets with olive oil, salt, and pepper, puncture a few times with a fork, and wrap in aluminum foil. Bake for about 60 minutes at 400°F until fork tender. Use paper towels to rub off the skin or use a knife to peel off the skin once they're done.
You can also boil them. Submerge beets in water and boil for about 30 minutes. Stick a fork in the beets to make sure they're tender. Peel with paper towels or a knife.
The magic of golden beets
So I grabbed a bunch of those golden beets I mentioned above and went home, started to trim them, and tried to peel some raw. Just like a potato. And just like a potato, nothing stained. Wait what?! Yes, it's true! The beauty of golden beets is that they don't stain. Incredible. From now on, more beets for us.
And to answer the question "To Beet or not to Beet," the answer is "To Beet."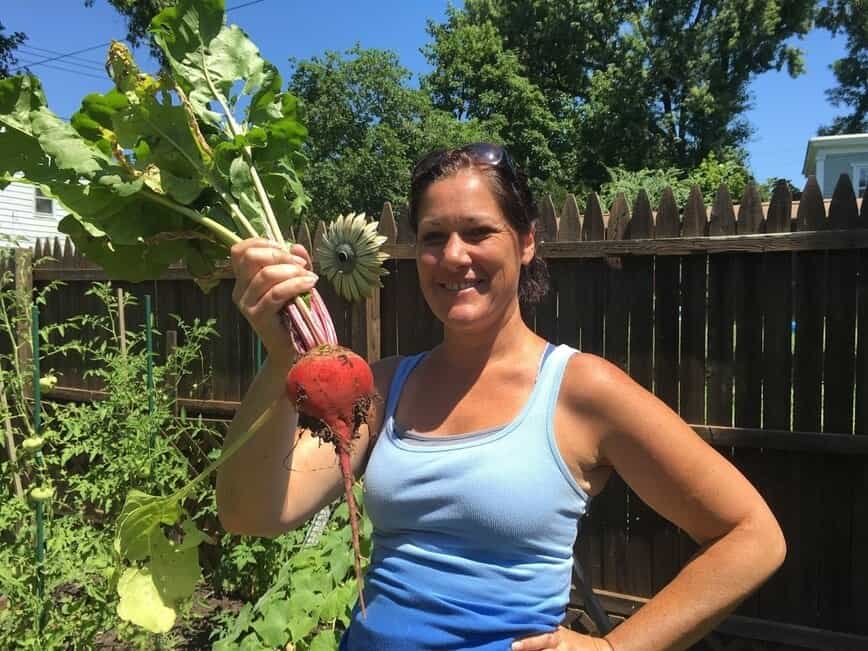 The beet is the most intense of vegetables. The radish, admittedly, is more feverish, but the fire of the radish is a cold fire, the fire of discontent, not of passion. Tomatoes are lusty enough, yet there runs through tomatoes an undercurrent of frivolity. Beets are deadly serious. ~ Tom Robbins
How to make the salad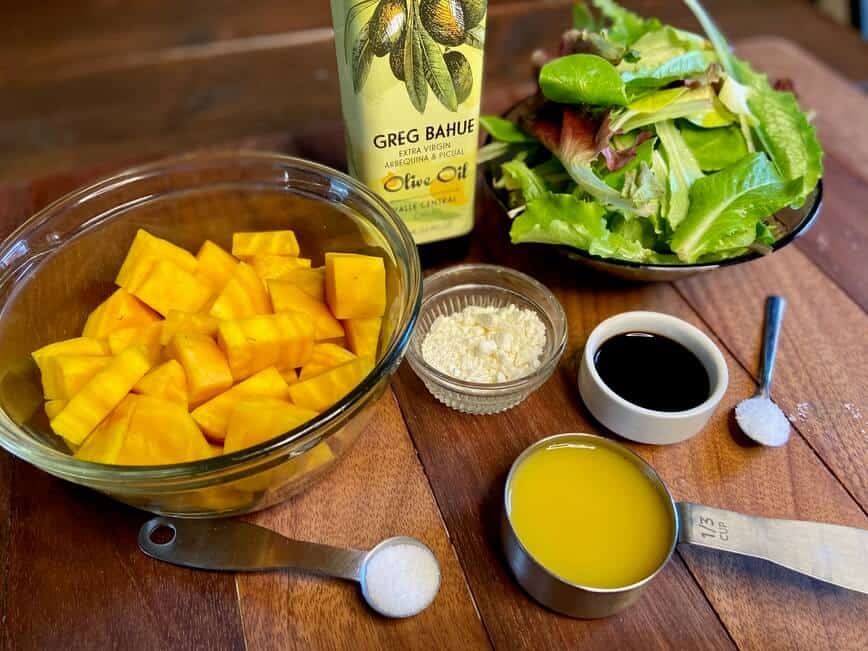 To make this healthy, delicious steamed golden beet salad, start by peeling a couple golden beets and cut them into about ¾" cubes.
Get your steamer cranking and once the water boils, add the beets. While the beets are steaming, you have about 15 minutes to get the dish ready. 
Simply place some lettuce on a plate. Whisk together extra-virgin olive oil, balsamic vinegar, orange juice, sugar, and salt to make a vinaigrette.
Place steamed beets on top of the lettuce and drizzle vinaigrette all over. Top with some crumbled feta or (for a stronger flavor) goat cheese, and serve. 
After enjoying this super healthy delicious salad, return dishes to the kitchen and look at your chopping board and your hands. No beet stains!
Please try it out and let me know that I'm right. You're eating much more beets now, correct? 😏
Fun beet facts
Love delicious recipes? Check out a few more of our recipes now!
Did you make this Steamed Beet Salad recipe? Let us know in the comments below!
📝 Recipe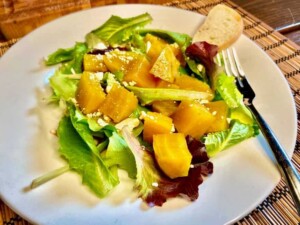 Deliciously Simple Steamed Beet Salad
This deliciously simple steamed beet salad is ready in 15 minutes. And by using the right beets, it'll leave you with a clean cutting board and clean hands.
Ingredients
2

medium

golden beets, peeled and chopped in ¾" cubes (about 2 cups)

4

tablespoons

extra virgin olive oil

3

tablespoons

balsamic vinegar

4

tablespoons

orange juice

1

teaspoon

granulated sugar

1

teaspoon

salt

4

ounces

lettuce

4

ounces

feta or goat cheese, crumbled
Instructions
Peel and cut beets into 4" cubes

Bring water to a boil and steam beets in a steamer basket for 15 minutes (or until fork tender)

Whisk together extra virgin olive oil, balsamic vinegar, orange juice, sugar, and salt

Place lettuce on a plate. Add steamed beets. Drizzle with vinaigrette. Top with crumbled cheese.
Notes

Calories:
522
kcal
|
Carbohydrates:
30
g
|
Protein:
12
g
|
Fat:
41
g
|
Sodium:
1940
mg
|
Potassium:
763
mg
|
Fiber:
6
g
|
Sugar:
23
g
|
Vitamin A:
648
IU
|
Vitamin C:
27
mg
|
Calcium:
328
mg
Content and photographs are copyright protected. Sharing of this recipe is both encouraged and appreciated. Copying and/or pasting full recipes to any social media is strictly prohibited.