It's gray out and still getting dark early. The body and mind need sun. If I can't get in from above, then I'll have to get it from within. Citrus fruits. And winter is a great time to get large varieties of fresh citrus fruits in North America.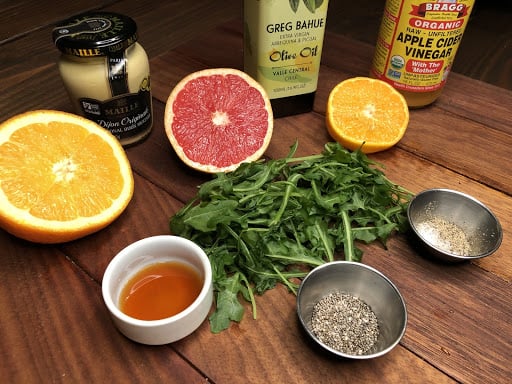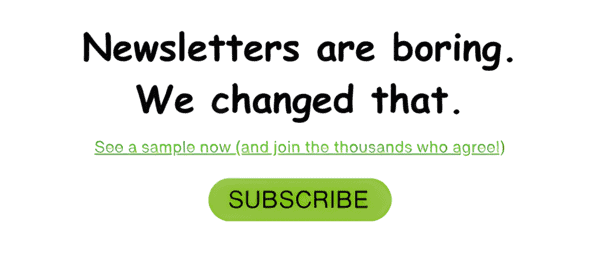 Oranges, blood oranges, mandarins, nectarines, clementines, ruby red grapefruits, yellow grapefruits. You name it. Wikipedia lists 51 different types of citrus fruits.
Spring is coming soon, so that means it's almost time to get the cold frame ready and start putting arugula, spinach, and lettuce seeds in the ground.
A certain spring fever is creeping in. I feel like enjoying some arugula and citrus fruits.
How about buying some arugula and citrus fruits at the store? Combine the two, whip up a vinaigrette, and call it arugula citrus salad? I think that works. The combination of sweet and tart fruits with peppery arugula, all topped with a chia seed apple cider vinaigrette. Yeah, baby. Who needs the sun when you can create a sunny dish like this in 10 minutes!
Make the vinaigrette in advance and use it all week long on basically everything. But wait at least 10 minutes after putting the ingredients together. That's how long it takes for the chia seeds to "plump" up. You don't want that to happen after you've already ingested them. Chia seeds absorb about 12 times their weight in liquid (some sources say up to 27 times). Either way, they can get you in trouble if eaten raw.
But that's also the really neat thing about adding chia seeds to your vinaigrette. It makes it thick and will stick nicely to your salad, with its flavor perfectly distributed. The vinaigrette will also last longer because a little will go a long way.
Another really cool side effect: Eating soaked chia seeds slows digestion, which means that you feel full longer.
Which is your favorite citrus fruit? Since I was a kid, I've eaten a half grapefruit for breakfast whenever possible...and I still do. But, in winter, my favorite citrus treat is definitely the tart yet sweet flavor of a blood orange.
So, for this salad, mix and match your favorite citrus fruits...don't follow the salad ingredients below, make them up yourself 😄
And while we're at it, what are you going to do with all the beautiful citrus peel? There's only one correct answer: citruscello. It'll be ready just in time for spring.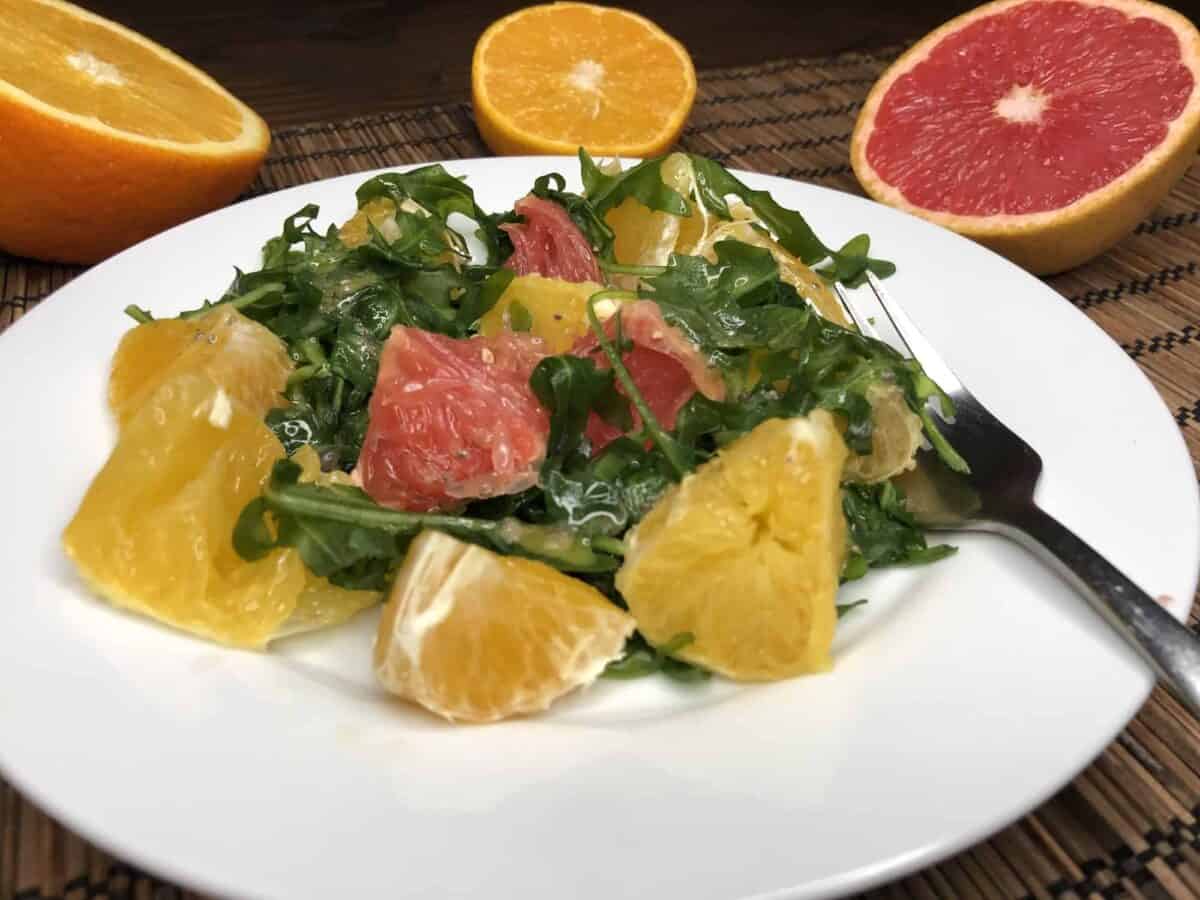 Some interesting facts about chia seeds
Chia seeds are tiny seeds from the plant Salvia hispanica, which is related to mint


Chia seeds were an important food for the Aztecs and Mayans back in the day




"Chia" is the ancient Mayan word for "strength"




Chia is a superfood! It is neutral in flavor and can be added to virtually any recipe. It doesn't need to be ground to benefit from the nutrients.




Chia is one of the most nutrient rich foods in the world! Here's some interesting chia seeds nutrition facts: In a gram-for-gram comparison, chia has…

8x more omega-3s than salmon, 25% more fiber than flax seed, 30% more antioxidants than blueberries, and 2x more potassium than bananas
Let us know how you made your Arugula Citrus Salad! What citrus fruits did you use?
📝 Recipe
Arugula Citrus Salad with Chia Seed Apple Cider Vinaigrette
A combination of sweet and tart fruits with peppery arugula, all topped with a chia seed apple cider vinaigrette.
Ingredients
Salad
½

ruby red grapefruit, peeled and cut into sections

½

navel orange, peeled and cut into sections

1

mandarin, peeled and cut into sections

2

cup

arugula
Vinaigrette
⅓

cup

raw apple cider vinegar (with the "mother")

⅔

cup

extra virgin olive oil

2

teaspoons

Dijon mustard

1

tablespoon

chia seeds

1

teaspoon

honey

½

teaspoon

Maldon sea salt

¼

teaspoon

freshly ground black pepper
Instructions
Mix ingredients in a jar with a tight-fitting lid.

Let stand for at least 10 minutes.

Cover, shake vigorously, and serve.
Notes

Calories:
761
kcal
|
Carbohydrates:
24
g
|
Protein:
3
g
|
Fat:
74
g
|
Sodium:
649
mg
|
Potassium:
358
mg
|
Fiber:
5
g
|
Sugar:
15
g
|
Vitamin A:
1578
IU
|
Vitamin C:
55
mg
|
Calcium:
124
mg
Content and photographs are copyright protected. Sharing of this recipe is both encouraged and appreciated. Copying and/or pasting full recipes to any social media is strictly prohibited.