Cacio e Pepe. Cheese, pasta, pepper, and salt. Your new favorite pasta will be ready to go, with a glass of Frascati, in 25 minutes.
Four ingredients, prepared correctly, and your soul will think you just beamed yourself to Rome. I'm not claiming this is the authentic recipe. When it comes to recipes and cooking, "authenticity" seems way overrated. When I'm cooking, I prefer bold flavors and texture over history books.
Make this recipe a thousand times and you'll figure out a way that you like it most. Cacio e Pepe is perfect simpleness. There are a couple things you can do right with preparing this dish to make it fantastic every time. Note: We like cheese and pepper, a lot. So if it's too cheesy or peppery for you, reduce the amounts accordingly. 
Jump to:
A word about the cheese
As they say: In Rome they eat Pecorino Romano, in Bologna it's Parmigiano-Reggiano. A lot of recipes call to mix them. I prefer not to. Each cheese has its own unique flavor that - in my opinion - doesn't stand out anymore when they're mixed. If anything, these two cheeses seem to create a third flavor when melted together, which is not what I'm interested in for this dish.
To achieve the "clingiest" sauce, grate your cheese as fine as possible. And please do not buy grated cheese. Buy a block of cheese and grate it yourself. Grated cheese is mixed with preservatives (and other stuff) to keep it dry and prevent it from caking. Not good.
A word about the pepper
Especially for dishes with minimal ingredients, high quality ingredients are a must. That doesn't mean they have to be expensive. Unfortunately, when you go to the grocery store, you'll most likely find these black shriveled little fruits labeled "Black Pepper." That's the equivalent of going to a wine store and having all the wines in red labeled "Red Wines."
When it comes to the beautiful fruit from the pepper bush, I went down the pepper rabbit hole years ago and thought that different pepper plants produce different pepper flavors. Then I learned that there's only one pepper plant: piper nigrum. Some people claim that, although they are all the same plant, the terroir can make a difference in the flavor of the pepper..
I don't know if that's true but I do know that size makes a big difference. It's about the flavor of the cracked pepper. Larger peppercorns lose some of their heat but have a more intense aroma. When they reach a large enough size (>4.25 mm, to be exact), they're called tellicherry pepper. They are not from an Indian town called tellicherry nor named for a plant called tellicherry. It's grown on the same vine like regular black pepper. When the pepper goes through the sorting machine, about ten percent of peppercorns are this size or larger. They're separated from the rest and labeled as tellicherry. Because they are rarer and therefore can demand a higher price, they are normally also shipped and stored and delivered fresher than "generic" black pepper.
Do yourself a favor and buy some. They're definitely more fragrant. Crack one and put your nose near it. Then, smell the pepper that's been lingering on your spice rack for comparison and you'll be convinced. Don't take my word for it. Try it. I buy mine literally by the pound.
If you really want to notch up your pepper experience even more: use a mortar and pestle to grind your peppercorns. The charming part to me is the uneven shape and therefore also the uneven bites when you eat your pasta. Plus, using a mortar and pestle is just cool.
If you don't have a mortar and pestle - although you should get one, just for this recipe, because you're going to make this dish over and over again - use a pepper grinder, preferably one with a variable setting for coarseness. I love my Peugeot pepper grinder...I've been using it daily for ten years and it just keeps grinding on.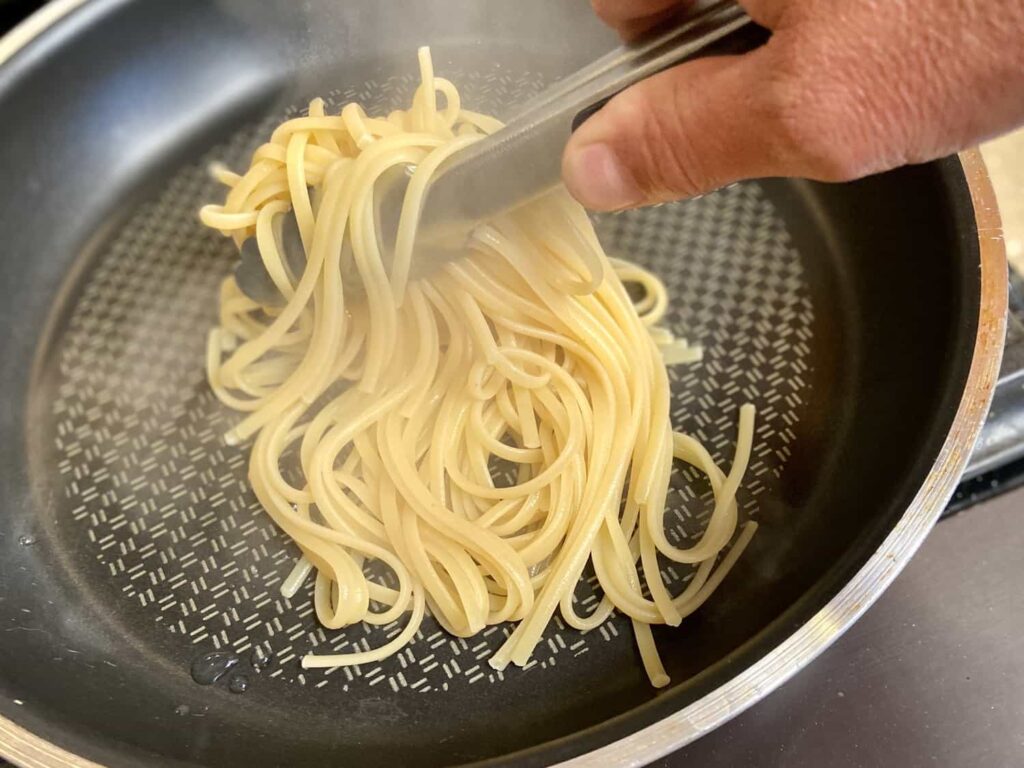 Cooking
Bring a pot of water to a boil. Salt it and add your pasta. Give it a good stir for the first couple of minutes. Try your pasta water. If you don't taste the salt in the water, add more.
About two minutes before the pasta is done, heat up a skillet over medium heat and add the reserved ⅓ cup pasta water and cheese-pepper mixture. Stir for about two minutes, until the cheese and water bind together. The mixture should be thick and mostly smooth. Use tongs to transfer the pasta to the skillet. Toss until the cheese clings to the pasta and reaches your desired consistency. Serve immediately.
Note: Don't use oil in your pasta water. It'll just sit on the water surface and won't do anything (remember from school: water and oil don't mix). Ok, it helps to prevent the pasta water from rising and boiling over. But this problem can easily be solved by adjusting the heat. Pasta is sticky at first when it starts releasing the starch. Once the water starts to boil again after adding the pasta, the starch will settle and won't stick any longer, but will start mingling with the salt water to create the base for your sauce. Just make sure to stir your pasta a couple times in the first few minutes. That's all.
Oh, and I heard a guy say the other day that he adds some oil to the colander after rinsing the pasta to keep it from clumping up. Nope, please don't. You just gave your pasta a non-stick surface and the sauce will act accordingly…
Endless variations
I hope you'll try this recipe a few times, tweak it to your liking, and please share your tweaks with me. Then, next time, add some finely chopped parsley to give some herbal depth or add a couple chili pepper flakes to spice it up. Or, of course, you could always add garlic. After all, it is an Italian dish.
Love pasta? Check out more of our pasta recipes now:
Did you make this Cacio e Pepe recipe? Let us know in the comments below!
📝 Recipe
4 ingredient Cacio e Pepe Recipe that will catapult you into pasta heaven
Cacio e Pepe. Cheese, pasta, pepper, and salt. Your new favorite pasta will be ready to go, with a glass of Frascati, in 25 minutes. 
Ingredients
½

pound

(8 ounces) linguine pasta

1-½

cups

(4 ounces) Pecorino Romano, freshly grated

2

teaspoons

whole tellicherry peppercorns, cracked

⅓

cup

pasta water

Salt
Instructions
Bring a pot of water to a boil and generously add salt

In the meantime, finely grate cheese, crush the peppercorns, and mix in a bowl

Add pasta to boiling water and stir for the first couple minutes

Taste the pasta water, make sure you taste the salt

A minute before the pasta is perfectly al dente, use tongs to transfer pasta into a skillet

Add ⅓ c hot pasta water to the skillet

Add finely grated cheese and cracked peppercorns and stir for about 1 minute until the cheese melts and clings to the pasta
Notes

Calories:
528
kcal
|
Carbohydrates:
88
g
|
Protein:
23
g
|
Fat:
9
g
|
Sodium:
310
mg
|
Potassium:
333
mg
|
Fiber:
5
g
|
Sugar:
3
g
|
Vitamin A:
128
IU
|
Calcium:
310
mg
Content and photographs are copyright protected. Sharing of this recipe is both encouraged and appreciated. Copying and/or pasting full recipes to any social media is strictly prohibited.