Prosciutto and melon is a classic antipasto, and with good reason. The combination of savory and salty cured Italian ham together with a sweet juicy cantaloupe complement each other so well, it's a match made in heaven. And you can put this dish together in just a few minutes...but first let's learn some more: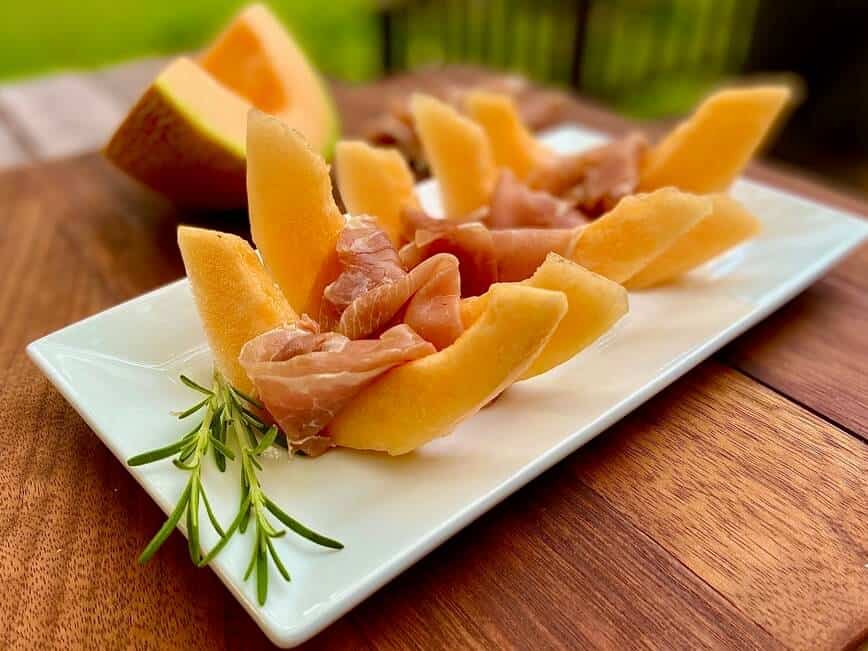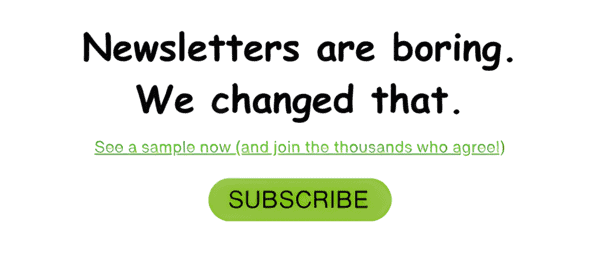 Jump to:
🤔 What is prosciutto?
By Erich
Prosciutto is by far my favorite dry-cured meat. Four ingredients: Pork, salt, air, and time. It doesn't get any better. Sweet and savory deliciousness.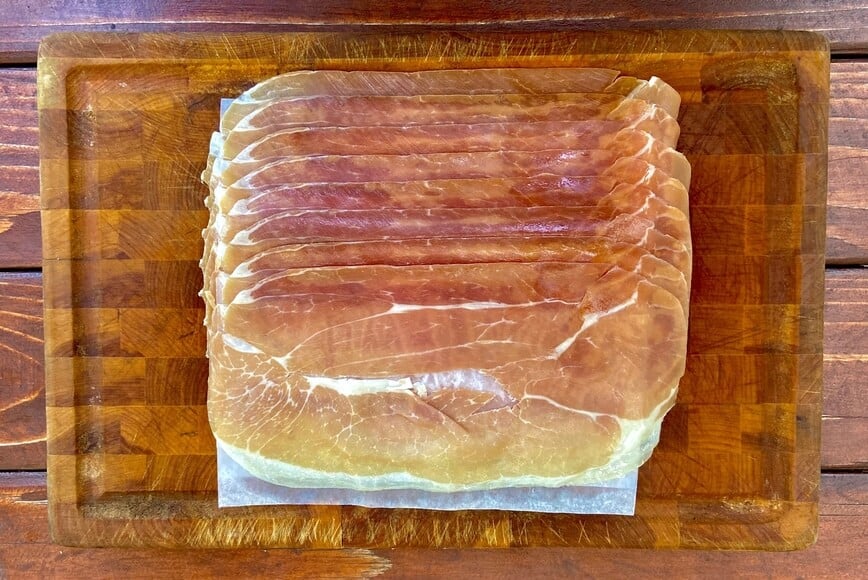 For some reason though, nothing matches the flavor profile of prosciutto di Parma (from Parma). I tried many "out of town" products, including nicely done ones from the US. Call me a snob if you like. I'm sure I'd fail most food and drink blind tastings (including wines), but when it comes to prosciutto and certain cheeses, I don't think so (unless you sneak in a slice of prosciutto di San Daniele...🧐)
So what qualifies a great prosciutto di Parma to be fire-branded with the Parma crown?
🐗 Some facts about prosciutto
Prosciutto is a ham that has gone through a dry-curing process, and it is commonly sliced in very thin pieces and generally not cooked before eating.




The term 'prosciutto' is derived from the Latin words 'pro' meaning 'before' and 'exsuctus' meaning 'dried up' or 'without juice', which comes from the word 'exsugere' meaning 'to suck out moisture.'




Traditionally prosciutto is made of the hind leg or the thigh of pigs or wild boar.




The process of making prosciutto generally involves pressing, salting, and cleansing the raw meat from blood and other impurities for approximately two months, and then the meat goes through a drying and curing process that typically takes between 12 and 24 months.




Prosciutto is popularly eaten with melon, figs, and other fruit; bread or breadsticks; wrapped around vegetables like asparagus; or as an addition to other dishes, including pasta and pizza.




Prosciutto is historically an Italian product, and it has been produced in Italy's city of Parma, from as early as 100 BC.




'Prosciutto crudo' is the name for the raw version of the meat, and while the ham is commonly eaten uncooked, if added to other dishes it should only be cooked for short periods of time at low heat, to avoid destroying the flavour and texture. (Courtesy: tenrandomfacts.com/prosciutto)
🍈 Cantaloupe
By Viana
This year was the first time we tried growing cantaloupe in our backyard garden, and we were positively surprised to be rewarded with lots of this sweet fruit, about six altogether, ranging in size from 4 to over 6 pounds.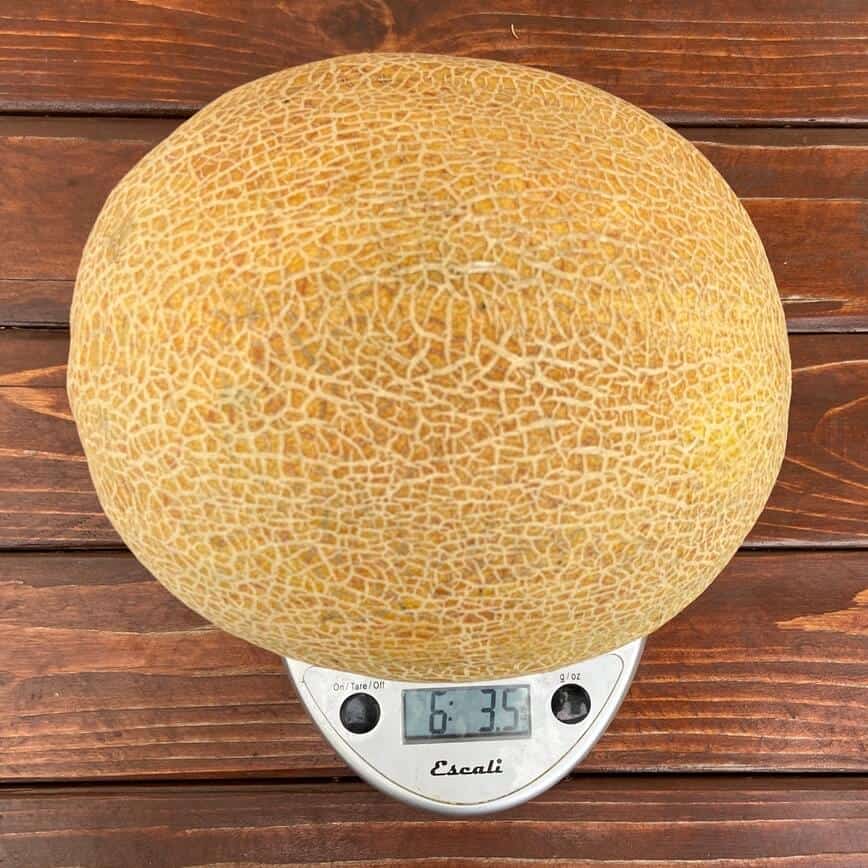 If you'd like to grow cantaloupe in your home garden, here are a few things to keep in mind:
Cantaloupe will grow in zones 4 through 11.




Find a spot in your garden where it will receive full sun (6+ hours of direct sun per day)




It prefers rich, well-drained soil, with a pH of 6.0-6.5




If Mother Nature isn't providing rain, give the plant 1-2 inches of water per week to keep the soil moist




Cantaloupe plants like warm temperatures (over 70 degrees), but not too hot (over 90 degrees for several days in a row and it may lose its flowers)




Time to harvest varies from 65 to 90 days
🧑‍🌾 How to pick a cantaloupe
Color: When the fruit changes from green/gold to a creamy yellow color, it's ripe

Smell: Give it a sniff where the fruit meets the vine. If it smells sweet, it's ready

Stem: If the fruit is starting to separate from the vine and releases easily, it's harvest time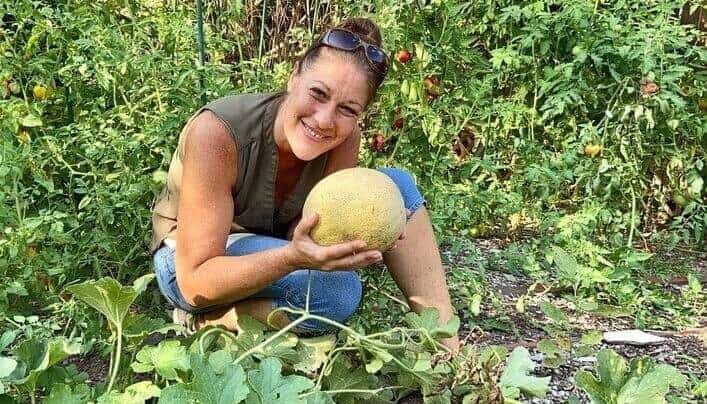 😃 Health benefits
In addition to being a tasty sweet treat, cantaloupe is also healthy. It's loaded with:
Beta carotene

Vitamin C

Folate

Fiber

Potassium

Lots of water

And lots of other vitamins and minerals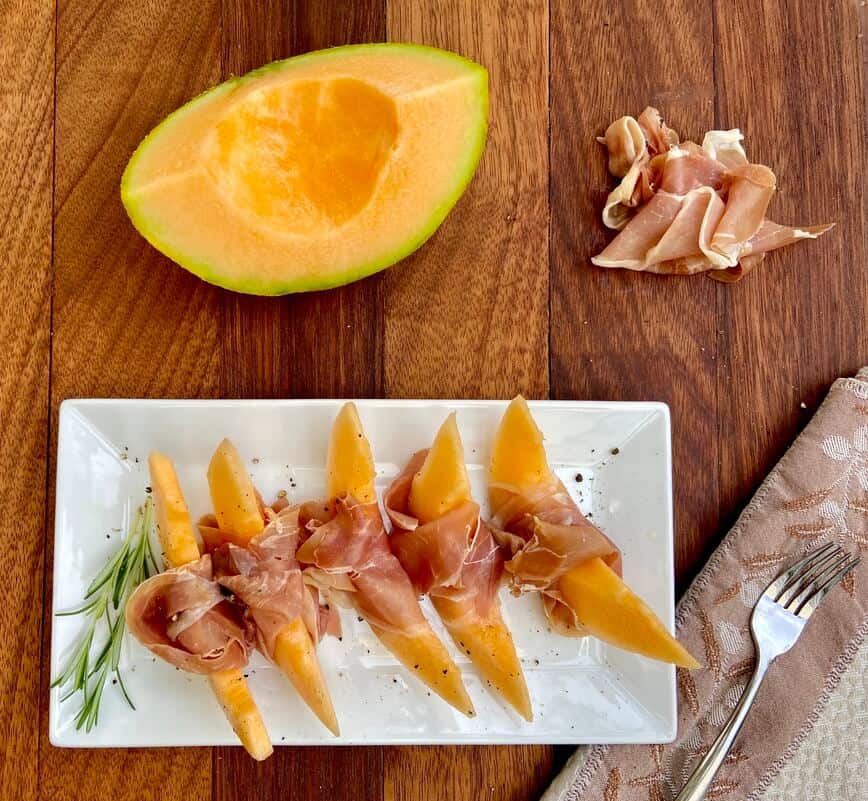 🍽 The combination of two delicious ingredients
Simply cut a few slices of fresh ripe cantaloupe and gently wrap a slice of paper-thin prosciutto around the middle.
If you want to kick it up a notch, add a slice of fresh mozzarella, drizzle over some balsamic vinegar, or even make them into skewers.
Serve at room temperature to best appreciate both the sweet and savory flavors. Enjoy!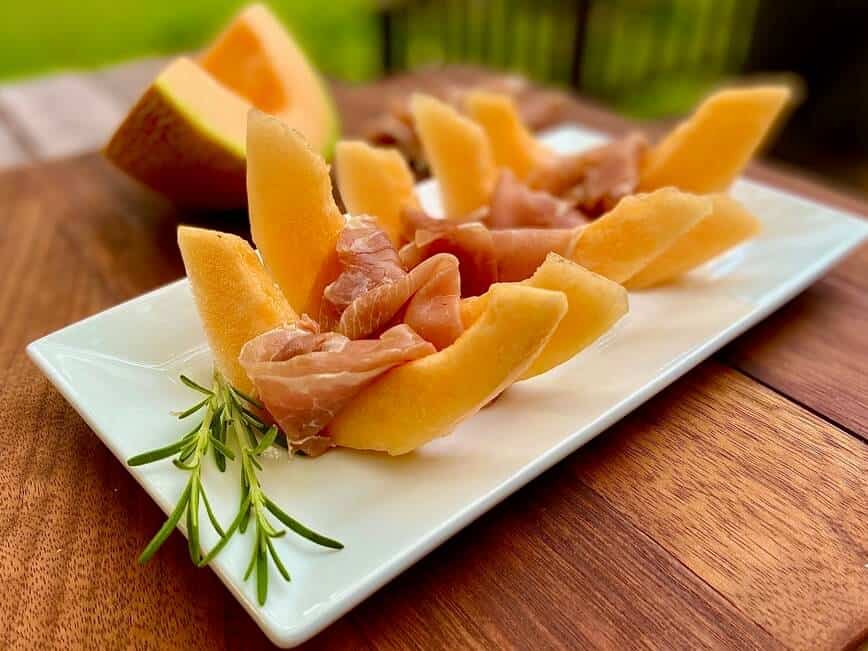 Do you love delicious recipes? Check out a few more of our recipes now!
Did you make this Prosciutto and Melon? Let us know in the comments below!