It's kind of a fancy word, so let's have a look at the definition first. According to dictionary.com: Deglaze - to add wine or other liquid to (a pan in which meat has been roasted or sauteed) so as to make a sauce that incorporates the cooking juices.
So the next time you have friends over and they marvel over the fantastic sauce you spooned over their cooked steak and want to know your secret, you can simply state that you deglazed the pan to make this. Wow, now you really sound like you're showing off, so don't say that.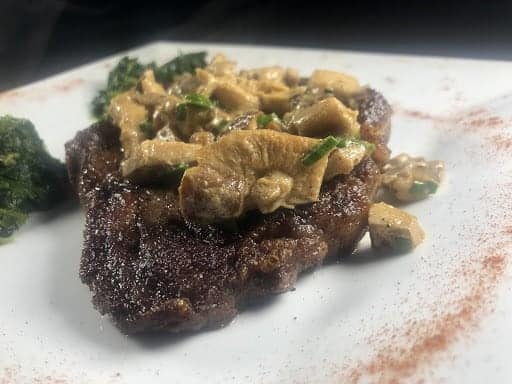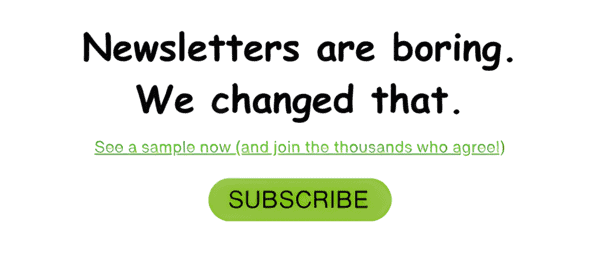 Jump to:
❓ What is deglazing?
Deglazing simply means adding a liquid to the hot pan after the cooked meat has been removed (and the excess cooking fats), to release the caramelized bits from the bottom of the pan, creating an incredibly tasty sauce with the cooked meat's own juices.
I've been deglazing for years now and two sauces have never tasted the same. They only have one thing in common: They've always tasted fantastic.
There are only a few things to consider in learning how to deglaze and then you're on your way. First of all, my absolute favorite pan to cook my steaks and chops in is a Lodge cast iron pan. When you remove the meat, the caramelized bits and pieces stuck to the bottom of the pan are just screaming to be deglazed.
Make sure your pan is really hot before adding the liquid - wine, beer, vinegar, cider, or juice - they all work.
Wait for the liquid to bubble and use a wooden spoon to scrape up the bits from the bottom of the pan. The liquid will reduce very quickly, so keep an eye on it. Next, add some room temperature butter and maybe some chopped garlic or shallots.
Lower the temperature slightly but make sure it's still boiling (you want the liquids to reduce to concentrate the flavors). Taste it, maybe it needs a little salt. At the end, add your favorite herbs and spoon it over the meat.
That's the whole idea. It might be a fancy culinary word but it's a technique that's really easy to learn and to develop to your own liking.
I mentioned earlier that I've never had two sauces taste the same. That's not 100% correct. Over time, I've developed a sauce that is not a classic deglazed version, as I use dairy, which is not recommended unless you really pay attention to the cooking temperature so it won't curdle.
👨🏻‍🍳 Boneless rib-eye steak with deglazed Shiitake dream sauce
After removing the steaks and covering them in aluminum foil, make sure your heat source is fully cranked up and your pan is piping hot.
Add the wine, butter, and soy sauce, and using a wooden spoon, scrape the bottom of the pan while the wine is bubbling.
Reduce the heat after about a minute and add the shiitake. Stir for a couple minutes, add the cream and chives, and stir until everything thickens up, about 3 minutes. Try it. Add some salt as needed.
The whole process shouldn't take longer than 5 minutes, which is also the perfect amount of time to rest your steaks (rule of thumb: rest your steak for 5 minutes per inch of thickness).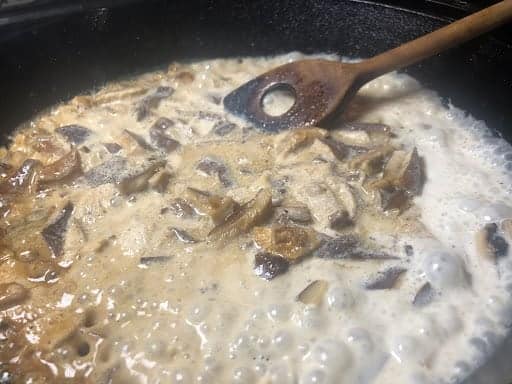 Put your steak on a pre-warmed plate and spoon this incredibly savory, umami-tasting, thick sauce on top of it and watch your friend's faces when they take their first bite.
And don't forget to open and serve a nice glass of a bold red wine with it. I like Shiraz or Côte du Rhône.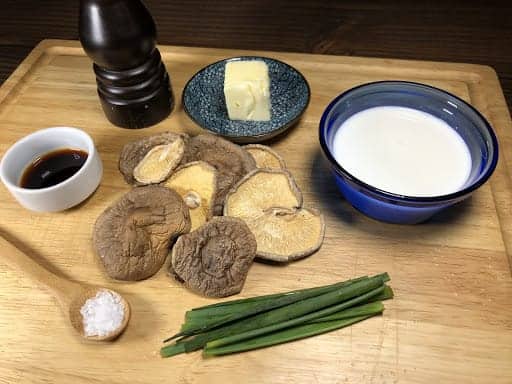 🧾 Ingredients
¼ cup white wine

2 tablespoons butter

1 tablespoon soy sauce

2 cups chopped shiitake

½ cup heavy cream

Handful of chopped chives

Salt to taste
By the way, this recipe works with any mushroom. I've done it with morels and it was fantastic as well. I prefer to use dried mushrooms, which I soak in lukewarm water for about an hour. Then I add some of the "mushroom water" to the pan as well, and save the rest to add to whatever I cook next that needs liquids. This stuff is incredible. Pure umami.
And please don't share this sauce recipe. Just kidding. 🙂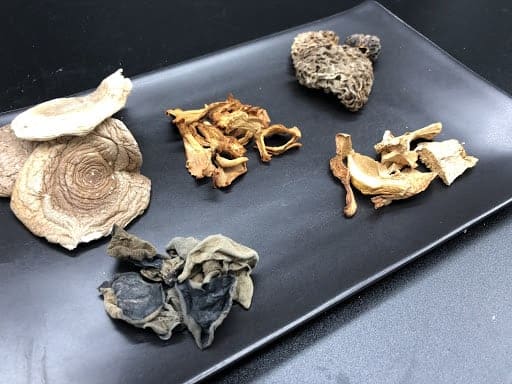 Did you make this deglaze recipe? Let us know in the comments below!
Content and photographs are copyright protected. Sharing of this recipe is both encouraged and appreciated. Copying and/or pasting full recipes to any social media is strictly prohibited.