When someone gives you hot peppers, make hot pepper sauce.
The other day, our neighbor gave us a big bowl of mostly green Serrano peppers that he received from a friend he was visiting, who had too many peppers for himself. What can you do with over 50 hot peppers before they go bad, besides freezing? My brain thought: "no-brainer, hot sauce!"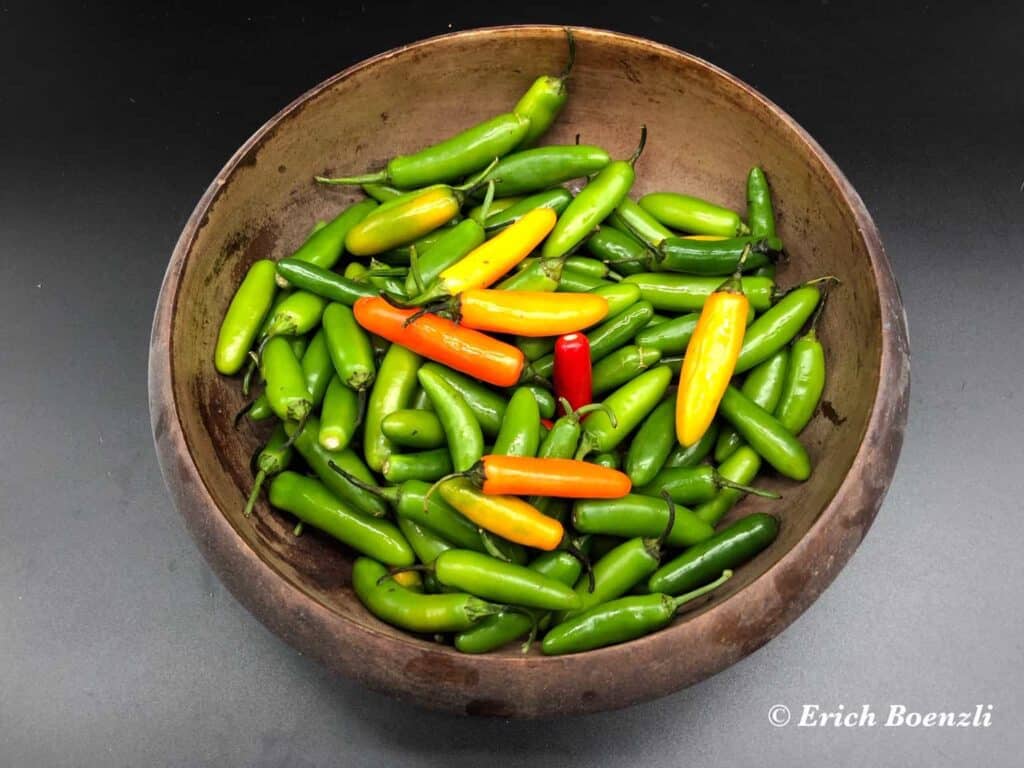 The serrano pepper (Capsicum annuum) is a type of chili pepper that originated in the mountainous regions of the Mexican states of Puebla and Hidalgo. They have a bright and biting flavor that is notably hotter than the jalapeño pepper. Scoville scale: 10,000–23,000 SHU.
Let's make a simple delicious hot sauce. Or in the case of the Serrano - due to their fleshy body - a salsa.
Hot Sauce Ingredients
50 Serrano peppers
6 c white vinegar - adjust to your liking
2 tablespoon salt
4 tablespoon fresh garlic
First, put on some rubber gloves or you might wind up waking your neighbor's dogs after accidentally touching your eyes after cutting the peppers. Just to be safe: wear glasses if you normally wear contact lenses. The first time I made hot sauce I was wearing contacts and no gloves: not a good combo. Slice the peppers in half and put them together with the garlic and salt in an appropriate-sized saucepan. Add vinegar (6 c just nicely covered my peppers). Bring to a boil, reduce to simmer, and simmer for about 10 minutes.
Remove pan from the heat and let it cool down. Pour the mixture into your blender until smooth. As we're making a salsa here, there's no need to strain it. At this point, you can still adjust the flavors and heat by adding vinegar and/or salt. Pour in a small glass bottle or other container, create a label, and you've just made some gifts for your friends, who will love you for it. You're welcome.
Did you make this Hot Sauce recipe? Let us know in the comments below!
Content and photographs are copyright protected. Sharing of this recipe is both encouraged and appreciated. Copying and/or pasting full recipes to any social media is strictly prohibited.