Zhoug sauce is one of those condiments I wished I had discovered earlier. It's spicy, cilantro-based, easy and quick to make, and most likely originated in Yemen.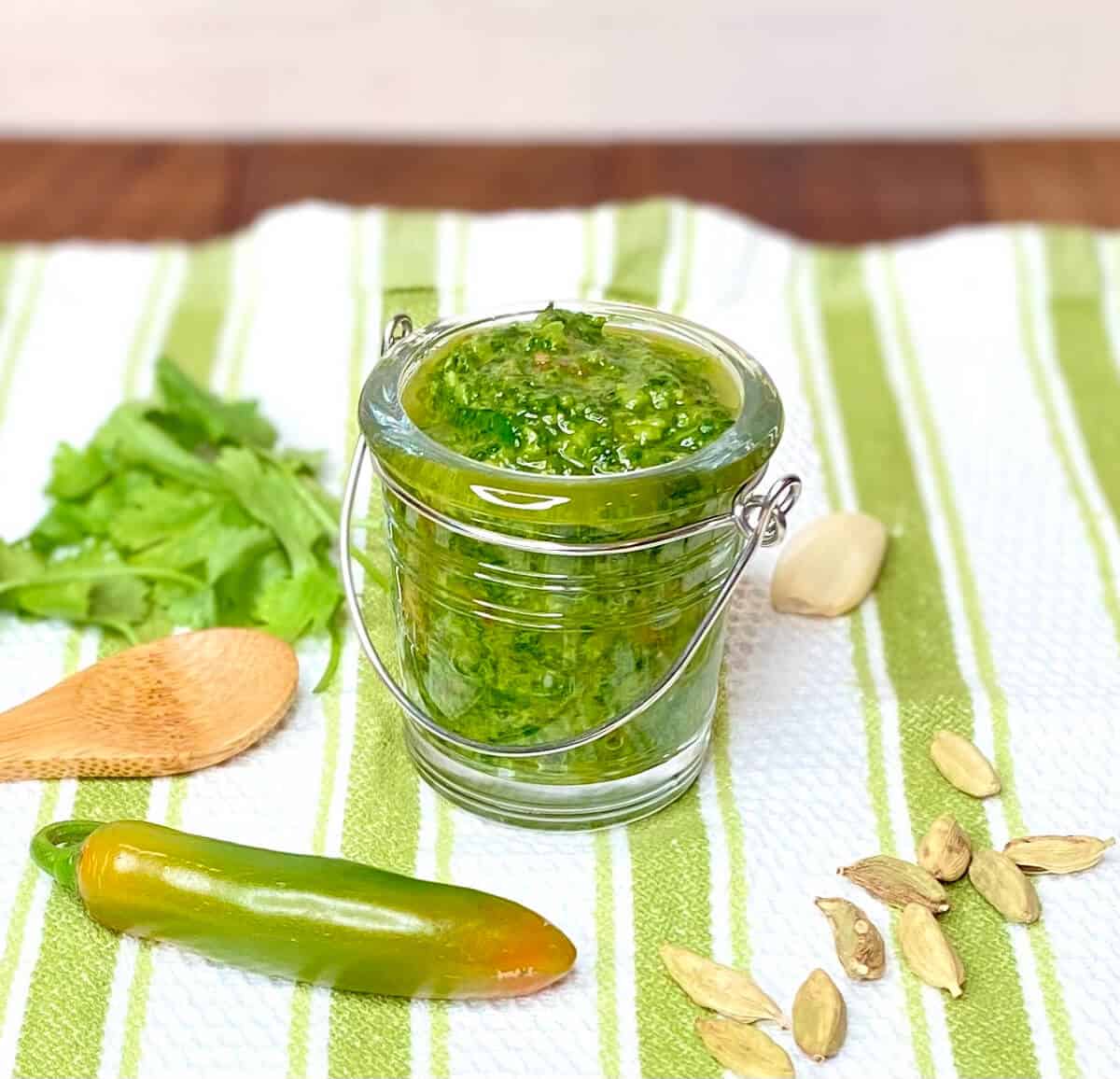 Useless trivia: I was born in a town called Zug in Switzerland. I never knew until recently that adding two letters to my hometown of Zug (h and o), creates the name for this delicious sauce from Yemen.
Trader Joe's Zhoug sauce is sold in the refrigerator section, but you can easily make it at home with these ingredients:
Ingredients
½ c extra-virgin olive oil
1 c cilantro
1 c parsley
4 cloves garlic
2 jalapeños
2 serranos (or other hot pepper of your choice)
1 teaspoon lemon juice
1 teaspoon kosher salt
1 teaspoon cumin
1 teaspoon cardamom
½ teaspoon hot pepper flakes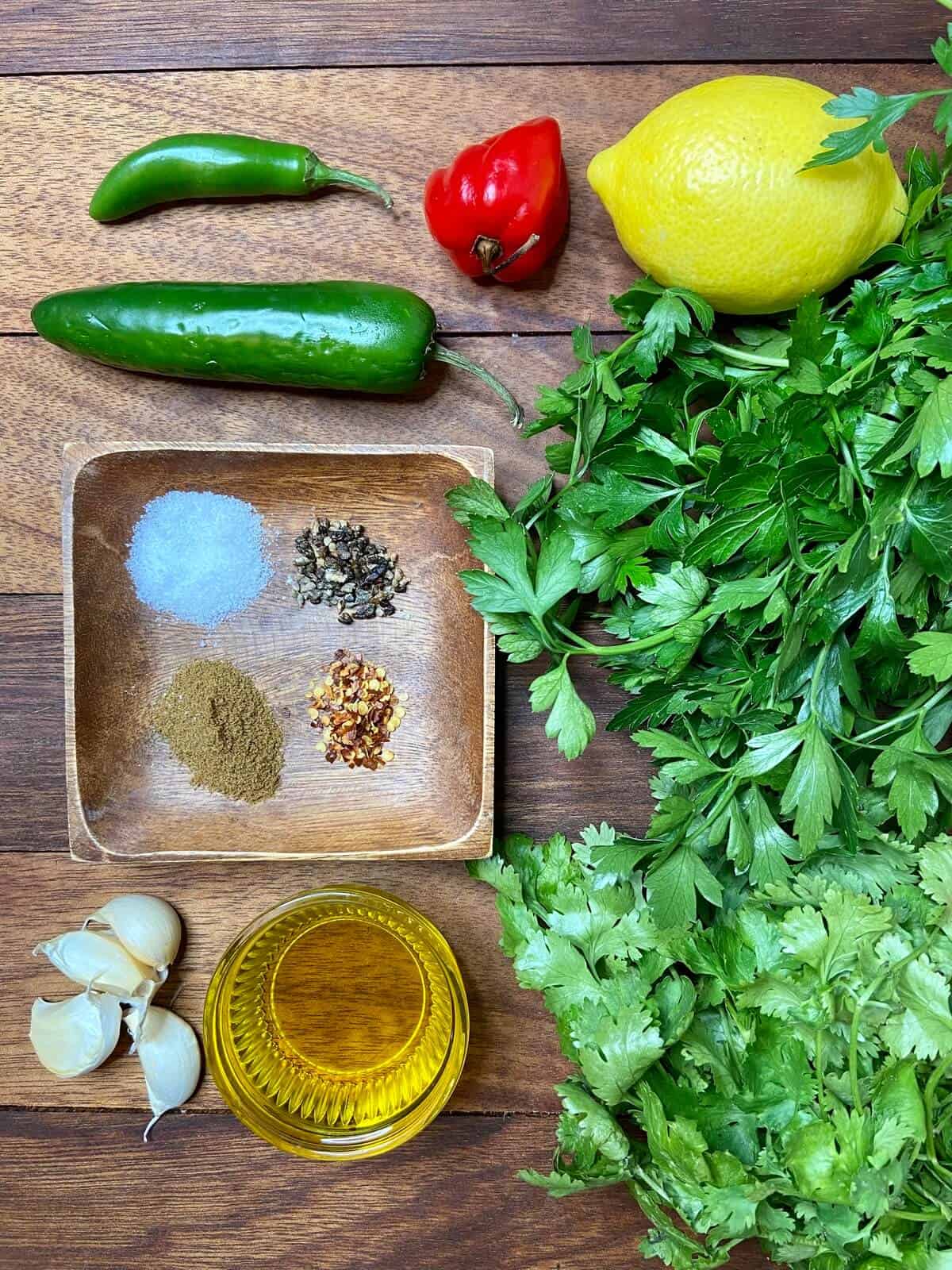 It'll take you less time to whip up this Middle Eastern hot sauce at home than it would to walk from the car to Trader Joe's refrigerator section, pay at the checkout, and then walk back to your car.
What Is Zhoug Sauce
Like with every other condiment that's been around for a while, evolution produces endless variations and local adaptations. Not just in the flavor profile but also the spelling of the name. Like zhoug, schug, skhug, and s'hug.
I recommend using my recipe for your first batch and then adjust from there until you create your own masterpiece.
How To Make This Fiery, Herby Yemenite Zhoug
Easy. Take out your food processor and add all roughly chopped ingredients and spices. Blend to your preferred consistency. Serve over everything.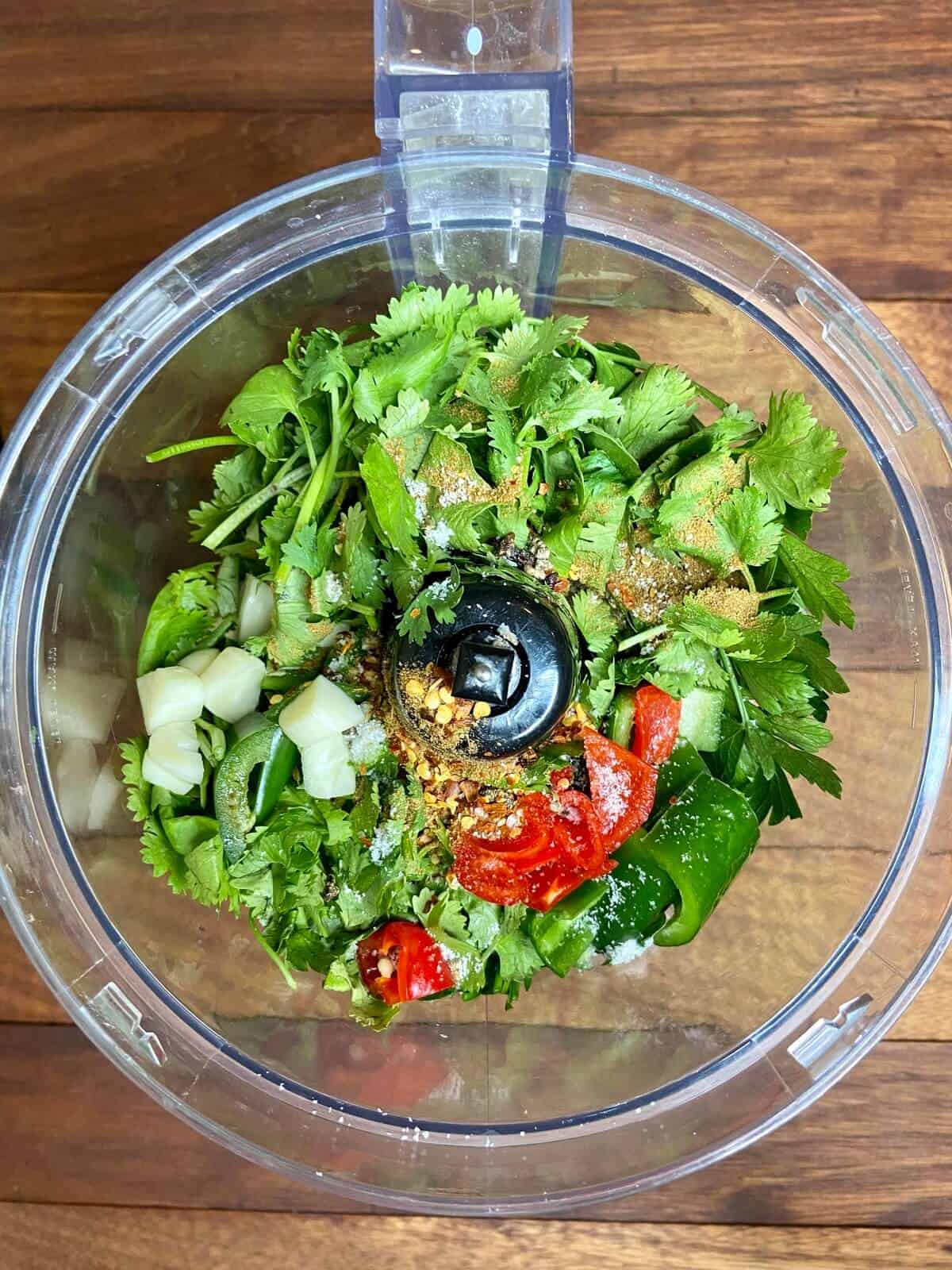 Let's backpedal and think about each ingredient for a moment. Simple dishes - and especially dishes that are not cooked - rise or fall with the quality of the few ingredients you're using.
Extra-Virgin Olive Oil
There are as many opinions about the right extra-virgin olive oil to use in a sauce as there are extra-virgin olive oils. Use the best you have and the one you like the most. I prefer a grassy, peppery one as it nicely rounds out the herbs and spices. Note that we're not using any black pepper in this recipe.
Cilantro & Parsley
When you get home from the food market, rinse both bunches under cold water, give them a good shake, and place on a paper towel to dry. When you're ready to use the herbs, cut off the bottom of the bunch where there's mostly stems. Roughly chop the rest. There's no need to remove the leaves from the tiny stems. Oh, and to me, parsley means flat-leaf Italian parsley.
Lemon Juice
There should always be a fresh lemon in the fridge. If you don't use it before it gets too old, pour yourself some seltzer water and squeeze in the juices. Collect the skin to make a homemade limoncello. To juice it, using the palm of your hand, roll the lemon pretty firmly a couple of times back and forth on a cutting board. Cut the lemon in half (crosswise). Use a small fork to remove most of the seeds. Stick the fork into the lemon half, and with your other hand, squeeze and rotate.
Garlic
Some people don't use garlic often because they think it's a hassle to peel and cut, and the pungent garlic smell on your hands is hard to get rid of, even with soap. Peeling garlic is easy. There are dozens of variations, tips, and tricks out there. Try my go-to technique!
And regarding "ungarlicking" your hands: rinse your hands under cold water while rubbing with stainless steel soap.
Hot Peppers
The right amount of spiciness is on the tongue of the beholder. Some people like the peel-your-face-off spice level; others prefer a more humane level of heat.
Either way, when chopping hot peppers, you might want to wear gloves. Especially if you wear contacts and will have to remove them later that day. Been there, done that. Also, consider that spicy food is not only going into your system; it also has to go out again. If you're new to cooking with hot peppers, it's a great idea to look at this chart:
In hot peppers, heat (units of pungency) is measured in Scoville Heat Units (SHU) and is named after the American pharmacist Wilbur Scoville.
It measures the concentration of capsaicin, the chemical component of chili peppers that give them their spicy heat. If a recipe turns out too spicy for you, you can either use a less spicy pepper or remove the veins, pith, and seeds before making it next time.
Your local food market typically carries a nice variety of hot peppers, from the mild poblano, to the intermediate jalapeño, to the hot habanero peppers.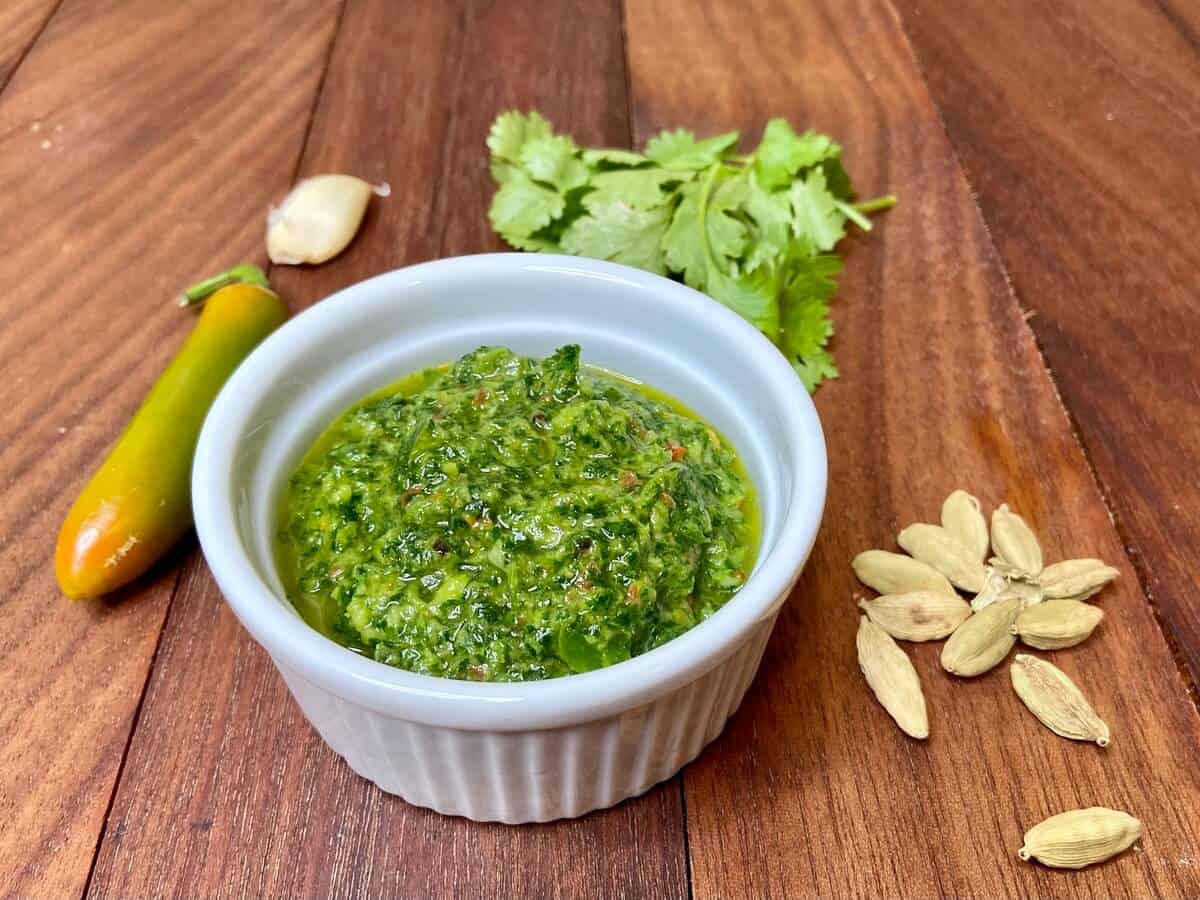 Kosher Salt
Salt brings food to life. It's the only rock we eat. I had a salt obsession for many years, chasing down the latest, hippest salt until I finally settled on two. For everyday salting purposes, I recommend Diamond Crystal's Pure Kosher Salt. For grilling, finishing a dish or salads, and on watermelon (yes, try it, it makes it sweeter), I recommend Maldon Salt.
Spices And Dried Herbs
Buy less but better quality. Most spices don't last as long as you think. People storing them above or next to the stove are surprised that their cumin has no flavor at all after a couple of weeks, and their oregano smells like hay. Buying good quality spices and storing them in a dark cabinet should preserve their freshness for several months.
Food Processor Or Mortar And Pestle
If you want to make a quick and smooth Zhoug sauce, a food processor will do the trick. But sometimes, it's just so satisfying to use a mortar and pestle to feel and smell how it all comes together.
Regardless of which "grinder" you're using, taste, taste, taste. If you're worried about the heat, add the first half of the hot peppers and taste. If you're concerned about the saltiness, add half of the salt and taste. Also, remember: not all salts are created equal. One teaspoon of a particular salt type can be quite different from one teaspoon of another salt type.
Tip: Herb and hot pepper-based sauces can sometimes taste a little bitter or too spicy right after being blended. It can take up to an hour for the herbs to fully absorb the spices and heat via the olive oil. Just transfer the sauce to a dish and stick it into the refrigerator for an hour or so before serving.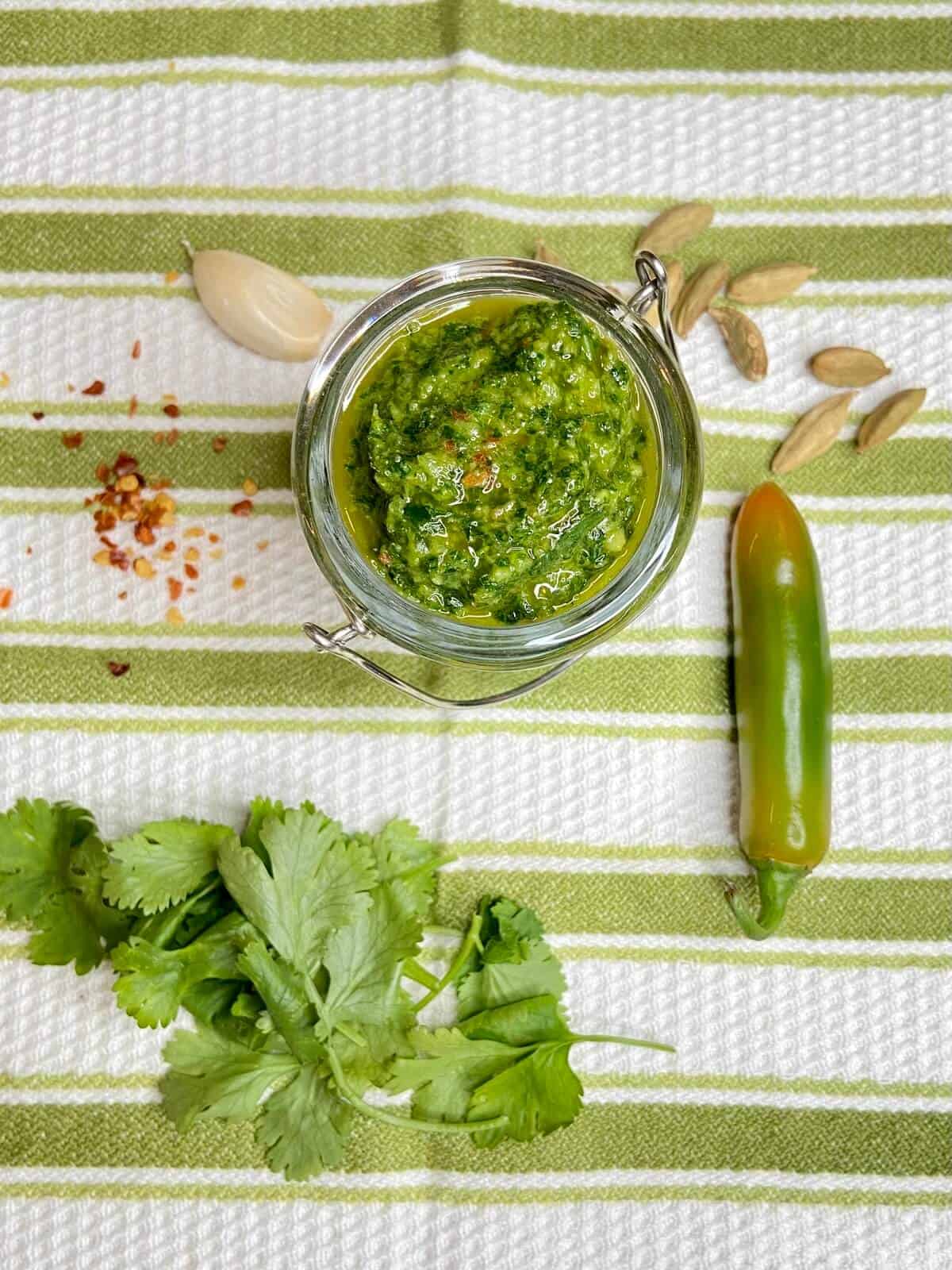 What To Use Zhoug Sauce For
Put it on everything that comes off the grill (fish, meats, vegetables)
Add it to deviled and scrambled eggs

Spice up a plain yogurt

Mediterranean-ize Taco Tuesday

My favorite: add it to a pepperoni and cheese pizza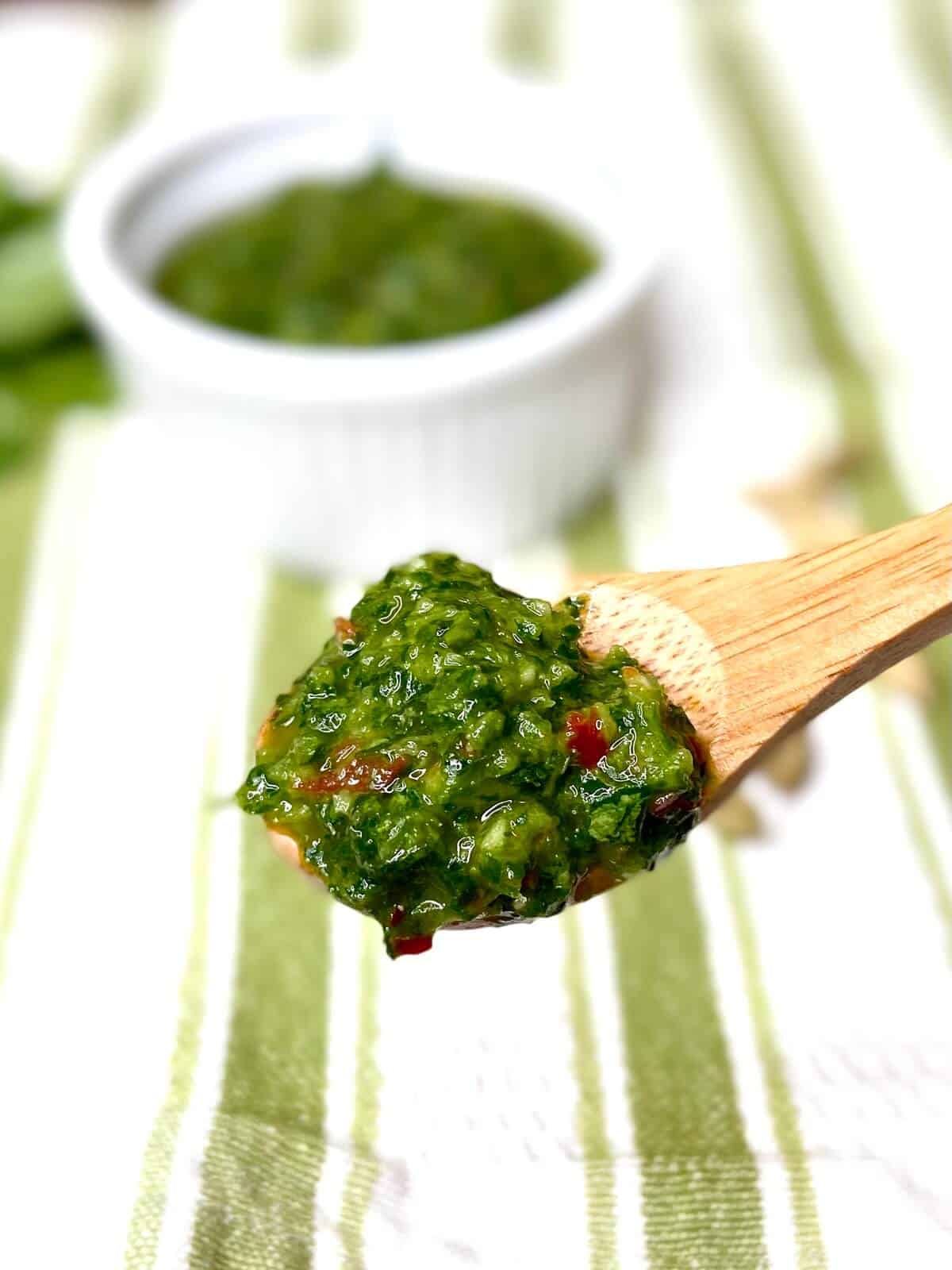 How To Store Zhoug
Zhoug will stay perfect for about four days in the fridge in an airtight container. If (and you will) want to make a huge batch, divide it into small sandwich baggies and freeze individually. Now you can enjoy this fantastic, spicy, refreshing sauce all summer long.
Variation
Adding some mint adds an additional tasty "herb level" to this Zhoug sauce.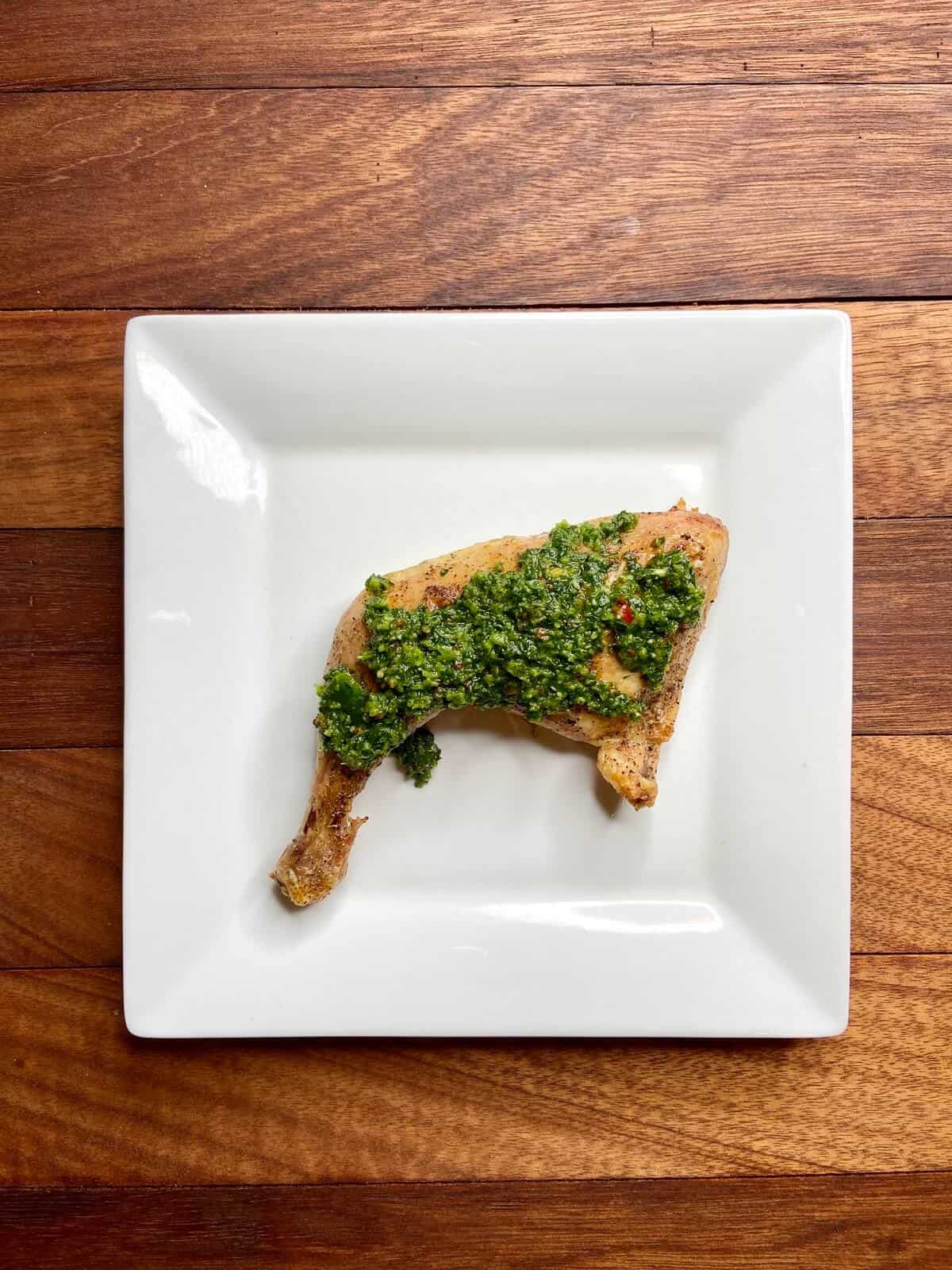 To finish this article, I'd like to invite you also to read my take on the other two herb sauces (in addition to Zhoug) that I use a lot:
Chimichurri And Gremolata
Learn how to make three easy herb-based sauces full of character, and you'll never have to wonder again what condiments to serve the next time you're grilling.
Wikipedia: Chimichurri is an uncooked sauce used both as an ingredient in cooking and as a table condiment for grilled meat. Found in Spanish, Argentinian, and Uruguayan cuisines, the sauce comes in a green (chimichurri verde) and red (chimichurri rojo) version. It is made of finely chopped parsley, minced garlic, olive oil, oregano, and red wine vinegar.
Wikipedia: Gremolata is a green sauce made of chopped parsley, lemon zest, and garlic. It is the standard accompaniment to the Milanese braised veal shank dish ossobuco alla Milanese. Gremolata is also used as a garnish.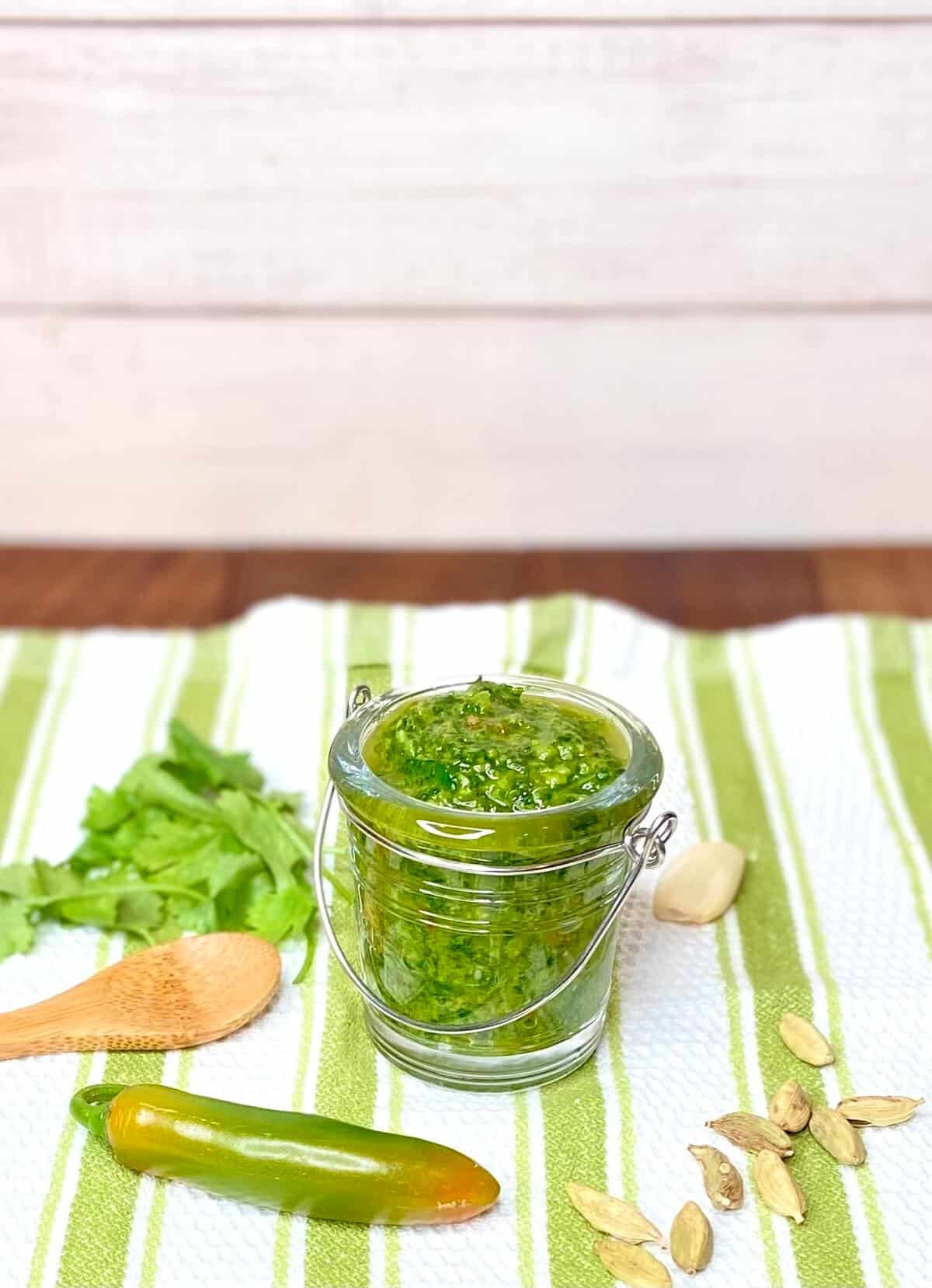 Love delicious recipes? Check out a few more of our recipes now!
Did you make this Zhoug Sauce (aka Schug Sauce)? Let us know in the comments below!
Zhoug Sauce (aka Schug Sauce) – A Spicy Middle Eastern Cilantro Sauce
Zhoug sauce is one of those condiments I wished I had discovered earlier. It's spicy, cilantro-based, easy and quick to make, and most likely originated in Yemen. 
Ingredients
½

c

extra-virgin olive oil

1

c

cilantro

1

c

parsley

4

cloves

garlic

2

jalapeños 

2

serranos (or other hot pepper of your choice)

1

teaspoon

lemon juice

1

teaspoon

kosher salt

1

teaspoon

cumin

1

teaspoon

cardamom

½

teaspoon

hot pepper flakes
Instructions
Take out your food processor and add all roughly chopped ingredients and spices.

Blend to your preferred consistency.

Content and photographs are copyright protected. Sharing of this recipe is both encouraged and appreciated. Copying and/or pasting full recipes to any social media is strictly prohibited.