Chicken spinach mozzarella is a wonderful weeknight dish. It's ready in about 30 minutes, healthy, and budget friendly. My twist to finish this dish under the broiler will give it a slight char that brings out some summer memories of grilled food.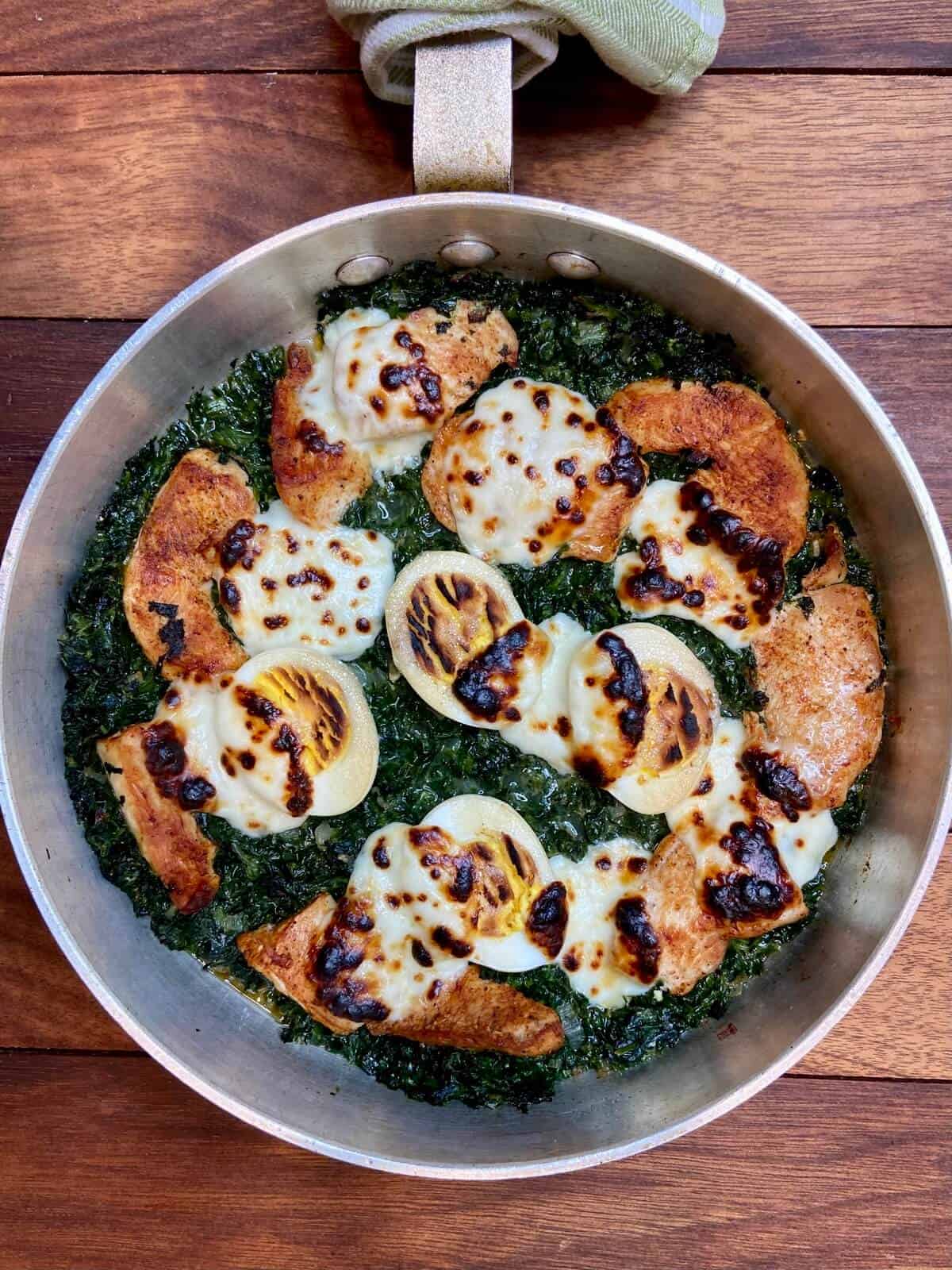 Jump to:
Cooking is considered a joy for some, a chore for others, and a necessity for the rest. Which one are you? And why?
The three most common excuses for not cooking I hear are "I don't have time," "I don't feel like it," and "I don't know what to cook."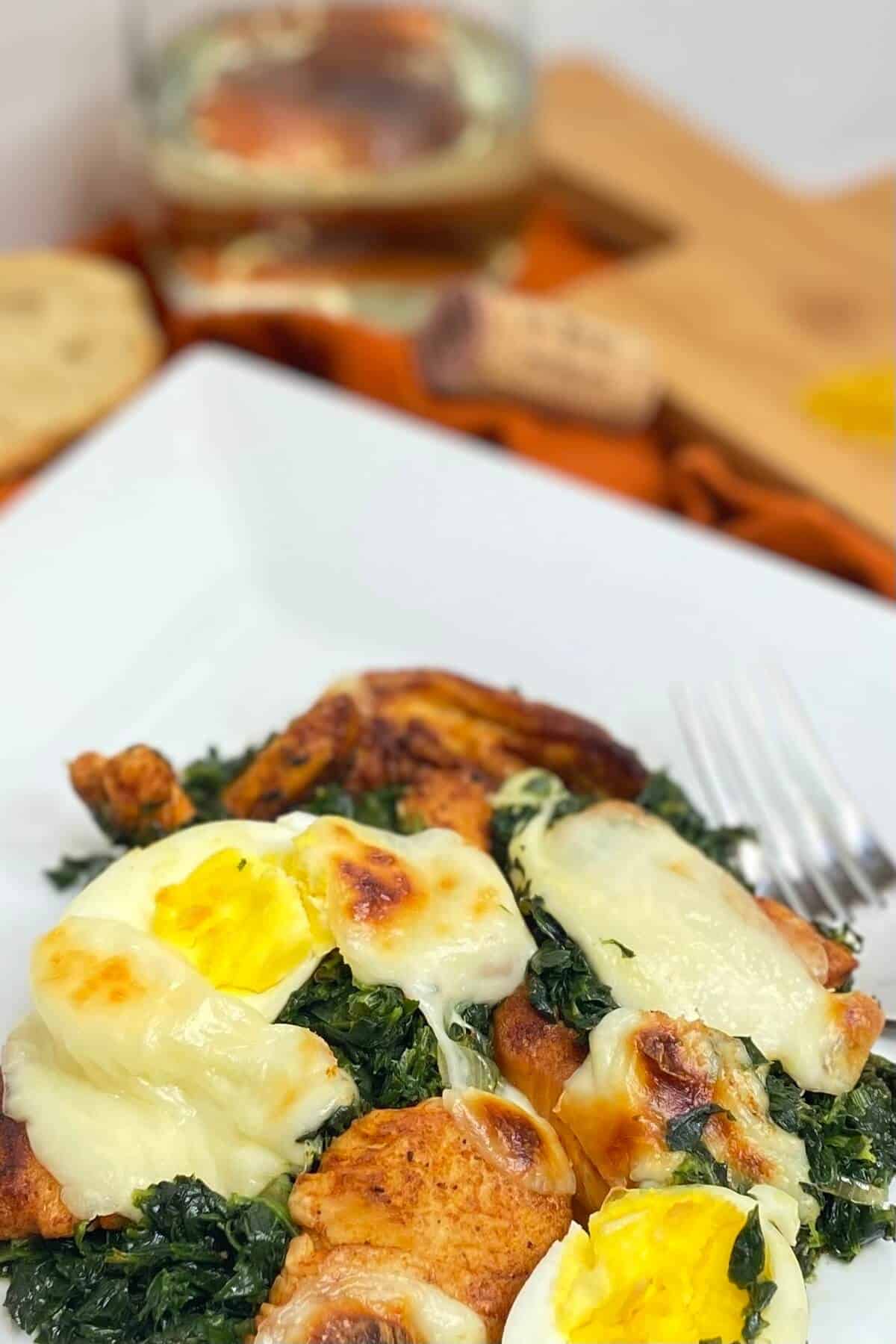 Occasionally, I'll write up a real life situation like the one below and walk you step-by-step through the process to have a successful dinner on the table in just over 30 minutes.
That was me the other day: I had no plans for dinner and started foraging through the fridge, freezer, and pantry, finding the following items:
A chicken breast, a chunk of fresh mozzarella, and a package of frozen spinach.
I saw a delicious, healthy, tasty, budget-friendly, and highly adaptable meal coming together in no time.
How? Let's have a look at the ingredients and how to prep, season, and cook them.
🧾 Ingredients
For oven safe pan
10 ounce chicken breast, cut into 2" pieces
1 tablespoon vegetable oil
1 teaspoon paprika
½ teaspoon kosher salt
½ teaspoon freshly cracked black pepper
For saucepan
10 ounces frozen, chopped spinach
1 tablespoon olive oil
1 shallot, chopped
½ teaspoon kosher salt
½ teaspoon freshly cracked black pepper
1 teaspoon curry powder
½ teaspoon grated nutmeg
¼ cup milk and/or your favorite stock
Additional
6 ounces mozzarella, cut into ¼" slices
2 hard boiled eggs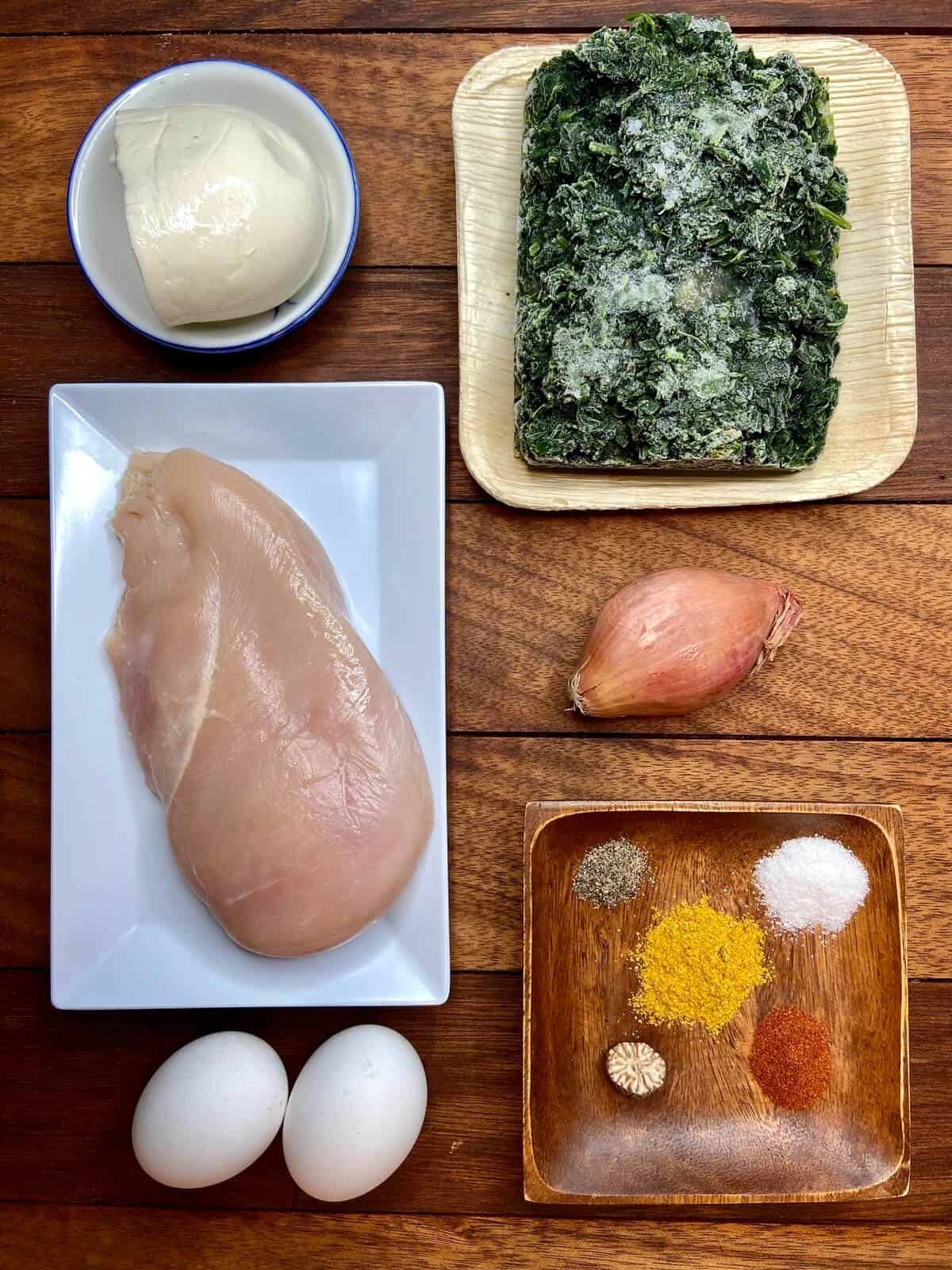 🐔 Chicken breasts
Chicken breasts are versatile, lean, and considered pretty healthy. The downside: Chicken breasts don't have too much taste (no fat) and are easily overcooked, ending up as a "boring" and dry meal. Luckily, there are many ways to avoid that, all it takes is a little attention to detail and confidence.
🧂 Seasoning the chicken
As mentioned before, chicken breast is very "flavor neutral." We have to add some character to it without over-seasoning and therefore dominating the dish.
A combination that works like a charm is to season with one part kosher salt, one part freshly cracked black pepper, and two parts paprika. For instance: for a "standard size" 12 ounce (0.75 pound) chicken breast, use ½ teaspoon salt, ½ teaspoon pepper, and 1 teaspoon paprika.
You can spice it up a bit by using ½ teaspoon paprika and ¼ teaspoon cayenne (cayenne is much stronger and spicier than paprika, hence the amount reduction). After slicing the chicken into 2" pieces, season and use your hands to evenly distribute the goodies. Next, make sure to wash your hands with soap and warm water.
🥘 Cooking the chicken
One incredible method to get the juiciest chicken breast you've ever had is outlined here: Foolproof Cooking Method To Make The Juiciest Chicken Breast.
For this recipe, I'll be using an oven-safe pan as the whole dish will be finished under the broiler at the end. One less pan to clean.
First, add some vegetable oil to the pan and heat over medium heat. When adding the chicken breast, it should nicely sizzle without smoking. Adjust temperature accordingly.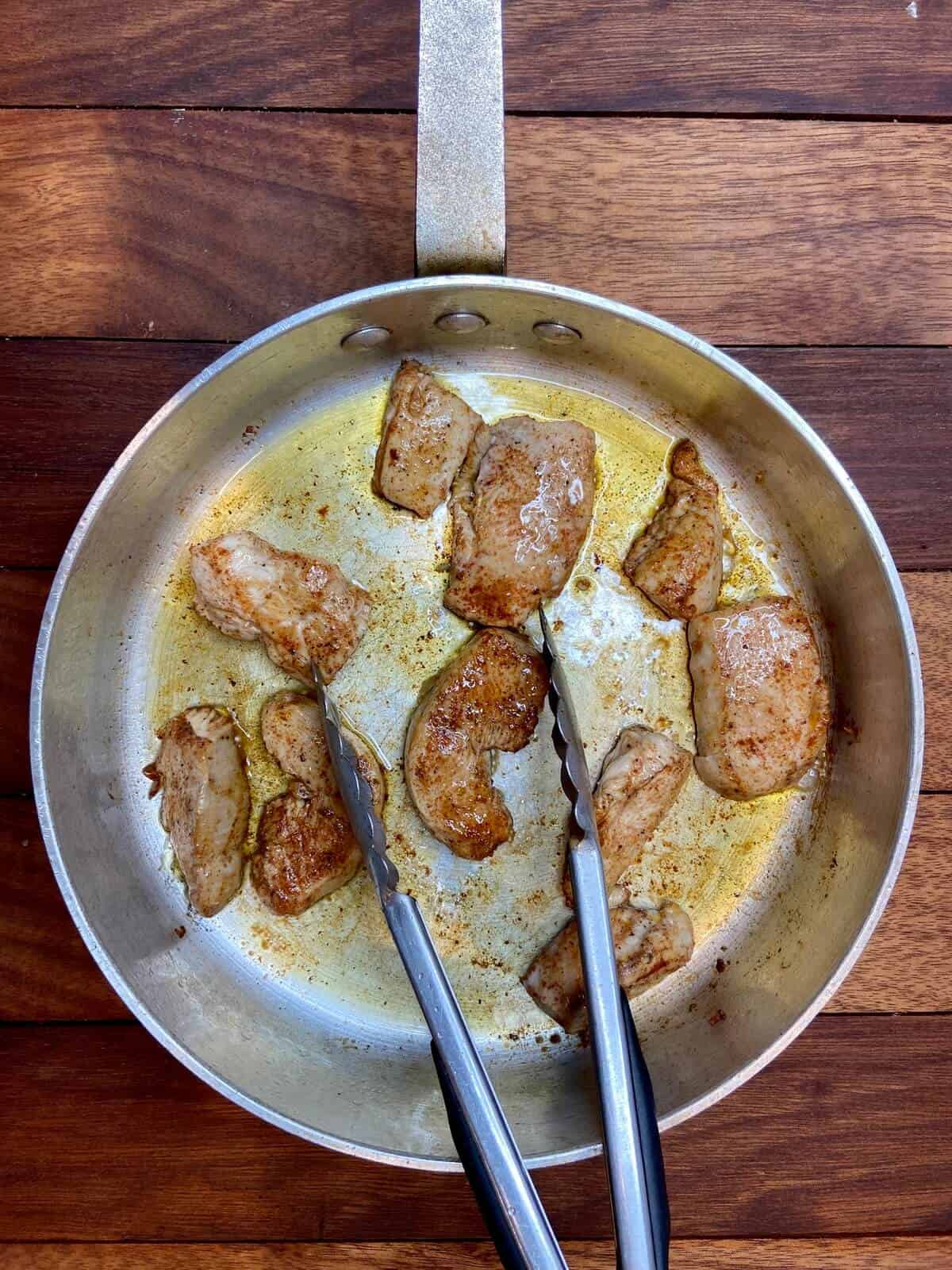 Next, add all the chicken breast pieces. Make sure they don't touch. You want them to brown and not to steam. Cook for about 3 minutes per side, depending on what size pieces you cut. It's okay to take one out and cut it open, to see if they're cooked through.
🥬 Frozen spinach
A pack of frozen spinach sounds rather boring, but with a little bit of TLC, you can turn this simple and healthy powerhouse into a tasty sidekick to accompany the chicken.
🧅 Cooking and seasoning the spinach
You could buy a pack of creamed and seasoned frozen spinach and you'd be all set with that part. Using a separate saucepan, add a little olive oil, then the spinach, and slowly cook until done, over low heat. Stir occasionally. This takes about 15 minutes.
The frozen spinach I encountered on my freezer forage expedition was plain, chopped spinach. Unseasoned spinach gives more flexibility to stir into the flavor direction you're looking for.
In this case, add some olive oil to the pan and first sauté finely chopped shallots for about 3 minutes until they get fragrant (and translucent).
Reduce the heat to low and add the frozen spinach. Again, it will take about 15 minutes to fully soften and heat up. Stir occasionally to break up the still-frozen chunks.
Before the spinach is fully done, add some heavy cream or your favorite stock. Or a mix of the two.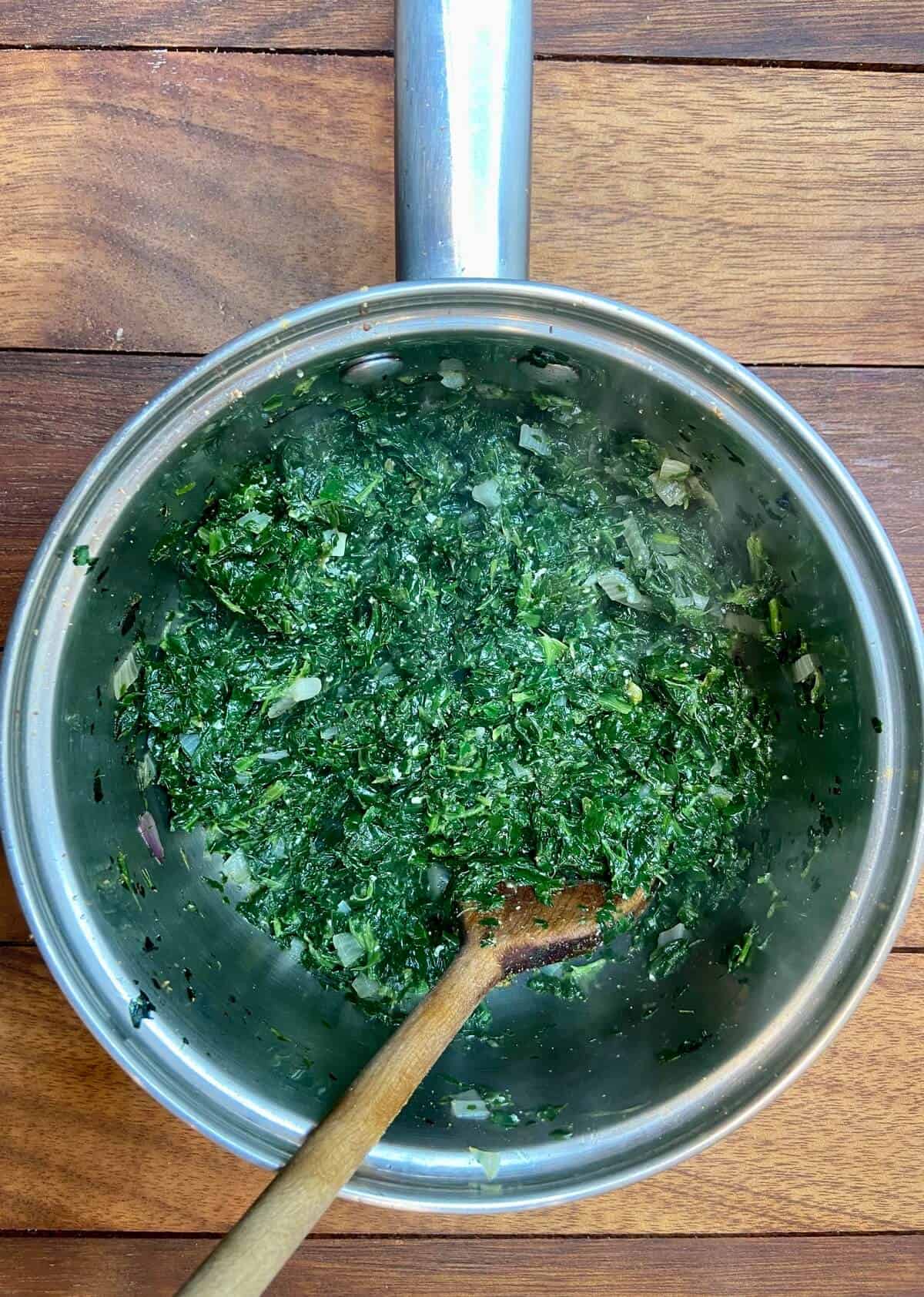 When the spinach is done, season it. In most dishes, I highly recommend seasoning and tasting throughout the cooking process, but when using frozen vegetables, wait until the vegetables are fully softened and cooked before adding the tasty stuff. It's kind of hard to judge the flavor of a chunk of frozen spinach.
Add salt, pepper, and whatever else you feel you want the spinach to taste like. One of my go-to mixes is freshly grated nutmeg and curry powder. They're both what I call "warm spices" and that's exactly the character I want this dish to have.
⭐ Tip: If you don't have shallots, leave that step out and add some garlic or onion powder. Instead of curry and/or nutmeg, try cardamom and/or allspice. Be creative! Have fun, taste, and see how it changes the flavors. Make it your own.
🧀 Mozzarella
Mozzarella is what it is: always a nice addition when you're looking to add some slightly salty, gooey cheese without too strong of a taste to change the flavor profile of the underlying dish. Just remember that with mozzarella, you get what you pay for. My general rule: if it's dry-packed, it'll be dry. Spend an extra dollar to get the good stuff, either fresh or loosely wrapped in plastic with visible liquid.
🥚 Hard boiled eggs
To add a little more protein, hard boil a couple of eggs, cut in half, and set aside.
⭐ ATTENTION, please:
A lot of home cooks have a problem with the timing when making a new dish. Suddenly, the pasta is done but the vegetables are still raw or you're supposed to add certain ingredients at a certain time and realize you haven't even chopped it yet, etc. You know who I'm talking about.
To avoid any stress while preparing a meal, there are a couple of easy steps you can take before even turning on the first burner on the stove:
Read the recipe. Make sure you have all the ingredients. Duh.
Think about what utensils you're going to use. Do you need a colander, tongs, a food thermometer? Take them all out and put them on the kitchen counter.
Mise en place. Have every ingredient out, prepared, and ready to be used. Such as the minced garlic or the softened butter or the room temperature egg.
Next you have to think about timing. What takes the longest to cook? What needs to rest after cooking? How much time does it take to heat up the oven?
So, starting with this recipe, this is the first and, right now, only food blog that will provide you with a super handy dandy cooking timeline. Yes, this will change your cooking and our fortune. At least that was what the fortune cookie said.
All set to go? Step back, look at your counter. Everything ready? Yes? Turn your phone to silent and do a couple breathing exercises before starting. This will help you totally focus.
I'm just kidding. When everything's ready, put on some music, pour yourself a glass of wine if you feel like and let's get this cooking started.
Get everything ready as outlined above.
🕜 Timeline
Start your timer
00:00 Add 1 tablespoon of olive oil to a saucepan and bring to medium heat.
02:00 Add shallots to the pan and stir occasionally.
05:00 Reduce heat to low and add frozen spinach. Add 1 tablespoon of vegetable oil to an oven-safe pan and bring to medium heat.
08:00 Add seasoned, chopped chicken to the pan. Occasionally stir spinach.
11:00 Turn chicken. Stir spinach.
14:00 Turn on the broiler in the oven. Make sure the baking rack is in the upper half. Check chicken and set aside if done.
20:00 Add milk and/or stock to the spinach and finish by seasoning and tasting it.
21:00 Spread the cooked spinach around the oven-safe pan. Place the chicken and hard-boiled eggs on top. Add the mozzarella and stick it under the broiler.
25:00 Remove the pan from the oven and serve. Actually, look at it first and be proud of yourself for what you just created.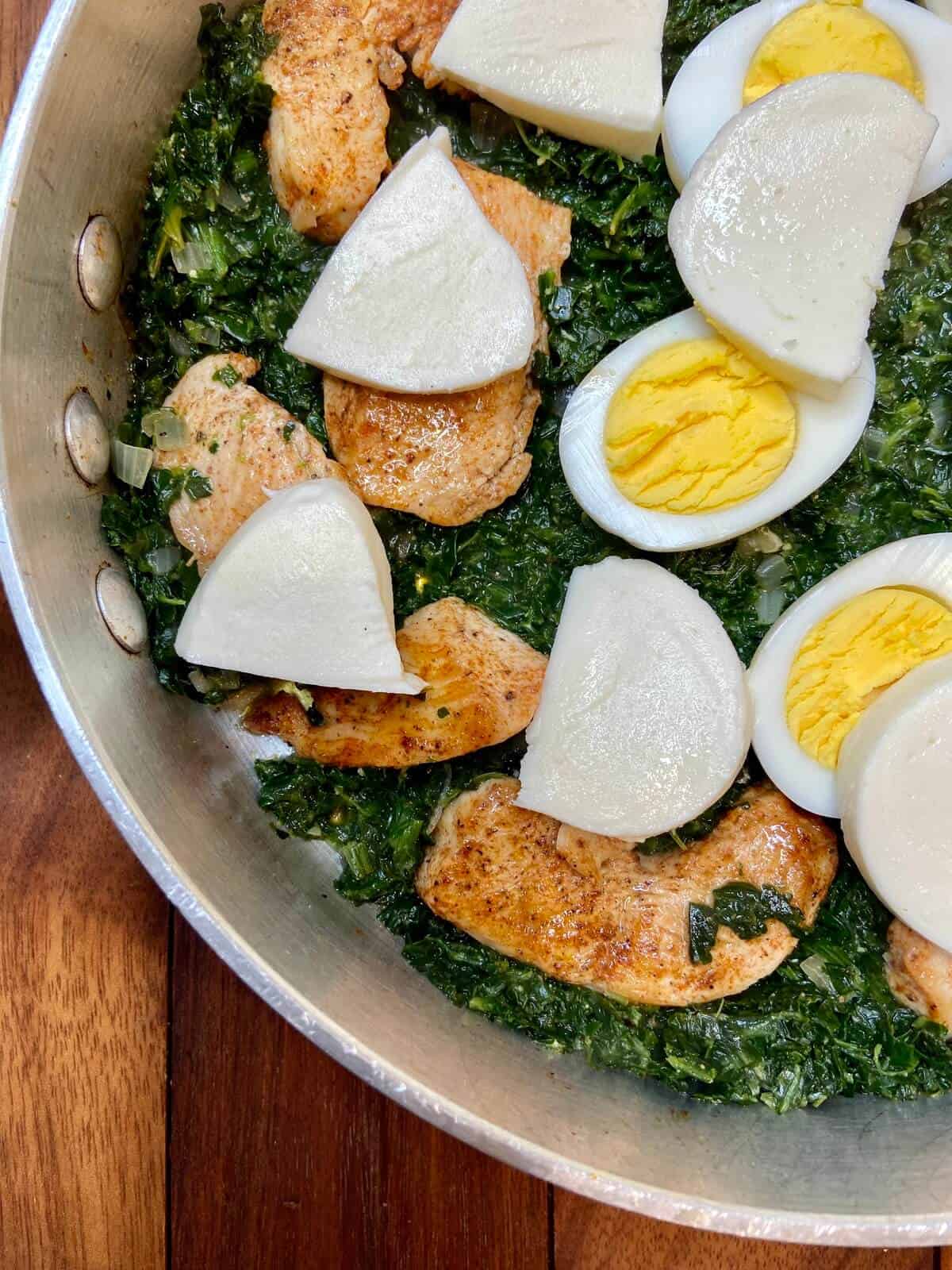 Love easy, delicious dinners? Check out more of our recipes now:
Did you make this Chicken Spinach Mozzarella? Let us know in the comments below!