Simple times. A 3-ingredient butter baked onion is pure comfort food. It's the beginning of a french onion soup. Without the cheese.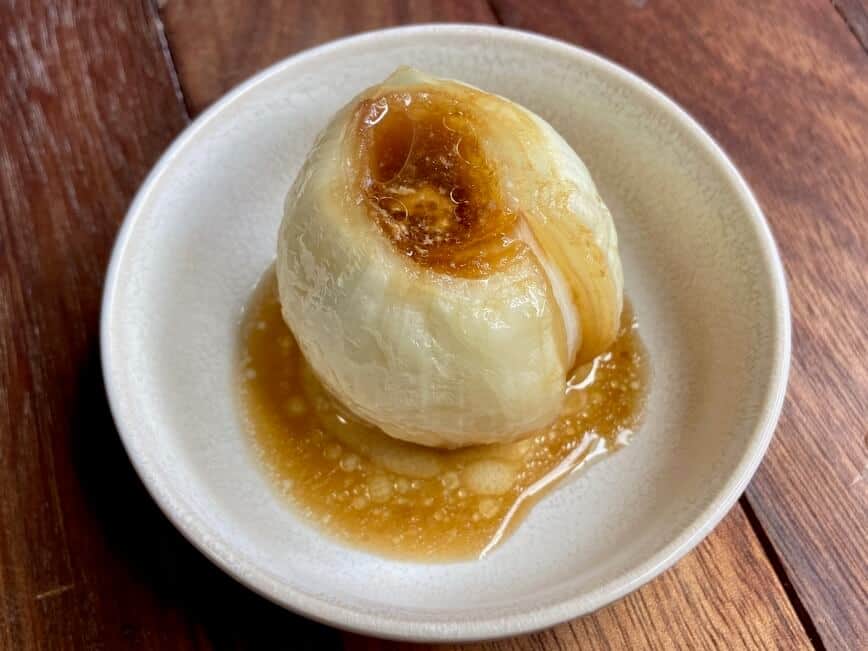 I think the Danes should have invented this dish. Maybe they did, I don't know. Remember a few years back when hygge was the next big thing from Denmark (after LEGOs)?
From Wikipedia:
The word hygge comes from a Danish word meaning "to give courage, comfort, joy." Hygge stems from hyggja, which means "to think" in Old Norse. Hygge is built from the Old Norse word hugr, which later became hug, which means the soul, mind, consciousness.
There you have it, a butter baked onion is pure hygge.
Jump to:
What is an onion good for?
Onions are humble, versatile, beautiful, affordable, delicious, yellow, red, white, sometimes really sweet, and mostly round.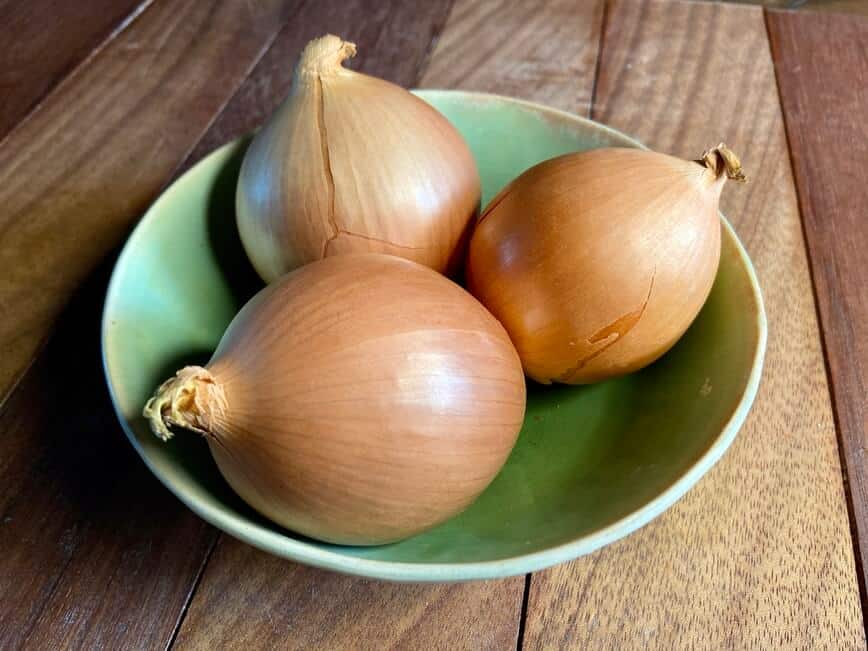 Buy a bag of onions, put them in your basement, and you'll have weeks of access to this wonderful vegetable.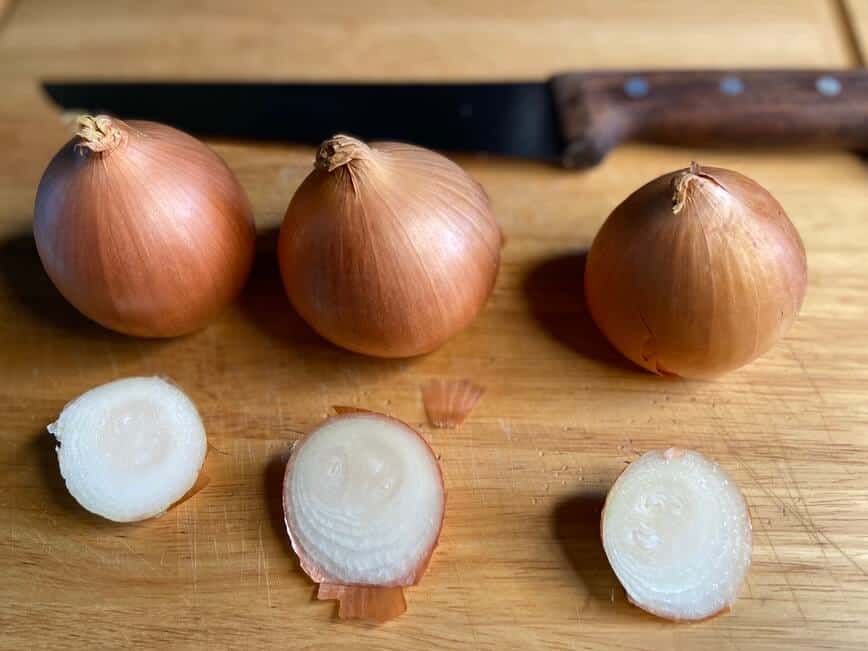 I was always told that when you're in a funk, make yourself some chicken noodle soup. That's certainly good advice, but here's mine:
Make yourself a butter baked onion
Grab a couple onions and cut a little bit off the bottom (put aside) so they'll stand up straight in a baking dish. Peel the onions and, with a paring knife, scoop out a chunk of the onion so that it can hold a tablespoon of butter (put the peel and scooped out onion aside).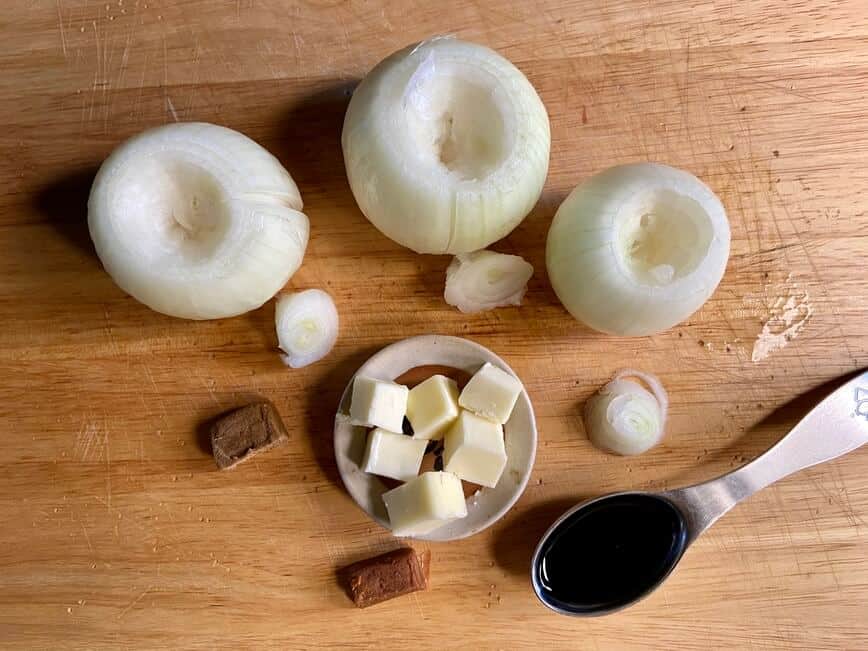 Fill the scooped-out area with a mixture of softened butter and a bouillon cube, soy sauce, or Worcestershire sauce.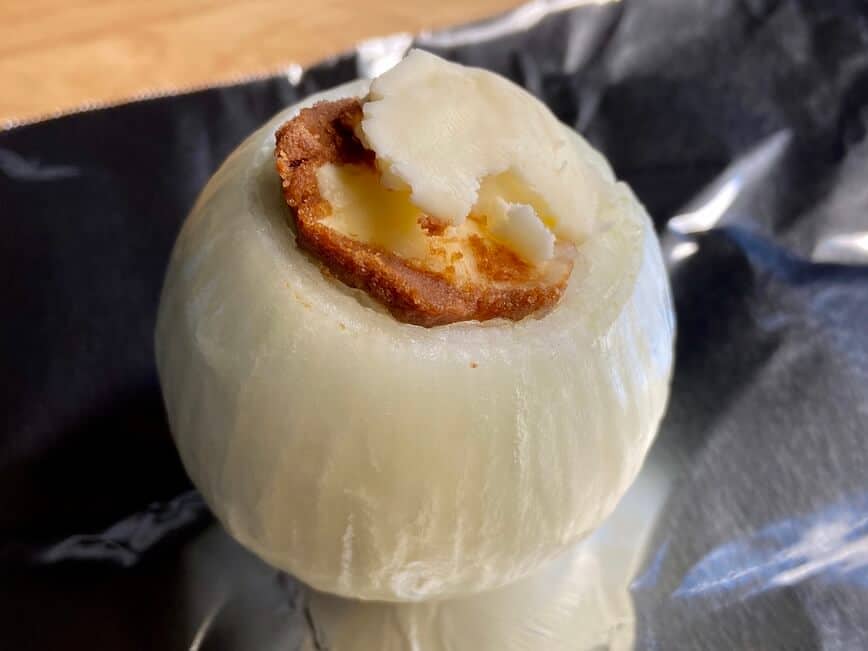 Wrap the prepared onion in aluminum foil and make it look like an aluminum onion 😂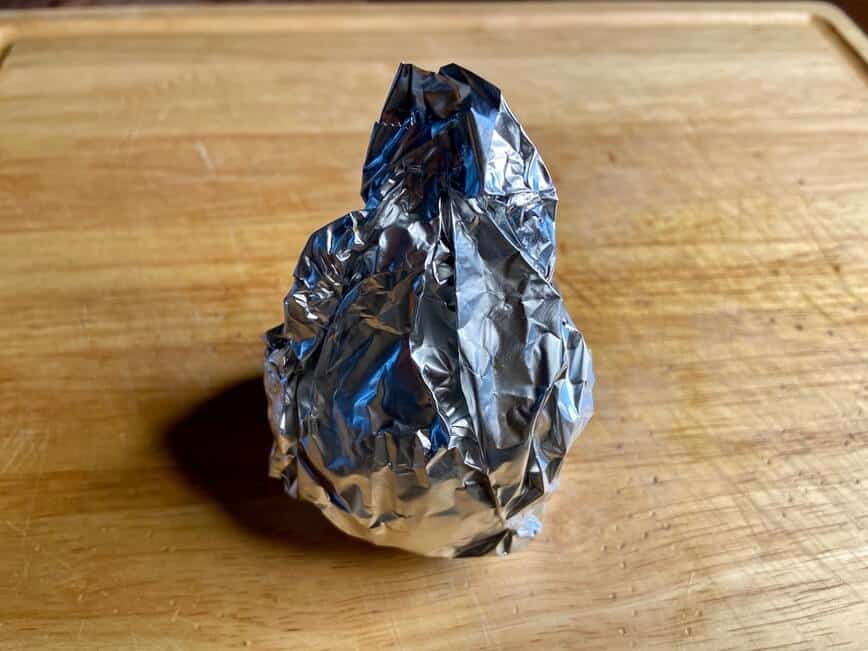 Place on a baking sheet and bake (in a toaster oven) at 375°F for about 60 minutes (until soft).
CAREFULLY remove from the oven and place in a dish. Smash it with your fork and enjoy it by itself or serve as a side dish.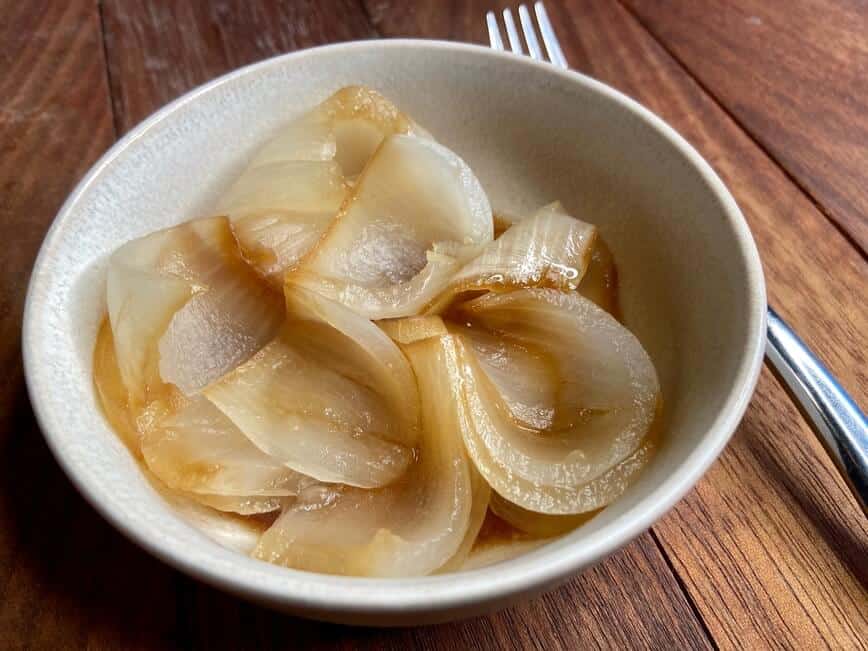 My three favorite butter baked onion flavors are mushroom or beef bouillon, or simply by mixing some soy sauce with butter. Umami-mamma mia.
Ok, honestly, I once even topped instant ramen with a baked onion and some chives. I was happy.
Tip
Remember to keep the peel, bottom, and scooped-out bit of onion. Store it in a container and when you have enough vegetable scraps and maybe a couple chicken bones laying around, make yourself a soothing broth. Just try it. It works.
Question
If you don't keep your butter on the counter in the first place, take it out of the fridge to get it up to room temperature. Growing up in Switzerland, our butter dish was always on the countertop and ready to go. Why do we keep butter (or eggs, for that matter) in the fridge?
As long as your butter is pasteurized (which it is anyway, unless you bought "raw butter"), it should safely last up to a week at room temperature.
Here in the 'ville, we always keep half a stick or so on the countertop that we know will be used within a week. The rest can be stored in the fridge for up to a month or in the freezer for up to four months.
And if your butter on the countertop doesn't look right (shiny) or doesn't smell right (rancid), be smart and toss it. 
My friend thinks he's smart. He said onions are the only food that make you cry. So I threw a coconut at his face. ~ Unknown
Fun facts about onions
The first organized cultivation of onions started in Asia 5,500 years ago. They quickly spread around the world and became popular for their medicinal value and ease of storing in the winter.




Onions are very healthy to eat. They are filled with complex sugars that keep our metabolism healthy, and also vitamins, minerals, dietary fiber, beta carotene, folate (one of the B vitamins), and no fat.




Onions are some of the oldest vegetables that were used by the first modern civilizations. They were grown in ancient Egypt, where their spherical internal structure was believed to be a symbol of eternal life.




One average-sized onion has 30 calories.




The largest onion ever grown weighed around 10 lbs.




Onions are currently the 6th most popular vegetable crop in the world, judging by its production.




Athletes and soldiers in ancient civilizations used onions as a source of power. 




Yellow onions are the most popular type of onion. It makes up a staggering 75% of the world's onion production.




Consumption of onions in the United States rose 50% in the last 20 years. Currently, the average American eats 17 lbs of fresh onions each year.



You can get rid of onion breath by eating fresh parsley.
(Source) 
Love delicious recipes? Check out a few more of our recipes now!
Did you make this Butter Baked Onion recipe? Let us know in the comments below!
📝 Recipe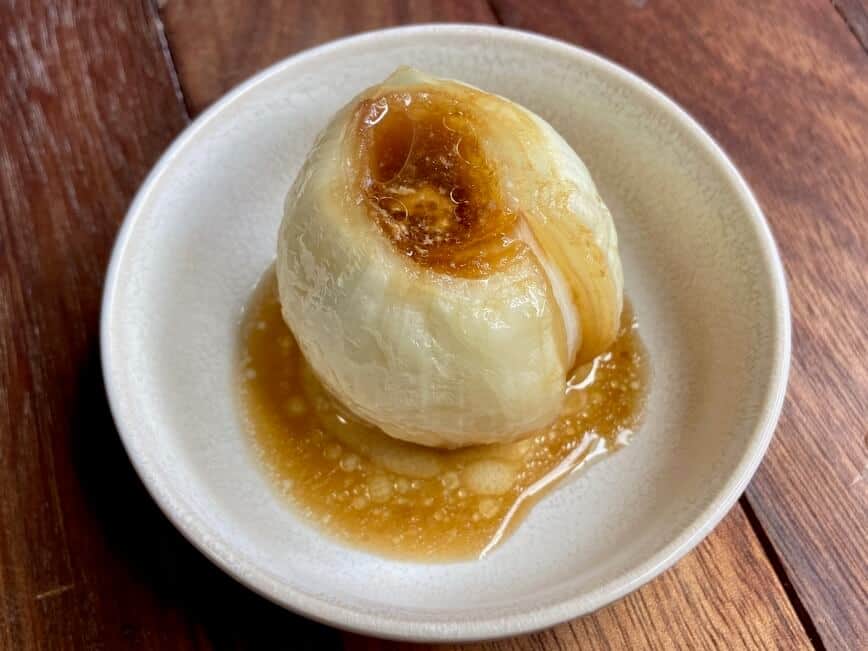 Butter Baked Onion - Pure Hygge Food
Simple times. A 3-ingredient butter baked onion is pure comfort food. It's the beginning of a french onion soup. Without the cheese.
Ingredients
1

whole onion, Vidalia or any sweet, mild type

1

tablespoon

butter

½

bouillon cube or 1 tablespoon soy sauce or Worcestershire sauce
Instructions
Cut the bottom off the onion and save for stock

Peel off the papery skin and scoop out the top

Fill the scooped-out part with butter and bouillon/soy/Worcestershire

Bake at 350°F for about 60 minutes or until fork tender

Remove from the oven and serve by itself or as a side dish
Notes

Calories:
119
kcal
|
Carbohydrates:
26
g
|
Protein:
3
g
|
Fat:
1
g
|
Sodium:
522
mg
|
Potassium:
422
mg
|
Fiber:
3
g
|
Sugar:
18
g
|
Vitamin A:
28
IU
|
Vitamin C:
16
mg
|
Calcium:
85
mg
Content and photographs are copyright protected. Sharing of this recipe is both encouraged and appreciated. Copying and/or pasting full recipes to any social media is strictly prohibited.