It was one of the hottest days this summer. I couldn't get out of the hammock. But we had to eat something. It was already 6 pm.
Lying in the hammock, I can see our herb and vegetable garden. Lots of reds from the area of the tomato plants and lots of green from the herb garden came into my peripheral view. Hmm, Insalata Caprese? We do have a piece of mozzarella in the fridge. But is that a substantial enough dinner?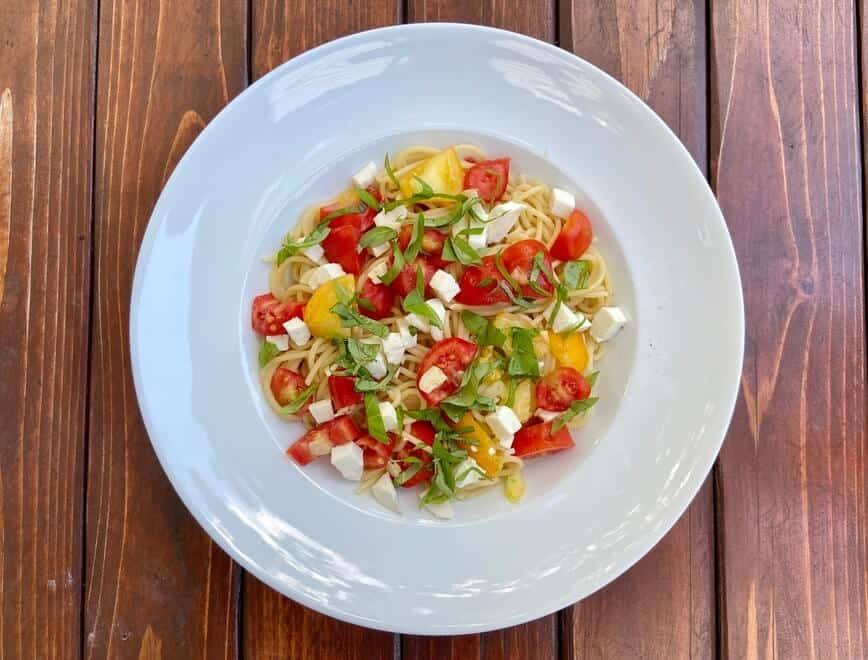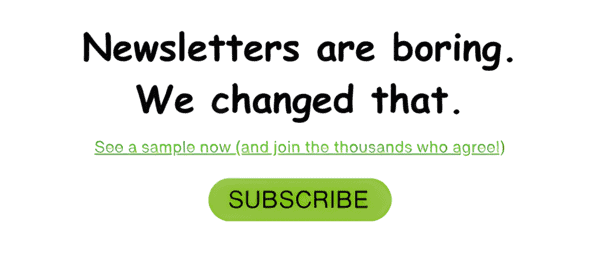 Jump to:
I'm sure we all have these lazy summer thoughts going back and forth, without being able to make any real decision. Just voices and ideas floating around in a brain that's probably slightly overheated.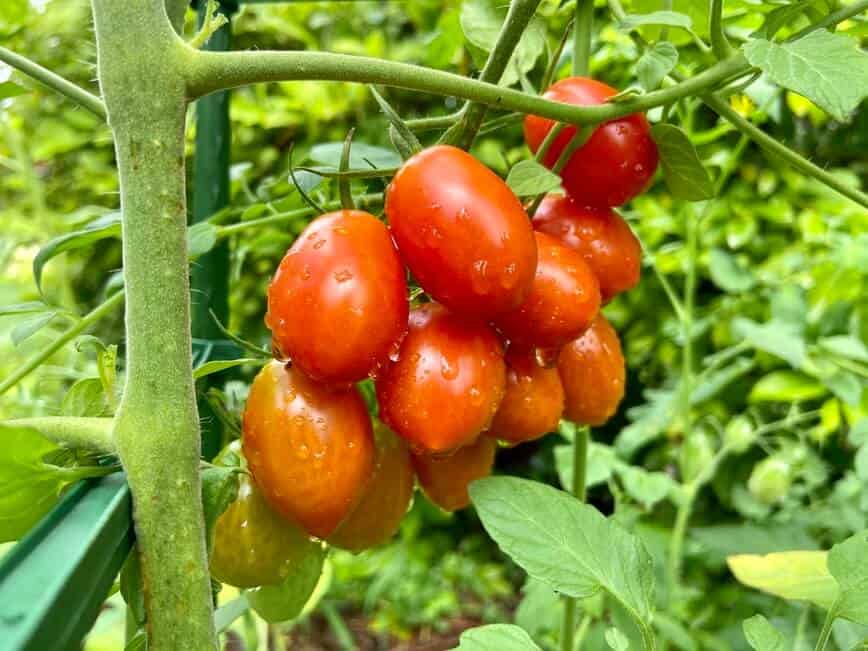 So, reluctantly I got up, grabbed a couple different perfectly ripe tomatoes from the vines and a bunch of basil leaves, and trotted dreamily toward the kitchen.
I was awake now. My cooking motivation started to pick up. Let's put on a pot of salted water, cook some spaghetti al dente, toss it in butter, add chopped tomatoes, basil, garlic and mozzarella, drizzle with extra-virgin olive oil, crank some tellicherry pepper on top, and call it a dish.
And wow, it worked! So let's quickly go through it step-by-step because this morning is starting to heat up already and my hammock beckons again.
Knowledge is knowing that a tomato is a fruit. Wisdom is knowing not to put it in a fruit salad.
- Brian O'Driscoll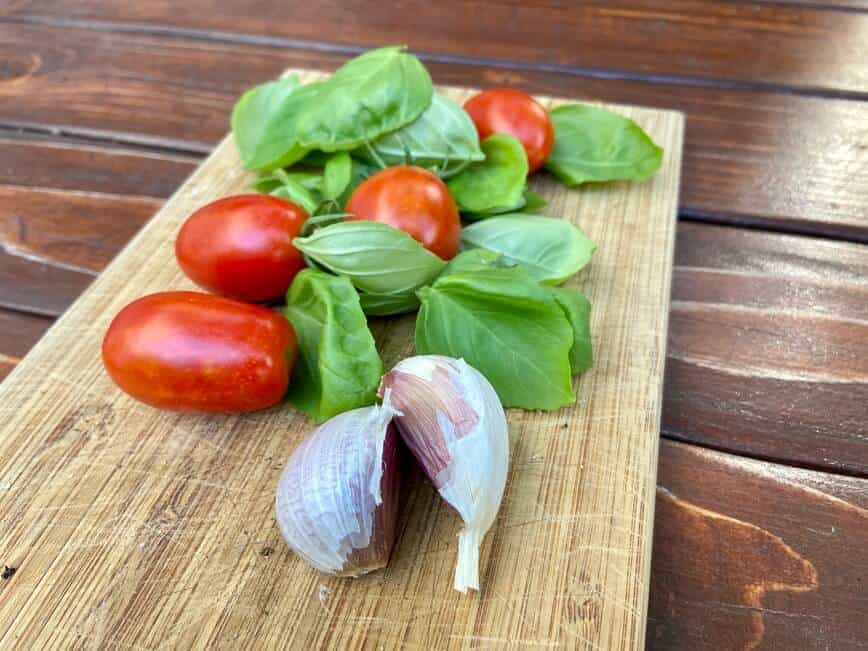 🍲 How to cook pasta
Use a large enough pot so the pasta can boil freely. For the two of us, I cook about 10 oz of pasta in a 2-qt pot. Use enough salt....iodine-free salt. I really like Diamond Crystal kosher salt. Add salt to the boiling water, wait a few seconds, stir, and try. It should taste salty. Not as salty as the Jersey shore, but pretty close to it. Don't worry, your pasta won't absorb it all, but it will do some magic with the released starch from the pasta.
Once your pasta water is boiling, add your pasta and cook until it's not quite done yet. Remove and drain. Unless you soak the pasta in cold water before draining, it will continue to cook just a little bit more.
Before you drain the pasta, make sure you SAVE SOME OF THE PASTA WATER! Then, drain the pasta and put that saved water back in the pan. For 10 oz of pasta, I'd probably save about ¼ c. Add 2 tablespoon unsalted butter to the pan and put the drained pasta back in. Give it a good stir. The melted butter in the pasta water will give your pasta a nice, shiny look and make it very tasty.
🍅 The other ingredients
While the pasta is doing its thing (don't forget to stir occasionally), you have time to prepare the rest of the meal.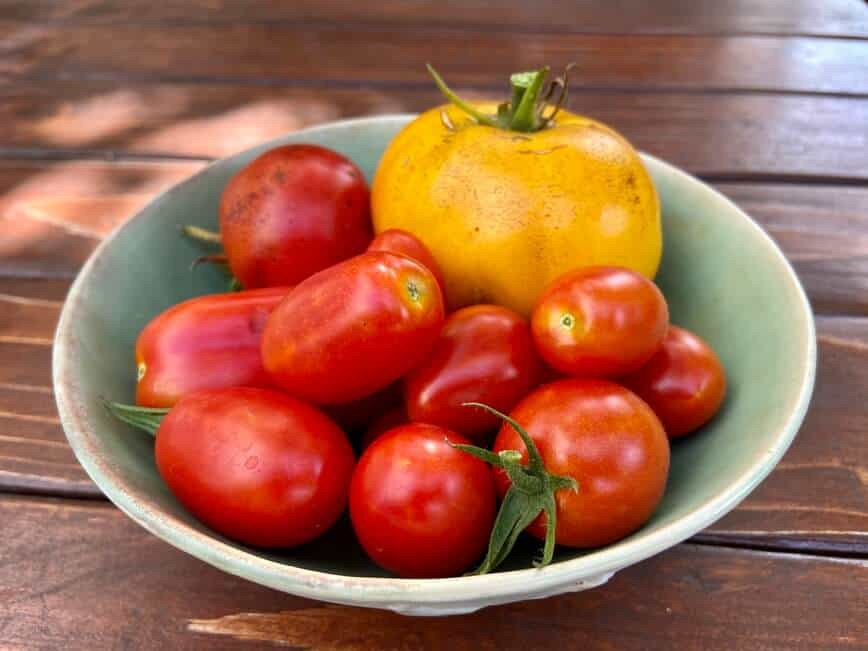 Tomatoes
Pick the ones that are the ripest. We grow about six different varieties, everything from grape to beefsteak tomatoes, so it's kind of hard to tell you how many tomatoes to use. How about 2 c chopped tomatoes? No really, use as much as you want. Chop into about ½" pieces.
Garlic
If you don't like garlic, don't use it. If you like garlic, use it carefully. The garlic in my recipe is used fresh, so it'll have a strong, pungent flavor. It will strongly compete with the flavors from the other ingredients. In this case, less is more. Use one good-sized clove, sliced as thin as you can.
Mozzarella
You get what you pay for. That dry, tightly packed cheese that's labeled mozzarella will add some texture and color, but not exactly much taste. If you can, get fresh mozzarella. A simple dish like this shines with the best ingredients. Use about 4 ounces, chopped or shredded into ¼" pieces.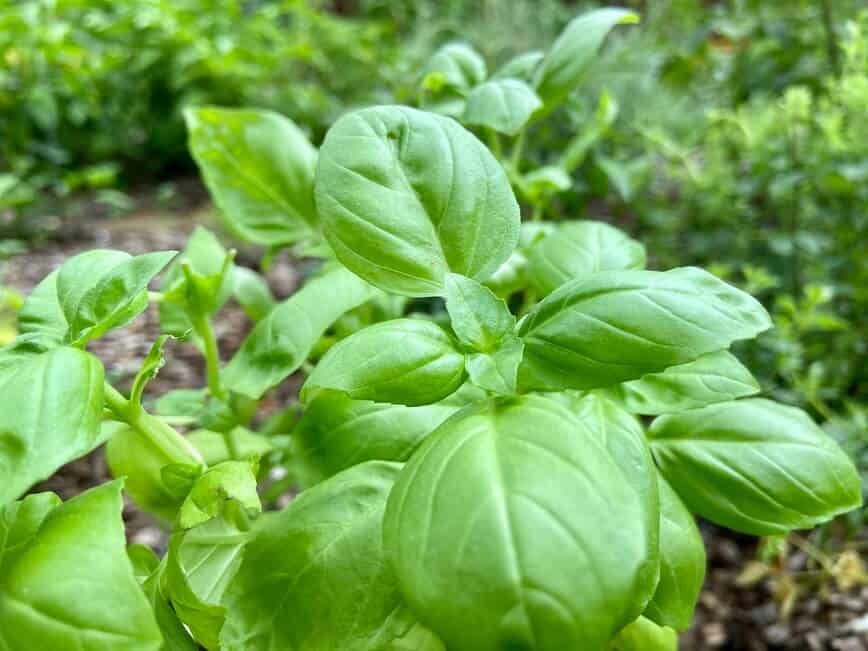 Basil
There are dozens of basil varieties. When it comes to basil, I'm a purist. I only grow two kinds in my herb garden: Genovese basil (the most commonly available "sweet basil" to use in anything basily, including pesto) and Thai basil (a wonderful, slightly spicy herb that adds intriguing depth to any stir fry).
So, Genovese basil in this case. Pluck about two dozen leaves. Next, roll up your basil leaves and cut them, perpendicular, into strips; the fancy word for this technique is chiffonade. Do this at the very end, when your dish is assembled. As soon as you cut the basil, it will release its flavors and will be the most fragrant for the first couple of minutes.
Extra virgin olive oil
We can talk about extra-virgin olive oil for hours. What kind, origin, flavor profiles, etc. But that's for a separate article. 🤓 Just use your favorite extra-virgin olive oil. I personally like a grassy, peppery olive oil for this dish.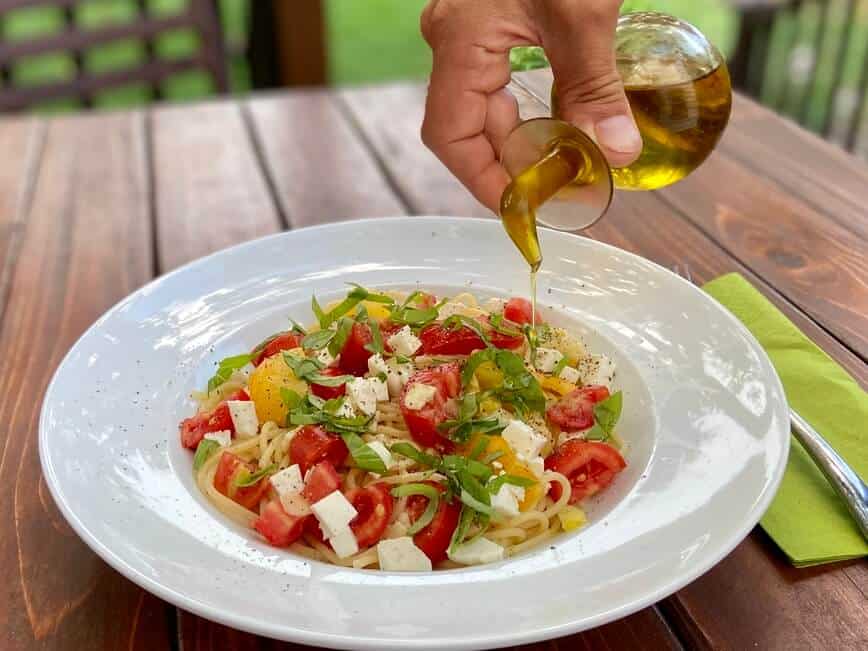 🍽 The assembly
Everything is put in place (let's learn another culinary term: mise en place) and we're ready to put a delicious, light dinner together.
Start by dividing the butter-soaked spaghetti onto two plates. Add tomatoes, garlic, and mozzarella, chiffonade the basil and add that too. Crank your pepper mill a couple times over the plate. Drizzle with extra-virgin olive oil and serve.
It's a light mouthful of silky pasta that will transfer you to a happy place. And thanks to the butter-coated spaghetti (my secret ingredient), it will leave you satisfied and refueled without feeling heavy.
Ok. It's time to get back in the hammock.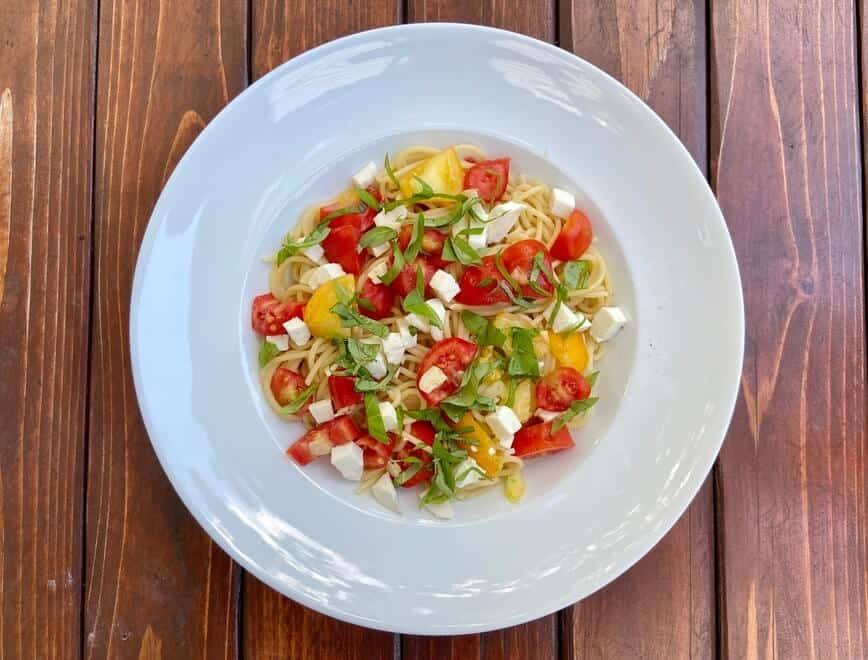 Do you love delicious recipes? Check out a few more of our recipes now!
Did you make this Tomato Basil Mozzarella Pasta? Let us know in the comments below!
📝 Recipe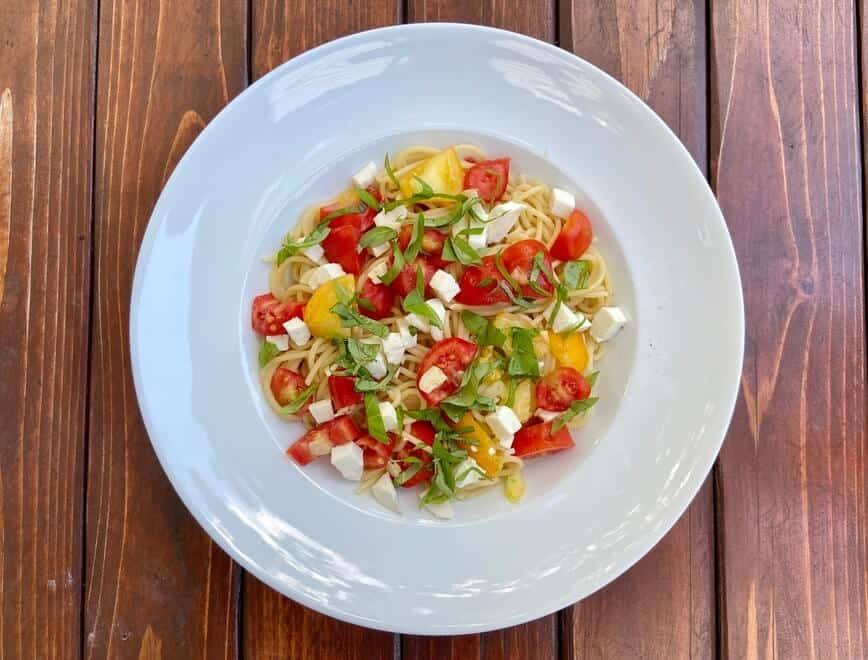 Tomato Basil Mozzarella Pasta
It's a light mouthful of silky pasta that will transfer you to a happy place. And thanks to the butter-coated spaghetti (my secret ingredient), it will leave you satisfied and refueled without feeling heavy.
Ingredients
10

ounces

spaghetti

2-3

cups

tomatoes, chopped

1

clove

garlic, thinly sliced (optional)

4

ounces

mozzarella, chopped or shredded

About 20

leaves of

basil, thinly sliced

2

tablespoons

extra-virgin olive oil

2

tablespoons

Diamond Crystal kosher salt

1

teaspoon

freshly cracked black pepper

¼

cup

pasta water

2

tablespoons

unsalted butter
Instructions
Bring a large pot of water to a boil. Add salt, then pasta, stir occasionally.

Chop tomatoes and mozzarella and thinly slice garlic (if used)

Once pasta is nearly cooked, remove from stove, save ¼ c pasta water, drain pasta

Put saved pasta water, butter, and drained pasta back in pot and give it a good stir

Divide butter-coated pasta evenly onto two plates

Add chopped tomatoes, mozzarella, and garlic (if used)

Thinly slice basil leaves (chiffonade) and add to the dish

Finish with a couple cranks of freshly cracked black pepper and drizzle with some extra-virgin olive oil. Serve and enjoy!
Notes

Calories:
971
kcal
|
Carbohydrates:
119
g
|
Protein:
34
g
|
Fat:
41
g
|
Sodium:
7688
mg
|
Potassium:
880
mg
|
Fiber:
8
g
|
Sugar:
10
g
|
Vitamin A:
1554
IU
|
Vitamin C:
25
mg
|
Calcium:
429
mg
Content and photographs are copyright protected. Sharing of this recipe is both encouraged and appreciated. Copying and/or pasting full recipes to any social media is strictly prohibited.