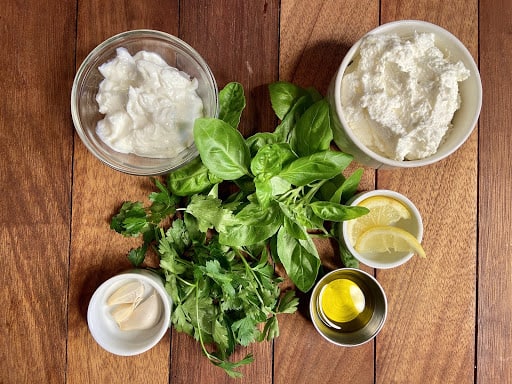 This garlicky, herby ricotta dip is ready in 5 minutes, and that's a good thing. As soon as you start chopping the fresh basil leaves and start smashing the garlic cloves, you want to start dipping. Chopping releases the essential oils of the herbs, while smashing garlic cloves does the same to the garlic.
Once you have everything ready, grab a bowl and start adding ricotta cheese, Greek yogurt, lemon juice, and olive oil. Mix it all together and season with salt and pepper. Taste it. Make sure it's right where you want it to be. Don't be afraid to add more lemon juice or olive oil or salt or pepper. You have your own taste buds and your own olive oil. No recipe knows what you like best. The amounts given in a recipe work for the person who wrote that particular recipe, using a particular type of olive oil, with a particular type of salt, and unique taste buds.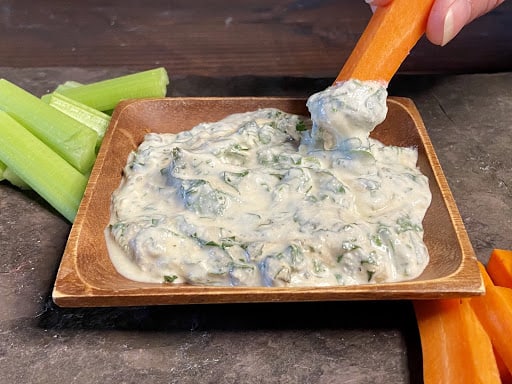 Anyway, once you've found your balance for the base, smash a couple garlic gloves with the side of a chef's knife and mince. Smashing them first (with the skin on) makes it super easy to peel them – they basically peel themselves. Next, roll up your basil leaves and cut them, perpendicular, in strips; the fancy word for this technique is chiffonade. Chop the parsley (I prefer flat leaf Italian parsley) and sage and add everything to the bowl. Mix well, and yes, taste again. I cannot stress enough how often I hear from hobby chefs that they are disappointed with the cooking results although they followed the recipe exactly. Did you taste in between? If you didn't taste until the end…well, that's often too late.
I like my Ricotta Garlic Herb Dip with chips. But of course, cut some celery and carrots and that works too. I haven't tried dipping Dietz nuts yet, but hey you never know…..
Let me know what your favorite herb combo for this dip is. I want to try it. And what's your favorite dipper with your dip?
Garlic Fun Facts
Garlic (Allium Sativum) is a member of the Amaryllis family (Amaryllidaceae), which also includes leeks, onions, and shallots. It is a perennial with an underground bulb (head) composed of pungent bulblets, commonly called cloves.

The pungent flavor of garlic is caused by a chemical reaction which occurs when the garlic cells are broken. The flavor is most intense shortly after cutting or chopping. This chemical reaction cannot occur after garlic is cooked, which is why smoked garlic is sweet and nutty rather than pungent.

Garlic was even once used to treat acne, warts, and toothaches.

The psychological term for fear of garlic is alliumphobia.

The smell of garlic can be removed by running your hands under cold water while rubbing a stainless steel object.

The majority of garlic (90%) grown in the United States comes from California.

If your rose garden is being attacked by aphids, an excellent home remedy to get rid of them is to spritz the leaves and blooms with a mixture of crushed garlic and water.
Source: mobile-cuisine.com
Did you make this Ricotta Garlic Herb Dip recipe? Let us know in the comments below!
Do your friends enjoy delicious recipes too? Share this article with them and let us know what you all think by commenting below and rating this recipe!
Tag your photos with #maplewoodroad on social media and share them on our Facebook page! Have any questions about this recipe? Ask on our Maplewood Road Community Facebook page and I'll be happy to help. 😊
Subscribe to our weekly newsletter for more great recipes!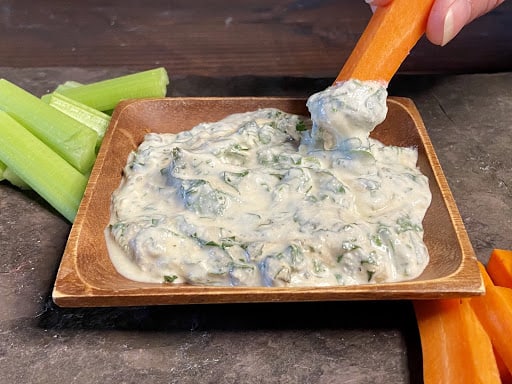 5-minute Ricotta Garlic Herb Dip
This garlicky, herby ricotta dip is ready in 5 minutes, and that's a good thing. As soon as you start chopping the fresh basil leaves and start smashing the garlic cloves, you want to start dipping.
Ingredients
15

oz

(400 g) ricotta cheese

1/2

c

(150 g) Greek yogurt

2

Tbsp

extra-virgin olive oil (plus extra to drizzle)

1

Tbsp

lemon juice

2

cloves

garlic, finely chopped

1

c

fresh basil, chopped

1/2

c

fresh parsley, chopped

1

Tbsp

sage, chopped

1/2

tsp

pepper

1

tsp

salt (to taste)
Instructions
Mix ricotta cheese, Greek yogurt, extra-virgin olive oil, lemon juice, and season with salt and pepper

Taste, add more of any of the above to your liking

Add garlic, basil, parsley, and sage

Taste, add salt and pepper if necessary

Mix well, drizzle some extra-virgin olive oil on top, and serve with your favorite dippers

Content and photographs are copyright protected. Sharing of this recipe is both encouraged and appreciated. Copying and/or pasting full recipes to any social media is strictly prohibited.