There are a lot of articles out there about the benefits of exercising. And they change a lot. One year, running and weightlifting do the job. The next year it's swimming and yoga and so on. It reminds me of food: Bad egg one year, good egg the next year. But there's one form of exercise that I know works and has been around since the dawn of mankind: Hiking or walking.
In the meantime, there's advice about how long to walk and how many times a week, how to breathe while doing it, how many steps you should do every day, what's the best footwear, etc, etc.
The funny thing is that walking became an exercise. Before, it was simply a necessity to get stuff done everyday. But "progress" took care of that. We don't need to walk anymore to get things done. We have other modes of transportation and get stuff delivered. So now we have to make time to walk as an exercise. It's kind of an oxymoron that progress (movement toward an improved or more developed state) makes us do exercise (activity requiring physical effort, carried out to sustain or improve health and fitness). Holy crap. What went wrong during evolution, it started out pretty good!!
Of course, I'm not different. I also don't walk enough in my everyday life, so I have to make time to go out for a walk. Lucky for me, I absolutely love it. Besides eating, it's in my top three favorite activities.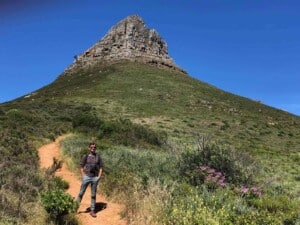 But for me, walking or hiking is not putting on some special shoes, dressing in my fancy exercise clothes, starting up my favorite workout playlist on my smartphone, sticking earpods in my ears, making sure my Fitbit is charged and ready to go, and finally driving to my exercise location to start my workout routine.
Nope. I grab my binoculars and go for a walk. That's all. And then what happens? I start walking and I hear a bird. Maybe I recognize the song and feel like continuing my walk. Maybe I stop and watch the bird singing. Maybe I don't recognize the song and try to find the bird to identify it. Then I hear a rustling next to the path and see the literal tail-end of a chipmunk running for safety. I pass a little pond and stare at the dragonflies catching insects in mid air. How do they do that? You get the point.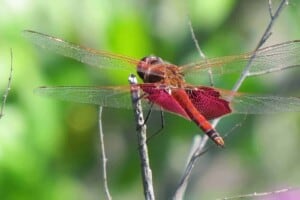 Let's call it mindful walking. No earphones. Just you, your breathing, and your legs moving you forward. Feel the different surfaces you're walking on. How different does it feel walking in the same location after a downpour? What can you smell?
I believe the art of walking is lost to most of us. Somebody coined the term "NDD," Nature Deficit Disorder. I think it's true that it exists, but I also think it's true that the "fix" is simple.
On longer walks, I like to stop and sit quietly for some time on a fallen log or a comfy rock (they're hard to find). Then something magic starts to happen. After a few minutes, the world around you becomes alive. When I just sat down, the world around me was pretty quiet. Most alive things stopped their activity during my approach to their home. But it only takes 10 minutes of sitting still and everybody and everything is back doing what they were doing before. It's incredible. It's magical. It feels like you're sitting in a three-dimensional bubble of life that didn't exist before. And if your quiet spot is in the forest and it's spring or summer, you might wonder, how many possible shades of green can there be?
Awareness is a curious thing. I always marvel (not) at people who claim they "know all there is to know" about a certain topic, while we know that's not possible. I always feel - like a lot of other friends I've talked to about this - that the more I know about a topic, the more questions I have, and therefore the less I seem to understand it.
Nobody put it better than Robert Rubin, former US Secretary of State: "Some people are more certain of everything than I am of anything."
So here's a little exercise I'd like you to do with a friend: Walk a route that you're familiar with (that you "know all there is to know") for a half mile without talking. Afterward, stop and compare mental notes about what you saw and heard. You'll be amazed that two people who just walked the same exact route will come up with two totally different impressions. And you thought you knew.
Here's a bonus to get you curious before even getting out of your car. You can do the same little exercise by driving your regular commute with a friend who is not familiar with this route. Afterward, compare notes. The route you thought you knew all there is to know suddenly looked quite different after your friend shared his/her observations of said route.
If you have any other ideas on how to make walking a joyful exercise rather than a chore, please share them with us.
Love nature? Check out more of our nature articles:
Do you love walking in nature? Let us know in the comments below!
Do your friends enjoy nature articles too? Share this article with them and let us know what you all think by commenting below!
Tag your photos with #maplewoodroad on social media and share them on our Facebook page! Have any questions? Ask on our Maplewood Road Community Facebook page and I'll be happy to help.
Subscribe to our weekly newsletter for more great nature articles!