Happiness is nothing more than good health and a bad memory ~ Albert Schweitzer
Have you ever heard of a drink called Switchel? Over the last couple of years, I'd heard of it, but never really followed up, until now.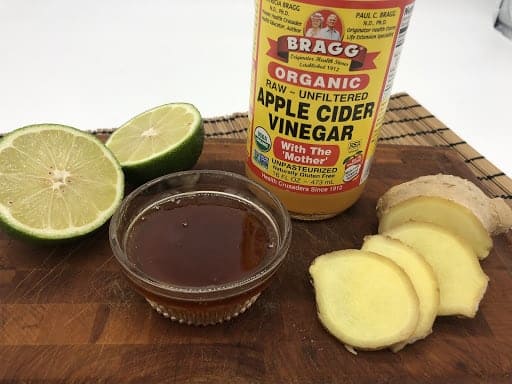 What The Heck Is Switchel?
It turns out that Switchel is a super healthy, homemade, refreshing drink that can be tweaked to your own flavor preference and leave expensive Kombucha and Gatorade in the dust. It's a probiotic, filled with electrolytes, supposedly builds good gut bacteria, helps with immunity, and really gives you an energy boost that you would expect from a double espresso, but without the crash.
I'm sure Switchel will be the "next big thing" in the health drink department. But before it gets on every supermarket and health food store shelf, let's have a look at what Switchel is made from, what the benefits are, and especially how delicious it is and how easily it's made at home.
The History Of Switchel
The origins of Switchel are a little murky (just the way the drink looks in a glass), but there are some claims that it was invented in the 17th century in New England to serve thirsty pickers during harvest time. It was a simple mix of water, apple cider vinegar, ginger, and a sweetener (molasses or honey). Another claim is that it originated in the Caribbean. It certainly doesn't matter to us, it only matters that someone came up with a basic version of this electrolyte-filled pick-me-up.
We read all the time about the health benefits of apple cider vinegar and ginger, but the taste can be a little off-putting. Sure, the sweetener helps to lessen the vinegary taste, but what I really like to add to make this drink super drinkable is fresh lime juice.
Health Benefits Of Switchel
Here's just a quick summary of some of the health benefits using my recipe. This list is incomplete and when you actually google the health benefits of these ingredients and include some of the shadier claims, you basically become immortal by drinking Switchel. 😎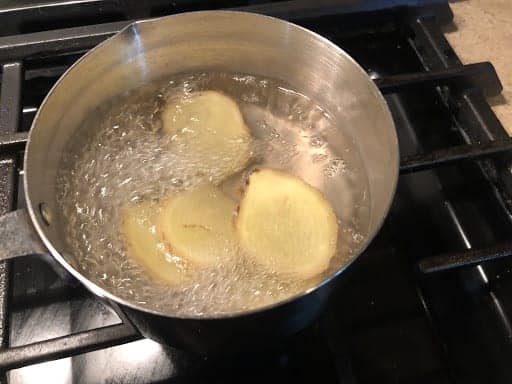 Apple Cider Vinegar (I use Bragg's Organic with the "mother")
May help with weight loss

Helps control blood sugar

Lowers cholesterol and improves heart health
Ginger
Treats nausea

May reduce muscle pain and soreness

Lowers blood sugar
Lime
High in Vitamin C

Promotes healthy skin

Helps with weight loss
Honey
Rich in antioxidants

Helps lower blood pressure

Lowers triglycerides
You can even boost this baby up to a mocktail by adding some seltzer water, a slice of lime, and a sprig of lavender, and serve in a cocktail glass over ice. And if you really want to go all out, salt the rim of the glass and you'll have yourself a perfect summer drink that quenches your thirst, hydrates your body, balances your gut, and boosts your energy. Wow, that nearly sounds too good to be true!
It took me a while to experiment with different amounts to find the balance I like most. There's no right or wrong. It's your own drink.
My Switchel Recipe
Here's my basic recipe, followed by some tricks and variations so you can play around and come up with your favorite, personalized combination:
5 c water

5 slices of ginger

Juice from one lime

½ c honey
Preparation
Put the ginger in a pot with one cup of water and bring to a boil. Reduce heat and simmer for 5 minutes. Turn off the heat and let cool. Mix all ingredients and enjoy.
Substitute honey with molasses or maple syrup

Use lemon or grapefruit instead of lime to balance flavors

Add basil or mint

Do whatever you want
Give it a try and let me know your favorite ingredient combinations. And bring it with you wherever you go in a stylish water bottle, so you can sip your Switchel all day long!
Did you make this Switchel recipe? Let us know in the comments below!
Let us know how you made your Switchel! What ingredients did you use?
Content and photographs are copyright protected. Sharing of this recipe is both encouraged and appreciated. Copying and/or pasting full recipes to any social media is strictly prohibited.