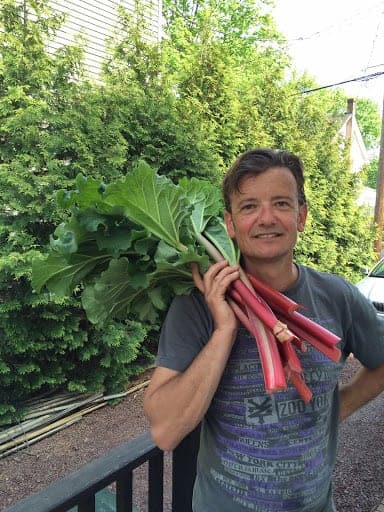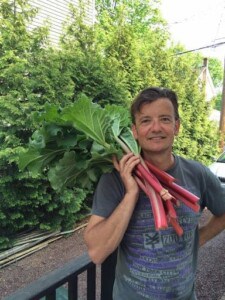 Yes! That's right! Rhubarb is a perennial plant, and once established it'll grow back for decades. Officially it's a vegetable, but most people consider it a fruit..and for culinary purposes, it's used as a fruit.
As a child, I would eat the succulent, super-tart stalks raw while helping out in my father's garden...not so much anymore. But I still love to grow rhubarb and luckily Viana knows how to turn it into a delicious sweet pie (see recipe below).
In our garden, I have one rhubarb plant that grows next to my whatever the plural of asparagus is. It's exciting to see these two vegetables starting to poke up from the ground as soon as the soil is workable in the spring. But don't be fooled by the little rhubarb sticking its leaves above the ground. Once mature, your rhubarb will easily grow to 3 x 4 feet, and even bigger if soil conditions are optimal!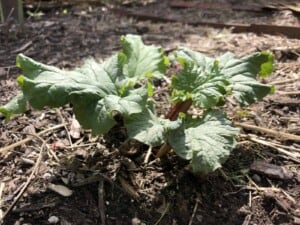 Growing Rhubarb
So go to your local garden center and buy a rhubarb crown. Plant the crown as soon as the ground is workable (or in fall, after dormancy has set in). Plant the roots 2 inches below the surface. If you plant more than one, make sure to keep them at least 4 feet apart. Add some good organic material like compost and make sure to keep the plant moist for the first couple of days. Please don't use chemical fertilizers. It's not just bad for the groundwater, but could also kill the young plant by coming into contact with nitrates in the fertilizer.
Keep your plant heavily mulched. This will keep out weeds while also keeping in moisture. As long as you keep your rhubarb area weed free, insects and diseases won't bother your plant.
Harvesting Rhubarb
Harvest your stalks once the plant is established (second or third growing season) and the stalks have grown to about 12-18 inches (ask your garden center how old their plants are...they may already be 2 years old!). Gently twist each stalk and it should break off close to the crown. You can also use a knife to cut it. Leave the smaller stalks to keep growing, as you don't want to harvest the entire plant at once. Cut off the leaves...they're toxic to eat.  
Keep harvesting from your plant for the next 8-10 weeks. A good rule of thumb in our area (zone 6) is to stop harvesting by July 4th. Leave 2 stalks to ensure next year's production. In late fall, clean off remaining plant debris, give it some good compost to add nitrogen, and cover with mulch for a warm winter bed.
Ok, so maybe the title was a little misleading (as you still have to give it compost & mulch), but really, compared to replanting all the other vegetables every year, taking care of rhubarb is a piece of cake. And that's why it goes so well in a cake...or pie.
Fun Facts about Rhubarb
Rhubarb is usually considered a vegetable.  In the United States, however, a New York court decided in 1947 that, since it was used in the United States as a fruit, it counted as a fruit for the purposes of regulations and duties.  A side effect was a reduction on imported rhubarb tariffs, as tariffs were higher for vegetables than fruits.

June 9th is National Strawberry-Rhubarb Pie Day

1 pound of fresh rhubarb yields about 3 cups chopped or 2 cups cooked

Rhubarb was grown in China and traded for medicinal purposes as early as the 16th century

The redder the stalk, the sweeter the taste

The leaves attached to the rhubarb stalk are poisonous

Rhubarb prefers to grow in a cool, damp climate, as it struggles in dry or hot climates

Rhubarb is a good source of fiber, antioxidants, and vitamin K

According to the

Farmer's Almanac

, rhubarb can be used to lighten your hair
Now that you've learned how to grow rhubarb, let's make Viana's strawberry-rhubarb pie! The delicious sweet-tart combination will have you coming back for seconds!
📝 Recipe
Strawberry-Rhubarb Pie
Now that you've learned how to grow rhubarb, let's make Viana's strawberry-rhubarb pie! The delicious sweet-tart combination will have you coming back for seconds!

Ingredients
Pie Crust
1

c

cold unsalted butter, cut into pea-sized pieces

2-½

c

all-purpose flour

1

teaspoon

salt

1

teaspoon

sugar

¼

c

ice water

1

egg

Splash

of cream

Coarse sugar
Pie Filling
3

c

rhubarb (1 lb), cut into ½" chunks

2

c

strawberries, sliced

⅔

c

sugar

¼

c

cornstarch
Instructions
To begin, simply mix together the flour, salt, and sugar. Next, add in the cold pieces of butter and briefly mix them in. Lastly, while the mixer is turning, gradually add in the ice water, 1 tablespoon at a time until it all starts to stick together without crumbling apart. Take the dough out of the bowl and separate it into 2 equal balls. Wrap each ball in plastic wrap and place in the fridge for up to an hour.

While the dough is chilling, combine all pie filling ingredients and toss well. Let rest for 30 minutes to 1 hour.


Preheat oven to 375℉. Roll out dough, one ball at a time. Lightly grease your pie plate with butter & place your first rolled-out crust in the bottom. Fill the bottom crust with your strawberry-rhubarb mixture. Slice a few steam vents on top and create whatever artistic edge you'd like on your pie crust.


Brush the top with an egg wash (beat one egg and a splash of cream and brush it all over the top crust). The final step is to cover the top of the pie with a crazy amount of coarse sugar.


Bake for about 50 minutes or until crust is golden brown and filling is bubbling and thickened. Enjoy with a dollop of whipped cream or a scoop of your favorite vanilla ice cream!

Notes

Calories:
371
kcal
|
Carbohydrates:
38
g
|
Protein:
3
g
|
Fat:
24
g
|
Sodium:
305
mg
|
Potassium:
218
mg
|
Fiber:
2
g
|
Sugar:
19
g
|
Vitamin A:
790
IU
|
Vitamin C:
25
mg
|
Calcium:
58
mg
Content and photographs are copyright protected. Sharing of this recipe is both encouraged and appreciated. Copying and/or pasting full recipes to any social media is strictly prohibited.
Are you growing rhubarb in your garden this year? Let us know in the comments below!
Do your friends enjoy yard & garden articles too? Share this article with them and let us know what you all think by commenting below!
Tag your photos with #maplewoodroad on social media and share them on our Facebook page! Have any questions? Ask on our Maplewood Road Community Facebook page and I'll be happy to help. 😊
Subscribe to our weekly newsletter for more great yard & garden articles!
And don't forget to check out our Shop for all your gardening needs!