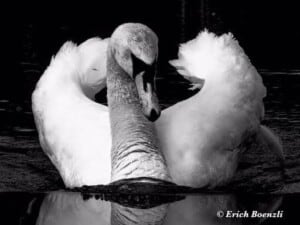 Actually, you probably already go birding. Most people have been birding one way or another since we were children. Our parents took us to the local pond to feed the ducks some stale bread (not the best idea). Or our uncle took us to the local park and we shared some of our sandwich with the pigeons (this one neither).
Maybe we had a bird feeder out in winter and marveled at the bright red cardinals visiting it. Or we were lucky enough to put up a hummingbird feeder and couldn't stop staring and wondering how these birds are actually able to fly like that.
Or when you visited your grandmother's house and she pointed out the baby robins in the bushes, waiting for their mama to bring some juicy worms. Or when we built a birdhouse and put it up in our backyard and witnessed the wonder of an egg turning into a full fledged bird. So did the egg come first? But then where did the egg come from?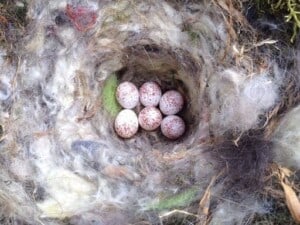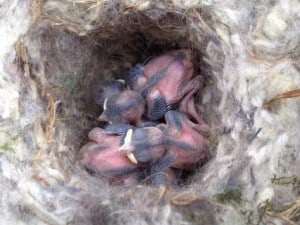 As we got older, we entered the second stage of bird awareness. Wondering "why are all the starlings sitting on the telephone line that crosses the street right after the car wash…" Or the time in spring when you tried to sleep in a bit, but the chorus of birds that started before dawn disagreed with your idea. Or that time you enjoyed a leisurely bike ride, but a goose thought you were after their youngster and decided to take you down…. Warning: Vicious attack video…. 🙂
(Goose attacking me while I was riding my bike along the towpath) - (Video by Erich Boenzli)
I bet we all have our own personal bird stories and I'd like you to share them here!
Go Birding!
Birds are everywhere. There's no way to get away from them...and that's a wonderful thing! There's a reason birdwatching is the fastest growing outdoor activity segment in the US.
It's an easy way to reconnect to nature, be curious, ask questions again (not googling them), and just simply disconnect from your "other world."
I was lucky. As a child, every summer I spent a few weeks at my grandparents' place. My grandfather worked as a gardener at a privately owned castle and took me to work with him every day. I was free to roam around the property (basically unsupervised) and naturally got into all kinds of trouble. But whenever he had a break, he would teach me about the local birds, where they live in the trees and bushes, what they eat, how they sound, where they raise their young, and how they interact.  
I think I was about 11 when my parents - finally, after much begging - got me my first pair of binoculars and a simple bird guide with pictures of the most common local birds, with a little checkbox next to each one.
And that was the end of the beginning. I wanted every checkbox checked as fast as possible. But I soon realized that I found birds that weren't in my book. What?! Did I just discover a new bird species?! Of course not. But I quickly learned that the more I know, the less I know.
And that was the beginning of an everlasting interest in birding and everything associated with birds and nature.
Remember,
If you're an artist looking for inspiration, go birding
If you're a poet looking for inspiration, go birding
If you're an architect looking for inspiration, go birding
If you're a survivalist looking for inspiration, go birding
If you're a naturalist looking for inspiration, go birding
If you're a cook (oops, maybe not this one, but some of them sure taste great…)
So what I'm trying to accomplish here is to make you hungry to go out there and take advantage of this wonderful and free resource, to deepen your relationship with nature. I put together a (incomplete) list of local and national resources as a starting point. Hopefully this will wake up a latent interest in you that was already there but never fully fledged.
And finally:
The Bird is the Word - Performed by  Peter Griffin (Family Guy)
Love birds? Read more of Erich's articles about birds:
Do you love birding? Let us know in the comments below!
Do your friends enjoy great bird & nature articles too? Share this article with them and let us know what you all think by commenting below!
Tag your photos with #maplewoodroad on social media and share them on our Facebook page! Have any questions about this recipe? Ask on our Maplewood Road Community Facebook page and I'll be happy to help. 
Subscribe to our weekly newsletter for more great articles!