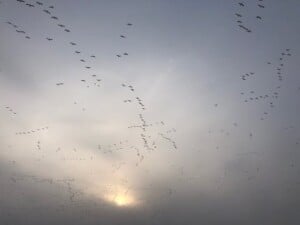 It's the middle of March and in our area (the Northeastern US), the ground and the lakes have mostly thawed and the first croci and daffodils are peeking up. The clock has been put forward an hour and, just in general, there's change in the air.
We feel a little more restless, more energetic, and more excited than we have over the last few months. We call it spring fever.
Zugunruhe
We're not the only ones. On a global scale, there's another term kicking into high gear right about now. It's called Zugunruhe. And it affects billions of birds and other migratory animals.
Zugunruhe is a German compound word consisting of Zug (move, migration) and Unruhe (anxiety, restlessness). It's the perfect description of the anxious behavior in migratory animals, especially in birds, during this time of year. Zugunruhe was discovered by placing birds in a round cage at night. When the birds felt it was time to move, they became restless and started to jump/flutter in their migratory direction.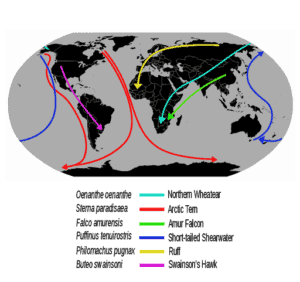 Long Distance Migration
Ornithologists recognize up to 12 types of migration, with seasonal migration being the best studied and best understood. The classic north-south long distance migration in our area is the most pronounced movement, with billions of birds heading south for the winter and returning north in spring. This is also the type of migration we are most aware of and even get emotional about. Think of the joy the first swallow in spring brings. Or the anticipation of the first hummingbird back at the feeder. Or the return of the dawn chorus with the returning and resident birds competing for the best nesting locations and mates.
But why do some birds undertake this incredible high risk journey year after year? Simply stated, to enhance their rate of survival. And how do they know when to leave and when to return? It's by the length of the day. This part seems to be well understood.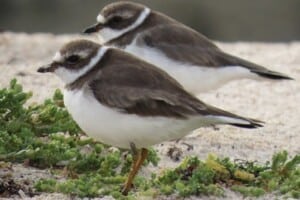 How do they actually find their way, though? That part is a bit more complicated and research is still ongoing. Currently, science thinks it's a combination of using celestial cues from the sun and stars, the earth's magnetic field, and mental maps.
But, timing their travels on the length of the day does have a huge drawback. Climate change. The timing of arrival at their breeding grounds is in sync with the local flora and fauna. By the time their chicks hatch, their favorite food source is at peak abundance. But while the length of day doesn't change, climate change changes the timing of this much needed peak abundance of resources. Therefore, by the time their chicks hatch, their main food source to raise them has often peaked and is in decline.
We don't just lose some species due to the south migration in winter, we also gain some bird species in winter. Think of all the hundreds of thousands of snow geese that forage every winter in harvested corn fields. They just start out a little further north and therefore our area is their "south."
Other Types of Bird Migration
The second most common type of migrants are nomadic/vagrant. These include bluejays, nuthatches, and some finches. They migrate in search of food, either triggered by cold weather or by tree-seed crop failures. This type of migration can sometimes be called irruptive. This means that some years we don't see certain species, and then suddenly one year they seem to be everywhere.
Then there's the opportunistic migratory birds. Some bird species come down from the north, spend some time in our area, and if they run out of food sources, keep migrating further south.
And then there's the partial migrants, like American Robins (Turdus migratorius). Some of the northern populations of these birds fly south in winter, while southern populations stay put. Sometimes these northern populations even leapfrog a non-migratory population.
There's even altitudinal migration. Birds living in higher altitudes move to lower altitudes in winter in search of food and shelter.
The study of migration wasn't always understood and accepted. Aristotle believed that swallows and other birds that are not around in winter must be in hibernation, in a state of torpor.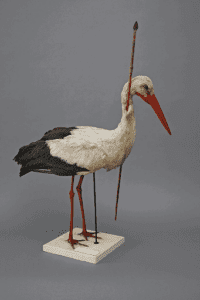 This theory stayed popular well into the 18th century. But in 1822, a White Stork with an arrow through its neck, but still alive, was found in Germany. The arrow was from central Africa. This discovery (nicknamed "Pfeilstorch" or "Arrow Stork") changed the discussion of where birds spend their winters. Twenty five more "Arrow Storks" were found over the next few years.
Let The Show Begin
So right now, we're entering this super exciting time of year. I'd like to encourage you to go outside and look for the first swallow. Write the date on a calendar. Do this with as many bird species as you feel like, and then next year, see how closely these dates match.
What's your favorite bird that you can't wait to return every year? Mine is the large and rangy Osprey (Pandion haliaetus), which is a quite common nesting bird in our area along the Delaware River. Over the last ten years, our local Osprey that nests just outside of town has arrived within the same 7-day period over this time!
Amazing Facts About Bird Migration
About 40% of all bird species are regular migrants

Bar-headed Geese (Anser indicus) are the highest-flying migratory birds, crossing the Himalayas at 29,000 ft.

Arctic Terns (Sterna paradisaea) fly up to 49,700 miles each year (including 22,000 miles from pole to pole each year). In their lifespan, they're flying a distance equivalent of three trips to the moon and back.

Penguins migrate by swimming

Bar-tailed Godwits (Limosa lapponica) can fly non-stop for 8 days (covering up to 7,000 miles)

Hummingbirds are the smallest migratory birds

Before migrating, many birds enter a state of hyperphagia, where hormone levels make them drastically increase their body weight to store fat to use as energy while traveling.  Some bird species may as much as double their body weight before starting their trip.
Love birds? Read more of Erich's birding articles now:
Did you go out and do some birdwatching, watching the bird migration? Let us know in the comments below!
Do your friends enjoy great nature articles too? Share this article with them and let us know what you all think by commenting below!
Tag your photos with #maplewoodroad on social media and share them on our Facebook page! Have any questions? Ask on our Maplewood Road Community Facebook page and I'll be happy to help. 😊
Subscribe to our weekly newsletter for more great articles!