On our little quarter-acre property, we often grow 30+ different varieties of fruits, veggies, & herbs...in addition to playing cornhole games, throwing dinner parties, & relaxing in the hammock on sunny days! I'm not going to list all of them here today, but here are a few veggies to get you started & are easy to grow...some of our favorites that we have in the garden every year.
It is certainly possible to grow all of these veggies from seed, but it's much easier & faster to buy small plants from your local nursery and plant them directly in the ground. Support local business and check out your local nursery! They often raise their plants organically and have a great selection of veggies you won't find anywhere else!
For all of your plants, cover the soil with about 2" of mulch (which is great for moisture retention in the soil and keeping weeds down), but keep the area within about 2" from the main stem clear of mulch (otherwise, too much moisture right up against the stem can cause illness in the plant).
Tomatoes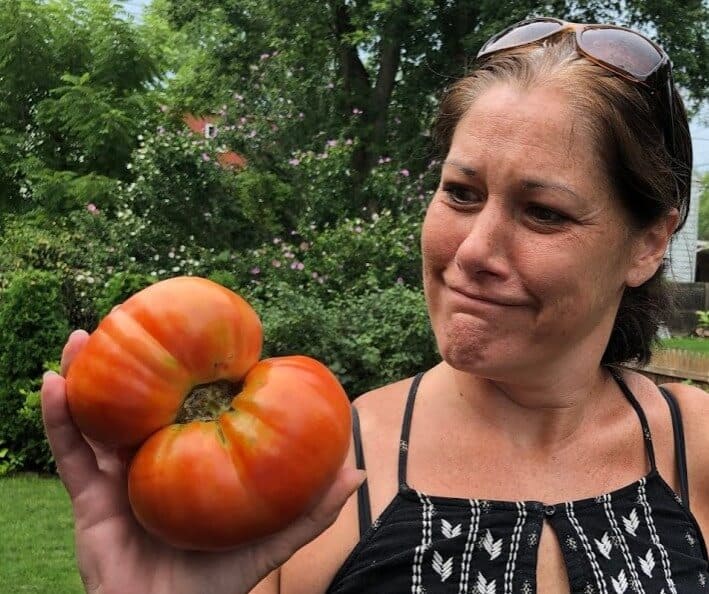 There are a huge variety of tomato plants you can grow in your garden. Small Cherry or Grape tomatoes (sweet flavor, bursting with juice - great for eating right off the vine or adding to salads)...large Beefsteak tomatoes (mild & juicy - great on burgers or grilling or salsas)...Green tomatoes (tart flavor - delicious fried or on sandwiches)...Plum or Roma (meaty, with few seeds - perfect for making tomato sauce)...Yellow tomatoes (mild, less acidic yet almost citrusy - a delicious addition to salads). The list goes on and on.
There are also 2 main types of tomatoes - determinate and indeterminate.  
Determinate

:  These plants grow to a height of about 4 feet and produce their fruit at approximately the same time (usually within a few weeks). This is perfect if you're growing tomatoes to make sauce.  Because of their smaller size, they're perfect for containers as well.

Indeterminate

:  These plants will continue to grow taller (often to at least 6 feet) and will continually produce fruit throughout the season. For this reason, they'll need support with stakes or cages.
The label on your tomato plant may also tell you if it's Early, Mid, or Late Season. What this means is that the plant will mature and produce fruit at less than 65 days (Early), 70-80 days (Mid), or 80+ days (Late). We like to get a variety of "seasons" so we'll have tomatoes throughout the entire summer.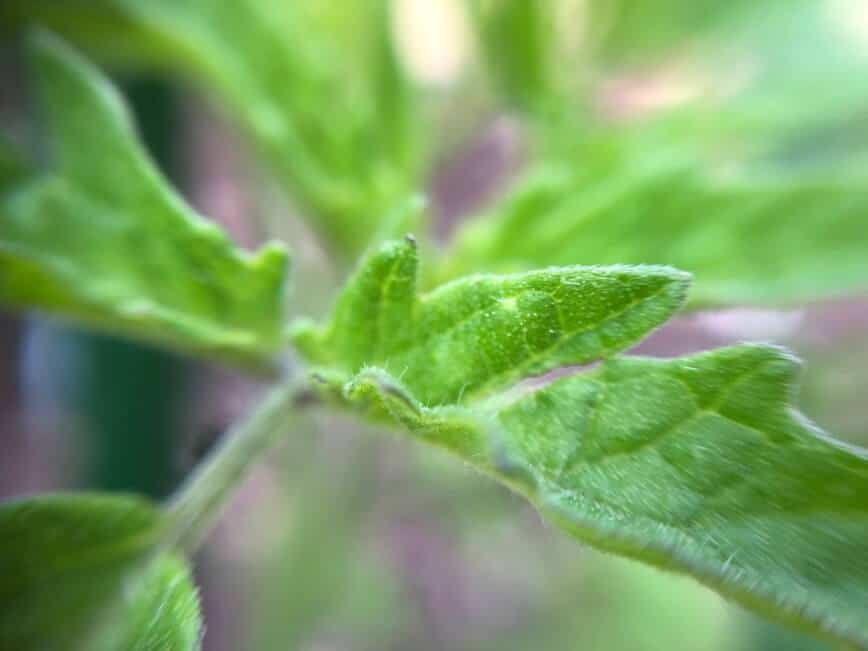 Tomatoes should be planted in full sun (6+ hrs of direct sun per day) and require about 1-2 inches of water per week. Some common diseases & pests may include blight, leaf spot, wilt, and others, along with pesky insects.
Read my article here on how to properly plant tomatoes in your garden.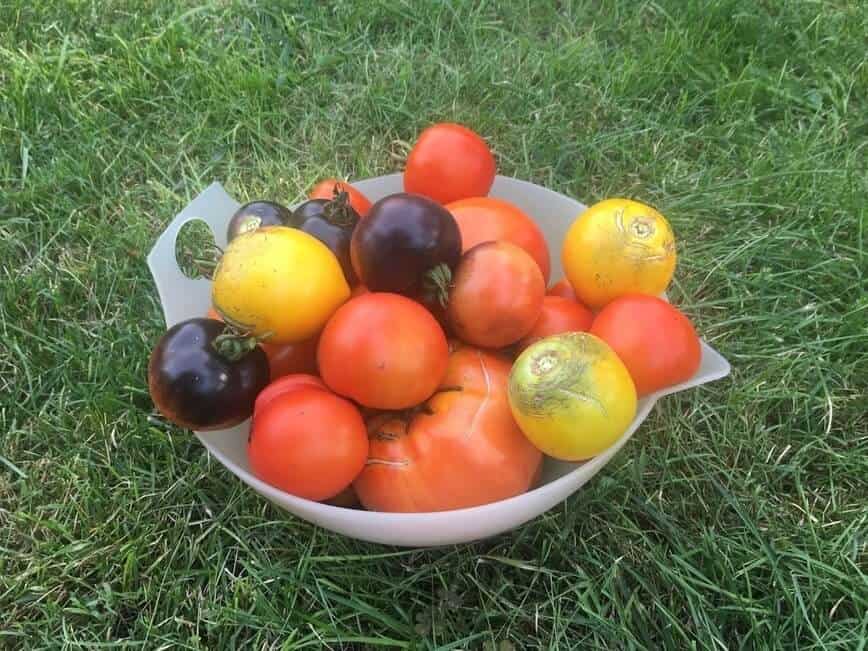 Here are a few of our recipes that include tomatoes:
Cucumbers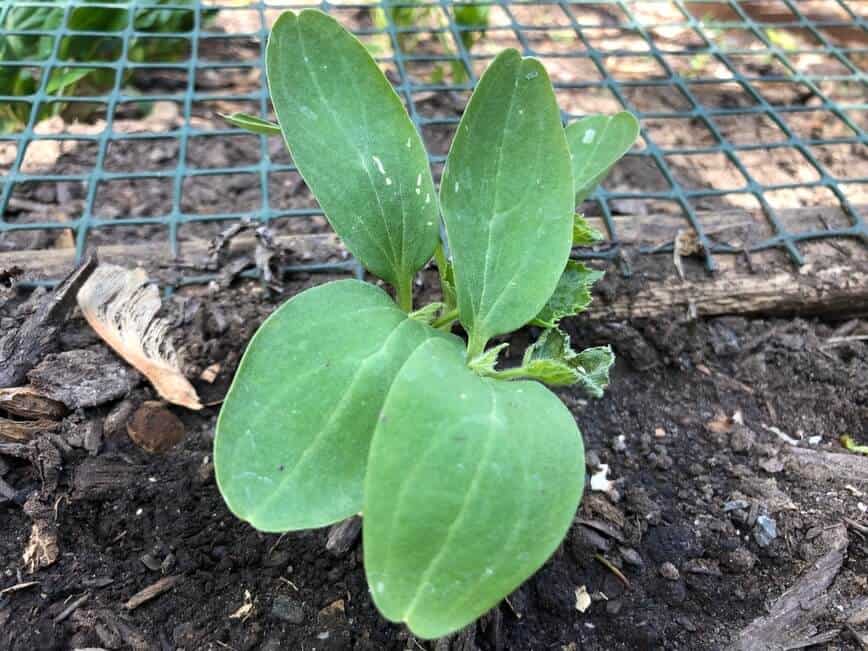 Believe it or not, there are several different types of cucumbers. Some of the most common you'll find include Slicing (mild flavor, thin skin - for slicing in salads, sandwiches, etc)...Burpless Slicing (sweeter & fewer seeds)...and Pickling (shorter length - used for pickling).
Cucumbers like to be planted in full sun (6+ hours of direct sun per day). Most types of cucumber take about 60 days to produce fruit and each plant typically produces at least 10 cucumbers. There are bush varieties, but most types are quite large and sprawl all over the ground, so be sure to give them a lot of room. Giving them a support to crawl on is also an option, which may save you some precious garden space.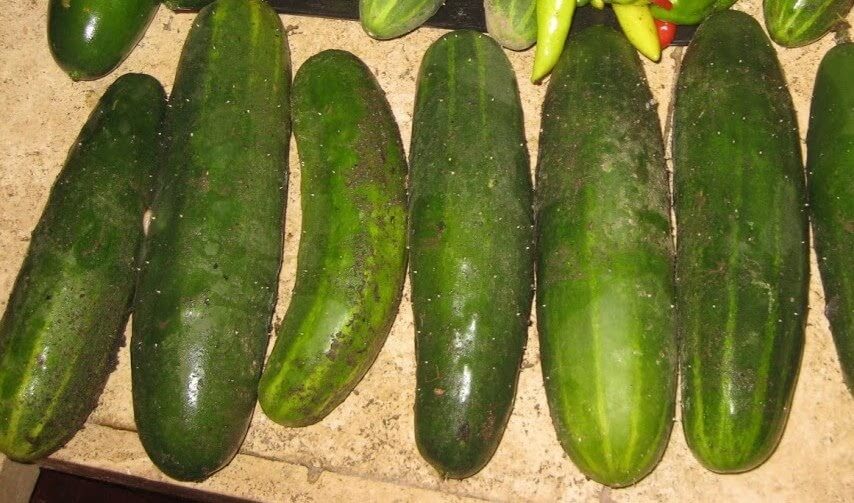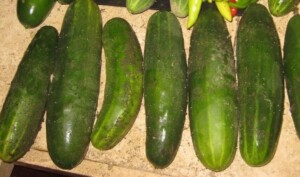 These plants are easy to grow and require about 1 inch of water per week. Some common diseases and pests may include powdery mildew, wilt, mosaic virus, aphids, beetles, and others.
We love to eat cucumbers in many different types of salads, whether it's on a bed of green lettuce, with onions & sour cream, or with tomatoes and rice wine vinegar. Their mild refreshing flavor is also a real treat in a cucumber gazpacho on a hot summer day.
Squash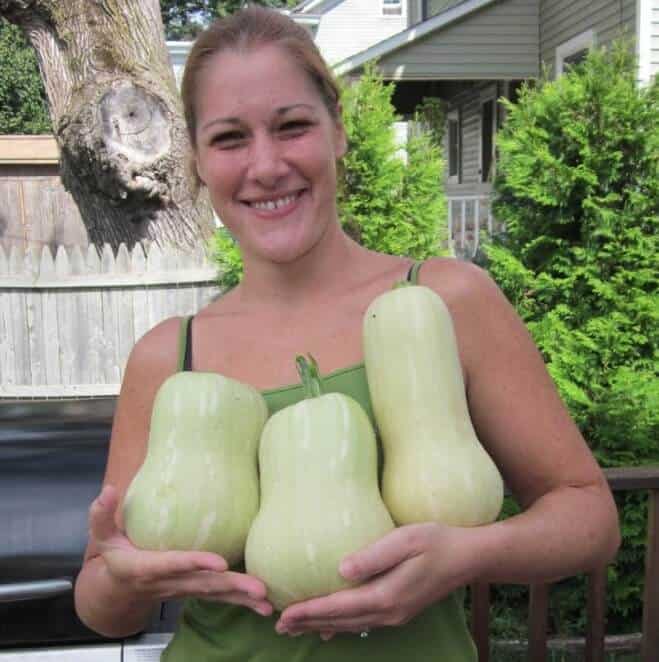 Like several other vegetables, there are many different types of squash that are easy to grow for the home gardener. These include but are certainly not limited to Yellow & Green Zucchini (mild flavor - great sauteed or roasted, grilled, or in zucchini bread)...Butternut Squash (my personal favorite squash, sweet flavor - delicious sauteed, roasted, or made into a creamy soup)...Summer Squash (mild flavor, great sauteed or roasted - most are bush variety, so take up less space in your garden)...Acorn Squash (small size - great flavor when baked)....Spaghetti Squash (stringy inside - popular as a replacement for spaghetti)...Pumpkins (well, you certainly know these!)...and many more. If you'd to try something different...Did you know you can eat zucchini blossoms?
In our garden, we usually grow Butternut Squash & Green Zucchini...these are our favorites. Plus maybe a few pumpkins for Halloween. Most types of squash are prolific producers (except for pumpkins), and you may find yourself giving some of your harvest to neighbors. Plants typically take about 70 days to reach maturity and produce fruit.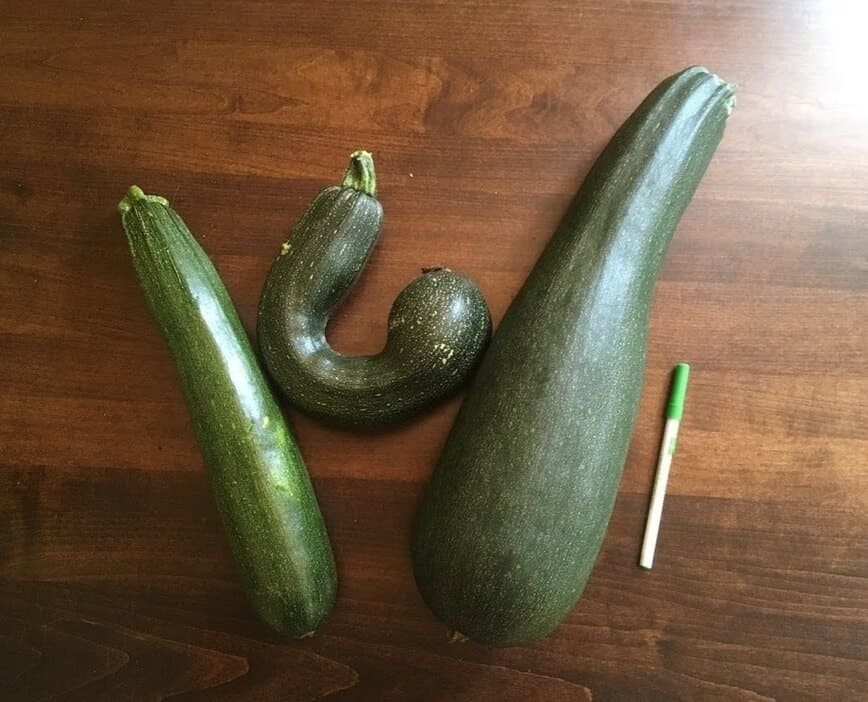 Squash requires full sun (6+ hours of direct sun per day) and deep watering about once a week...the soil should be kept moist to a depth of about 4 inches. Some common diseases and pests may include powdery mildew, blight, mosaic virus, blight, squash bugs, cucumber beetles, and others.
While there are a few bush varieties, most squash plants are quite large and sprawl all over the ground, so be sure to give them a lot of room. Giving them a support to crawl on is also an option, which may save you some precious garden space.
Bell Peppers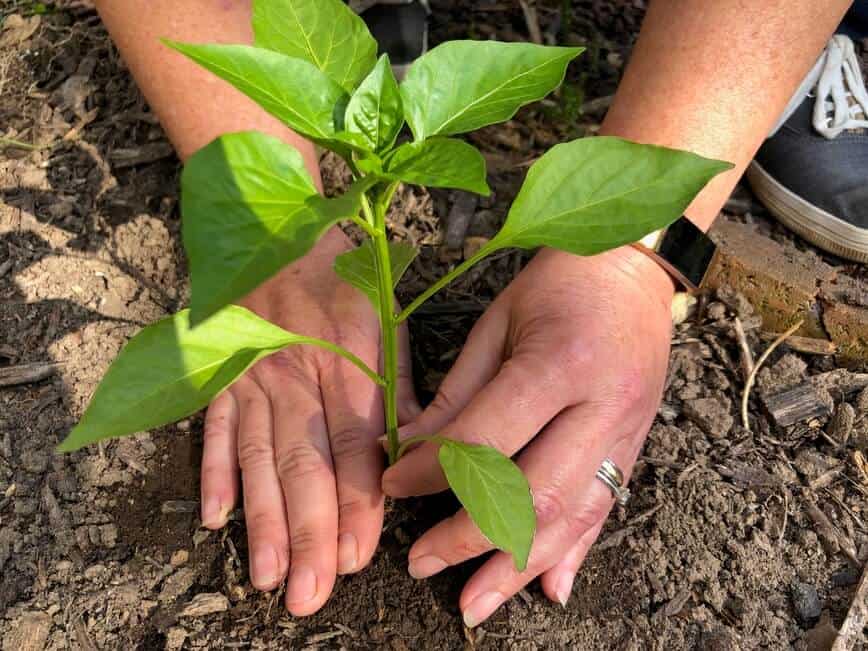 Let me start by directing you to a page that will dispel myths about bell pepper colors, genders, etc. 
Now that we've covered that, let's get on to growing these delicious veggies (fruits)! In our garden, we typically plant about 6 bell pepper plants for the two of us, because they're not only delicious fresh, but also freeze exceptionally well. They're so easy to grow and don't take up a whole lot of room in the garden...the only hard part is waiting for them to ripen so we can enjoy their sweet flavor! While green bell peppers are certainly delicious, the yellow, orange, and red are much sweeter.
Sweet bell peppers are ready for harvest anywhere from 60 to 90 days, depending on the variety (hot peppers may take 150 days!). While bell peppers can be sensitive to temperature changes (which can affect the amount of fruit they produce) on average, each plant will produce 3 to 4 lbs of peppers in a season.
Bell pepper plants are another one that loves full sun (6+ hours of direct sun per day), and 1-2 inches of water per week. As the plants grow, they may need a little support from stakes, as the peppers themselves can get quite heavy and pull the plant over.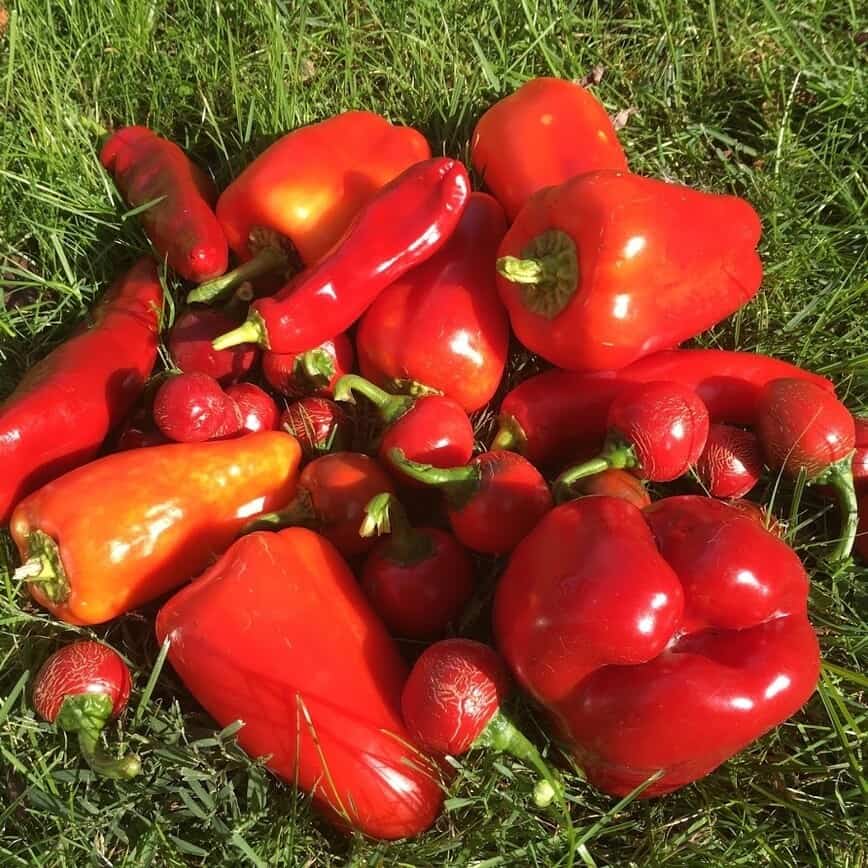 When you first plant your peppers, pinch off the first couple flowers that bloom...this will allow the plant to establish its roots and put energy into growing big and strong before fruiting. Some common diseases and pests may include aphids, cutworms, blight, powdery mildew, leaf spot, blossom end rot, and others.
In our garden, we purposely plant more than we can eat in a summer. If you find that you have more than you need, simply cut them into thin slices, remove seeds & pith, place in Ziplok bags and press out as much air as you can (or, even better, in a bag you can vacuum seal), and freeze. You'll be amazed how they taste fresh from the garden in the middle of winter!
In addition to being great in a stir-fry, some of our favorite recipes including peppers are:
Leeks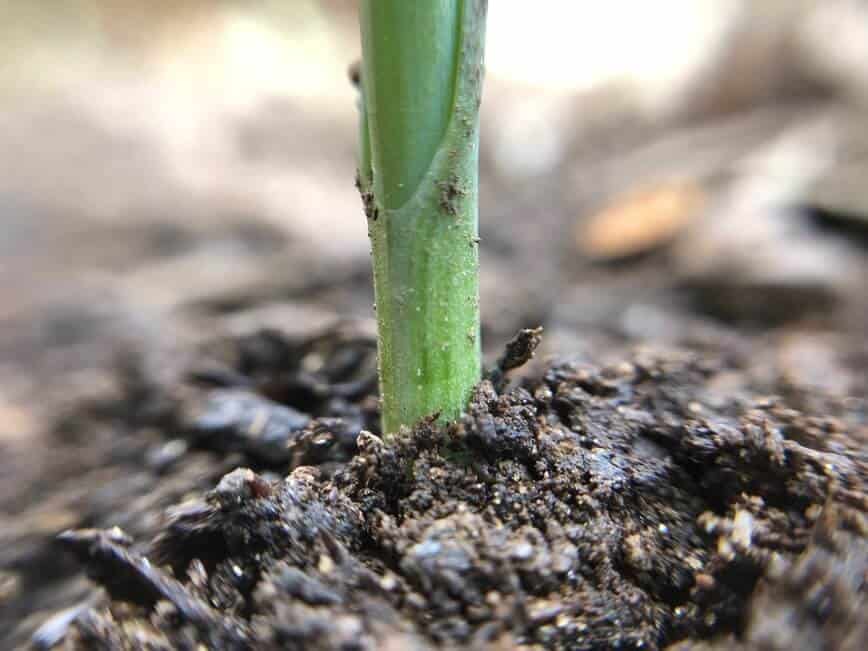 Leeks take up very little space in your garden, but add a lot to your culinary repertoire. They're very versatile and taste delicious raw, sauteed, steamed, or baked, with a mild onion-like flavor. These plants are from the allium family, which includes chives, scallions, garlic, onions, and shallots.
Plant your leeks in full sun (6+ hours of direct sun per day) to partial shade (2-4 hours of direct sun per day), and keep the soil moist with about 1" of water per week. Most leeks take anywhere from 70-120 days until harvest, so these will be ready for picking just in time for fall dishes. You can harvest them earlier, but usually wait until they measure about 1 inch thick. There are only a few diseases and pests that can bother your leeks, but they may include rust, powdery mildew, leek moth, slugs, and others.
While growing, in order to keep the stalks white and tender, continue mounding soil up against them. Or you can initially plant them in a trench and then gradually add soil to fill up the trench while they grow. Once the plants have reached 1" in width, simply pull up the whole plant from the ground, rinse well, and enjoy!
Purple Potatoes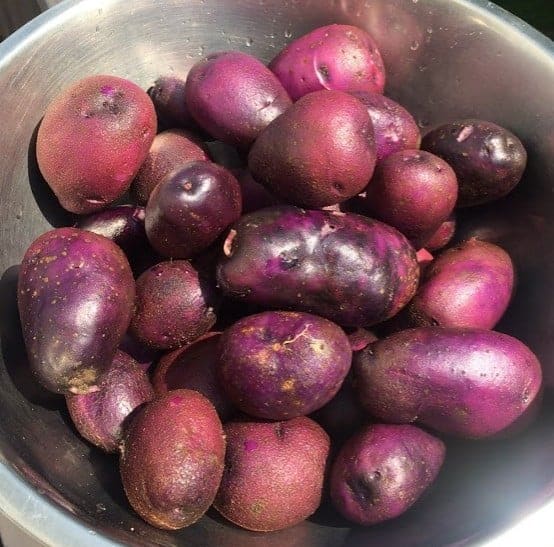 Purple potatoes are not only delicious and healthy, but they're fun!  I love just saying the name...Purple Potatoes! These tubers are originally from South America and taste very much like their paler cousins, but have one significant benefit...they have almost 4 times the antioxidants, thanks to their purple color!
Where can I find purple potatoes you ask? Easy! Either check with a local nursery if they have purple "seed" potatoes or get some at the supermarket and wait for them to start growing those "eyes." These guys like to grow in full sun and give them 1-2 inches of water per week.
When planting, make a mound of soil and place the "seed" potato about 3" deep (keeping mounds about 1 foot apart). Before long, you'll start to see a plant emerging from the top of the hill. As the plant grows taller, keep mounding up soil. The potatoes like to grow in these loose soil hills and you want to keep them in the dark so they don't get sun scald (which would render them inedible).  
After 3-4 months, you'll notice that the plants start to turn yellow/brown and droop. This is your sign that it's time to dig up your potatoes! You can expect to harvest anywhere from 5 to 10 potatoes per plant. Using a small hand rake, very gently dig into the mound of soil and the ground around it, and you'll find potatoes. You can lightly brush off some of the dirt with your fingers, but don't wash them until you're ready to use them (you may inadvertently damage the skin). These don't keep as long as other potatoes, but you can store them in a cool, dark, dry place for several weeks. Cook & prepare just like you would any other potato. Enjoy!
Beets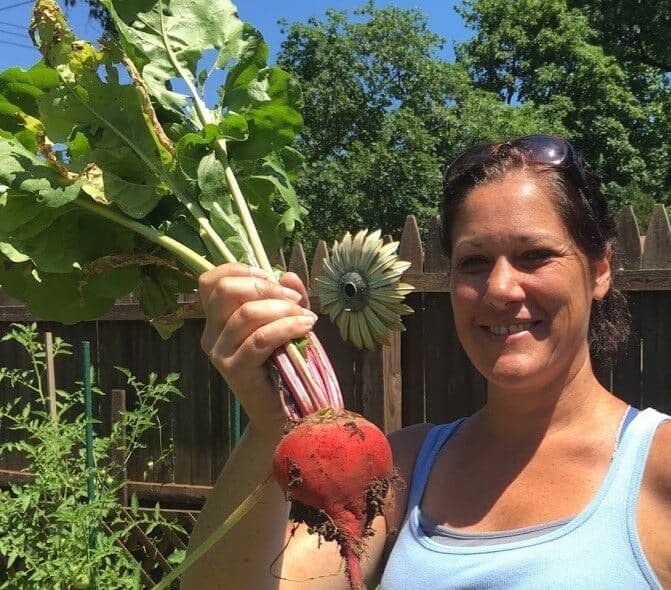 Beets are so easy to grow & so delicious! You can eat them raw and they make a wonderful addition to a salad. Or you can steam, stir fry, pickle, roast, or make a soup! They're available in so many beautiful varieties, including red, golden yellow, and even Chioggia red-and-white striped!
These veggies like to grow in full sun (6+ hours of direct sun per day) to partial shade (2-4 hours of direct sun per day), and keep the soil moist. Some common diseases and pests may include powdery mildew, leaf spot, rust, aphids, leaf miners, cutworms, and others.
Time to harvest is about 50-60 days, but you can harvest them earlier if you like. It's recommended that you don't let the greens get more than 6 inches tall or they can become tough and woody, but we've let them get much taller & they're still yummy!   
You can also harvest the beet greens, which taste similar to Swiss chard. Either cut all the greens when you harvest the vegetable, or cut one leaf from each plant as they're still growing (be sure to leave plenty for the growing vegetable still underground).  
So get to your local nursery & pick out some of your favorite veggies...& try a few new ones too. Then get some dirt under your fingernails and plant your veggie garden!
What veggies are you growing this year? Which ones are your favorites?
Are you planting a vegetable garden this year? Let us know in the comments below!
Do your friends enjoy gardening too? Share this article with them and let us know what you all think by commenting below!
Tag your photos with #maplewoodroad on social media and share them on our Facebook page! Have any questions? Ask on our Maplewood Road Community Facebook page and I'll be happy to help. 😊
Subscribe to our weekly newsletter for more great gardening articles!