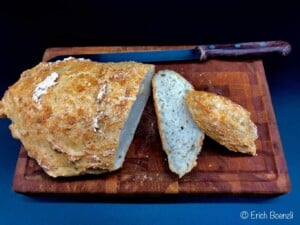 Imagine you're in the kitchen, brewing your morning cup of coffee, when suddenly you think about having a delicious, sumptuous, crusty, soft piece of bread with tonight's dinner. Nope, ain't going to work. You'll never have time to get all the ingredients, mix and knead everything, wait for it to rise, knead again, clean up, bake, and finally eat it, right? Wrong.
This is the story of four ingredients, a Dutch oven, a bowl, a towel, and an oven.
It's 7 am, the water in the coffee maker is heating up, and you have 3 minutes to spare. Grab a bowl, add 3 cups all-purpose flour, 2 teaspoon salt, ½ teaspoon RapidRise instant yeast, and 1-½ cups lukewarm water. Mix with a spoon until you get a gooey, shaggy mess. Put a towel over the bowl and set it on the counter. Now pour your coffee and go wherever you have to go.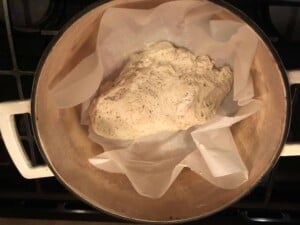 It's 5 pm and you're back home. Put the lid on the Dutch oven (either lined with parchment paper or sprinkled with some cornmeal), put it in the oven, and set it for 450°F. When your oven lets you know it has reached 450℉, take the really, really hot Dutch oven out, plop in the messy dough, put the lid back on, and let the magic happen. Thirty minutes later, remove the lid, smell the heavenly aroma, and let it bake for another 15-20 minutes until it's nicely browned. Let it cool completely on a rack and get ready for some serious bread loving. 
UPDATE:  If you don't have a Dutch oven, no problem! Use an oven-safe skillet instead! A half hour before you're ready to bake, place the dough on a lightly floured surface, and with floured hands punch the dough, fold it a couple times, and let it rest another 30 minutes in an oiled bowl covered with a towel. Preheat your oven to 450℉, with the skillet inside the oven. After the 30 minutes are up, make a few score marks in the top of the dough, place it in the preheated skillet, and bake for about 40 minutes or until desired brownness. 
No-Knead Bread Ingredients
3 c all-purpose flour

2 teaspoon salt

½ teaspoon RapidRise instant yeast

1-½ c warm water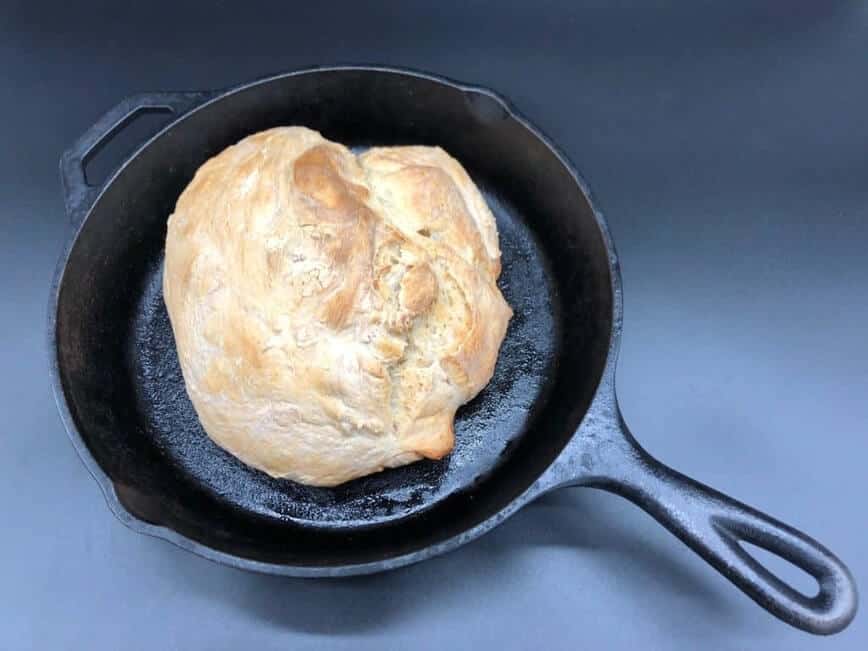 Looking for more great recipes?
Did you make this No-Knead Bread recipe? Let us know in the comments below!
Do your friends enjoy delicious recipes too? Share this article with them and let us know what you all think by commenting below!
Tag your photos with #maplewoodroad on social media and share them on our Facebook page! Have any questions about this recipe? Ask on our Maplewood Road Community Facebook page and I'll be happy to help. 😊
Subscribe to our weekly newsletter for more great recipes!
Content and photographs are copyright protected. Sharing of this recipe is both encouraged and appreciated. Copying and/or pasting full recipes to any social media is strictly prohibited.