As it turns out, Love is the perfect word for this rustic wood sign...because it was a labor of love. I went through Plan A, then Plan B, then Plan C, until I finally figured out the best way to make a painted wood sign that I would love in my home.
Plan A: You see, I had this idea that I would get my hot glue gun and draw this elaborate design onto a piece of wood, then spray paint it, and finally remove the dried glue to reveal something beautiful. Yea, no. While it did work (kinda), manipulating a hot glue gun for intricate details, even spelling out words, was more of a struggle than I anticipated. Straight lines and beautiful curves, not so much. More like squiggly things that looked like a kindergartener went to town with my glue gun.
Plan B: Ok, now I've got it. Since the hot glue gun is too difficult to manipulate for fine details, I'll use regular Elmer's glue! That bottle will be much easier to handle! While I was able to draw much more detail, I ran into two problems. One, drawing thin lines just made the glue dry into the wood, unable to be removed afterward. And two, drawing thicker lines caused the glue lines to ooze into each other until the word Love resembled a big blob. Fail again.
Plan C: Forget glue. Maybe stickers? Yea, but I just have blocky boring letters. Ohhhh, I do have large box labels that I can draw on...and an X-Acto knife! This actually worked…
Jump to:
Materials
Large box labels

Piece of wood

X-Acto knife

Cutting mat

Spray paint
Drawing and cutting out the design
I drew out my design onto the sticky paper (labels). As I was already on my third attempt with this project, I didn't want to have to do it again. So, I shaded in the part that was NOT to be cut out (otherwise it can get confusing where to cut and where not to cut).
With my cutting mat underneath my paper, I began tracing it out with the X-Acto knife. Apparently, my X-Acto knife was about as sharp as a butter knife and I'm out of replacement blades, hence the not-so-smooth tracing. Oh well, it will add to the rustic feel. With a dull blade, I'm just thankful I didn't need stitches by the end of this project (I have a history of being a bit of a klutz sometimes).
Painting
I then took my project out to the yard to spray paint (the paint will disappear the next time we cut the grass). After removing the backing from my cutout, I carefully placed it in the exact position I wanted it on the piece of wood and firmly pressed down all the edges.
Next, I lightly sprayed over the entire thing with the can of spray paint. I found that it's best to paint in bursts of light spray rather than heavily. If you spray too heavily, some of the paint might seep underneath (I also learned this lesson in failed Plans A and B).
Finishing
After letting the paint completely dry, I gently removed the sticky label paper and voila! A beautiful rustic sign! I absolutely love it. While it's not perfect, I actually don't want it to be. I don't want it to look like something I bought from the store. I made this!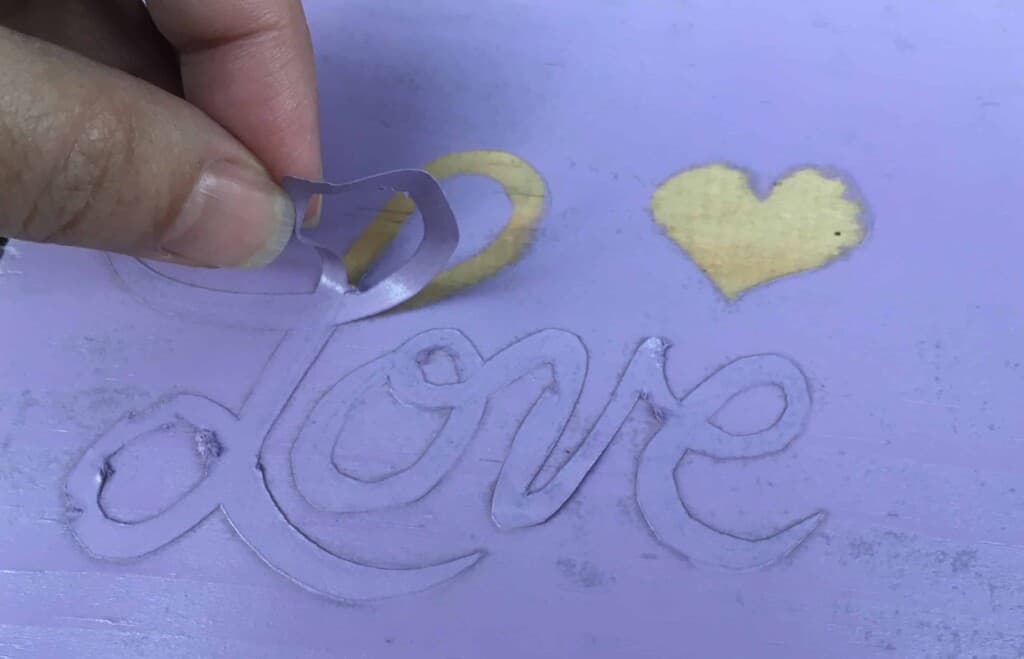 Once I finally figured out how to do this project, it was really pretty easy. Just make sure you have a sharp X-Acto knife.
And get creative with your Rustic Wood Sign...draw words or images that are special to you and your family!
Did you make this Rustic Wood Sign? Let us know in the comments below!