If you've never had homemade pasta from scratch, stop what you're doing right now! There is absolutely no comparison between store-bought boxed pasta and homemade. Homemade pasta is so smooth and silky, it will melt in your mouth. And it's so easy to make!
All you need are a few ingredients you already have in your pantry and your grandmother's spirit of making food with love. And don't worry if you don't have a pasta machine, I'm going to show you how to make the best homemade pasta with or without a machine. Read the instructions below (with photos) or watch the video below for a step-by-step tutorial.
Jump to:
Ingredients (makes 4 servings)
2-¾ cup flour

3 whole large eggs (at room temperature)

1 teaspoon salt

1 tablespoon olive oil (optional)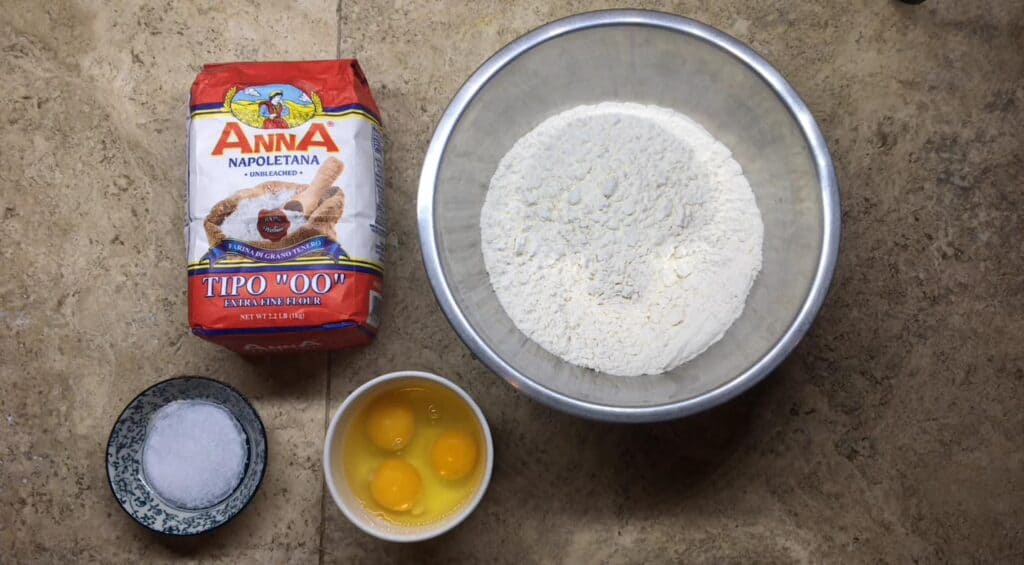 Flour
Before we get started, let's talk about flour for a minute. There are 3 different types of flour you can use, including semolina, all-purpose, and "00" (double-zero). I personally prefer "00" flour (which you should be able to find in your local supermarket), as it is finely milled and results in a silky smooth texture to the pasta. If you don't have that on-hand, however, use your all-purpose flour, which will still be delicious.
★ There are two ways you can mix your ingredients - by hand or with a food processor:
Mixing ingredients by hand
Clear an area on your countertop and make a mound with the flour. You can also do these steps in a large bowl, but I personally prefer the good old-fashioned countertop method.
Create a well in the middle with high sides, so the eggs won't run out with the next step (trust me, I've messed up on this part and it...is...a...mess). Crack the eggs into the well (and olive oil, if you're using it), plus the salt.
Using a fork, gently mix together the eggs & some of the flour (don't let the eggs escape!).
When the eggs are no longer runny, start using your hands to mix everything together.
Yes, the dough will start sticking to your hands...just add a sprinkle of flour to your hands and scrape it off. If the dough seems a little too dry and won't hold together, just add a few drops of water and keep working it; if it feels a little too wet, add a little flour.
Once the dough is mixed together, it's time to put those arm muscles to work with kneading. Form the dough into a ball and knead it, pushing it away from you with the heel of your hand, folding it back on itself, and repeating, turning the dough a quarter-turn as you go.
Continue this process for about 5-10 minutes until it is smooth and elastic. If you're not going to be using a pasta machine (which will knead it even more), this hand kneading part is even more essential to get a smooth dough, so knead by hand a little longer.
Form into a ball, wrap in plastic wrap, and place in the fridge for at least 20 minutes.
Mixing ingredients in a food processor with a feeder tube
Place the flour and salt in the food processor and add 1 egg. Pulse the mixture until mixed together.
Now turn the machine onto full speed and add the other 2 eggs through the feeder tube. Mix together just long enough for all ingredients to be incorporated.
Remove the dough from the machine, roll into a ball, and hand-knead as above.
Form into a ball, wrap in plastic wrap, and place in the fridge for at least 20 minutes.
★ There are two ways you can roll out your pasta - with a machine or by hand:
Rolling out pasta with a machine
Clamp the machine to your countertop, set the roller to the widest setting (setting #1 on dial), and lightly sprinkle the rollers with flour.
Cut your dough into quarters, so that you have an amount of dough you'll be able to work with (it will stretch and increase in size significantly).
Flatten the piece of dough a bit with your hands and form it into a rough rectangle shape.
Place the end of the dough at the top of the rollers and crank the handle to feed it through.
After the dough is fed through, fold it into thirds, and repeat this process several more times.
Now, adjust your roller setting down one notch (to #2) and roll the dough through (without folding).
Continue doing this...rolling through, increasing your roller setting (to #3), rolling through, increasing your rolling setting (to #4), etc...until it is very, very thin and reaches approximately 3 feet in length (see, I told you it would stretch a lot!).
If your dough gets a little sticky in between, lightly sprinkle it with flour. Also, if the pasta becomes too long to handle, just cut it into a more manageable length.
Rolling out pasta by hand
On a lightly floured surface, cut your dough in half and press one half into a flat disk with your hand. Using a lightly floured rolling pin, roll out your dough into a roughly rectangular shape, turning and lightly sprinkling with flour as needed, until it is as thin as you can possibly make it, with an equal thickness throughout.
Pasta shapes
There are many pasta shapes you can make, of course, but I would recommend starting with fettuccine or linguine, as they are the easiest shapes to start with.
★ There are two ways you can form your pasta shapes - with a machine or by hand:
Forming pasta with a machine
On your countertop, lay down a kitchen towel sprinkled with flour. This is where you will place your cut pasta shapes to dry slightly while you're making the rest.
Attach the cutting rollers to the machine, sprinkle them with some flour, and feed your dough through with the hand crank.
After it has reached the desired length (approx 10-12 inches for spaghetti, fettuccine, or linguine), cut it with a pair of scissors and lightly toss with flour on your towel.
Continue until your have used all of the dough.
Forming pasta by hand
On your countertop, lay down a kitchen towel sprinkled with flour. This is where you will place your cut pasta shapes to dry slightly while you're making the rest.
To cut fettuccine or linguine, lightly sprinkle it with flour and roll the sheet of dough into a cylinder. Using a sharp knife or a pizza cutter, cut the dough into approx ¼" strips.
Lightly flour your hands and unroll the pasta, then lightly toss with flour on a towel.
How to store fresh pasta
If you wish to dry your pasta, you can either spread it in a single layer on a floured baking sheet, turning occasionally; gently coil small amounts into "nests", turning occasionally; or drape it over a drying rack until dry (place pasta on a towel over a cooling baking rack or on a towel draped over the back of a chair, for example); and let dry for about 12 to 24 hours. Dried pasta can be placed in a brown paper bag in a dry, cool place for 3-4 days, or frozen in plastic bags for up to 1 month.
How long to cook fresh pasta
Homemade pasta cooks much faster than dried pasta. Bring salted water to a boil, as usual, but when you drop in the pasta, be aware that it will be done in about 2 minutes! Fresh pasta will also stick together much easier than dried pasta, so after draining, toss it right away with your sauce...otherwise, you may wind up with one big ball of pasta.
Serve your homemade pasta with a savory tomato sauce, a rich alfredo, or with olive oil and garlic...but no matter which sauce you prefer, make sure to pair it with Erich's no-knead bread!
Finito!
Wasn't that fun and delicious! And be honest, after tasting this recipe for homemade pasta, you'll never buy store-bought boxed pasta again!
Now you're ready to explore all different kinds of homemade pasta! Try mixing some herbs & spices into your dough for an exciting new twist, and try different shapes, like ravioli, bowties, gnocchi, and orecchiette.
Let us know what pasta you made and what you thought of it! Bon appetit!
Fun facts about pasta
Pasta is originally from China (not Italy), possibly as early as 5000 B.C.  


In the early 1800's, pasta became popular among the higher-classes and nobility




The culture that eats the most pasta?  Italians (I know, shocker, right?!)




There are about 600 different shapes of pasta, with over 1300 different names 




On average, Americans consume about 20 pounds of pasta each year (Italians easily beat us at 60 pounds per year) 




In Italy, only forks are used to twist their pasta (using the addition of a spoon is an American thing). 




In Italian, "al dente" means "to the tooth"
Recommended reading
The Cook's Encyclopedia of Pasta - by Jeni Wright 
Love pasta? Check out more of our pasta recipes now:
Did you make this Homemade Pasta recipe? Let us know in the comments below!
Content and photographs are copyright protected. Sharing of this recipe is both encouraged and appreciated. Copying and/or pasting full recipes to any social media is strictly prohibited.