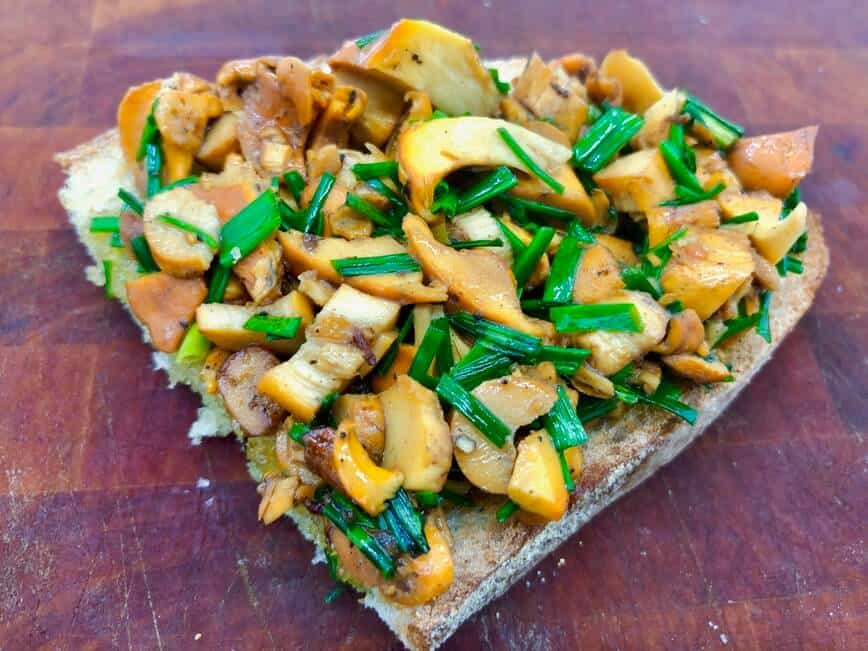 Chanterelles (Cantharellus cibarius) are probably my favorite mushrooms, and I'm not the only one who says so. Ask any chef and they'll wholeheartedly agree (ok, there's morels and, of course, truffles, but that's for another article). Chanterelles cannot be cultivated (so far), but luckily they're relatively easy to find, relatively easy to identify, and certainly absolutely delicious. 
Define "relatively:" in relation, comparison, or proportion to something else.
That's why I used this word. Hunting and identifying mushrooms is never easy and should never be done without having an expert with you to identify your 'shroom. Never, ever try to identify a mushroom using the internet alone.
Finding Chanterelles
But back to the Chanterelles. From June until September, after a few days of rain, at first you may not see these ugly little yellowish groups of mushrooms on the forest floor. But once you see one, look for more. They often grow in large groups and tend to come up in the same place year after year. Your taste buds will start to tingle. 
But not so fast! How do you know you're looking at Chanterelles and not a look-alike called the Jack-o'-lantern (Omphalotus illudens)?
Jack-o'-lantern mushrooms unfortunately contain a toxin that can cause cramps and diarrhea, and you could even end up in the hospital. Supposedly it's not deadly, but why even take the slightest chance. 
"There are old mushroom hunters and there are bold mushroom hunters. But there are no old and bold mushroom hunters"
Identifying Chanterelles
There are quite a few differences between Chanterelles and Jack-o'-lanterns. And they're all helpful once you get more experienced. But there's one difference that I believe is the first to look for before trying to find more:
Jack-o'-lanterns have a smooth stem, with a cap that has blade-like gills on the underside. If you brush your fingernail along the gills, they'll break off. 
Chanterelles have forked folds or wrinkles on the stem, which extend onto the underside of the cap. They have a "melted" look to them. If you brush your fingernail along the ridges, they'll barely come off. The cap is 1-3" across, firm, fleshy, and becomes funnel shaped.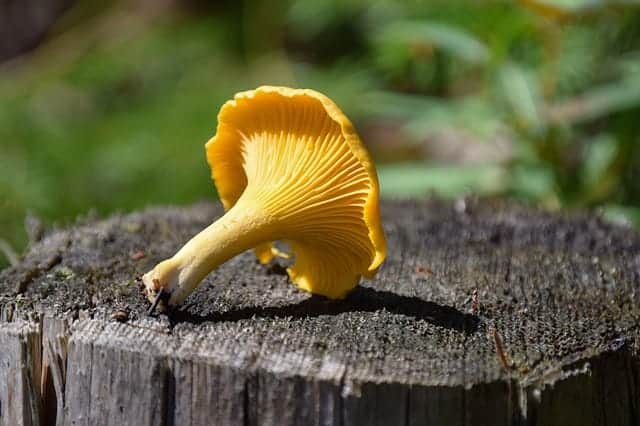 Other characteristics that might be helpful
Jack-o'-lanterns are brighter in color than Chanterelles 

Jack-o'-lanterns feed on dead wood and grow in clusters 

Chanterelles emit a faint apricot smell
And the coolest thing about the Jack-o'-lantern
They have a bioluminescent enzyme in their gills that makes them glow in the dark!
Even after getting comfortable with identifying any edible mushroom, always leave one mushroom from the batch uncooked in case something goes wrong and a specialist needs to know exactly what species you got sick from.
How to Cook Chanterelles
Make sure you clean your mushrooms with either a brush or – depending how dirty they are – a knife. Once you get hooked on hunting mushrooms, buy yourself a mushroom pruning knife with brush, so that by the time you get home, your mushrooms are ready to go.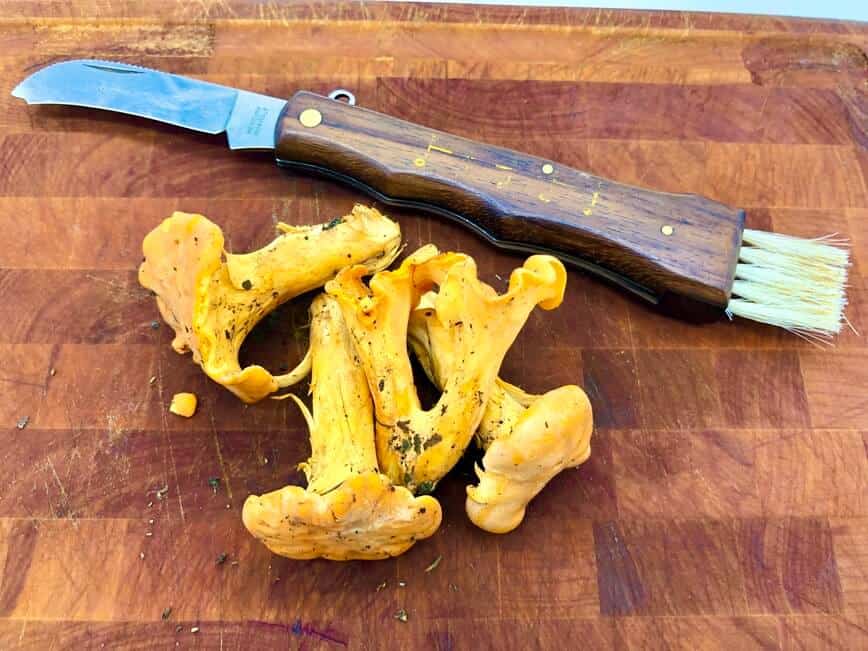 Chanterelles have a very delicate, rosy-apricot aroma, but once you cook them down in butter and olive oil, their umami flavor (typical for mushrooms) will develop nicely. Adding some flaky sea salt definitely brings this out even more. I normally skip the pepper for this recipe. 
Ingredients
1 c Chanterelles, chopped 

1/2 c chives, chopped

1 tsp butter

1 tsp extra-virgin olive oil 

1/2 tsp Maldon sea salt

Freshly cracked pepper, if you like 

1 slice of toasted bread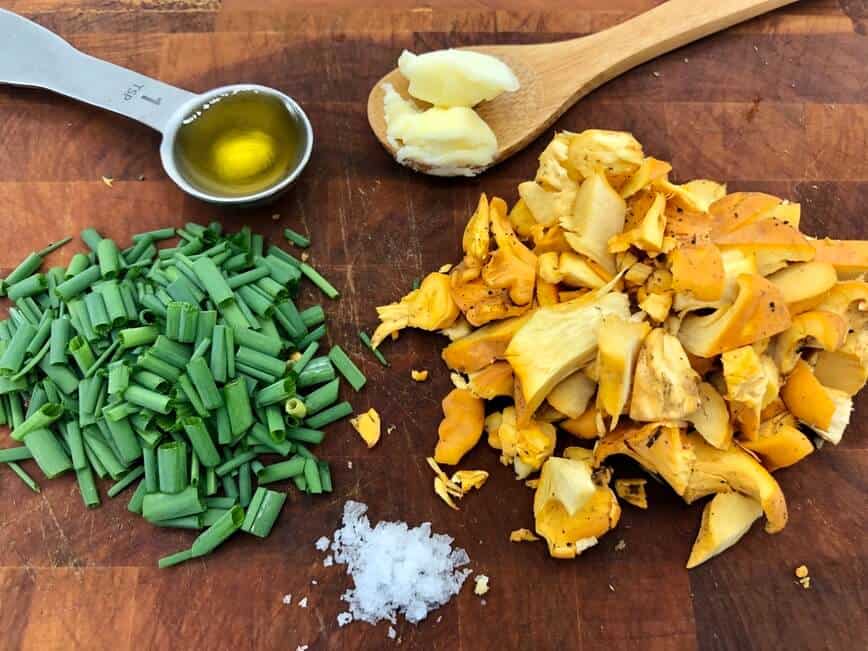 Cook the mushrooms in a medium-hot skillet with oil and butter and toss them for about 5 minutes. Sprinkle on some Maldon sea salt and add chives, and cook for another minute or so. Spoon onto a toasted slice of your favorite bread and taste this wonderful wild food that you foraged yourself!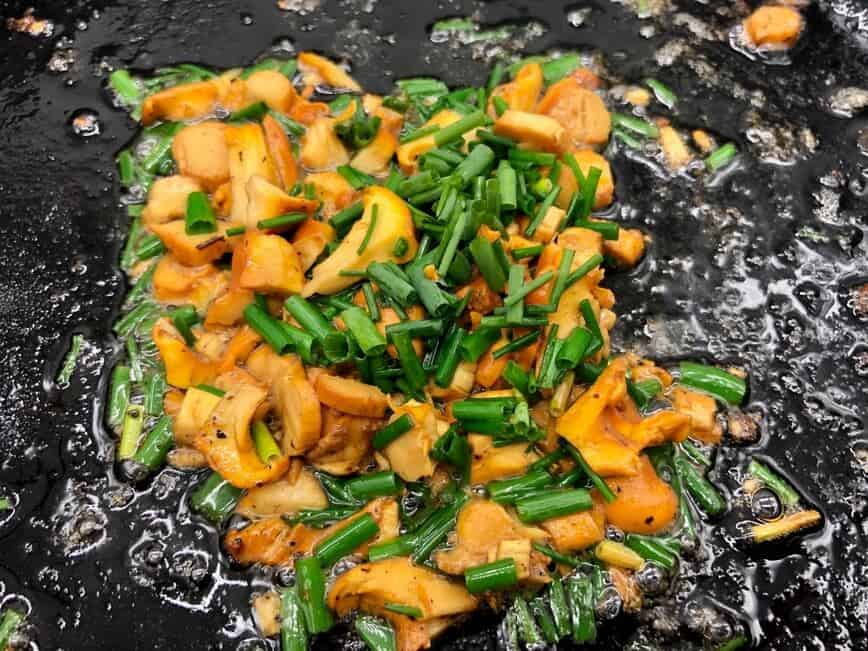 If you're not into hunting your own mushrooms, use some store-bought mushrooms instead and the result will be nearly as good. 
Please let me know if you tried this recipe and what changes you made to make it your own. 
DON'T MISS THIS VIDEO! You'll learn the scary truth about hunting Chanterelles!
Do you love mushrooms? Check out a few more of our articles now!
Have you found Chanterelles? Let us know in the comments below!
Do your friends enjoy great bird & nature articles too? Share this article with them and let us know what you all think by commenting below!
Tag your photos with #maplewoodroad on social media and share them on our Facebook page! Have any questions about this recipe? Ask on our Maplewood Road Community Facebook page and I'll be happy to help. 
Subscribe to our weekly newsletter for more great articles!