It's the most wonderful time of the year! What am I talking about? That time of year when you can put on your stretchy pants and enjoy delectable desserts!
We've put together 18 of our best winter desserts in one handy-dandy list, so whatever you're craving, you'll find it here. Our best dessert recipes have EVERYTHING...cookies, cakes, fruit, fudge, pies, and even a savory dessert too!
I personally guarantee that our best dessert recipes have been taste tested by family and friends, and even a professional chef...and they've all received rave reviews! The only question is, "Which one will you try first?"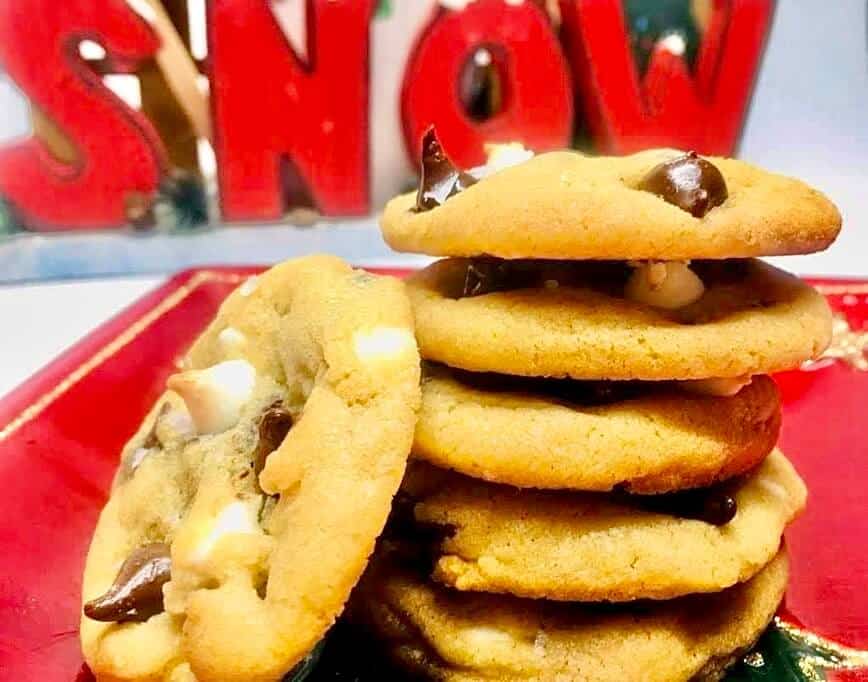 These chocolate chip cookies are delicious any time, not just the holidays! When the weather turns cold, the wood stove has a beautiful fire, and the snow starts to fall, my instinct is to turn on the oven and bake something scrumptious…
My best chocolate chip cookie recipe is simple, with no hard-to-find ingredients or complicated instructions. Chocolate chip cookies should be simple, yet decadent…don't you think? Over the years, I have discovered a few tips, though, to help you achieve the softest, most mouthwateringly delicious cookies you've ever tasted…
Most people call it Chocolate Cake in a Mug. Here at Maplewood Road, we call it the 4 C's…Comfort Chocolate Cake in a Cup. It's definitely comfort food.
You know sometimes how you've craving something sweet? But baking an entire cake seems like way too much work…and anyway, it would be sitting there, tempting you to eat the entire thing…for a week. I don't know about you, but I have no self-control when it comes to sweets, especially chocolate.
The easy solution is to make a single-serving Chocolate Cake in a Mug recipe. You'll satisfy that craving without ruining your diet for the week. It's also an easy and fun dessert to make with kids!
While pumpkin pie is good, I like to take my desserts to the next level whenever possible. The first time I made this pumpkin cheesecake recipe, I brought it to a friend's house for a day-after-Thanksgiving let's-finish-up-the-leftovers-with-the-neighbors kind of thing…and everyone went crazy for it! While I enjoyed the thanks and praise for my rich and creamy homemade dessert, I was also a little sad that there were no leftovers to take home…they ate it all! Oh well, guess I'll just have to make another one.
Cheesecakes are actually so crazy simple to make and I promise that everyone will be impressed…every time!
This Easy Fudge Recipe is made with only five ingredients, in five minutes! There is no baking involved and you won't need any fancy equipment either…no candy thermometer needed. And it's so expensive to buy good-quality fudge pre-made, but no more! I'm going to show you how to whip up my best fudge recipe in a snap.
Just in case you didn't already know, I have a major sweet tooth. I try (and I stress the word try) to keep it in check, but sometimes the craving for sweet, rich, smooth chocolate is just too strong. I know you hear me.
While homemade fudge is a perfect quick holiday gift, it's delicious any time of year. Whether you're giving it away to friends, family, and neighbors…or keeping it all for yourself (I won't tell). And it's basically foolproof and lots of fun!
My homemade cinnamon rolls are, hands down, the best. Period. And add some oooey, gooey cream cheese frosting on top…
Look out Cinnabon, we can now make delicious, warm, gooey cinnamon rolls at home any time we want! Who's with me? Yessssss!
Fair warning, if you're looking for a healthy recipe, turn around right now. While my homemade cinnamon rolls are anything but light, they're exactly what your sweet tooth is looking for! Layers of soft chewy dough, with brown sugar cinnamon between each one, all topped with a thick yet oozing cream cheese frosting, all swirled into one delicious treat. It's the best cinnamon rolls recipe you'll find…try it, you'll see!
There's no better time of year than now to make the World's Best Apple Pie, from scratch. Now, this may sound ambitious, but I assure you, it's easy as pie! This is actually my favorite pie to make, not only because it's so delicious, but also because it's the easiest!
While one-crust apple pies have their merits, my favorite is a two-crust apple pie, piled high with fresh fall apples, with the top crust finished with a sugary crunch like you'll find on a good bakery pastry.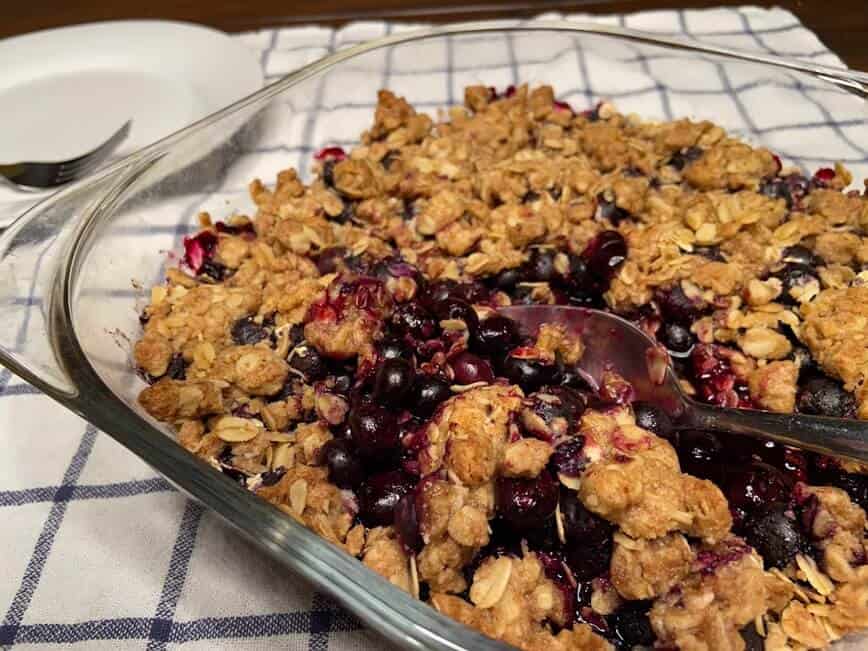 I grew up in New Jersey, the Garden State…south Jersey specifically. While driving to my aunt and uncle's house, I remember passing field after field of blueberry bushes. The giant sprinklers watering the fields were like something out of a movie, spraying water droplets so far and so high, I swore they could almost reach the clouds! And the sprinklers made the most beautiful rainbows, with blueberry bushes as the pots of gold. Several of my cousins even worked summer jobs in these fields, picking those little blueberries to send to the market. Suffice it to say, blueberries were a frequent treat in our house. And one of my favorite desserts was when my mom would make blueberry crisp.
Blueberry crisp is one of the easiest, tastiest desserts you'll ever make. All you need is two bowls and a baking dish. And it's so customizable too. Like nuts? Add some chopped almonds or pecans or walnuts to the recipe. Toppings? You can use whipped cream, but for me there's nothing better than a big scoop of vanilla ice cream on top. And if you don't like blueberries? Well, I can't say I understand why you wouldn't love these little blue morsels of deliciousness, but…use raspberries or strawberries or even peaches instead…or a combination!
This Irish Coffee Chocolate Mousse will tantalize your taste buds with a silky smooth texture, satisfying chocolate, and rich coffee, with just a hint of Bailey's Irish Cream.
Every time I make this dessert for guests, they go wild for it and ask for the recipe, but I've kept it a secret…until now.
This Irish Coffee Mousse is so ridiculously simple, you'll be done in 15 minutes! Then, just let it chill in the fridge and enjoy this tasty treat!
Oh, the fond memories I have of my mom's Jewish apple cake recipe. The cooler temperatures of autumn have arrived, the leaves are just beginning to change color, and I'm craving a big slice of this childhood favorite. This dense yet moist cake is layered with scrumptious fall apples, then sprinkled with cinnamon sugar and baked to perfection. Mom tells me that this recipe was given to her by a friend many years ago, and now she's passed it down to me…the way all good family traditions begin. Thanks mom!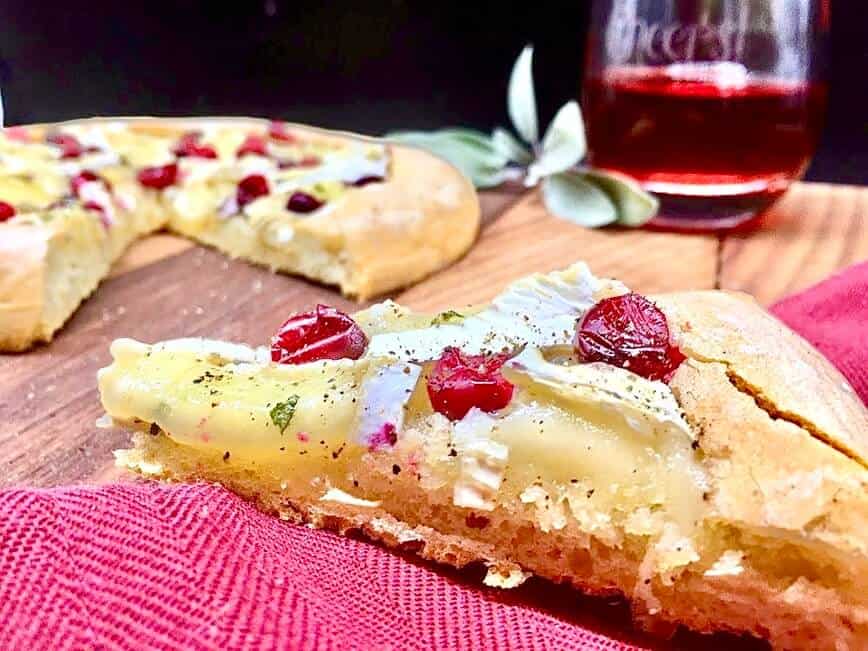 When the holidays come around each year, my mind is constantly trying to come up with new creative recipes. This year, I had made a note that I wanted to try something with cranberries and brie. The tart flavor of cranberries is something I look forward to as a fall and winter treat, and…well, at let's be honest, who doesn't love some ooey-gooey brie.
I couldn't decide exactly what to do, though, until Erich had a suggestion…bake both on the top of his no-knead bread…and then I had the idea to add fresh herbs. I love it! So this recipe is a combination of creativity from both myself and Erich. When our Baked Cranberry Brie Bites were still warm, fresh from the oven, we both had to taste test, of course. And we knew right away…this was a winner!
These Baked Cranberry Brie Bites are really simple to make and it's a perfect appetizer for any holiday party. It's also a scrumptious dessert all for yourself (Erich likes it for breakfast too!). Turn on the oven, get cozy on the couch with a warm blanket, and get ready for some seriously happy taste buds. Oh, and I would recommend that you make plenty…because these bites are going to disappear fast!
It's apple cider muffins season! The weather has turned chilly and brisk, the leaves are falling from the trees, and I'm ready to cuddle up by the fire with a good book and a warm treat fresh from the oven.
This easy recipe makes moist, fluffy muffins flavored with apple cider, shredded apple, and all your favorite apple pie spices (how's that for apple-icious!), all topped off with a cinnamon streusel for a sweet crunch on top. Enjoyed alongside a cup of hot tea, or even a glass of apple cider, will make everyone want to go for a walk in the woods, wrapped in a warm scarf, kicking up colorful leaves all the way.
Earlier this fall, I made my mom's Jewish Apple Cake, which is a-ma-zing…but this time of year, there's no such thing as too many yummy apple recipes, so let's add an apple cider muffin recipe to our recipe box, shall we? There's so soft and delicious…think of them as individual apple cider donut cakes!
If you're looking for a way to get a serving of veggies while eating chocolate cake…then you've absolutely got to try my easy recipe for Chocolate Zucchini Bread. There is no flavor of zucchini at all…zip, zilch, nada. All you'll taste is fluffy chocolatey goodness. No one will ever know there's zucchini hiding in there. And I'm a chocoholic…I should know.
For the rest of you chocoholics out there, this will satisfy your craving. Not only is there cocoa mixed into the batter, but I've also added chocolate chips both in the batter and sprinkled on top! It's death by chocolate zucchini bread. Yes, yes, yes!
While I wouldn't go as far as saying that this Chocolate Zucchini Bread is "healthy," there are a few healthy ingredients, namely zucchini and applesauce. So you're getting your fruits and veggies while satisfying your sweet tooth, all at the same time!
Apples & pears are everywhere! What to do with them all? Make Mini Apple Pear Pies, of course!
I was in the mood for individual desserts. These Mini Apple Pear Pies are so scrumptious, and they'll be ready in no time!
Of course, if you want to make these pies with just apple or just pear, fell free! But I know you'll love the combination of sweet juicy apples and the smooth buttery texture of pears.
If you're anything like me, brownies are your kryptonite. I simply cannot resist a warm brownie fresh from the oven, whether they're cakey or fudgy, middle or corner piece, have a topping or not…they're all delicious! That being said, however, I've come up with the perfect combination for the best brownies ever! I made this batch of brownies a few days ago, and, well, let's just say that I've had more than one. Ok, more than two. Ok, more than…well, you get the idea.
There's actually not just one secret ingredient, but two! For the best brownies ever, my recipe includes Nutella on the inside and salted caramel sauce on top. Chocolate & salted caramel & Nutella?! OMG, right?! The Nutella flavor is subtle and the perfect complement to the rich flavor of the chocolate, and the salted caramel sauce just takes these brownies to a whole new level of amazing!
In addition to tasting like heaven, these brownies are soooo easy to make. You probably have most, if not all, of the ingredients in your pantry already. And after you make my salted caramel sauce, you'll never buy caramel sauce at the store again!
One question: Who wants cake for breakfast? Me, me, me! And I think you do too. My homemade sour cream coffee cake recipe is also the answer to a great start to a happy day. You're welcome.
And who doesn't love picking off the crumbly top of a coffee cake, savoring each and every yummy piece? My coffee cake recipe is not only deliciously satisfying, but I've also added a middle layer of brown sugar, cinnamon, and just a hint of cocoa powder for an extra special treat! Another bonus: You probably already have all the ingredients in your baking pantry, so if you get started now, you're only an hour away from enjoying your own deliciously homemade sour cream coffee cake.
Has there ever been a more perfect combination than chocolate and mint? No, there's not. Smooth rich chocolate combined with refreshing mint is just delectable…oh, and then I decided to throw in some Oreos too for the crust. I'd like to introduce you to my latest baking creation: Mint Chocolate Ganache Cheesecake!
I served this Mint Chocolate Ganache Cheesecake to friends for dessert one night, and then to several more friends & neighbors who were happy to volunteer as additional taste testers…and they all agreed it was delicious!
With its green minty topping, this cheesecake is perfect for St. Patrick's Day…or any day really. This is not your typical cheesecake, though…it's better! It's denser and richer, like a ganache. Make sure you allow this cheesecake to set in the fridge overnight, as its thicker texture will take longer to set to perfection.
Some of my favorite foods on the planet are fruits and I try to eat some every day. Any fruit…strawberries, watermelon, bananas, kiwis, apples…the list could go on and on. Having grown up in southern New Jersey, blueberries are most definitely on the list too.
But I also have a sweet tooth and sometimes want a pastry or other baked good for breakfast. So, I created a recipe that's the perfect combination of both! Blueberry muffins with lemon zest and a brown sugar streusel topping.
These muffins are just delicious, with sweet blueberries, a hint of zesty citrus, and crunchy crumbly brown sugar baked on top! My favorite way to enjoy these muffins is to slice one in half, put a pat of butter on each side, and warm them up in the microwave for a few seconds so the butter melts in a bit.
One evening, I was sitting at home, craving something sweet…or tart…or sweet…I'VE GOT IT! I dreamed up this recipe for these Raspberry Coconut Truffles and decided to try it right away. I got together the ingredients I thought I would need, hoping this idea in my head would work in real life in the kitchen. Well, not only did it work, but they exceeded even my own expectations and are unbelievably delicious!!
After eating one or two (or three) myself, I believe that these are a sure-fire way to win over your significant other's heart this year. I guarantee, they'll be so impressed that you made these yourself, (don't tell, but they're super easy!), and will be so in heaven with the sweet-tart blend of flavors, there's no way you can go wrong.
And you can make them last-minute too! You'll be done with the recipe in about 30 minutes, then just let them set in the fridge for a few hours, and get ready for some seriously romantic sweets!
For more delicious dessert ideas, visit our Dessert page now!
Which of our best dessert recipes are you going to try first? Let us know in the comments below!